Noah Lyles Defeats Christian Coleman and They Shake Hands, 'Superman' Grant Holloway Dives to Make US Team
by LetsRun.com
July 29, 2019
The final day of the USATF Championships was jam packed. Dalilah Muhammad started the national network broadcast on NBC in incredible fashion by breaking the world record in the 400m hurdles. In the women's distances: Ajee Wilson remained utterly dominant, Emma Coburn won her 8th steeple title, and Shelby Houlihan won her second straight 5,000 title. In the men's distances, Craig Engels got USATF 1500m title #1, Lopez Lomong completed the 10k/5k double, and Donavan Brazier defeated Clayton Murphy.
We highlight those things at the links above. We give highlights of the rest of the meet below with some videos from NBC.
Article continues below player
Men's 200: Noah Lyles wins matchup with Christian Coleman, class sportsmanship by Coleman after
This one really wasn't in doubt once Lyles entered the homestretch ahead of Coleman.  Kenny Bednarek,who won his semi, pulled up lame with 100m to go.
After Coleman crossed the line, while still running he tapped Lyles on his hip to congratulate him and Lyles turned around and they shook hands. A class act of sportsmanship initiated from Coleman from two rivals who had a bit of a feud going on social media this year.
Coleman's act surprised Lyles. "I was really surprised on that," Lyles said of Coleman aaccording to Nick Zaccardi. "The last time I tried to dab him up, he didn't want to dab me up."
Pic of handshake: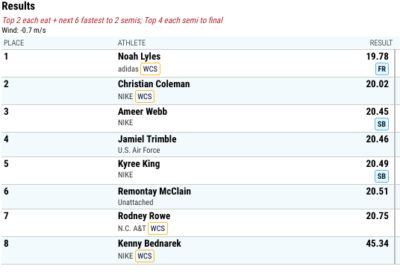 Video of race:
https://www.youtube.com/watch?v=F3I2n9yLpQI
Men's 110m hurdles: Daniel Roberts win, 'Superman' Grant Holloway dives to make team
NCAA runner-up Daniel Roberts got the win and it was very tight for the next 2 World Championships spots. Grant Holloway whose nickname is 'Superman' dove at the line to get spot #2 and Devon Allen edged Freddie Crittenden for spot #3. Crittenden could go to Worlds if one of the three guys ahead of him wins the DL finale.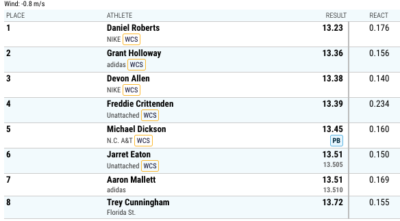 https://www.youtube.com/watch?v=NQo3Hhxe7Ts
Women's 200m Dezerea Bryant makes up for 4th place in 100
Bryant just missed the 100m team by finishing 4th but made up for it with the win.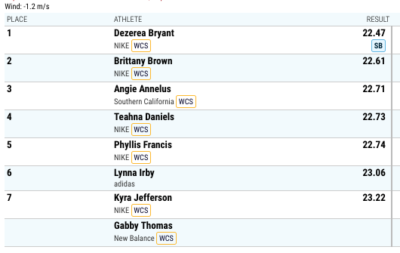 Women's pole vault: Big 3 come through
Any injury concerns were put aside and the big 3 in US vaulting all made the team.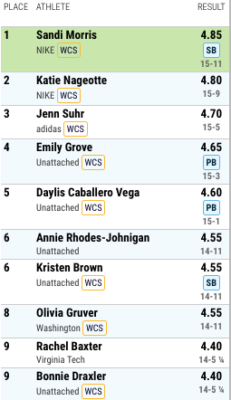 Men's long jump: Ja'Mari Ward defeats Olympic champ and 4 people with Worlds standard but won't go to Worlds
This is the type of result a world ranking system hopefully can correct. Ward beat some really good guys when it mattered on national tv, but won't go to Worlds because they jumped further months ago.