A Former Crew Member of Ultramarathon Legend Yiannis Kouros Shares Some Stories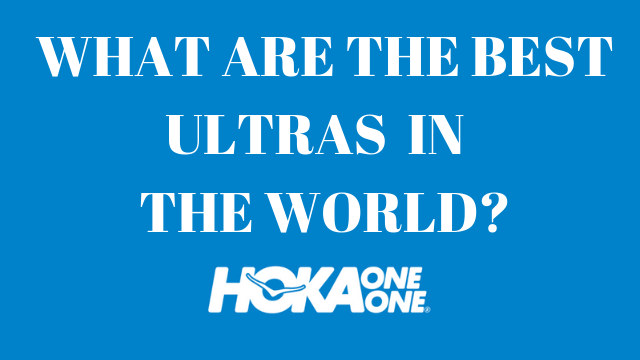 April 25, 2019 to May 31, 2019
By LetsRun.com
May 23, 2019
Editor's note: HOKA ONE ONE is sponsoring LetsRun.com's exploration of the ultramarathon over the month of May, trying to determine the answer to the question: "What are the best ultramarathons in the world?" You can join the debate here. While this is sponsored content, HOKA had no say in what was written.
We've always said the best part about LetsRun.com is you, the visitor, and we've got more proof of it. On Monday, we published an article stating that we believe the greatest record in the ultramarathon world is Yiannis' Kouros' 24-hour mark of 303.506 km (188.68 miles). On Tuesday, we got the following email from Marios Papadakis, a Greek surgeon based in Germany who says he has worked as a crew member for Kouros in the past. The email was full of fascinating Kouros anecdotes. We share it with you in full (it's been slightly edited for clarity).
Article continues below player
Hello!
I read your article about Yiannis Kouros' record being the best ultramarathon record of all time and I would like to make some comments.
I am a surgeon (i.e. not a professional athlete) and amateur runner (or what Yiannis calls a fun runner) and I have completed only 4 ultras, with rather bad performances. Yiannis is a friend of mine, I always admired him and I also served several times as crew member for him (races between 2012-2014). So, I suppose you would like to know his aspect, because as you can imagine, I have asked him these questions before.
– Yiannis is very concentrated when he runs and in his opinion the factor "Crew" is the most important for a world record to be achieved. Similarly, a bad crew can destroy the whole effort. Of course everything else (track, weather, equipment) should be perfect, which rarely occurs.
Regarding his records:
– 24h: He is known to have said after the race that "this record will stand for centuries" but in fact he was not satisfied with the 24h record as the goal was 320km. A crew member made a mistake and gave him during the 20th hour something to eat that was not on the plan and was also expired. Yiannis had to stop and vomit several times during the last 3 hours which broke his tempo so he lost his concentration and the 320km goal.
– Yiannis was very focused on breaking the 300km barrier. (What's) not much known (is he often) quit races (in terms of effort reduction or leaving the track to sleep 2-3 hours) after 250-260km, when he realised the 300km goal was lost.
-The 48h record is in my opinion the best performance of all time. Why? I will tell you a story. In 2013 I served as crew for Yiannis at the 24h World Championship. I met there the director of the race where the 48h-record was set (it was a Sri Chinmoy race). He told me Yiannis wanted to be admitted to hospital after the race.
-"Why?" the race director asked him.
– "Because I have broken my ribs, I fell off the stairs the day before."
– "What? Why did you [not] say it earlier?"
– "Because you would not let me run, do you?"
-"No, I wouldn't."
The xray revealed 3 broken ribs. Yiannis ran 48 hours with 3 broken ribs and set an unbeatable world record.
I asked Yiannis if the story was true. He smiled. "Of course, and now you know why I did not achieve the goal." "What was the goal?" "520 km."
(Editor's note: Kouros' 48-hour WR is 473.495 km)
6 days: The goal was 1200km (Editor's note: His WR is 1036.80 km) and the chance was missed in Colac, 2005. The crew member was confused and gave him the whole time wrong shoes (3x). Yiannis told me that he would like to try to improve this record. He believes it's not a good one.
I hope you find the info helpful! If I can help you further, please let me know.
Kind regards,
Marios Papadakis
---
Talk about the ultramarathon world on our world famous messageboard / fan forum.
More: LRC GOAT: Yiannis Kouros' 24-Hour Record Of 303.306 KM (188.68 Miles) From 1997 Is The Greatest Ultramarathon World Record There's no world record easier to understand in the ultramarathon world than, "How far can you run in a day?" And there's been no human in history that has come anywhere close to Yiannis Kouros in a 24-hour period.
*Full Coverage: HOKA ONE ONE Ultramarathon Exploration