Shelby Houlihan Starts a New Streak, Engels Gets USA Title #1, Clayton Murphy and Ajee Wilson Get Another Title
By LetsRun.com
February 24, 2019
NEW YORK — While the men's and women's 600 meters may have stolen the show on the final day of the 2019 USATF Indoor Championships, there were plenty more gold medals to hand out on Sunday. If you want to read about high schooler Athing Mu's stunning American record victory in the women's 600, you can do so here; to read about Donavan Brazier's world record in the men's 600, click here.
But if you want to read about the rest of the day's events, you're in the right place. And there was plenty to discuss as Craig Engels earned his first US title in the mile, Shelby Houlihan earned redemption with a win in the 2-mile and Clayton Murphy and Ajee' Wilson dominated to win the men's and women's 1000. It was a great day for the Nike Oregon Project, as the titles by Brazier, Murphy, and Engels gave NOP a clean sweep of the men's mid-distance events today.
Aside from the record runs in the 600, none of today's distance finals were particularly dramatic; Engels' win was as close as it came as he took the lead at the bell but was never seriously challenged over the final lap.
Houlihan was utterly dominant in the 2-mile, grabbing the lead with three laps to go and pulling away to win by over two seconds in 9:31.38 over Katie Mackey. Murphy looked like a million bucks in the 1000, following Engels' gameplan by moving to the lead at the bell and kicking away from the field over the final lap to win in 2:20.36 to runner-up Abraham Alvarado's 2:21.08.
Wilson's win was the most predictable of all. As she has in so many US finals, Wilson went to the front of the race and controlled every inch of this one, cruising home to victory in 2:34.71. The biggest drama came in the battle for second place, where the Oregon Track Club's Hanna Green surprisingly ran down NJ*NY's Ce'Aira Brown for runner-up honors, 2:35.40 to 2:35.62.
Analysis and interviews below.
Quick Take: These were some fairly ho-hum distance races
The fields at USA Indoors are not as strong as the fields at USA Outdoors, and the fields at USA Indoors in a year without World Indoors are not as strong as the fields at USA Indoors in a year with World Indoors. Thus, the fields at today's meet were not particularly deep (it didn't help that a lot of people ran a 5,000m in Boston instead of the 2 mile here), which means that if a true stud shows up, they're probably going to blast everyone.
That's exactly what happened today as Houlihan, Murphy, and Wilson — all reigning US outdoor champs — were a cut above their opponents and proved it with their performances. Props to them for showing up — we always want the best runners to run USAs — but the result were some very predictable races.
Quick Take: Some fun trash talk amongst the NOP teammates
Article continues below player.
Craig Engels was the only of the three NOP team members without a national title and he got his first in the mile. Then Brazier followed with the world best at 600 and Murphy finished things off with the win in the mile.
"It was kind of a lot of pressure on me being the last guy to go today. I didn't want to slip up and be the one not guy who did not win," Murphy said.
While there may be pressure to perform on the track it sure looks like off the track Murphy, Brazier and Engels get along very well and enjoying having a good time together.
Afterwards when asked who should buy dinner, Murphy and Brazier independently agreed, Engels, since he had never won USAs before.
See: Clayton Murphy and Donavan Brazier Agree, Craig Engels is Paying for Dinner Tonight 
Murphy also had a little fun at the end of his race, doing a Russell Westbrook "rock the baby" gesture. When asked about it he said, "[I'm] just having fun… Centro's taking all the celebrations at this point. We're digging for new ones. Just trying to have some fun this weekend."
When asked if he would race the mile or the 800 next weekend at BU, Murphy did a little trash talking saying, "Donavan doesn't want me to race him because he's scared" and gave a piercing look at the camera before breaking out in a smile and talking about the good relationship between the three.
"It's fun. All three of us get along real well. We all push each other in practice and really help each other. It's fun trash talk. Just like any other friends and teammates," he said.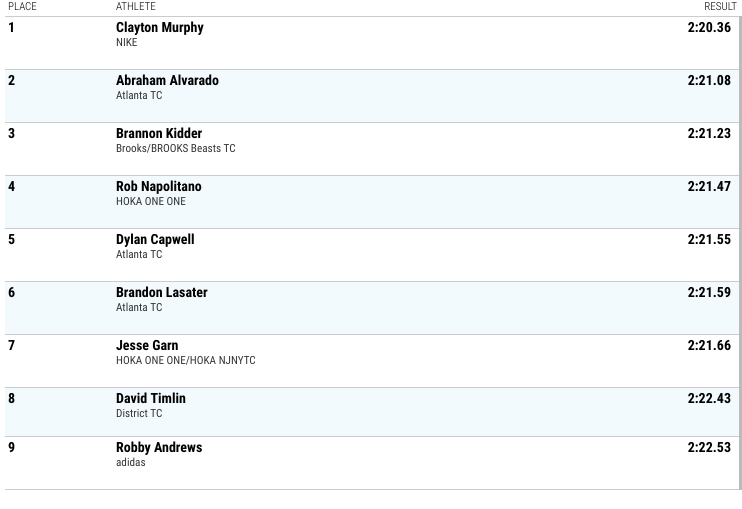 Quick Take: The medal piles are getting pretty tall for Houlihan and Wilson
Houlihan, 26, and Wilson, 24, both earned their ninth national titles today. And now that Houlihan's win streak at USAs has been broken (she had won eight straight US finals until Colleen Quigley beat her in the mile yesterday), Wilson is the one with the impressive streak: today marked her fifth straight victory at USAs. Her last loss in a US final came in the wild 800 at the 2016 Olympic Trials.
Wilson from experience knows crazy things can happen at USAs and said she does not take the titles for granted.
Murphy, 23, is doing pretty well for himself too. This was national title #4 for him.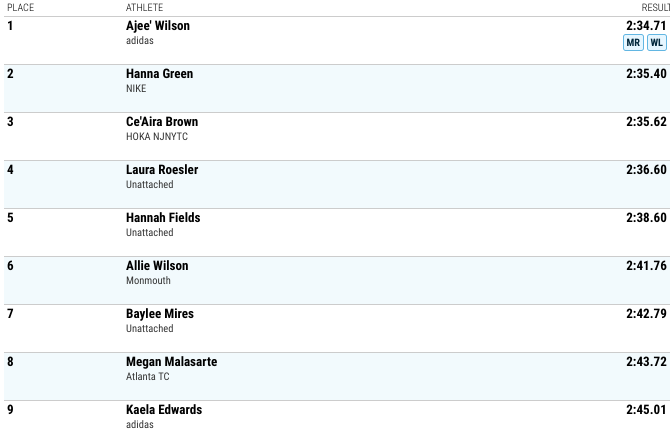 Quick Take: Engels ran a very smart race
We say it all the time, but on an indoor track, with its tight turns and short straightaways, positioning is incredibly important. Engels got into good position near the front of the race early on, hugged the rail for almost all of this race, only drifting out to pass, and when he made his move just before the bell, it was definitive.
Contrast that to the runner-up, Henry Wynne, who ran a lot of extra distance and wasted energy battling for position. Like Colleen Quigley and Shelby Houlihan last night, Engels' and Wynne's closing splits were very similar: 28.43, 27.90, 26.19 for Engels, 28.46, 28.05, 26.17 for Wynne. But whereas Engels had the lead at the bell, Wynne was only fourth and had to navigate traffic on the final lap.
To be fair to Wynne, he did try to run as little distance as possible on the final lap, only passing on the straightaways. But as he was doing that, Engels was opening up a gap up front. Engels may have won regardless (he eased up at the end once he had it in the bag), but his tactical superiority made sure of it.
Gregorek and Engels will run the BU mile next week (Kejelcha world record attempt) where there will be a second rabbit for the 2nd group trying to hit the World Championshiop "A" standard of 3:53.10.
Quick Take: Engels earns national title #1
The standards are very high at the Nike Oregon Project. If you're not contending for medals or winning national championships, you're not going to stick around very long. With reigning indoor and outdoor US champs Paul Chelimo and Matthew Centrowitz sitting this one out, Engels had no excuses for failing to win today. Fortunately, he doesn't have to make any.
If Murphy and Brazier make Engels pay for dinner he should be able to pay the bill as he picked up $6,000 for the win.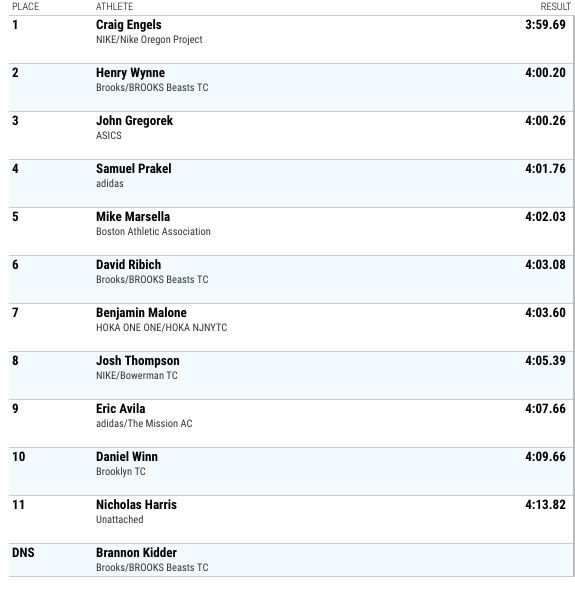 Women's 2 mile Results
High Schooler Marlee Starliper ran in the slow section and finished 7th and felt great to break 10 minutes.