Will Yomif Kejelcha Break the Mile World Record at the 2019 Millrose Games? We Break Down His Chances
By LetsRun.com
February 7, 2019
We've already spent 2,000 words previewing the distance action at the 2019 NYRR Millrose Games, but the final event of the night deserves its own article. Sound the alarm and tell your friends because we've got a WORLD RECORD ATTEMPT in the men's mile.
We are aware that two world records went down at Millrose last year, but let's be real. Do you even remember which events they came in?
Article continues below player
The mile isn't some indoor-specific event where only die-hard track fans know what constitutes a good time. Anyone remember what Shaunae Miller-Uibo ran in the 300 last year (yes, she broke — well, actually, tied — one of those world records)? Is 33 seconds a good time for an indoor women's 300? 34? 36?
No, this is the Wanamaker Mile, the crown jewel event of the crown jewel meet of the US indoor track & field circuit. And those distinctions may not mean as much as they did 30 years ago, but if someone breaks the world record in the mile — even if it is indoors — you're going to hear about it. Particularly when the race is broadcast live on NBC on a Saturday evening.
The indoor record currently stands at 3:48.45, set by Morocco's Hicham El Guerrouj in Ghent, Belgium, on February 12, 1997. Ethiopian Yomif Kejelcha is the man targeting it, and unlike some of the other races on the Millrose schedule, there's no doubt that this is an all-out assault on the world record; last week, Kejelcha's training group, the Nike Oregon Project, produced a 100-second video specifically announcing Kejelcha's intentions to break the record.
So we've got the who, the when, and the where. But let's address the biggest question…
Can he do it?
Kejelcha is not a miler by trade. His specialty is the 3,000 (where he's won the last two World Indoor titles) and the 5,000 (where he ran 12:46 last summer to move to #7 on the world all-time list, just .26 behind a guy named Eliud Kipchoge).
But take a look at the all-time world top 10 in the indoor mile.
| | | | | | | | | | | |
| --- | --- | --- | --- | --- | --- | --- | --- | --- | --- | --- |
| 1 | 3:48.45 | | WR | Hicham El Guerrouj | MAR | 14 Sep 74 | 1 | Flanders | Gent | 12 Feb 1997 |
| 2 | 3:49.44 | | NR | Edward Cheserek | KEN | 2 Feb 94 | 1 | | Boston MA | 9 Feb 2018 |
| 3 | 3:49.78 | | AR | Eamonn Coghlan | IRL | 21 Nov 52 | | | East Rutherford NJ | 27 Feb 1983 |
| 4 | 3:49.89 | | AR | Bernard Lagat | USA | 12 Dec 74 | 1 | Tyson | Fayetteville AR | 11 Feb 2005 |
| 5 | 3:50.63 | | | Matthew Centrowitz | USA | 18 Oct 89 | 1 | Millrose | New York NY | 20 Feb 2016 |
| 6 | 3:50.70 | | NR | Noureddine Morceli | ALG | 28 Feb 70 | 1 | | Birmingham | 20 Feb 1993 |
| 7 | 3:50.92 | | | Galen Rupp | USA | 8 May 86 | 1 | Terrier | Boston MA | 26 Jan 2013 |
| 8 | 3:50.94 | | | Marcus O'Sullivan | IRL | 22 Dec 61 | 1 | | East Rutherford NJ | 13 Feb 1988 |
| 9 | 3:51.06 | | AR | Nick Willis | NZL | 25 Apr 83 | 2 | Millrose | New York NY | 20 Feb 2016 |
| 10 | 3:51.20 | | | Ray Flynn | IRL | 22 Jan 57 | 2 | | East Rutherford NJ | 27 Feb 1983 |
List courtesy Tilastopaja
Yes, there are pure milers like El Guerrouj and Noureddine Morceli. But Edward Cheserek? Even after he ran 3:49 last year, he said he still didn't consider himself a miler. We could use many words to describe Galen Rupp, but "miler" is not one of them.
The point: if Cheserek and Rupp can run 3:49 and 3:50 indoors, there's no reason Kejelcha can't. He's run faster for 3k (7:28) and 5k (12:46) than either of those two men, and has already shown this year that he's got serious wheels, taking down Olympic bronze medalist Clayton Murphy in a 1k in January.
But Kejelcha isn't going after Cheserek and Rupp; he's targeting 3:48.45. Is that a time he's capable of?
On paper, it sounds daunting. It's almost a second faster than anyone not named Hicham El Guerrouj has ever run indoors.
(Side note: It's worth pointing out that many of history's top milers haven't had the chance to run a fast indoor mile. Back in the day, indoor meets were normally held on slower tracks that were shorter than 200 meters, while more recently, there are/have been many athletes who put little to no emphasis on the indoor season. Consider: 61 men have broken 3:50 outdoors. Only four have done it indoors.)
Heck, since Alan Webb ran his 3:46.91 American record back in 2007, only two men have run faster than 3:48.45 outdoors. Why should that change now?
Well with all due respect to Webb — who was incredibly fit in the summer of 2007 — one reason no one has surpassed his time since 2007 is that the mile isn't run nearly as often as the 1500 outdoors. If you convert 3:48.45 to a 1500 (our rule of thumb is 1500 time * 1.0802 = mile time), you get 3:31.49. That's a time that 32 men have bettered since Webb's run in 2007, including distance guys like Mo Farah and Caleb Ndiku.
And since the top guys run indoor miles even less frequently than they run outdoor miles, that's how you end up with a time like 3:48.45 standing for over two decades.
But wait, we can hear you saying, isn't it harder to run fast indoors than outdoors? What about all those turns?
Yes, it's true that you have to turn twice as much indoors as you do outdoors. But indoor track offers advantages that outdoor track cannot always deliver: perfect weather and zero wind, every time out. There's a reason why a bunch of guys got together to chase the world standard at BU two years ago (and are planning on doing so again this year). If you're fit and you find the right track, you can run basically as fast indoors as out.
Matthew Centrowitz is a perfect example. When he was part of the Oregon Project, Centrowitz would hit the indoor season hard, which makes him one of the few world-class milers who raced hard indoors and outdoors. Since turning pro at the end of 2011, Centrowitz has raced 10 indoor miles and 9 outdoor miles. If you throw out the two USA indoor finals from those totals, his average time indoors (3:53.99) is actually faster than his average time outdoors (3:54.89), and his PR (3:50.63) was set indoors.
That's a long-winded way of saying that we don't think that the fact that this race is indoors will slow down Kejelcha too much. He's already run 3:32.94 (in 2017) and 3:32.59 (in 2018) for 1500 outdoors. So he has to run the equivalent of about a second faster indoors to get the mile world record.
And his 2019 results suggest that he very well could be ready to do just that. On January 12, he ran 3:52.61 with a 2:18 1k in his legs from less than an hour earlier. On January 26, he ran 3:51.70 in a race where he didn't look like he was trying until the final lap. And unlike last season, when 3k/5k was his focus, we imagine his training has been more mile-specific this winter considering he's making this record attempt.
So yes, we think Kejelcha is physically capable of running 3:48. If Mo Farah can run 3:28, Kejelcha should be able to run the equivalent of three seconds slower. Plus coaches generally have a fairly good idea of how fit their athletes are. If Alberto Salazar is confident enough in Kejelcha's fitness to okay the release of a hype video playing up his attempt, he must think Kejelcha is pretty damn fit.
And no, we don't think there is any chance this will be a repeat of 2010, when Salazar set up an American record attempt in the 10,000 for Galen Rupp and even had Nike print out placards celebrating the feat, only for the party to be spoiled; while Rupp beat the old American record, he didn't beat Chris Solinsky, who became the first non-African under 27:00 with his 26:59.60. Kejelcha is the only person in the field capable of breaking the world record at Millrose in 2019.
Will he do it at Millrose?
This is a different question. If you're willing to concede that Kejelcha has the fitness to run 3:48, it comes down to two things: the track, and the rabbitting. The track at the Armory is fast — Centro ran 3:50 there three years ago — but Millrose might not be Kejelcha's best shot at the WR; Salazar said Kejelcha may be heading to Boston University later this season, which is generally considered to have an even faster, bouncier track.
The big concern is the rabbit, Rob Napolitano. Ideally, the former Columbia runner Napolitano makes it as far as possible and hits his splits as evenly as possible. But if he is running world record pace, then he'd need to hit 1200 meters in 3:50.48; can he do that? No. Napolitano's 1500 pb is 3:38.03, but he only ran 3:59.90 for the full mile last weekend in a race he lost (3:58.13 won it) and it's not easy for a 3:38 guy to race a 2:50, let alone lead one out from the front. LetsRun.com stat guru John Kellogg says a 2:50 1200 is equivalent to a 3:38 1500. And remember, Napolitano has to lead this baby, not ride the train.
Even making it to 1k (2:21.67) could be tough for Napolitano. He ran 2:22.80 as a collegian in 2015, but again, that came in an actual race (in which Napolitano finished 3rd). It's tougher to do that with even splits from the front.
The big thing for us is that Napolitano is steady with his splits. Even if he can only make it to 800, it's better he does that smoothly than provide 1000 meters at an inconsistent pace. Going out a second fast on the first lap is okay (that may even be what Kejelcha wants), but after that, he has to settle in and hit his splits.
Even if Napolitano makes it 800 meters on pace, four laps is still a long way to run alone at 3:48 pace for Kejelcha. Kejelcha will really have to stay on it during laps six and seven; it's easy to summon a kick over the final lap, but you can't put yourself in a position to break a record without running hard the whole way before then.
LRC prediction: Kejelcha is a stud and his races so far this year point to something special at Millrose. With some decent rabbitting, which we're very concerned about, we're fairly confident he will break 3:50. We say he gets the WR as well. 3:48.2.
[gravityform action="polls" id="744″ mode="poll" cookie="1 month" show_results_link="false" display_results="true" percentages="true" counts="false" ajax="true"]
By the way, there are some other guys running in this race as well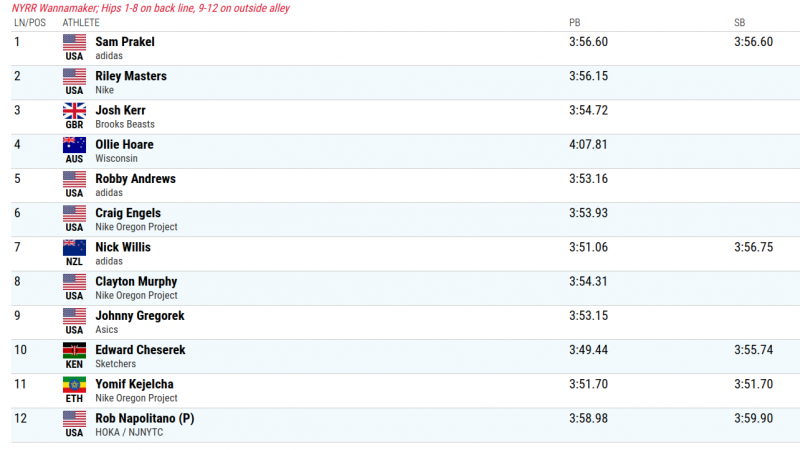 If Kejelcha runs 3:48, no one is beating him in this race. But the NYRR has put together another terrific Wanamaker Mile field, and if Kejelcha falls short, he could very well get beaten. Edward Cheserek, while perhaps not quite as fit as this time a year ago, is still in good shape (7:42 3k in Boston two weeks ago) and is a 3:49 miler. Clayton Murphy ran 1:45.92 last week at Camel City — the fastest 800 time ever on a flat 200-meter track. It wouldn't be a surprise to see him lower his 3:51.99 pb and challenge 3:50, something that his NOP teammate Craig Engels said he'd like to do as well (Engels looked good his last time out, running 2:18 to win the 1k at the Dr. Sander Invite).
Plus there's 35-year-old Nick Willis, who is still looking to win his first Wanamaker Mile in his seventh attempt, 2017 US outdoor 1500 champ Robby Andrews, 3:53 miler Johnny Gregorek, a 2017 World Championship finalist, 2018 NCAA 1500 champ Ollie Hoare of Wisconsin and Brit Josh Kerr, who has won the last two NCAA mile titles and was second in this race last year in 3:54.
The fact that NOP has already come out and declared Kejelcha's desire to chase the WR makes for an interesting race dynamic. Is anyone brave (foolish?) enough to try to follow him? Or does everyone sit back and run a tactical race for second? The race will likely play out somewhere between those two extremes, but if the field can at least keep Kejelcha in its sights, we could see some very fast times — especially if he starts to slow late and they have a target to chase over the final 400 meters.
LRC prediction: Murphy has been in great form this year and we like him for second in this race.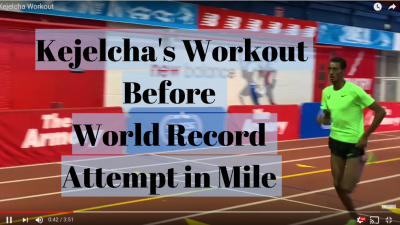 More: Yomif Kejelcha's Workout TWO Days Before World Record Attempt in Mile at Millrose Games