WTW: Young Guns Ready To Replace Mo Farah, Three Sub-2:10 Marathoners At 1 Japanese High School, Canadian 5k Record Destroyed
The Week That Was in Running
By LetsRun.com
January 16, 2019
Welcome to our first Week That Was of 2019. During the holidays, we don't publish this column every week so below we'll talk about some of the things that caught our eye over the last few weeks and will publish weekly moving forward now that there is some decent action going on.
Article continues below player
Past editions of the Week That Was can be found here.
Questions, comments, or a tip? Please call us at 844-LETSRUN (538-7786), email us, or post on our forum.
****
2019 Is Going To Be A Great Year For Distance Fans
Outdoors in 2018, there wasn't a world championship but the "off year" was spectacular in the sense that a ton of worthy heirs to Mo Farah emerged in the 5,000 and 10,000. And if Farah actually returns to the 5,000 and 10,000 for the Doha Worlds, then the two distance races will be even more incredible.
Check out what some of these super young studs did in 2018:
Rhonex Kipruto – Kenya – In 2018, he won world junior gold in 10,000, ran 26:46 on the roads (and 27:08 in Central Park). All at the listed age of 18.
Selemon Barega – Ethiopia – In 2018, all at the listed age of 18, he won world indoor silver in 3000 and ran 12:43 for 5,000.
Yomif Kejelcha – Ethiopia – In 2018, he joined the NOP, won his second straight 3,000 gold at World Indoors, then ran 7:28, 12:46, and 59:17 within the span of 29 days. Officially, he turned 21 in August.
Edward Zakayo – Kenya – In 2018, he won world junior gold and the African champs in the 5,000 at the listed age of 16. Yes, 16. 13:19 pb.
Joshua Cheptegei – Uganda – The world 10k silver medallist in 2017 was undefeated in 2018 for races longer than 1500, including a world record for 15k on the roads (41:05). Won Commonwealth gold in 5,000 and 10,000 at listed age of 21. Now he's 22.
If we include those who are 25 and under (officially), then we have to add in reigning 5,000 world champ Muktar Edris, who ran 12:55 last year and turned 25 on Monday, and three-time outdoor global medallist Hagos Gebrhiwet, who is 24 and ran 12:45 last year.
That's seven studs. It wouldn't shock us if any of the seven won a global distance title in 2019 or 2020.
And the best part about it is we already know early in 2019 that many of these big talents are healthy, in shape, and ready to go as a number of them have already raced this year.
Gebrhiwet won the Campaccio XC race in Italy on January 5, while Kipruto won the Juan Muguerza XC race in Spain last weekend by 22 seconds. Barega was the second placer in both races.
In the US, Kejelcha showed he definitely wants to keep the global track dominance in the Nike Oregon Project family as last weekend he beat America's Clayton Murphy in the 1000 on the oversized indoor track (307 meters) at the University of Washington in 2:18.34 (John Kellogg says that's equal to a 1:46.42 800). Less than an hour later, he ran a mile in 3:52.61 (both times were facility records).
Think about that for a minute. A guy who ran a 59:17 half marathon four months ago has good enough wheels to beat the Olympic 800m bronze medallist, Clayton Murphy, in a 1k — an event which Murphy is ideally suited for.
Another guy who is in shape early in 2019 but didn't make the list above is Uganda's Jacob Kiplimo — the 2017 world junior XC champ from Uganda. Kiplimo, who officially turned 18 in November, ran 26:41 on December 31 on the downhill San Silvestre Vallecana course in Spain.
More good news: several of these guys should clash at World XC in March. Kipruto and Barega have already said that they plan to run their country's national trials for World XC, and we expect Kiplimo and Cheptegei to compete for Uganda. Add in two-time defending champ Geoffrey Kamworor of Kenya and there is some race shaping up in Aarhus on March 30.
We can't wait to see how 2019 plays out.
###
There is a lot to look forward to on the women's side as well. Only 12 women in history have ever broken 14:27 for 5000, but six women did it in 2018 — Hellen Obiri, Sifan Hassan, Letesenbet Gidey, Senbere Teferi, Agnes Tirop, and Genzebe Dibaba.
Add in the fact that 10,000 world record holder Almaz Ayana should be back after missing 2018 with a knee injury and there should be plenty of fireworks.
****
The Canadian Indoor 5000 Record is DESTROYED/ The NCAA Women's 1k Mark Also Falls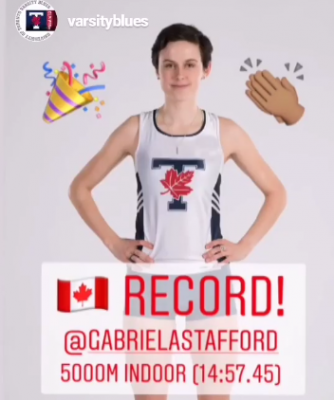 Canada's Gabriela Stafford, 23, enjoyed some fireworks herself on January 5.
Until that day, Stafford had been known as a 1500 runner — she owns a 4:03.55 pb, but failed to make the finals in the 2016 Olympics, 2017 Worlds, and 2018 Commonwealth Games. But at the Glasgow Athletics Association Miler Meet, Stafford made her 5,000 debut and to say it went well would be an understatement.
She ran 14:57.45 to destroy Megan Metcalfe-Wright's old Canadian indoor record of 15:25.15 by nearly 30 seconds (she narrowly missed Courtney Babcock's outdoor mark of 14:54.98).
We imagine some of you may be wondering why a Canadian would be running in a low-key 5,000 in Britain in January. The answer is simple. Stafford has pulled a "reverse Mo Farah" and moved from North America to the UK to train with Laura Muir under the Muir's coach, Andy Young. Speaking of Muir, she won the 5,000 in 14:52.02 and towed Stafford to the record.
After getting the record, Stafford gave big props to Muir and Young, telling Canadian Running her workouts are very intense nowadays:
"I've definitely gotten a lot more mentally tough. Some of the workouts I've done this fall are just on another level in terms of both intensity and length. Some of them are just as difficult as races, so I've really had to up my mental game as a result. Completing these workouts allowed me to approach my season opener more calmly than I have in a long while, because a 5K race can't be harder than some of the sessions I've done recently."
Stafford celebrated her national record by getting married a week later.

Don't look for Stafford to move up to the 5,000 permanently. In November, she told AthleticsCanada.TV, "I'm a 1500 runner," and said her goal for 2019 is to make the Worlds final and run near 4:00.
Probably a wise move, as a non-African-born runner hasn't won a medal in the 5,000 at Worlds this century without doping.
In the immediate future, Stafford has one final semester at the University of Toronto before going back to Scotland.
The #ACRoadtoTokyo is underway! Watch the first profile featuring @gstafford13.

? on @AthleticsCanada tv: https://t.co/IxXyKQJpzy pic.twitter.com/IG6H4JBLKL

— RunnerSpace (but wearing a ?) (@runnerspace) November 9, 2018
More: RunningMagazine.ca: Gabriella Stafford has moved across the world.
*MB: Muir 14:52 Stafford of Canada 14:57 First meet of year.
##
Stafford isn't the only woman showing early in 2019 that you can run really fast in your season opener. At the Nittany Lion Challenge on January 12, Penn State junior Danae Rivers broke Kaela Edwards' two-year-old NCAA 1000m record of 2:40.79 by running 2:38.58 to get the win.
What is a 2:38.58 1000 worth at 800? Roughly 2:01.92 if we use the same 0.768817984 ratio that John Kellogg used on for a men's 1k a few years back. Update: John Kellogg says it's equal to a 2:01.19 for 800.
? NEW COLLEGIATE RECORD ?@PennStateTFXC's Danae Rivers roars to the finish in the women's 1,000 meter with a time of 2:38.58.

— NCAA Track & Field (@NCAATrackField) January 14, 2019
MB: COLLEGIATE RECORD – Danae Rivers 1000m – 2:38.58 
##
There was one other indoor mark that impressed us to start of the new year.
Thumbs up to Georgetown alum Amos Bartelsmeyer. During his collegiate career, Bartelsmeyer never scored individually at NCAAs (9th outdoors as a senior last year was his best result), although he did improve a lot from high school to run a 3:57 mile. In his season opener last weekend on the oversized UW track, he ran 3:55.32.
Bartelsmeyer, who is training with Andy Powell's post-collegians at UW, will be running for Germany as a pro (though he did compete at USAs last year).
****
Julien Wanders Bookends 2018 With Fast Times
On December 30 at the Corrida Pedestre Internationale de Houilles 10 km in France, Julien Wanders, the 22-year-old Swiss wonder who trains in Kenya much of the year, ended 2018 just how he began it — by running fast. He won the race in a European road record of 27:25. Wanders was already the European record holder thanks to the 27:32 he ran in Durban, South Africa, in October.
Wanders began and ended 2018 strongly as he ran a 60:09 half marathon in February and then he got 8th at the World Half champs in March, but the middle portion of his year wasn't great as he was only 9th in the 10,000 and 8th in the 5,000 at the European champs in August.
https://www.youtube.com/watch?v=_uYlMZbqa6E
Next up for Wanders is the RAK Half in early February.

MB: Julien Wanders updates European 10k record with 27:25.
****
Video of The Week – Sometimes a 100 km Race Comes Down To A Sprint
On January 1, after 100 kilometers of running that took nearly five hours (4:51:27 – 2:55 per km), the 2019 Japanese Corporate Ekiden Championships for Men (the 63rd New Year Ekiden) came down to a sprint finish.
Watch it for yourself:
https://youtu.be/8qU02kqELbM
What you just saw was traditional power Asahi Kasei win their third straight title as they held off a challenge from underdog Mitsubishi Hitachi Power Systems.
****
Legendary Japanese HS Coach Breaks Through at the Collegiate Level
While the Japanese corporate champs were held on January 1, the biggest ekiden of the year in Japan actually took place over the next two days. That was the Hakone Ekiden, a collegiate race that is broadcast on national TV for 15 hours and normally attracts a peak viewership rating of more than 30% in Japan.
In this year's race, Tokai University won its first ever title in style as they broke the course record by nearly three minutes in 10:52:09. Tokai is coached by Hayashi Morozumi, who was a super successful high school coach before moving up to the college ranks. As a high school coach, Morozumi coached the following four studs, according to Brett Larner:
Akinobu Murasawa, Suguru Osako, Yuki Sato, and Yuichiro Ueno.
Ok, we know most of you don't follow Japanese running all that closely and probably don't recognize those names except for maybe the NOP's Osako, so we'll help you out and list their PRs.
Akinobu Murasawa – 13:34.85, 27:50.59, 2:09:47
Suguru Osako – 13:08.40 NR, 27:38.31, 2:05:50 NR
Yuki Sato – 13:13.60, 27:38.25, 2:08:58
Yuichiro Ueno – 3:39.52, 13:21.49, 28:01.71
Amazing, right? A single coach at a single high school produced three sub-2:10 marathoners, plus another guy who ran 13:21.
That's UNREAL.
So what is the secret to Morozumi's success? Well at the high school level, he was known for having his runners focus on cross country running — he went as far as to have his own XC course made that the runners could run on daily. When he was hired by his alma mater in 2011 to coach in college, he said would do the same. He had an XC course constructed for them to train on and since it wasn't possible for it to be as hilly as he wanted, he doubled the depth of its woodchips from 5cm to 10cm to make it harder for his runners to get traction (and thus enable them to build strength).
At the time he said according to Brett Larner's translation, "Now that the course is ready we can make cross-country running the staple of our day-to-day practice, so that will be the key new element."
More: JapanRuningNews: MHPS Just Misses Stopping an Asahi Kasei New Year Ekiden Threepeat
JapanRuningNews: Tokai University Wins First-Ever Hakone Ekiden Title
JapanRunningNews from 2011: New Tokai Univ. Coach Morozumi Discusses Value of XC Training After Saku Chosei H.S. Success
****
Valencia Starts Off 2019 Like It Ended 2018 – With Some Super Fast Times
We'll end our first Week That Was of 2019 with some advice we learned in 2018: if you want to run fast on the roads, get to Valencia, Spain. Whether you want to PR at 10k, the half, or the marathon, you can find an amazing road race in Valencia.
Last weekend, the 10k took center stage at the Valencia Ibercaja 10K. When the races were over, a pair of Ethiopians had picked up impressive wins and national records. In the men's race, Chala Ketema Regasa won by one second over Uganda's 13:10 man Stephen Kissa in a national road record of 27:23.
If you are wondering who the heck Chala Ketema Regasa is, we don't blame you. The 22-year-old wasn't exactly a household name before this weekend. In 2015, he was third in the 1500 at the African U20 Champs before running 3:37.24 later in the year. He missed most of 2016 as he only raced once (3:43.54). In 2017, he also only has one result on his resume — but that was a big pb of 3:34.57 in Hengelo that got him on the Ethiopian team for Worlds, where he was a DNS in the 1500. In 2018, he ran 7:38.78 for 3,000 and won his first two career 5,000s in 13:25.27 and 13:06.98. With his 1500 background, he could prove to be a tough out in the longer distance races in the years to come.
In the women's race in Valencia, 20-year-old Tsehay Gemechu, who was one of the biggest breakout performers of the year in 2018, showed her 66:50 debut half marathon win in New Delhi in October was no fluke as she won by 11 seconds in a national record of 30:15 with Kenya's Gloria Kite (PBs of 4:10/8:39/15:06/31:41) second in the best showing of her life.
****
Quotes Of The Day And Last Week's Home Pages
To see the quotes of the day from last week or last week's home page or any home page, go to our archive page.
Got a tip, question or comment? Please call us at 844-LETSRUN (538-7786), email us or post in our forum.