All Grown Up: "This Is A Different Grant Fisher Than We've Ever Seen Before"
By Jonathan Gault
September 26, 2018
When Stanford sophomore Grant Fisher outsprinted Arkansas' Jack Bruce and Syracuse's Justyn Knight to win the NCAA outdoor 5,000-meter title at Hayward Field in June 2017, it felt like a changing of the guard. For the previous four years, Oregon's Edward Cheserek had dominated collegiate distance running, racking up an incredible 17 NCAA titles. But Cheserek, who missed the 2017 NCAA outdoor meet with a back injury, was on his way out, and Fisher seemed to be the guy set to replace him. It had been eight years since an American man had won the NCAA 5,000 title (Oregon's Galen Rupp), and 28 since an American had done it as a sophomore (Arizona's Marc Davis). With two full years remaining in his collegiate career, the sky was the limit for Fisher.
But now, 15 months later, Fisher and Stanford coach Chris Miltenberg agree: winning that race was one of the worst things that could have happened to him.
Article continues below player
Like our coverage from Albuquerque?
"I came into [2017-18] thinking I had it figured out," Fisher says. "And I certainly didn't."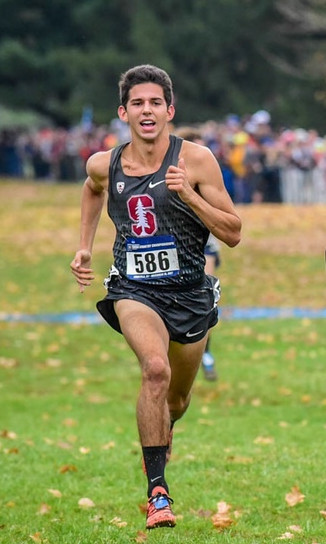 Fisher, now 21, hardly fell off a cliff last year, but when you've won an NCAA title, anything short of another title is a disappointment and Fisher won zero NCAA titles last year. In the fall, he finished fifth at the NCAA Cross Country Championships, the same place as in 2016.
Four months later, he headed to the NCAA Indoor Track & Field Championships at Texas A&M. In the DMR on Friday, Fisher, running the anchor leg, took the baton with Stanford in fifth place, 2.34 seconds behind Virginia Tech. With Hokies anchor Neil Gourley doubling back from the mile prelims early that day, the completely fresh Fisher, who had closed in 51.81 to win the 2017 Pac-12 1500 title, was in an advantageous position. But Gourley held on to win the race, and what's more, Fisher, who split 3:57.48, found himself outkicked by Notre Dame's Yared Nuguse — a true freshman — and Oregon's James West as the Cardinal finished fourth. The following night, Fisher took fourth again, this time in the 3,000 in 8:06.52, but was not a factor in the last-lap duel between winner Andy Trouard of Northern Arizona (8:04.94) and Knight (8:05.76).
"Who wouldn't like to have the year that he had, right?" Miltenberg says. "A fifth in cross country, a fourth indoors…but if you look [now] as a senior, and what Grant wants to do, and what his goals are, it was a challenging year in some regards."
Miltenberg knows that he has been entrusted with a special talent in Fisher, a prep phenom who had been on the road to greatness long before stepping onto Stanford's campus in the fall of 2015. For most of his career, that road had been straight as an arrow. Fisher was coached in high school by Mike Scannell, a family friend and former college teammate of Fisher's father at Arizona State. Scannell was careful to manage Fisher's mileage and intensity (he only ran 40 miles per week as a junior) while guiding him to a prep career that saw Fisher capture two Foot Locker cross country titles and break 4:00 in the mile. The transition to Miltenberg and Stanford was seamless. As a freshman, Fisher ran 13:30 for 5,000 meters and made it to the Olympic Trials. His sophomore year culminated with that NCAA title.
A pair of fourth-place finishes at NCAA indoors hardly qualifies as "adversity," but they registered to Miltenberg as a sign that Fisher may have been straying, just a little, from that road to greatness. Before Fisher had enrolled at Stanford, Miltenberg had made him one promise: that he would challenge him. Now was the time.
"I think what happens when you have all that success is people just assume that because you're so good at this, you really want to do this at a high level," Miltenberg says. "And in recruiting Grant, certainly, that was the conversation — Hey, I want to be a world-class athlete, I want to run as a pro for the next 10 years — and I think in many ways he chose Stanford because he believed that was the place that would get him there.
"He had so much success, he never really had to have that full, total inflection of, What do I really want to do? I said, 'Grant, you can keep doing what you're doing, and you can have a college career that everybody would be envious of. You're probably going to win another NCAA title, you'll be a 15-time All-American. But if you want to find out how good you can really, really be, we've gotta grow every single day. We cannot keep the status quo, we've gotta grow every day, you've gotta challenge yourself every day to come out of your comfort zone in terms of the way you think, operate, live your life day-to-day.'"
No one had spoken to Fisher like that before. And he made a decision: he would rise to Miltenberg's challenge.
"I thank him for that," Fisher says. "I think a lot of times, people just tell me that everything's good because I've had success in the past, but I really appreciated that conversation because he was real with me and let me know exactly how things were going and didn't sugarcoat it. I think that was exactly what I needed…I think I'm in a much better place now just because my mentality has shifted significantly."
***
The New Grant Fisher
Earlier this month, at Stanford's preseason training camp in Bend, Oregon, Miltenberg had Fisher do something he had never done before. In his first three years at Stanford, Fisher started interval workouts with the rest of the group. In Bend, Miltenberg sent the rest of the group off before telling Fisher to chase them down.
Miltenberg says that, for the majority of his Stanford career, there has been a gap between the level Fisher was training at and the level he was racing at; Fisher could train like an NCAA All-American and race like an NCAA champion, relying on his natural talent to make up the difference. But Miltenberg believes that if you are to continue racing at progressively higher levels, that gap must continue to shrink.
"We're not gonna do that every single workout, but we're going to pick our spots, occasionally, where, hey, Grant, you're going to have to work out at the level you want to get to," Miltenberg says. "And I was very, very methodical, patient with him early on to make sure that we built up to this point. This is three years in the [making]. But now I think in his growth, this is the next piece.
"If you showed up at practice and watched Grant most days in the first two and a half years he was here, we weren't pushing it. He would work out with guys that were racing significantly [or] maybe a little bit, below his level. That worked for him to get to a certain point but we had hit the ceiling on what that approach was going to get us to."
Though Fisher is not a professional yet, that's the level he wants to get to. And professional running is a 24/7 job — whether you are working, sleeping, or partying, how you choose to spend the time between workouts impacts your performance. So Miltenberg and Fisher decided that if he was to reach that level, Fisher would have to change more than just his training.
"And so now the next part was, okay Grant, if you're going to get better, we've gotta continue to train progressively, intelligently harder each year, which means you're gonna have to make sure that outside of practice, you're supporting that workload," Miltenberg says. "The level we were training him at, shoot he could get by with doing a bunch of different things in his life less than perfect and we weren't training hard enough for it to expose itself. But if he was going to get better, he was going to have to train harder, and if he was going to train harder, he was going to have to do all the key things in his lifestyle to support that too."
Last fall, Miltenberg says that Fisher, an electrical engineering major, was spending 25 hours a week in the lab. So to prepare for his senior campaign, Fisher stayed in Palo Alto over the summer to knock out some of his more challenging classes, which should result in a more manageable course load this fall. For Miltenberg and Fisher, the key word here is balance. Fisher isn't Matt Leinart taking ballroom dancing as his only class at USC — this is still Stanford University, after all, and Fisher says academics are still important to him. But so is running.
"Stanford is a difficult place to go to school," Fisher says. "It's not like a shift in that I don't care about school anymore, or that I was 100% school and no running. I think it's just a mentality shift that there are times where I can't stay up doing work and just accept that I need my sleep and [if I lose] a couple points here or there in school…[I] just [have to] kind of be okay with that."
Miltenberg is impressed by the way Fisher responded to the challenge he laid down for him on the way back from NCAA indoors. Though Fisher could not successfully defend his NCAA outdoor 5,000 title, he was far more competitive than he had been at NCAA indoors, finishing third, just .23 back of the winner, Stanford teammate Sean McGorty (Fisher was 1.58 seconds back in the NCAA 3000 indoors). Two weeks later, Fisher finished sixth at USAs in the 5,000.
"I think junior year for Grant last year was the most pivotal crossroads in his career that he's come to yet," Miltenberg says. "I just told him the other day: I think when he's a World Championship medalist and finalist in the next 10 years, he's going to, hopefully, look back at last year as the defining year that gets him to there."
***
At last, an American NCAA XC champion?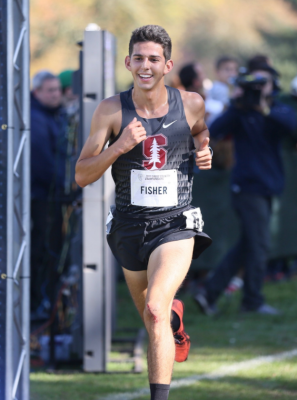 Even if Fisher can fulfill Miltenberg's highest expectations and one day stand on a global podium, that doesn't mean he'll win the NCAA cross country title this year. U.S. distance running has taken off over the past decade, but no American man has won NCAA XC since Galen Rupp in 2008. Among the serious contenders, Fisher is the only one with an NCAA track title on his resume, but he's also the fourth returner from 2017, behind Northern Arizona's Matt Baxter and Tyler Day and Alabama's Gilbert Kigen (Day has a shot to end the American drought as well; Baxter is from New Zealand while Kigen is Kenyan).
About that 2017 NCAA race…though many had hyped it as a duel between Justyn Knight and Fisher after the pair went 1-2 at the Wisconsin Invitational, Fisher made clear that he expected it to be more than a two-man race and that his top priority was recording a low score for his Stanford team. He was proven right as a pair of big surges strung out the field quickly. The first came from Kigen just before 4k. Fisher elected to hang back — he was 21st at 4k, 9.7 seconds back of Kigen — while Day, Baxter, and Knight tried to chase him down. Once they caught him around 6.5k, Day and Baxter came over the top with a big move of their own, killing any chance Fisher may have had at the victory; though Fisher moved up well to take fifth, he would never get close to them the rest of the way.
Fisher said afterward that while he "wasn't super pleased" with his race, the hard early moves put him in a tough spot.
"Those guys were going very fast, far faster than I've ever run," Fisher says. "So who knows, maybe I could have hung with them, maybe not. But I just couldn't take any risks today going with that pack. I kind of had to stay with that pack, ensure that I got a top-10 finish [for] my team."
Miltenberg came away impressed by the way Day and Baxter dictated the race, but also by how Fisher responded after finding himself in a hole.
"Last year was eye-opening, on so many levels, for Grant, for me, for probably everybody in our sport that watched that NCAA meet and watched what those NAU guys did," Miltenberg says. "I mean, shoot, when is the last time we saw that? That was so unbelievable.
"Honestly, I think maybe it even caught us a little bit by surprise. And if you watch that race and look at how that thing played out, all of a sudden, Grant looked up at 2k [and thought], 'Oh shoot, these guys are actually getting away from me and this isn't going to be just all of a sudden I'm going to get back in there.' And I think he had to recalibrate really quickly in that moment.
"He was smart, he was cautious and [he ran] for the betterment of the team to not take a risk. And it just kind of shows you how savvy of a racer he is. But the part that's amazing is that he got himself to fifth still. If you look at that pack of guys that he was running with, and the pack that broke away from them, and then you look how it played out the last 1000 meters, it was pretty incredible that he worked his way back to turning that thing into fifth."
Fisher will be counted on for a low score again in 2018 as Stanford remains a national title contender. But Fisher isn't going to grow by doing the same thing as last year; Miltenberg is going to keep challenging him, and part of that challenge is running for the win in the biggest meet of the year.
"He wants to win," Miltenberg says. "That's something that we're evolving the way we think and talk. I envision he will be coming around that turn in Madison with 800 to go with the top three to five guys. I don't think you'll see Grant up there pushing the pace, but there's nothing he's not going to go with."
While NCAAs is just seven weeks away, there is plenty of racing to come between now and then. Fisher will open his 2018 season at Pre-Nats on October 13, followed by Pac-12s on October 26, which will be extra important this year — Fisher and the Cardinal men are defending champs, and Stanford is hosting the meet. By the time Fisher arrives in Madison for NCAAs on November 17, Miltenberg believes the rest of the country will see what is clear to him already.
"Grant grew up a lot," Miltenberg says. "Grant's a grown man now. To see him, where he is right now, I'm excited for where it goes. I'm maybe worried for everybody else out there because this is a different Grant Fisher than we've ever seen before."
---
Talk about Grant Fisher on our world famous messageboard / fan forum: MB: Who will win the 2018 NCAA XC individual crowns? Will an American man (Grant Fisher?) win for the 1st time in 10 yrs?