2017 Wisco XC Recap: Justyn Knight Edges Grant Fisher As NAU Dominates, But Who Were The Biggest Winners and Losers?
By LetsRun.com
October 13, 2017
Today's 2017 Nuttycombe Wisconsin Cross Country Invitational in Madison played out very much the same as the 2016 Nuttycombe Wisconsin Invitational as for the second year in a row, the No. 1 Northern Arizona men and Syracuse's Justyn Knight emerged as the champions. Just as in 2016, NAU destroyed the men's field, recording a score of 50 points in one of the most dominant performances in the eight-year history of the meet. And just like last year, Knight waited until the last minute before kicking his way to the title, exacting a measure of revenge for his NCAA 5,000 defeat last spring by out-sprinting Stanford's Grant Fisher to win in 23:38.5 to Fisher's 23:38.9.
Article continues below player.
.@justyn_knight defends his #NuttyInvite title! @Cuse pic.twitter.com/An8G03NDMq

— FloTrack (@FloTrack) October 13, 2017
Northern Arizona won this meet last year en route to claiming the national title, and through two major meets this season, the Lumberjacks have been even better than they were in 2016, despite losing top runner Futsum Zienasellassie and replacing coach Eric Heins with Michael Smith. Two weeks ago, NAU went 1-2-3-4-9 to win the Louisville Sports Commission Cross Country Classic and today the Lumberjacks went 3-4-5-17-21 for 50 points, the lowest score at this meet since 2010. But considering the field was much weaker seven years ago, this was the most dominant run ever by a men's team at Wisconsin. In 2010, there were 21 teams in the field. Today, there were 20 ranked teams in the 35-strong men's field.
The surprising runners-up were the Pilots from the University of Portland, who scored 123 points despite entering the meet at No. 25 in the coaches' poll. No. 3 Syracuse was third with 151, narrowly edging No. 4 Stanford (155) and No. 10 Furman (157).
Individually, the race was a tactical affair through the halfway mark (12:07) as 55 men were within five seconds of the lead. UCLA's Robert Brandt, who transferred from Cal earlier this year, broke the race open with a surge just after 5k and led by as much as four seconds.
But eventually, a pack of five men — Knight, Fisher, and the NAU trio of Andy Trouard, Tyler Day, and Matt Baxter — ran him down.
Coming off the final turn, NAU was running 1-2-3, but Knight and Fisher, the two favorites for the NCAA title, separated themselves in the end. Fisher was the first to move, but Knight, as he did last year, remained patient before exploding to the front and holding off a late response by Fisher to win by four-tenths of a second. Trouard (23:40.6), Day (23:41.6), and Baxter (23:41.7) were almost 10 seconds clear of the rest of the field, however, as the next-closest man was Illinois' Jonathan Davis in 23:51.0.
Quick take analysis appears below. Full results here.
Quick Take #1: We're already counting the days until the Knight-Fisher rematch at NCAAs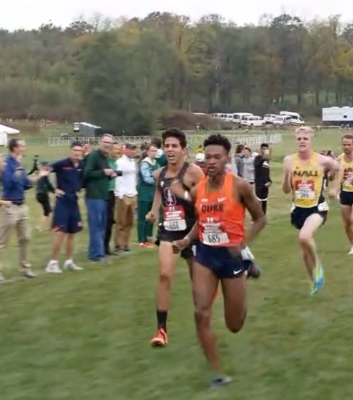 The NCAA championships will be held on November 18 in Louisville, 36 days from now, and even though this one just ended, we can't wait until Knight-Fisher, round two. It's fitting that the race will take place in the birthplace of Muhammad Ali as, despite the runners' slight frames, this is definitely a heavyweight showdown.
Fisher has the hardware — he beat Knight to win the NCAA 5,000 title in June — but since then it's been advantage Knight as Knight finished 9th at the World Championships in London and prevailed in Madison today. But the race was so tight today, with Fisher taking the lead, getting passed, and almost reclaiming it by the finish, that the rematch, with the NCAA title on the line, should be incredible.
There will be some good runners in action tomorrow at Pre-Nats, but with Wisconsin's Morgan McDonald redshirting (he did not run today), there's no doubt that these two men are a cut above the rest of the NCAA at the moment.
Quick Take #2: The NAU men were incredible today…but don't hand them the NCAA title just yet
NAU crushed a stacked field today that included 20 ranked teams and the #3 (Syracuse), #4 (Stanford), and #6 (Southern Utah) teams in the country. Scoring 50 points against a field this good usually bodes well for a team's NCAA chances. Remember, NAU scored 78 last year and went on to win NCAAs.
Lowest men's scores, Wisconsin Invite, 2011-17
2017 N. Arizona 50
2011 Wisconsin 66
2016 N. Arizona 78

The last two teams won NCAAs.

— Jonathan Gault (@jgault13) October 13, 2017
Portland ran well today, and Syracuse was great through four runners but their fifth (freshman Joe Dragon) was way back in 95th. But the fact of the matter is that if NAU runs like they did today, nobody is touching them at NCAAs. Even if Portland or Syracuse replaced their fifth man with a guy who won the entire meet, neither of them would have beaten NAU.
Northern Arizona is well-positioned to endure a disastrous run from one of its guys at NCAAs as their #6 man Peter Lomong (Lopez's brother) was 43rd. But crazy things have been known to happen at the NCAA meet…
Plus we want to wait until No. 2 BYU races tomorrow at Pre-Nats before declaring NAU the obvious favorite at NCAAs. Remember, two weeks ago BYU scored 17 points to win the Dellinger Invitational at Oregon, and in that race, they put four guys in front of Stanford's Alex Ostberg and three more guys within five seconds of him. Ostberg was 12th today at Wisconsin.
Quick Take #3: Biggest Losers (Team) — It was an awful day for six ranked teams (Illinois, UVA, Indiana, Columbia, Boise State, and Iona)
The following chart shows you the biggest winners and losers of the ranked teams.
| | | | |
| --- | --- | --- | --- |
| Seed | Team (National Rank) | Place | Diff |
| 1 | Nau (#1) | 1 | 0 |
| 2 | Syracuse (#3) | 3 | +1 |
| 3 | Stanford (#4) | 4 | +1 |
| 4 | S. Utah (#6) | 7 | + 3 |
| 5 | Furman (#10) | 5 | 0 |
| 6 | Colorado St. (#11) | 6 | 0 |
| 7 | Iona (#13) | 17 | +10 |
| 8 | Iowa St. (#14) | 16 | 8 |
| 9 | Boise State (#15) | 21 | + 12 |
| 10 | Illinois (#16) | 28 | + 18 |
| 11 | Michigan St (#17) | 10 | -1 |
| 12 | Virginia (#18) | 30 | +18 |
| 13 | UCLA (#20) | 8 | -5 |
| 14 | Indiana (#21) | 29 | 15 |
| 15 | Air Force (#23) | 11 | -4 |
| 16 | Michigan (#25) | 8 | -8 |
| 17 | Portland (#25) | 2 | -15 |
| 18 | Wisconsin (#28) | 25 | +7 |
| 19 | Wash St (#29) | 13 | -6 |
| 20 | Columbia (#30) | 33 | +13 |

On the negative side of things, a ton of teams bombed – at least based on where they were ranked (because a lot of teams don't run full strength-squads or race top competition until this weekend, early rankings can be deceiving). Six nationally-ranked teams finished more than 10 places lower than they were expected based on their ranking led by #16 Illinois, which was the 10th-highest ranked team in the meet on paper, but they ended up 18 spots worse in 28th. #18 UVA – the 12th-ranked team in terms of entrants – was also 18 spots worse than expected as they were just 30th. #21 Indiana was almost as disappointing as they came in as the 14th-highest ranked team but left with a 29th-place showing. 30th-ranked Columbia didn't even place in the top 30 of the meet as they were 33rd. #15 Boise State – the 9th-ranked team – was just 21st and #13 Iona – the 7th-ranked team – was just 17th.
Quick Take #4: Biggest Winners (Team) — It was a great day for Portland, Minnesota and several others
Biggest Winners — ranked teams
On the team side, NAU came in ranked #1 and dominated so obviously they had the best day of anyone. But in terms of pre-meet expectations, no one had a better day than Portland. They came in ranked #25 – they were just the 17th-best ranked team in the field – and left with a runner-up finish. Three other teams ran at least five places better than their rankings. #23 Michigan – the 16th-highest ranked team – was 8th. #20 UCLA came in as 13th-highest ranked entrant but finished 8th and #29 Washington St – the 19th-highest entrant – was 13th.
Biggest Winners — unranked teams
Since six of the 20 ranked teams didn't finish in the top 20, that means six unranked teams finished in the top 20. Leading the way was Minnesota, which was 12th.
Unranked teams in the top 20
Minnesota – 12th with 413
Washington – 14th in 445
NC State – 15th with 471
San Francisco – 18th with 499
E. Kentucky – 19th with 526
Purdue – 20th with 536
Quick Take #5: Odds and ends
Wisconsin has officially redshirted star Morgan McDonald and it clearly was the right move. Today, Wisconsin was jus 25th with 632 points. Even if McDonald had won the race, they would have only moved up to 13th. By redshirting, McDonald can gun for the NCAA title when Wisconsin hosts next year and the team should be much better.
###
There was a gigantic 93-point gap between #10 Michigan State and #11 Air Force. In terms of points, Michigan State was actually closer to 6th (47 points away) than 11th.
##
And the license plate of the day:
Race Day. pic.twitter.com/vgF7hiEVM1

— 13244 (@suxc) October 13, 2017
Talk about the meet on our fan forum / messageboard. MB: Official 2017 Wisco / Pre-Nats Discussion Thread- Who you got? 
Women's Recap: 2017 Wisconsin XC Recap: Ednah Kurgat Leads New Mexico To Victory.