After a Dominant 3:57.34 Win (US #4 All-Time) in Lausanne, Is Shelby Houlihan the World's Best 1500 Runner?
By Jonathan Gault
July 5, 2018
After Shelby Houlihan unleashed a 28.9-second final 200 meters to win the 1500 at the Prefontaine Classic in May in a personal-best 3:59.06, the questions began.
Yes, that was incredible. But can she do it in a championship race against Jenny Simpson?
So Houlihan showed up in Des Moines, dropped a 57.67 last lap and dusted Simpson, the most decorated American 1500 runner of all-time, to win the national title.
Wow, that was even better. Can she do it in Europe against the world's best?
So Houlihan hopped on a plane to Switzerland, and on Thursday night at the Athletissima Diamond League meet in Lausanne, she crushed a field over the last 70 meters that included global medalists Laura Muir, Sifan Hassan, Gudaf Tsegay, and Caster Semenya to win going away in 3:57.34, a massive personal best that makes her the fourth-fastest performer in U.S. history.
Now only one question remains: is the 25-year-old Houlihan the best 1500-meter runner in the world?
(LRC 2018 Lausanne DL Full Meet Recap & Video Highlights: A CRAZY Men's 5000, Noah Lyles over Michael Norman and No 400h WR)
Unfortunately, that's a question we may not get an answer to anytime soon. For one thing, there is no global outdoor championship in 2018 (Houlihan finished 4th at World Indoors in March). For another, the world leader at 1500 meters, Genzebe Dibaba, who easily won the World Indoor title this year, has elected to sit out the 1500 on the Diamond League circuit this year. Exactly why remains a mystery. Dibaba is not injured — she ran a mile in Hungary on Monday — and she is not avoiding the Diamond League entirely — she ran the 5,000 at the Pre Classic and will run another 5,000 in Rabat next week. Dibaba's agency did not respond to an email from LetsRun.com inquiring about her racing plans.
But of the women who are choosing to compete on the DL circuit this year (and here is where I note the absence of reigning world/Olympic champion Faith Kipyegon, who has taken the year off to have a baby), Houlihan is unquestionably the best right now. The chief reason why was on display once again today in Lausanne: her kick.
Houlihan, who ran 55.52 for the 400 to win the Iowa 4A state title as a high schooler, has always had outstanding natural speed. But since joining Jerry Schumacher's Bowerman Track Club in 2015, she's worked hard to improve her endurance to the point where she can use that speed at the end of races. In 2018, there's no doubt that she has reached that point.
Article continues below player.
Today in Lausanne was just another example — even in a 3:57 race, Houlihan was still able to shift gears and blow away a quality field over the final 100 meters. Perhaps Dibaba, the world record holder at 3:50.07, can set a pace fast enough to burn off Houlihan by the home straight. No one else this year has been able to.
Not that they didn't try. The pace in Lausanne was quick through 400 as Tsegay came through in 62.1 right behind the rabbits. Semenya, Besu Sado, and Muir were behind her with the rest of the field strung out almost single-file.
Tsegay, who had used front-running tactics to great effect to win in Stockholm last month, remained right on the rabbit at 800 (2:06.4 for Tsegay) with a small gap to Semenya and Sado behind her. With 600 to go, Muir moved into the mix in third, but Tsegay still held a five-meter lead at the bell (2:54.5). Behind her, Semenya, Muir, Hassan, Houlihan, and Morocco's Rababe Arafi were all giving chase, and it seemed inevitable that at least one of them would be able to reel Tsegay in.
It was Muir who led the charge down the backstretch, and with 170 she went by, Hassan and Houlihan following into second and third. But now that Houlihan finally had room to run, she was unstoppable, and once she got up to full speed with 70 meters to go, it was game over — even the 1:56 800 runner Hassan and Muir, fresh off winning the British 800 title on Sunday, could not hope to hang with her as Houlihan streaked away for the win.
"I didn't have many expectations coming into the race today and was actually a bit worried as I was not feeling very well," Houlihan told meet organizers after the race. "I had to talk to myself during the race to stay in a comfortable position and the incredible crowd here brought my home during the last 200 meters. Indeed, the crowd is really awesome here and when I saw it packed, I did my best to focus and think my win shows I was able to do that. I would love to continue my winning streak and looking forward to coming back to Switzerland and Zurich later in the season."
Because the pace was fast throughout, Houlihan's closing splits weren't quite as gaudy as at Pre or USAs (where she ran a hand-timed 13.1 final 100 in her 5,000 victory) — her final 400 today was 61.4, her final 200 29.7. But the separation she was able to create against a field containing many of the world's best runners — she put .84 of a second on the field over the final 70 meters — was the only evidence needed to show how good Shelby Houlihan is right now.
Results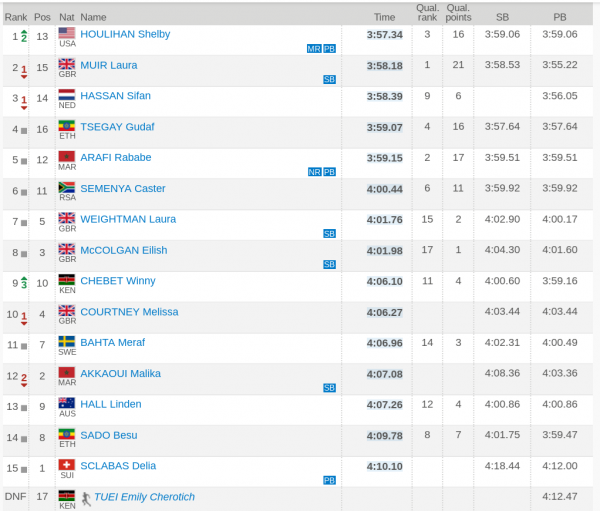 Quick Take: The American record could go down, but it would require the right race
Shannon Rowbury's American record is 3:56.29, and if Houlihan can get in a race similar to the one Rowbury was in when she ran it, she'd have a real shot to break that record. The problem is, that sort of race doesn't come around very often — it was the same one in which Dibaba broke the world record, and Rowbury benefited from Simpson pushing the chase pack for much of the race.
Houlihan does not like to be near the front at all during the early laps, so to break Rowbury's record, she'd likely need someone pushing an even hotter pace than today. The only woman who seems capable of that right now is Dibaba, but since she hasn't been racing on the DL circuit, that sort of race may not happen in 2018.
In case you were wondering, here's what the new U.S. all-time list looks like:
U.S. women's all-time 1500 list
1. 3:56.29 Shannon Rowbury 2015 Monaco
2. 3:57.12 Mary Slaney 1983 Stockholm
3. 3:57.22 Jenny Simpson 2014 Paris
4. 3:57.34 Shelby Houlihan 2018 Lausanne
5. 3:57.40 Suzy Favor-Hamilton 2000 Oslo
Quick Take: Caster Semenya's breaking point has been revealed
Many have wondered what it takes to beat Caster Semenya, who had not lost a race at any distance in 2018 before tonight. Now we have the answer: you need to run really, really fast (just not in an 800). Semenya tried her best to hang with the lead pack and was still there with 200 to go. But the fast early pace meant that she had nothing left for the final 100 and finished a well-beaten sixth in 4:00.44 (Semenya's PR is 3:59.92).
Quick Take: A big night for the Brits
Muir ran well again tonight (3:58.18, a season's best), but she may be getting tired of finishing second. That now makes four straight 1500s in which she's finished second (World Indoors, Pre, Stockholm, Lausanne). But overall, it was a strong night for Great Britain as Laura Weightman (4:01.76) and Eilish McColgan (4:01.98) both broke 4:02 as well. Per Jon Mulkeen, that's the first time three British women have been under 4:02 in the same race.
Talk about this race and the meet on LetsRun.com's world famous messageboard:

*Shelby MF Houlihan – She just took down Semenya and moved to #4 all-time in US history
*Is Shelby Houlihan dirty? 
*Official 2018 Lausanne DL discussion thread
---
More: LRC 2018 Lausanne DL Full Meet Recap & Video Highlights: A CRAZY Men's 5000, Noah Lyles over Michael Norman and No 400h WR)