17-Year-Old Jakob Ingebrigtsen Runs 3:52 Mile at Prefontaine Classic, And Oh Yeah Timothy Cheruiyot Wins in 3:49
By LetsRun.com
May 26, 2018
EUGENE, Ore. — Move over, Alan Webb.
16 years and 364 days after Webb rocketed to US stardom with a 3:53.43 mile as an 18-year old high schooler to finish 5th in the Bowerman Mile at the 2001 Prefontaine Classic, Norway's Jakob Ingebrigtsen one-upped Webb in age, time, and place as today the 17-year-old ran 3:52.28 to finish 4th thanks to an incredible final lap of 55.42 (unofficial final 200 of 27.3).
Seventeen years from now, few will remember that world championship silver medallist Timothy Cheruiyot used a 27.4 final 200 (56.48 final 400) to pull away from Ethiopia's world indoor champ Samuel Tefera to win today's race in 3:49.87 as sub-3:50 miles at Pre are commonplace (this was the 8th sub-3:50 winning time in the last 10 years). Instead, it may be remembered as both the end and beginning of an era — the final professional race at the original Hayward Field, and the first race where the teen phenom Ingebrigtsen proved that he belonged among the very best milers in the world.
The Race
Yesterday, Bernard Ouma, coach of last year's gold and silver medalists in the 1500, Elijah Manangoi and Timothy Cheruiyot, told us he wanted today's race to be a 3:46-7 race and it did start out fast as the leading Africans got out fast at the start. The top three racers of Cheruiyot, 2017 world outdoor champ Elijah Manangoi and Ayanleh Souleiman, the 2014 world indoor champion, all ran their first 400 in 56 (57.62 for 409 for Souleiman) to open up a gap on the rest of the field. However, things slowed dramatically on the second lap as all three ran it over 59 seconds.
The third lap was a little faster as Cheruiyot led the way at the bell in 2:53.82 after a 56.78 lap as he, Tefera and Manangoi were clear of the rest of the field. The three-person race for the win soon turned into a two-person battle as Manangoi fell back on the the first turn of the last lap. Over the final 200, Cheruiyot was just too good as he pulled away from Tefera to win.
Behind them, Ingebrigtsen was taking a page from the Alan Webb playbook and coming up from the back of the pack. After the first lap and 9 meters, Ingebrigtsen was in dead last (60.09 so roughly 58 high at 400). A lap later, he was in next to last, but the 17-year old was running very even as his first three 400-meter laps were all in the 58 range as his second lap was 58.25 (1:58.34) and third 58.53 (2:56.87). By running even and not slowing down, Ingebrigtsen found himself right in thick of it in 9th out of the 15 racers at the bell, sandwiched between America's Olympic 1500 champ from 2016 (Matthew Centrowitz was 10th) and America's Olympic 800 bronze medallist from 2016 (Clayton Murphy was 8th).
However, Murphy and Centrowitz were soon left in the dust as Ingebrigtsen was moving up. On the backstretch, he flew by competitor after competitor and found himself in fourth with half a lap remaining, with a big gap to third. Over the final 200, he nearly bridged the gap to last year's world champ Manangoi but in the end couldn't quite get there. His final lap of 55.42 was more than half a second faster than everyone else in the field as Cheruiyot was next best at 56.05.
If we are being politically correct, we probably should point out that Tefera is officially 18 but given the rampant age cheating that has taken place in African athletics over the last few decades we aren't going to go crazy of his "age-18" time.
Article continues below player.
2018 Bowerman Mile Results *Lap by Lap Slits Here
    1 Cheruiyot , Timothy              KEN    3:49.87           
    2 Tefera , Samuel                  ETH    3:51.26           
    3 Manangoi , Elijah Motonei        KEN    3:52.18           
    4 Ingebrigtsen , Jakob             NOR    3:52.28           
    5 Murphy , Clayton                 USA    3:53.40           
    6 Centrowitz , Matthew             USA    3:53.61           
    7 Birgen , Bethwell                KEN    3:54.60           
    8 Souleiman , Ayanleh              DJI    3:55.87           
    9 Andrè , Thiago                   BRA    3:56.03           
   10 Wote , Aman                      ETH    3:56.49           
   11 Blankenship , Ben                USA    3:56.67           
   12 Engels , Craig                   USA    4:01.70           
   13 Gregorek , John                  USA    4:02.01           
   14 Kiplagat , Silas                 KEN    4:04.77           
   15 Kibet , Vincent                  KEN    4:06.29           
      Kivuva , Jackson Mumbwa          KEN        DNF           
      Rotich , Andrew Kiptoo           KEN        DNF           

Quick Take: 3:52 at age 17 is just silly
Last year, as a 16-year-old, Ingebrigtsen ran 3:58 here to become the youngest sub-4:00 miler of all time, and would lower his PR to 3:56 later in the summer. Those times were remarkable, but usually when you run that fast that early in life, it's hard to keep improving.
Not for Ingebrigtsen. After running 13:35 in the 5k and 8:26 in the steeple (and running for Norway at Worlds) in 2017, Ingebrigtsen has been significantly better in 2018. First he won the Payton Jordan 1500 against a field that included Matthew Centrowitz and Paul Chelimo. Today, he was stride-for-stride with the reigning world champion in the home straight. The only three guys ahead of him are the three best milers in the world right now — world champs silver medalist Timothy Cheruiyot, world indoor champ Samuel Tefera, and world outdoor champ Elijah Manangoi.
That's right. A 17-year-old from Norway is one of the best milers in the world.
It's difficult to put Ingebrigtsen's run into context because there are often legitimate questions about the accuracy of African birth dates. For instance, the runner-up in this race, Samuel Tefera, is officially 18 and ran 3:51 today, but nobody is freaking out about that performance. If you want to compare Ingebrigtsen to Americans, the closest comparisons would be Webb (3:53 at 18) and Jim Ryun (3:55 at 17, 3:51 world record at 19). But Ingebrigtsen, who turns 18 in September, is both younger — and faster — than both of them when they ran their big races. He is truly phenomenal.
Ingebrigtsen admitted that he was shooting for Webb's 3:53.43 from 2001 heading into the meet.
"I was hoping the other guys would run fast from the beginning and they did, so I just tried to keep up with the guys the first lap and we'll see how it goes," Ingebrigtsen said. "But I had a really good last lap, so it felt good."
Indeed, Ingebrigtsen started conservatively — he was dead-last at 409 and 16th (second-to-last) at halfway — but his final lap of 55.42 was the fastest in the field (he was the only guy to break 56), which allowed him to move up from 9th at the bell to 4th at the finish.
Talk about Ingebrigtsen's legendary run here: MB: Alan Webb move over. A high schooler just ran 3:52 at Pre!!! Jakob Ingebrigtsen 3:52.28!!! 
Quick Take: Big win for Timothy Cheruiyot, who says he wants to break 3:28 this year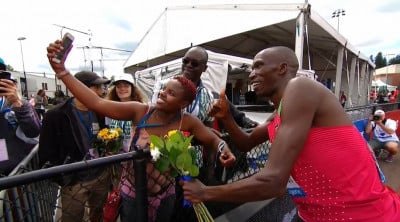 Cheruiyot doesn't have the same global hardware as his training partner Manangoi (world champs gold and silver), but he does lead him in one department: Diamond League victories, where Cheruiyot has five to Manangoi's three. And that doesn't even count today, which was not an official Diamond League points event (even though this was a DL-quality field).
Cheruiyot is now two-for-two on the DL circuit in 2018, but this win was far more convincing than his victory in Shanghai two weeks ago. In that race, he beat Tefera by .15, but today he won by 1.39 — the biggest margin of victory in a Bowerman Mile since 2007. In all, Cheruiyot has won his last three outings in DL 1500/miles as he also won the DL final in Zurich last year.
While Cheruiyot was pleased to get the win, he admitted he wanted to run faster, ideally 3:47. That was a sentiment echoed by his coach Bernard Ouma, who told us after the race he was frustrated by the pacemaking (he had hoped Cheruiyot would go around the pacer once it started to slow down on the second lap).
He told us his goal this year in the 1500 is to win the Diamond League again and break 3:28. That would put him in elite company as only five men in history have run that fast.
Quick Take: Clayton Murphy is ready to start running some fast 800s
Murphy was 5th a year ago in this race, and though plenty has changed since, he was 5th once again in 2018, a fine result against a stacked field. His time of 3:53.40 was slower than the 3:51.99 he ran in 2017, but it was also windier — the wind gauge said 3.1 m/s at the finish, which is well over the allowable limit in the sprints.
Murphy, who ran an 800 SB of 1:45 in Shanghai two weeks ago, was pleased with how he ran today.
"I think it's really good for where I'm at," Murphy said. "I felt like that was a really good step in the right direction."
Murphy is in his first full year with the Nike Oregon Project, and he and coach Alberto Salazar have been taking a patient approach. Murphy was injured last year, and that injury lingered into the fall, which prevented him from really being able to run workouts until January/February. And while Murphy is focusing on the 800 this year — and has been doing 800-specific workouts — he's also been doing a lot of 5k-type workouts to build his strength. But now he's starting to race more, and he's been getting better every time out. If he continues trending in this direction, he could be running very fast later in the summer.
One big thing that Murphy has noticed: Salazar's workouts are hard.
"I've had some workouts where halfway through, I was like, I feel like I'm running all-out. And [Salazar] is like, I don't care. You're gonna feel like you're running all-out in a race."
Murphy's NOP teammate, Matthew Centrowitz, declined to speak with the media after finishing 6th in 3:53.61.
International Mile: Aussie Luke Mathews Guns Down Drew Hunter
Australian Commonwealth Games 800 m bronze medallist Luke Mathews was totally boxed in with 200 meters to go in seventh place. But coming off the final turn, he sort of shoved his way out and once he was free he was able to run down American Drew Hunter, who had taken the lead from Eric Avila, and get the win in 3:57.02 after a 55.2 last 400 (26.8 final 200).
Everyone was in this race with 300 meters remaining except for US high schooler Brodey Hasty, who was hoping to break 4:00. Instead, he ended up being the only guy in the 13-person field not to break four as he was last in 4:04.53. The man with the fastest mile pb of everyone in the field, James Magut of Kenya (3:49.43), ended up next to last in 3:58.75.
Just as was the case last night, the racers weren't interested in going with the rabbits as Hunter and Mathews hit 809 meters in 2:02 and 1209 in 3:01.8.
 International Mile Results *Splits Here
    1 Mathews , Luke                   AUS    3:57.02           
    2 Hunter , Andrew                  USA    3:57.29           
    3 Wynne , Henry                    USA    3:57.61           
    4 Elkaam , Fouad                   MAR    3:58.00           
    5 Yorks , Izaic                    USA    3:58.04           
    6 Masters , Riley                  USA    3:58.12           
    7 Casey , Patrick                  USA    3:58.26           
    8 Alexander , Colby                USA    3:58.38           
    9 Avila , Eric                     USA    3:58.51           
   10 Haney , Blake                    USA    3:58.70           
   11 Ingebrigtsen , Henrik            NOR    3:58.72           
   12 Magut , James Kiplagat           KEN    3:58.74           
   13 Hasty , Brodey                   USA    4:04.53           
      Kiptoo , Elijah Kipchirchir      KEN        DNF           
      Loxsom , Casimir                 USA        DNF
Quick Take: It was special for Luke Mathews, a self-professed "track nerd" to run the 400th sub-4:00 mile at the Pre Classic
Mathews is a real student of the sport and was very happy to have won today by running the 400th sub-4:00 at Pre, a feat for which he received a plaque after the race. After he crossed the finish line, he crossed his hands and mugged for the cameras, a celebration which he said was inspired by Matthew Centrowitz's celebration at World Indoors in 2016.
Even as a 1:45/3:35 guy (and a Commonwealth Games bronze medalist), Mathews said has his own favorite runners that he roots for. Centro is one of them (hence the celebration). So is Henrik Ingebrigtsen — though Mathews wasn't rooting for him today since he was in the same race!
Drew Hunter post-race
Brodey Hasty post-race
---
Talk about Ingebrigtsen's legendary run here: MB: Alan Webb move over. A high schooler just ran 3:52 at Pre!!! Jakob Ingebrigtsen 3:52.28!!!