Drew Hunter (4:08.2) & Nicole Sifuentes (4:37.2) Win 2018 BAA Miles
By Jonathan Gault
April 14, 2018
BOSTON — Looking at the entry lists for this year's BAA Miles, American Drew Hunter and Canadian Nicole Sifuentes stood out as clear favorites to win against fairly shallow fields. On a sunny Saturday morning that turned overcast and breezy by the time the women's race started at 11:40 a.m., both Hunter, 20, and Sifuentes, 31, backed up their favorite status by claiming commanding victories on Boylston Street, where over 25,000 runners will cross the finish line in the Boston Marathon two days from now.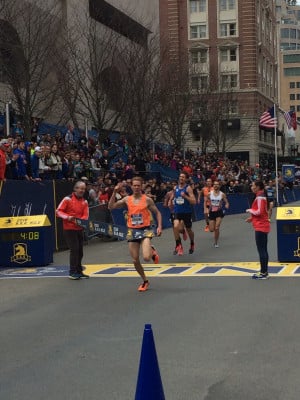 Both Hunter and Sifuentes used front-running strategies to achieve their victories. Hunter shared the lead with training partner Sam Parsons after the first of three laps, and at the bell was neck and neck with 2014 USA 1500 runner-up Pat Casey. But over the final lap, Hunter, running his first career road mile, showed a veteran's savvy, gradually upping the pace before pulling away from the tightly-bunched field on the home stretch. Hunter had enough room to whoop it up in front of a cheering crowd as he broke the tape in 4:08.2, 0.8 ahead of Minnesota alum John Simons, now an assistant coach at Dartmouth College.
Article continues below player
In the women's race, Sifuentes the defending champion, got to the front early, but she began to string things out much earlier than Hunter. At the bell, she already had a lead of a few strides over Cory McGee and training partner Shannon Osika, and that lead would balloon over the final lap as she wound up winning handily in 4:37.2, with Osika making it a 1-2 finish for Michigan alums.
Results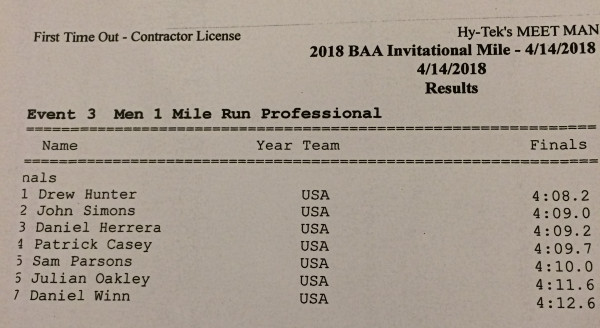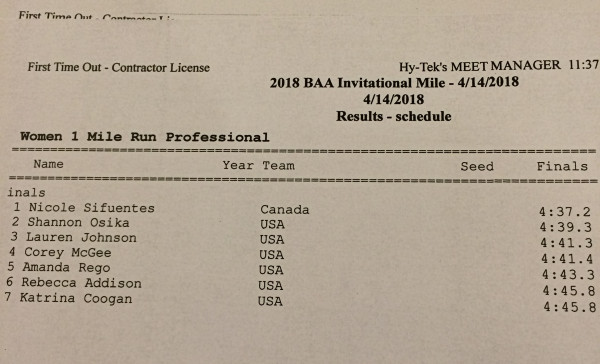 Drew Hunter is very happy with how things are going, will head to Drake Relays next
Hunter enjoyed a very successful first full professional season in 2017, running a 1500 PR of 3:36 and making the final at USAs as a 19-year-old. And so far, 2018 is treating him very well. He ran 3:39 in his season opener at Stanford two weeks ago (doubling back to run 1:49 in the 800) and today ran with a composure well beyond his 20 years (though he managed to have some fun as well). Granted, the field here wasn't incredibly tough, but it's always a good sign when you're winning races.
I also learned that Hunter is taking classes at the University of Colorado. While Colorado is well-known for churning out distance runners, Hunter, as a professional, obviously can't compete for the school's team and as a result, he said that none of his classmates have any idea about his running accomplishments.
"It's been a very positive distraction," Hunter said. "I have my classes right in the middle of the day, so I train in the morning, just go to class, and I train after. It's really good to have another worry other than running. Because I think that can consume you and can really negatively affect you. Last year, I think I dealt with that a lot, I was just always obsessing over running. Now it's like, gotta run in the morning, before class, after class gotta do my double or whatever. I don't overthink anything. That's been big."
Speaking with Hunter this weekend, I was impressed with his maturity. It's easy to forget that he's the age of a college sophomore (he's a freshman at CU since he didn't take classes last year) but he handled his business in Boston like a veteran. If you want more on Hunter, I had a sitdown interview with him before the race on Friday below.
Nicole Sifuentes wins handily, readying up for Payton Jordan 5,000
Sifuentes said that winning this year's race felt easier than it did in 2017, when she crossed the finish line completely spent, though she wasn't sure if that was due to the fact that she ran slower (4:37.2 vs. 4:33.7) or because she's in better shape this year. Sifuentes said that she's not sure of her summer plans, but she's clear on her next goal, which is to run a fast 5,000 at Payton Jordan on May 3. Sifuentes has run a 5,000 at Stanford (either Payton Jordan or Stanford Invite) in six of the last seven years, setting her PR of 15:19 there in 2015.