2018 Boston Marathon Men's Preview, Part I: Galen Rupp Seeks Revenge Against Defending Champ Geoffrey Kirui
By LetsRun.com
April 12, 2018

One year ago, in his Boston Marathon debut, Galen Rupp came 21 seconds shy of becoming the first American-born men's champion since 1983 and first in the prize money era, falling to Geoffrey Kirui, the 24-year-old Kenyan who turned into a breakout star — and LRC's World #1 in the marathon — thanks to his victories in Boston and at the World Championships in August. Twelve months have passed since Rupp and Kirui battled their way up Heartbreak Hill, and both men return to Boston dreaming of victory once again.
While it's very possible that the men's race comes down to Rupp and Kirui again in 2018, there's plenty of talent behind them. Ethiopia's Tamirat Tola, the 2016 Olympic 10,000m bronze medalist, set the course record in Dubai last year and finished second behind Kirui at Worlds. His countrymen Lelisa Desisa and Lemi Berhanu have both won Boston in the past. And there is a group of Kenyans hungry for a first Abbott World Marathon Major victory, including Nobert Kigen, Evans Chebet, Felix Kandie, and Philemon Rono. All four of them recorded personal bests under 2:07 in 2017.
Taken all together, the 2018 men's field is significantly stronger than the 2017 field. In 2017, only four of the men in the Boston field had broken 2:07 the year before the race. This year, five men in the field broke 2:07 in 2017 and that doesn't include either Kirui or Rupp, two of the biggest contenders for the win.
Article continues below player.
Of last year's 10 fastest entrants, only three of them had set their PBs in the two years before the race (starting in 2015) and only five had done it in the previous three years (starting in 2014). In this year's Boston field, 7 of the 10 fastest entrants have PR'd in the last two years.
In this preview, we'll take a look at Rupp and the top international men with a chance to win the race. We have a separate preview looking solely at the top American men (minus Rupp), a group that includes Abdi Abdirahman, Shadrack Biwott, Ryan Vail, and Tim Ritchie:
LRC 2018 Boston Marathon Men's Preview, Part II: How Will the Americans Fare?
If you missed our extensive women's preview, check it out now:
LRC Women's Preview: Flanagan And Hasay And Huddle And Linden, Oh My! * All 2018 Boston Marathon coverage * Race website * 2017 LRC coverage
What: 122nd Boston Marathon
When: Monday, April 16, 2018. Elite women start at 9:32 a.m. ET; elite men start at 10:00 a.m. ET.
Where: Hopkinton to Boston, Massachusetts
How to watch: Live on NBC Sports Network and NBC Sports Gold starting at 8:30 a.m ET. In Boston, WBZ4 will provide local coverage beginning at 7:00 a.m. ET. For international coverage, click here to find out how to watch.
Elite Men's Field
| | | | |
| --- | --- | --- | --- |
| Name | Country | PB | Comment |
| Tamirat Tola | Ethiopia | 2:04:06 | Broke CR in Dubai last year, then silver at Worlds. Oly 10k bronze |
| Lemi Berhanu | Ethiopia | 2:04:33 | 2016 champ was a DNF last year |
| Lelisa Desisa | Ethiopia | 2:04:45 | 2-time champ was 3rd in NYC in November |
| Nobert Kigen | Kenya | 2:05:13 | Ran 2:06 and 2:05 in his 2 marathons last year |
| Wilson Chebet | Kenya | 2:05:27 | 3-time Amsterdam champ was famously 2nd behind Meb in '14. 5th in '17. |
| Evans Chebet | Kenya | 2:05:30 | Two top-4 finishes in majors; coming off PB in Valencia in Nov |
| Felix Kandie | Kenya | 2:06:03 | Has run 2:06 in his last 3 marathons, including 4th in Berlin last fall |
| Geoffrey Kirui | Kenya | 2:06:27 | Defending champ won Worlds and was our World #1 in '17 |
| Philemon Rono | Kenya | 2:06:52 | Set PR/CR to win 2nd straight Toronto Marathon in Oct |
| Yuki Kawauchi | Japan | 2:08:14 | Has already won 3 marathons this year, including a 2:11 in Feb |
| Abdi Nageeye | Netherlands | 2:08:16 | Set national record to finish 9th in Amsterdam last year |
| Lusapho April | South Africa | 2:08:32 | Best finish of 13th in two attempts in Boston |
| Arne Gabius | Germany | 2:08:33 | 6th in Frankfurt last year |
| Abdi Abdirahman | USA | 2:08:56 | At 40, was still the top American in NYC last year |
| Galen Rupp | USA | 2:09:20 | 2nd last year, then won Chicago. Olympic bronze. |
| Reid Coolsaet | Canada | 2:10:28 | Ran 2:10 in Fukuoka in December at age 38 |
| Ryan Vail | USA | 2:10:57 | 2:12 for 8th in Berlin last year |
| Stephen Sambu | Kenya | 2:11:07 | Has finished 5th in Chicago the last 2 years |
| Eric Gillis | Canada | 2:11:21 | 10th at 2016 Olympics |
| Elkanah Kibet | USA | 2:11:31 | 2:11:31 in his debut but hasn't come within 2 mins of that since; 16th at '17 Worlds |
| Timothy Ritchie | USA | 2:11:56 | Ran big PR of 2:11 to win CIM/US champs in December |
| Shadrack Biwott | USA | 2:12:01 | Rupp's college teammate was 4th last year |
| Scott Smith | USA | 2:12:21 | Coming off PR in Frankfurt last fall |
| Andrew Bumbalough | USA | 2:13:58 | 25th in Tokyo, 13th in Chicago in his two marathons so far |
The Case For and Against Galen Rupp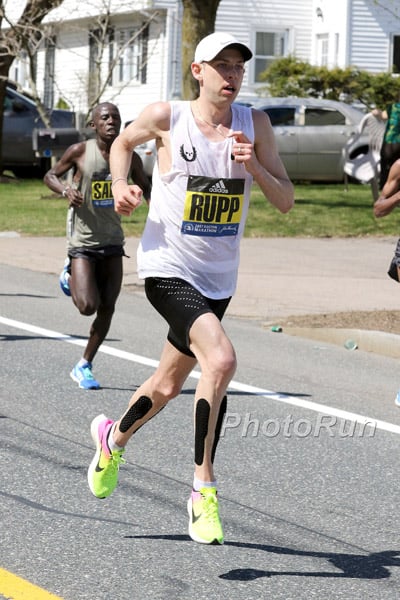 Galen Rupp — USA, 31 years old, 2:09:20 pb (2017 Chicago), 59:47 half
Last two marathons: 2nd 2017 Boston (2:09:58), 1st 2017 Chicago (2:09:20)
Prep race: 1st at Rome-Ostia Half Marathon on March 11 in 59:47
Rupp is among the favorites to win on Marathon Monday, and for good reason. Last year, despite dealing with a case of plantar fasciitis for most of his buildup, Rupp still managed to finish second to Geoffrey Kirui. Since then, he's been on fire on the roads. He won Chicago last fall thanks to a killer close (his final five miles were all under 4:40). More recently, he ran a PR of 59:47 to win last month's Rome-Ostia Half Marathon. Rupp did lose at this year's USA XC champs — his first cross country race since 2011 — but it was still a solid performance. The guy he lost to, Leonard Korir, is a sub-60 half marathoner and a 10k XC race favors Korir more than the marathon-focused Rupp at this stage of their careers.
The big difference between last year and this year for Rupp is his health. He was in pain for much of his 2017 Boston buildup, and while he said he was still able to get through all the important workouts, his preparation was not ideal. Before Chicago, everything went smoothly, and Rupp won the race. And now his coach is saying that this buildup went even better than Chicago's and is "by far" the best he's ever had for a marathon.
"This is as good as he's ever been prepared for a marathon," Rupp's coach Alberto Salazar told The Oregonian's Ken Goe. "Anything can happen. You can have bad luck. But by far this is the best preparation he's ever had in terms of being really prepared and not spreading himself too thin…He's been able to train much harder, run more miles and do more speedwork. It's gone really well, knock on wood. There have been no setbacks whatsoever."
"Galen will definitely be much harder to beat than last year, regardless of how the race plays out," said Salazar to Xinhua. "But Kirui or the others may also be in better shape than last year, so it's impossible to predict."
Rupp has also been incredibly consistent as a marathoner. He's run four marathons — 2016 Olympic Trials, 2016 Olympics, 2017 Boston, and 2017 Chicago — and has been spectacular in all of them. We feel very confident that Rupp will run a good race, especially because we know for a fact that he's very fit (we can't say the same for the top Africans, we'll talk to them on Friday). That doesn't mean he'll win, but the odds of him blowing up are lower than they are for someone like, say, Lelisa Desisa.
Even so, the numbers suggest that Rupp will not win for the simple reason that unless Eliud Kipchoge is involved, there are very few times where it ever makes sense to bet on one guy against the field in a major marathon. First, there's Kirui, who won last year and came back less than four months after Boston and won the World Championships as well. Then you've got Tamirat Tola, the fastest man in the race (2:04:11 pb), who, like Rupp, won one big-time marathon last year (Dubai) and finished second to Kirui in the other (Worlds). 2016 champ Lemi Berhanu and 2013/2015 champ Lelisa Desisa have both won Boston in recent years.
And those are just the guys who have gotten it done in majors. Remember, a year ago, Kirui was nobody's pick for the win. He entered the race with a respectable 2:06:27 pb, but in two career marathons (both in 2016), he had finished 3rd in Rotterdam and 7th in Amsterdam. Hardly the résumé of a guy you'd expect to take down the Olympic bronze medalist. But every good elite athlete coordinator normally leaves some room in the budget for "lottery tickets" on the men's side with the hopes that one of them shows up and produces a breakout race, just as Kirui did last year. This year, Boston has four Kenyans who have all run 2:06 or better in the marathon. None of them is anyone's favorite to win on Monday, but they're all talented and all ran very well in 2017. Odds are good that with four guys, at least one of them rips a big one and contends for the win in Boston.
One more thing to mention about Rupp: a win in Boston could make him a lot of money. In addition to $150,000 from race sponsor John Hancock and whatever bonus he has in his Nike contract, a win would give Rupp the maximum 50 points in Series XI of the Abbott World Marathon Majors (the series runs from the 2017 London Marathon to the 2018 London Marathon, inclusive). Should Rupp finish on top of the standings (Kipchoge or Daniel Wanjiru could tie him by winning in London), he would take home $250,000 as Series XI champion. Kirui, the world champ, is in the same situation as Rupp, with a win in Boston guaranteeing him at least a share of first place.
Two Young, Proven Studs
Geoffrey Kirui — Kenya, 25 years old, 2:06:27 pb (2016 Amsterdam), 59:38 half
Last two marathons: 1st 2017 Boston (2:09:37), 1st 2017 Worlds (2:08:27)
Tamirat Tola — Ethiopia, 26 years old, 2:04:06 pb (2018 Dubai), 59:37 half
Last three marathons: 1st 2017 Dubai (2:04:11), 2nd 2017 Worlds (2:09:49), 3rd 2018 Dubai (2:04:06)
It is very obvious that Kirui is a serious threat to win a second Boston title and in the process become the first repeat winner since Robert Kipkoech Cheruiyot 10 years ago. And while you may be excited about Rupp putting together his best buildup ever, we should point out that after Kirui won Boston last year, his coach Renato Canova told us that Kirui entered that race doing "70%" of the preparation of a real marathon runner. Remember, this is a guy who ran his 2:06 PR in Amsterdam two years ago off of 70-80 miles per week. If he's upped his mileage (we'll find out on Friday), he could see a significant bump in fitness this time around.
And one more thing: Kirui has learned Galen Rupp's name. Last year, we got a kick out of the post-race press conference in which Kirui referred to Rupp (sharing the podium with him) as "this guy" before flat-out asking someone what Rupp's name was. Now he appears to know who Rupp is as he told Xinhua this week that "Rupp is a strong candidate to win."
As for Tola, he has been consistently brilliant ever since claiming Olympic 10k bronze in 2016. Since the start of 2017, he's run four races:
Tamirat Tola's races since the start of 2017
| | | | |
| --- | --- | --- | --- |
| Date | Race | Result | Comment |
| 1/20/17 | Dubai Marathon | 1st, 2:04:11 | Course record. Won by 2:35. |
| 4/1/17 | Prague Half Marathon | 1st, 59:36 | Won by 1:01. |
| 8/6/17 | World Champs marathon | 2nd, 2:09:49 | Runner-up behind Kirui |
| 1/26/18 | Dubai Marathon | 3rd, 2:04:06 | PB. Under old course record. 6 secs behind 1st. |
That's four world-class performances that suggest he is more than capable of winning in Boston (even though Kirui beat him convincingly at Worlds). The one concern about Tola is that he's running Boston just over 11 weeks after running Dubai — easily the shortest gap between any of his five career marathons to this point (in the past he's run Dubai in the winter and a second marathon in the summer/fall). But for the right athlete, the Dubai/Boston double is very doable. In fact, three of the last five Boston champs also ran Dubai that season:
Recent Boston champs who also ran Dubai
| | | | |
| --- | --- | --- | --- |
| Year | Athlete | Dubai result | Boston result |
| 2013 | Lelisa Desisa | 1st, 2:04:45 | 1st, 2:10:22 |
| 2015 | Lelisa Desisa | 2nd, 2:05:52 | 1st, 2:09:17 |
| 2016 | Lemi Berhanu | 2nd, 2:04:33 | 1st, 2:12:45 |
Tola and Berhanu share a coach (Gemedu Dedefo), so he'll know how to handle the turnaround.
One final note on Tola: he has Galen Rupp's number. In their two head-to-head matchups, Tola beat Rupp for bronze in the 2016 Olympic 10k (Rupp was 5th) and crushed Rupp by 2:22 at the Prague Half last year.
They've Run Well in Boston Before
Lelisa Desisa — Ethiopia, 28 years old, 2:04:45 pb (2013 Dubai), 59:30 half
Last two marathons: 3rd 2017 Breaking2 (2:14:10), 3rd 2017 New York (2:11:32)
Prep race: 10th at RAK Half on February 9 in 60:28
Lemi Berhanu — Ethiopia, 23 years old, 2:04:33 pb (2016 Dubai), 61:37 half
Last three marathons: 1st 2017 Xiamen (2:08:27), DNF 2017 Boston, 4th 2017 New York (2:11:52)
As noted in the previous section, between them, Desisa and Berhanu have won three of the past five Boston Marathon titles. Desisa, in particular, has been very good in Boston. Not only did he win the race in 2013 and 2015, but he also finished second to Berhanu in 2016. He does have one DNF in Boston (2014), but two wins and a second in four appearances is about as good as you can get.
Desisa and Berhanu could both conceivably win on Monday, but both men also carry a higher risk of blowing up than the rest of the elite field. Berhanu is very much boom or bust. Check out his marathon track record:
| | | | |
| --- | --- | --- | --- |
| Date | Race | Result | Boom or Bust |
| 4/6/14 | Zurich | 1st, 2:10:40 | BOOM |
| 9/13/14 | Taiyuan | 1st, 2:13:10 | BOOM |
| 1/23/15 | Dubai | 1st, 2:05:28 | BOOM |
| 4/26/15 | Warsaw | 1st, 2:07:57 | BOOM |
| 8/22/15 | World Champs | 15th, 2:17:37 | BUST |
| 1/22/16 | Dubai | 2nd, 2:04:33 | BOOM |
| 4/18/16 | Boston | 1st, 2:12:45 | BOOM |
| 8/21/16 | Olympics | 13th, 2:13:29 | BUST |
| 1/2/17 | Xiamen | 1st, 2:08:27 | BOOM |
| 4/17/17 | Boston | DNF | BUST |
| 11/5/17 | New York | 4th, 2:11:52 | Neither |
If you're counting up, that's seven booms (including six wins) and three busts, with one "decent" race in New York last fall. If the good version of Berhanu shows up in Boston, he'll be in the mix for the win.
Desisa has been more consistent in his career (though he has two DNFs on his record), but despite his two Boston titles, he won't enter Boston with the same fanfare as in years past. But he shouldn't be totally ignored. It's true that he hasn't won a marathon since 2015 Boston, but his third-place finish in New York behind Geoffrey Kamworor and Wilson Kipsang last year was solid. His 60:28 half at RAK in February wasn't phenomenal, but it wasn't awful, either. He's also proven in majors: Desisa has nine top-3 finishes in majors (counting Dubai) since debuting in 2013, including one in each of the past five years.
And while his 2:14:10 from Breaking2 looks ugly on paper, it's horribly misleading. First of all, Desisa never should have been on the start line in the first place. It was clear from the pre-race time trial that he wasn't in shape (he ran 62:55) but at that point he was committed to the project and had to go out and try to run two-hour pace from the gun. It was never going to end well, and we commend Desisa for having the toughness to gut it out and finish.
The "Lottery Tickets"
As we mentioned above, these are your "lottery ticket" guys — runners who have been running well recently but yet to win a major. It's not a super young group — three of the four are 27 or older — but all are trending in the right direction. We'll run through them quickly one by one.
Felix Kandie — Kenya, 31 years old, 2:06:03 pb (2017 Seoul), 60:04 half
Last two marathons: 2nd 2017 Seoul (2:06:03), 4th 2017 Berlin (2:06:13)
Prep race: 4th at Naples Half Marathon on February 4 in 62:04
It took a while for Kandie to figure out the marathon, but now, at age 31, he's begun to hit his stride. He debuted in Nairobi in 2009 with a 2:18 at altitude, but in three subsequent marathons, he could not run faster than 2:16. But he broke through with a 2:10:37 win in Athens in 2014 and since then has made steady progress, winning Prague in 2015 and running under 2:06:30 in each of his last three marathons (most recently 2017 Berlin, his first major appearance).
Nobert Kigen — Kenya, 25 years old, 2:05:13 pb (2017 Amsterdam), 59:42 half
Last two marathons: 4th 2017 Seoul (2:06:07), 2nd 2017 Amsterdam (2:05:13)
Prep race: 3rd at Naples Half Marathon on February 4 in 61:43
Kigen has the fastest PR of the "lottery tickets" by virtue of his 2:05:13 in Amsterdam last year — the sixth-fastest marathon in the world last year (he also has the best half marathon PR of this group at 59:42). Another way to look at it: if Galen Rupp went to Amsterdam last year, could he have run 2:05:13? You're not sure, right? Obviously it takes a different set of skills to succeed in Amsterdam than it does in Boston, but a low-2:05 guy is always a threat to win a major.
At 25, Kigen is also the youngest of the guys in this group, and is trending upward as he ran 2:06:07 or faster in both of his marathons last year after failing to break 2:09 in his first three attempts at the distance. He also beat Felix Kandie when they raced over 13.1 miles in Naples in February, though Kandie beat him head-to-head in last year's Seoul Marathon.
Evans Chebet — Kenya, 29 years old, 2:05:30 pb (2017 Valencia), 61:59 half
Last two marathons: 4th 2017 Tokyo (2:06:42), 2nd 2017 Valencia (2:05:30)
Chebet (shown to the right on the 2016 Berlin podium with Wilson Kipsang and Kenenisa Bekele) has the most major success of this group, finishing 3rd in Berlin in 2016 and 4th in Tokyo in 2017. He's also the only man to have run 2:05:33 or faster three times since the start of 2016. Okay, if you count Breaking2, Eliud Kipchoge has done it too, but regardless, he's in rare company. One thing Chebet has never done: win a marathon. He's finished second in five of his eight career marathons, but never first.
Philemon Rono — Kenya, 27 years old, 2:06:52 pb (2017 Toronto), 60:39 half
Last two marathons: 8th 2017 Rotterdam (2:09:22), 1st 2017 Toronto (2:06:52)
This will be Rono's major debut, and he looks ready for the step up in competition after setting a Canadian all-comers record to win his second straight Toronto Marathon in October. Rono also trains with arguably the best marathon group in the world in Kaptagat under Patrick Sang, who also coaches Kipchoge and Kamworor.
A couple interesting facts about Rono. His nickname is "Baby Police." Also, he was briefly knocked unconscious before the 2016 Toronto Waterfront Marathon when a guard rail fell on his head while stretching, but he recovered and won the race in 2:08:27.
We'll make our predictions after we talk to the internationals on Friday. But tell us what you think on the messageboard. MB: Al Sal talking big b4 Boston: Rupp has had "by far" his best prep & "will definitely be much harder to beat than last yr"
 [gravityform action="

polls

" id="669″ mode="

poll

" cookie="1 month" show_results_link="false" display_results="true" percentages="true" counts="false" ajax="true"]
 More: 2018 Boston Marathon Men's Preview, Part II: How Will the Americans Fare?