2018 Boston Marathon Women's Preview: Flanagan and Hasay and Huddle and Linden, Oh My!
By LetsRun.com
April 11, 2018

It's almost time. We're less than a week away from one of the most anticipated races in the history of American women's distance running — the 2018 Boston Marathon. On Monday, four titans of the sport in the US — Shalane Flanagan, Jordan Hasay, Molly Huddle, and Desi Linden — will assemble on the start line in Hopkinton chasing the first American victory in the prize money era. The last American to win Boston was Lisa Rainsberger (running as Lisa Larsen Weidenbach) in 1985 when many elites boycotted the race as Boston refused to modernize and offer prize money. The following year, Boston began offering prize money to its champions and the result has been 32 consecutive international winners.
That streak very well could end on Monday. While there are capable international runners in the field this year as well — defending champion Edna Kiplagat of Kenya returns, while Ethiopia's Aselefech Mergia has won Dubai three times and London once — there aren't very many of them that have shown in recent years anything close to the form that will be needed to win on Monday. As a result, our attention is squarely focused on the American "Fantastic Four" and that's what most of our preview will be devoted to. Read on as we break down the women's race and analyze each of the Americans' chances at victory, starting with the big 4, which we handle in reverse alphabetical order. Then we take a quick look at the international field to see which woman is the best bet to translate her fitness to a hilly 26.2-mile race in conditions that (as of now) figure to be rainy with a significant headwind (15-25 mph out of the E/SE).
LRC All 2018 Boston Marathon coverage * Race website * 2017 LRC coverage
What: 122nd Boston Marathon
When: Monday, April 16, 2018. Elite women start at 9:32 a.m. ET; elite men start at 10:00 a.m. ET.
Where: Hopkinton to Boston, Massachusetts
How to watch: Live on NBC Sports Network and NBC Sports Gold starting at 8:30 a.m ET. In Boston, WBZ4 will provide local coverage beginning at 7:00 a.m. ET. For international coverage, click here to find out how to watch.
Article continues below player.
Elite Women's Field
| | | | |
| --- | --- | --- | --- |
| Name | Country | PB | Comment |
| Aselefech Mergia | Ethiopia | 2:19:31 | Has won Dubai 3x and London 1x. 3rd at '17 London |
| Deena Kastor | USA | 2:19:36 | Now 45, she's no longer a contender to win |
| Edna Kiplagat | Kenya | 2:19:50 | At age 37, she went 1st Boston – 2nd Worlds – 4th NYC in '17 |
| Buzunesh Deba | Ethiopia | 2:19:59 | CR holder but it's been 3 years since she's been in the mix in a major |
| Jordan Hasay | USA | 2:20:57 | After an incredible first 2 marathons, can she earn first win in Boston? |
| Shalane Flanagan | USA | 2:21:14 | Won NYC last fall at age 36; Boston would be icing on the cake |
| Mamitu Daska | Ethiopia | 2:21:59 | 3rd in NYC last year behind Flanagan & Keitany |
| Desiree Linden | USA | 2:22:38 | Three top-4 finishes in Boston, including last year |
| Madai Perez | Mexico | 2:22:59 | 4th in Chicago last year |
| Caroline Rotich | Kenya | 2:23:22 | Has struggled since winning '15 Boston but did run 2:26 at '17 Amsterdam |
| Gladys Chesir | Kenya | 2:24:51 | If you're looking for a dark horse, it's her. 2nd at '17 Amsterdam in her debut |
| Serena Burla | USA | 2:26:53 | Ran PR last year in Osaka, then finished 11th at Worlds |
| Molly Huddle | USA | 2:28:13 | Set US HM record in Jan; 3rd at '16 NYC in only marathon |
| Krista DuChene | Canada | 2:28:32 | Hasn't broken 2:30 since '15 |
| Kellyn Taylor | USA | 2:28:40 | 8th in NYC last year |
| Kellys Arias | Colombia | 2:29:36 | 7th in Valencia last year |
| Jessica Draskau Petersson | Denmark | 2:30:07 | 14th in Chicago last year |
So If An American Does Win, Who Will It Be?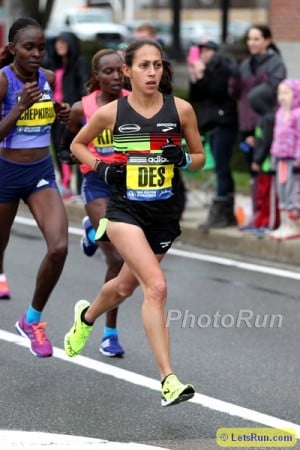 Desi Linden — USA, 34 years old, 2:22:38 (2011 Boston), 70:34 half
Last two marathons: 7th 2016 Olympics (2:26:08), 4th 2017 Boston (2:25:06)
Prep races: 8th at NYC Half on March 18 in 73:33
When we convened our expert panel earlier this week and asked them to talk about the women's race, the consensus on Linden was this: she has the lowest chance to win of the Americans, but she's going to run to her potential as her consistency in majors particularly Boston (where she's gone 2-8-4-4 in her last four appearances) is impressive.
Exactly what that potential is is a mystery right now. Linden isn't someone who tries to run super fast in her prep races to begin with, and the weather for her run at the NYC Half this year was not great. So while her 73:33 time doesn't look like much, even by her standards (it was her slowest time in five NYC Half appearances), it wouldn't be a surprise if Linden held a faster pace than that for the full 26.2 miles in Boston.
We don't know exactly how Linden's buildup has gone (we'll find out more at the elite press conference on Friday), but do know a few things. One: her ceiling isn't as high as the other three Americans. Of the four big Americans, Linden is the one whom we are confident in saying will never break 2:20. That's not too relevant on a course like Boston, which rarely turns into a time trial, but speed is important. Linden, perhaps sensing the same thing, elected not to run a fall marathon last year in order to work on developing her speed.
If Linden is going to win, she's going to have to get some help to get the win. If Linden runs her best, and some of the others run their best, Linden isn't your winner. And that's okay. Poor buildups, illnesses and tactical mistakes happen all the time in marathons, and Linden herself rarely makes them. In Boston last year, she ran dead-even splits: 1:12:33 on the first half, 1:12:33 for the second half. If someone goes too hard, too early, Linden is going to run them down in the final miles.
But with three other really strong Americans, it's unlikely Desi is the first domestic finisher on Monday, and her past three Boston appearances demonstrate why. In 2014 (2:23:54 for 8th) and 2017 (2:25:06 for 4th), Linden ran very well each time, but in each case, she was smoked by one of her fellow Americans (Flanagan in 2014, Hasay in 2017). The last time Linden did finish as the top American was 2015 (4th in 2:25:39), and while her performance was similar to the one she gave in both 2014 and 2017, the difference was that Flanagan bonked in 2015 while Linden ran her typical race. She'll need something similar to happen on Monday, because if even one out of Flanagan/Hasay/Huddle runs an A+ race, Linden is not beating them.
Linden is likely happy with the forecast as a huge headwind means the pace won't be fast.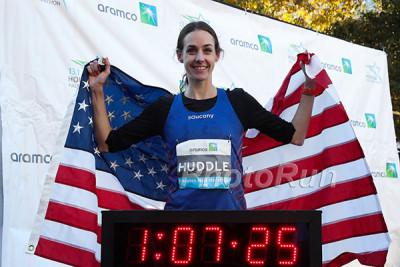 Molly Huddle — USA, 33 years old, 2:28:13 pb (2016 New York), 67:25 half
Last marathon: 3rd 2016 New York (2:28:13)
Prep races: 7th at Houston Half Marathon on January 14 in 67:25; 1st at US 15K champs on March 10 in 47:50
Considering how good she looked in setting the US half marathon record in January and winning the US 15K champs in March, we were already excited about Huddle's chances in marathon #2 before we started to write this article.
Then we talked with her coach Ray Treacy on Monday night and became even more excited. If we had to summarize the interview in one sentence, it would be this: Ray Treacy believes Molly Huddle is ready to roll.
Fortunately, this is the internet and there's no word limit, so we can share much more of Treacy's insight. Treacy, the Irishman who is also the head coach at Providence College, is not prone to hyperbole. So it means something when he says that "right now, if she ran on a flat course like Berlin or London, I think she would break 2:20." For reference, only one American woman has ever done that (Kastor at 2006 London).
Remember, when Huddle ran her only previous marathon, a third place showing in 2:28:13 in New York in 2016, she did so only 12 weeks after setting the American 10,000 record of 30:13 at the 2016 Olympics. Everything Huddle did for the first seven-and-a-half months of that year was geared around running as fast as possible in Rio. Her NYC buildup was abbreviated, and in both the buildup and the race itself, she and Treacy were fairly risk-averse in order to make sure her debut marathon was a success. This time around, it's totally different.
"For New York, I was very, very cautious about moving from the track right into marathon training," Treacy said. "Some of the marathons stuff that we've gotten done this time, she wasn't able to do going into New York."
Treacy said that, as opposed to NYC, Huddle "gotten everything done that she wanted to get done" training-wise. Ever since last year's World Championships on the track, Boston has been the long-term goal, with a "mini peak" at Houston in January, where she set the US half-marathon national record of 67:25 and beat Hasay by 73 seconds (Huddle also eat Hasay by 50 seconds at the Gate River Run 15k on March 10th).  Huddle got some good strength work in last fall before transitioning smoothly to her marathon buildup this winter. Huddle has also been 100% healthy and Treacy has been impressed by how she's handled the extra work he's given her. Huddle has been running the most miles of her life (Treacy uses a 10- or 12-day cycle but estimates that Huddle has averaged at least 110 miles per week) and her long runs and hard efforts have been longer — her longest runs in this buildup have been 24 or 25 miles, compared to 22 before NYC.
Treacy also revealed that Huddle picked up a cold the week of the Houston Half Marathon and said that had that not knocked her back a step, he thinks she could have broken 67:00 there.
Huddle doesn't have nearly as much marathon experience as Flanagan or Linden, but she's enjoyed a ton of success on the roads — where she hasn't lost to an American in any race since March of 2012 — and she's far more prepared to run this one than she was in New York in 2016. After making it through that race cleanly, she will have the confidence to take a risk this time around. We want to remind everyone that Huddle held up very well in her first marathon. When Huddle finished 3rd in New York, she actually closed her final 5.2 miles faster than race winner Mary Keitany (though we should point out that Keitany won by 3:35).
Huddle's skill set and proven history of success on the roads has always suggested that she would make a great marathoner one day. In Boston on Monday, she'll have a great chance to prove it. Our expert panel was very bullish on her as two of the six picked Huddle to be the top American on Monday and three of the others said it was too close to call but had Huddle in the mix.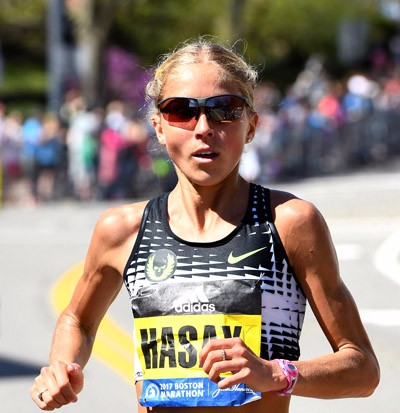 Jordan Hasay — USA, 26 years old, 2:20:57 pb (2017 Chicago), 67:55 half
Last two marathons: 3rd 2017 Boston (2:23:00), 3rd 2017 Chicago (2:20:57)
Prep races: 8th at Houston Half Marathon on January 14 in 68:38; 2nd at US 15K champs on March 10 in 48:40
Expectations were high for Hasay before her marathon debut in Boston last year, and even higher for marathon #2 in Chicago, yet both times, she blew those expectations out of the water, first by running 2:23:00 for third in Boston — the fastest debut by an American woman by almost three minutes — and then by running 2:20:57 for third in Chicago — the second-fastest marathon ever by an American woman. As she prepares for marathon #3 on Monday, it is clear that the 26-year-old Hasay has found her event.
The question now is whether Hasay can add a marathon victory to her incredible times. Hasay is someone who likes to race a lot, and she has run multiple prep races before each of her three marathons. Here's how they stack up:
| | | | |
| --- | --- | --- | --- |
| | 2017 Boston | 2017 Chicago | 2018 Boston |
| Prep race #1 | 4th in 68:40 at Houston Half | 32:37 for 7th at Beach to Beacon 10K | 8th in 68:38 at Houston Half |
| Prep race #2 | 1st in 49:28 at US 15K | 1st in 66:35 at US 20K* | 2nd in 48:40 at US 15k |
| Prep race #3 | 67:55 for 3rd at Prague Half | 3rd in 70:42 at Philly Half | DNS at World Half |
*This is 70:14 half marathon pace (a half marathon is 21.1k)
We should point out that the weather in Hasay's two prep races for Chicago was quite hot, and she didn't back off her training for those races nearly as much as she did before 2017 Boston (which explains why she could run 70:42 for a half in Philly and 2:20 for a marathon less than a month later).
But looking at her pre-Boston races, there is one key point to understand. While Hasay was beaten soundly by Huddle in both races, Hasay still ran faster than she did last year in both races.
Since then, Hasay had to scratch from her final prep race this year (the World Half Marathon Champs on March 24) out of precaution due to plantar fascia tightness. Pulling out of a race three weeks before you're supposed to run Boston isn't a great sign, but we're not too concerned. When it was announced Hasay was a scratch from the World Half, her agent Ricky Simms emailed us, "It is more precautionary with Boston so close. We expect her to be fine for Boston."
And we believe him, considering Hasay ran a terrific workout with 19k worth of volume on April 2. Remember, last year Hasay's Nike Oregon Project teammate Galen Rupp also battled a plantar injury heading into Boston and he wound up finishing second overall.
The rest of Hasay's training also appears to have gone well as a month ago her coach Alberto Salazar told The Oregonian that he thought Hasay could break 2:20 in Boston with good conditions. The conditions in Boston are not supposed to be good, so sub-2:20 will likely have to wait, but that kind of fitness certainly puts her in contention to win the race.
The pessimist would argue that after running two A+ marathons, it will be very difficult for Hasay to run another A+ marathon in Boston on Monday. And while it's true that it's incredibly difficult to string together three terrific marathons back-to-back-to-back, we're not going to knock Hasay for that. Would you rather come into a marathon on the back of two great marathons or two awful marathons? Obviously, it's the former.
The scarier thought is that, as good as she already is, Hasay could get even better. Last year was her first year as a marathoner, and at 26 years old, she still has room to grow. Flanagan or Huddle are both still running strong well into their 30s, though neither turned to the marathon as early as Hasay. It's possible that Hasay's best years are still ahead of her.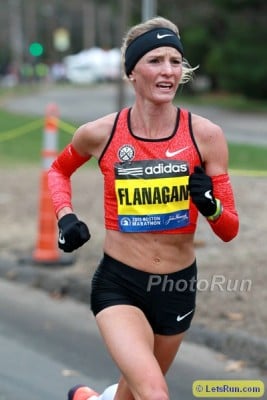 Shalane Flanagan — USA, 36 years old, 2:21:14 pb (2014 Berlin), 67:51 half
Last two marathons: 6th 2016 Olympics (2:25:26), 1st 2017 New York (2:26:53)
The fact that Flanagan — arguably the U.S.'s greatest-ever female distance runner — beat one of the greatest marathoners in history (Mary Keitany) to win New York in her last marathon and does not enter Boston five months later as the overwhelming favorite to finish as the top American says a lot about just how strong this American field is. While Flanagan was the beneficiary of some luck in NYC — Keitany got her first period in three months the day before the race and was obviously not at her best — Flanagan was also in monster shape and ran a tough, smart race. That's typical of Flanagan. She's run 10 career marathons, and almost all of them have gone very well. She's never dropped out of a marathon, and the closest she has come to "bombing" is when she was 9th in Boston in 2015, though she still ran 2:27. Put her on the start line and you expect her to run well.
After Flanagan missed Boston last year with a back injury, she used her break to recharge her batteries and entered her NYC buildup feeling the freshest she had in years. Her coach Jerry Schumacher said after the race that she was as fit as she had ever been. And since then, we've heard nothing but good news about Flanagan. She hopped onto the indoor track for a couple races in January and popped an 8:43 — a remarkable time for a 36-year-old whose primary focus is the marathon. Her workouts ahead of Boston have supposedly been very good.
Is it possible everyone is overthinking this? Flanagan was in the shape of her life five months ago and won NYC. Why wouldn't she be the favorite to finish as the top American in Boston?
Well, she probably should be. As impressive as Hasay's 2:20:57 and Huddle's 67:25 are, we're sure both of them would trade those runs for a NYC victory, and neither of them have ever beaten anyone as good as Mary Keitany in a marathon. Neither of them have an Olympic medal like Flanagan, either (though it came on the track, not in the marathon).
Other Americans
There are a few other notable Americans running Boston, though neither has a serious chance at victory. One is Hoka One One Northern Arizona Elite's Kellyn Taylor, who was 6th at the 2016 Olympic Trials and 8th in New York last year. Taylor's coach Ben Rosario said that they've upped the mileage and intensity in her buildup compared to New York and, as in that race (where Taylor ran with the leaders through 20 miles), he believes that she is capable of hanging around with the leaders for some time.
"I feel like we're gonna try to run up front," Rosario said, though he noted that in a race like Boston, plans can change depending on how the race plays out. "I guess there could always be an outlier, but if you look most of the splits and most of the halfway splits, I feel like she can handle that. The goal would be to go with the pace make good decisions throughout."
Then there is Serena Burla. Burla, 35, ran a PR of 2:26 in Osaka last year before finishing 11th at Worlds in 2:29. A few days after Worlds, Burla, already a cancer survivor, found a cancerous lump in her leg and had surgery to remove it in August. Now she's back racing again in Boston, where she finished 16th in her only other appearance in 2014.
Finally, Deena Kastor will be running Boston, her first marathon since 2015, at age 45. While she won't contend for the win, the 2004 Olympic bronze medalist will be firmly in the hunt for top masters finisher.
How Do the Americans Stack Up? Ranking the International Contenders
If you read our expert panel on Monday, you saw a group that was very bullish on the chances of an American victory in Boston. And with good reason. In recent years, we've come up with a stat that we call "potential winners." Of the last 31 World Marathon Major winners, 30 have entered with either a sub-2:24 PR or a World Championship medal. Usually, only one American fits the bill, but this time there are three (Flanagan, Hasay, Linden — and for the record, we most certainly think Huddle is a potential winner even though she doesn't fit that criteria). Well, actually four if you count 45-year old-Deena Kastor. Counting Kastor, in all, there are 10 women total with sub-2:24 PRs (and no one else outside of them has a World Championship medal), which theoretically means 10 potential winners but many of 10 have no legitimate shot at victory.
We'll quickly take a look at the seven other "potential winners" (outside of the U.S. big 4) ranked from least to most likely to win in Boston, and you'll see there are only two foreigners that we think have a significant shot at victory.
7. Deena Kastor (2:19:36 pb): 45 years old and hasn't broken 2:24 since 2006. No chance at victory.
6. Madai Perez (2:22:59 pb): 4th in Chicago last year in 2:24:44, but has only broken 2:24 once and that was back in 2006. 73:40 at NYC Half (9th, 7 seconds behind Linden). Almost zero chance of victory.
5. Buzunesh Deba (2:19:59 pb): Set the Boston CR in 2014 and came within 14 seconds of winning in 2015 when she ran 2:25:09 and was third. However, that was the last time the now 30-year-old has even broken 2:30. Her best finish in a major since then is just 7th. Her recent results make her look washed-up at this point, minimal chance of victory.
4. Caroline Rotich (2:23:22 pb): Won Boston in 2015 but has only finished two marathons since: 10th at 2015 NYC (in 2:33) and 6th at 2017 Amsterdam (in 2:26). Finished 10th at NYC Half last month in 73:38 (granted, conditions weren't good). Very outside chance of victory.
3. Mamitu Daska (2:21:59 pb): The 34-year-old hasn't broken 2:24 since 2012, and she has finished just 9th and 12th in her two previous Boston runs. That being said she did win Frankfurt in 2016 (albeit in 2:25:27) and was 3rd in NYC last year behind Flanagan & Mary Keitany. She only ran 72:50 at NYC Half, but then again Betsy Saina only ran 73:31 in that same race and Saina just won Paris in 2:22:56. Small chance of winning.
2. Aselefech Mergia (2:19:31 pb): The three-time Dubai winner (2011, 2012 and 2015; she also won London in 2010) hasn't run a marathon faster than 2:23:53 or won a marathon since taking Dubai 2015 in 2:20:02, but she was 3rd in London last year (then 12th at Worlds). For comparison's sake, we guess we should point out that before her NYC win, the 36-year-old Flanagan hadn't won a marathon since 2012 (her only other win was at the 2012 US Olympic Trials) and hadn't broken 2:25 since 2014. Definite contender for victory.
1. Edna Kiplagat (2:19:50 pb): Won Boston last year, then finished 2nd at Worlds, but lost to Flanagan in NYC where she was 4th. A serious threat to win but she's now 38.
The way we see it, based on past accomplishments and recent form, five women have greater than five percent chance of victory — Mergia, Kiplagat, Hasay, Flanagan, and Huddle — and three of them are American. Considering how well all of the Americans have been running recently and the absence of a behemoth like Keitany or Tirunesh Dibaba, we feel confident in saying that the pre-race odds of an American victory in Boston in 2018 are the best they've been in the World Marathon Majors era. They're definitely WAY, WAY better than Flanagan's odds of victory in New York last fall as before that race as Keitany was coming off a 2:17:01 in London and was a HUMONGOUS favorite.
But that doesn't mean an American will win. Kiplagat, as the defending champion, should probably be the overall favorite, assuming she's in form. Yes, Flanagan beat her in Boston last year, but with two world titles, major victories in Boston, London, and New York, and a 2:19:50 pb, she's way more accomplished in the marathon than all of the Americans put together. And while she's getting up there in age at 38, she certainly didn't show many signs of aging during such a great 2017 in which she won Boston and earned silver at Worlds (although her finishing place in each marathon did get worse as the year progressed, culminating with a 4th in NYC).
Mergia, meanwhile, has the fastest PR in the field and while her second marathon of 2017 didn't go great (12th at Worlds), she was also third in London last year and the only women who beat her were Keitany and Dibaba — the two best marathoners in the world right now. You could argue that Flanagan, Huddle, or Hasay should be favored over Mergia, but it's not that hard to imagine Mergia beating all of them on Monday.
The thing we don't know is if Kiplagat or Mergia are in form as we haven't talked to her or any of the internationals or their management but will do so on Friday. Even if they are in form, the odds of an American victory appear to be at least 50%.
UPDATE: Friend of LRC Steven Mills points out that Mergia also dropped out of Dubai back in January. Couple that with her Worlds result and it means that neither of her last two races have gone well — not a particularly promising sign.
LRC prediction: We're going to hold off on an official prediction until we have had time to talk with the athletes, coaches, and agents at the press events starting on Friday. But we will make one prediction we're fairly confident about: this is going to be a terrific race.
Tell us what you think in the poll below and on our world famous messageboard: MB: 2018 Boston Marathon Women's Race – Will an American win for the first time in the professional era?
[gravityform action="

polls

" id="668″ mode="

poll

" cookie="1 month" show_results_link="false" display_results="true" percentages="true" counts="false" ajax="true"]