2017 LRC World & US Rankings, W 1500: Faith Kipyegon Is #1 Again; Jenny Simpson Ranks #3
By LetsRun.com
December 26, 2017
With few professional events on the running calendar until 2018, LetsRun.com is once again rolling out its year-end rankings of the mid-d and distance events (2014 rankings here; 2015 rankings here; 2016 rankings here). From now until the end of the year, we'll be ranking the top 10 men and women in the world (plus the top five Americans) in the 800, 1500/mile, 3000 steeplechase, 3,000/5,000 and marathon. We hope you enjoy reading these rankings as much as we enjoyed putting them together.
Since these rankings are obviously subjective, we'll lay out the criteria we're using for them:
An emphasis on performance in big races. How the athlete fared at the World Championships is obviously a major consideration but winning gold doesn't guarantee that an athlete will earn a #1 ranking. For U.S. athletes, their performance at the U.S. championships also factors heavily in the rankings.
Diamond League success.
Season-best times matter, and if an athlete has a bunch of fast performances, they're more likely to be ranked highly.
Runners who specialized in one event will be considered for other events but can be penalized in the rankings for not running enough races.
Indoor races will be considered and can help an athlete's ranking.
LRC 2016 women's 1500 rankings * LRC All 2017 Year-End Rankings * LRC 2017 World Championship 1500 Recap Faith Kipyegon Wins Another Gold As Jenny Simpson Beats Caster Semenya To Nab Her Fourth Global 1500 Medal
World Rankings
The women's 1500 was one of the most hotly-anticipated races of the 2017 World Championships, and it didn't disappoint. In a race that saw the world leader, world record holder, and home-nation favorite all fail to medal, it was Olympic champion Faith Kipyegon who once again emerged victorious. With a silver and two golds at the last three global championships, Kipyegon must now be considered among the all-time greats of the event — a scary thought considering that she's still only 23 years old.
Speaking of all-time greats in the 1500, American Jenny Simpson did what she always does in London: entered under the radar and left with a medal. Some women run faster, but none time their peak as well as Simpson, who ran a perfectly measured race in the final to run down her fourth medal in a global championship. Simpson's place as the greatest U.S. female 1500 runner ever is now secure (if it was not already), and with no major championship to peak for in 2018, Simpson will have one last crack at wresting the American record from her longtime rival Shannon Rowbury (the record is 3:56.29; Simpson's PR is 3:57.22).
Article continues below player.
1. Faith Kipyegon • Kenya • 23 years old • 3:57.04 sb (#2) • World champion • Diamond League champion
DL results: 1st Shanghai, 1st Pre, 2nd Paris, 1st Brussels (DL final)
The Netherlands' Sifan Hassan had four of the five fastest times in the world this year, but there's no doubt who the World #1 should be. Kipyegon lost only one race all year (to Hassan), but overall she was 2-1 against Hassan, including wins at the two biggest races of the year (Worlds and the Diamond League final).
While Kipyegon is the world's best at 1500 meters, she has terrific range as well — she ran 14:31 for 5k last year, and in March was part of the Kenyan squad that went 1-2-3-4-5-6 at the World Cross Country Championships. It would be fun to see her match up against Hellen Obiri and Almaz Ayana at least once over 5,000 in 2017, but we hope she doesn't stray too far from the 1500 because the event is loaded right now.
2. Sifan Hassan • The Netherlands • 24 years old • 3:56.14 sb (#1) • 5th at Worlds
DL results: 1st Rome, 1st Paris, 2nd Brussels (DL final)
Hassan enjoyed an incredible year, recording four of the top five times on year in addition to handing Kipyegon her only loss of 2017. But the fact that Hassan left London without a 1500 medal (she did wind up with bronze in the 5,000) is entirely on her. The big danger when there are two women (on paper) much faster than the rest of the field is that, by focusing entirely on each other, they can leave themselves vulnerable to the world-class field behind them. Kipyegon, somehow, was able to absorb the 28.2-second penultimate 200 and hang on for gold (though her lead was shrinking late). Hassan was not, and she paid for it by sliding from second to fifth.
Tactics have never been Hassan's strong point. And while making a bold move for the win can be defended, leaving the rail during the final straight — and thus allowing Simpson to pass her on the inside — is a cardinal sin of racing. Expect Nike Oregon Project coaches Alberto Salazar and Pete Julian to work on that in Hassan's second year, as if she can marry strong tactics with her outstanding talent, she'll be even harder to beat than she was in 2017.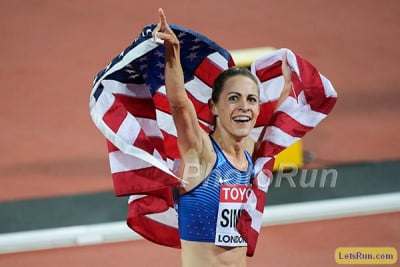 3. Jenny Simpson • USA • 31 years old • 4:00.70 sb (#11) • World Championship silver • U.S. champion
DL results: 8th Pre, 5th London, 7th Birmingham, 6th Brussels (DL final)
You could definitely make an argument to drop Simpson a few places based on her Diamond League form. But Simpson ran her two best races of the year when it mattered most — a fourth straight win at USAs, and a runner-up finish at Worlds — and that's why she finishes the year #3 on our list. Simpson ran pretty well in the Diamond League final as well — of the five women who beat her, two already appear on this list (Kipyegon and Hassan) and two didn't even make the final at Worlds. Simpson beat the other, Meraf Bahta of Sweden, convincingly at Worlds.
Overall, Simpson was better in 2016 (when she earned Olympic bronze and ran 3:58 twice) than 2017, but with Laura Muir (slightly) and Genzebe Dibaba (dramatically) also falling off this year, Simpson moves up two spots to #3.
4. Laura Muir • Great Britain • 24 years old • 4:00.35 sb (#7) • 4th at Worlds • European indoor champion
DL results: 3rd Pre, 2nd London
Though it seemed like Muir was everywhere this year, she only ran one Diamond League 1500 (she also ran a mile in London). She ran well every time she raced the 1500/mile, at the Pre Classic and the two London meets (Anniversary Games and Worlds) an in winning the European indoor title. However, she came up just short of the medal stand at Worlds.
If Muir had medalled, run the DL finale, or run a really fast time this year, she likely would have been ahead of Simpson.
Next up is securing an outdoor medal, which has eluded her in recent years (she has finished fifth, seventh, and fourth at the last three global championships). It may have to wait until 2019. Muir isn't running the Commonwealth Games, and though she will be favored to medal at Europeans in Berlin, she's also going to be very busy in 2018 with veterinary work, her other passion. Should she compete in the German capital, we expect her to take home some hardware, though with Sifan Hassan, Meraf Bahta, and Konstanze Klosterhalfen also in the mix, it's not a guarantee.
5. Winny Chebet • Kenya • 27 years old • 3:59.16 sb (#5) • World Championship semis
DL results: 2nd Rome, 6th Paris, 3rd London, 2nd Birmingham, 3rd Brussels (DL final)
Chebet enjoyed a career year as after never breaking 4:02, she did so five times during her age-26 season (she turned 27 on December 20), highlighted by a personal best of 3:59.16 in Rome on June 8. Despite failing to make the final in London, Chebet finished in the top three at four Diamond League events, including the final in Brussels, and was the runner-up behind Kipyegon at the Kenyan Trials.
6. Konstanze Klosterhalfen • Germany • 20 years old • 3:58.92 sb (#4) • World Championship semis • European indoor silver • European U23 champion
DL results: 3rd Rome
Though Klosterhalfen, like Chebet, could not make the final in London, she was spectacular as a 20-year-old in 2017. In addition to earning medals at European indoors and European U23s, Klosterhalfen displayed a fearlessness on the track that belies the joy that she shows off of it. Just check out this interview with Klosterhalfen from Birmingham, where she defeated world champ Hellen Obiri in the 3,000, and try not to smile:
And while Klosterhalfen's run in Birmingham (8:29 for 3k) was outstanding, it was her race in Rome in June that stood out to us. Klosterhalfen entered with a PR of 4:06, and even though the race was being rabbitted for a sub-4:00, she felt the pace wasn't fast enough and passed the rabbit before hitting 800 in 2:07. Though Sifan Hassan wound up winning the race in 3:56, Klosterhalfen was rewarded with a 3:59. For someone so young to have the confidence to make an aggressive move against one of the world's best — and to not totally fall apart after being passed — was super impressive.
Then there's this list:
Women's sub-4:00 1500s in 2017
Sifan Hassan, 4
Faith Kipyegon, 4
Konstanze Klosterhalfen, 3
Rest of the world combined, 3
That's heady company for a 20-year-old.
Klosterhalfen made another bold move in her semi at Worlds, dropping a 60 in the middle of the race to string things out, and though it did not pay off (she was eliminated), she earned many fans this year with her audacity. Klosterhalfen will be one of the biggest stars as Germany hosts the European Championships next summer.
7. Gudaf Tsegay • Ethiopia • 20 years old • 3:59.55 sb (#6) • World Championship semis
DL results: 5th Pre, 5th Rome, 3rd Paris, 4th Birmingham, 4th Brussels (DL final)
Tsegay, the 2016 World Indoor bronze medalist, is penalized for failing to make the final at Worlds — she finished dead-last in her semi — but other than that, she was remarkably consistent, finishing in the top five in her other six races (five of them on the DL circuit), including a fourth-place showing at the DL final in Brussels.
8. Hellen Obiri • Kenya • 28 years old • 4:00.44 sb (#8)
DL results: 2nd Pre, 1st London
It's tough to rank Obiri in the top five when she didn't run the 1500 at Worlds — or even break 4:00 — but in her two 1500/miles of 2017, she ran spectacularly each time, taking second behind Kipyegon (but ahead of Muir and Simpson) at Pre and smoking Muir (and everyone else) by running a 4:16.56 mile in London on July 9. Had she focused on the 1500, she'd surely have ranked higher, but she was too busy being the world's best 5,000 runner instead.
9. Caster Semenya • South Africa • 26 years old • 4:02.90 sb • 3rd at Worlds
It's hard to rank Semenya as she ran the 1500 at only two meets, and while one of them was big (bronze at Worlds), the other was tiny (the South African university champs). Nonetheless, she earned a spot in the top 10 with her bronze at Worlds.
10. Meraf Bahta • Sweden • 28 years old • 4:00.49 sb (#9) • 9th at Worlds • 4th at European indoors
DL results: 4th Rome, 5th Birmingham, 5th Brussels (DL final)
You could make the case for someone like Angelika Cichocka, Dawit Seyaum, or Genzebe Dibaba here (4:16 mile in Lausanne, 3:58.8 indoors), but Bahta was 3-1 vs. Cichocka on the year and Seyaum and Dibaba didn't race enough to overhaul Bahta, who was 9th at Worlds and racked up three top-fives on the DL circuit (including fifth in the final).
Editor's note: On initial publication we by mistake published an earlier draft version of the rankings that left out Semenya and had Meraf Bahta #9 and Angelika Cichoka #10.
U.S. Rankings
1. Jenny Simpson (see above)
2. Brenda Martinez • New Balance/Big Bear Track Club • 30 years old • 4:02.75 sb (#2 in U.S.)
DL results: 6th Pre, 3rd Rabat, 15th Birmingham
Martinez, a 2016 Olympian at 1500 meters, focused on the 800 in 2017 but it's hard to argue she wasn't the country's second-best 1500 runner as well. She had the U.S.'s third-, fifth-, and sixth-fastest times this year (only Simpson ran faster) and beat the runner-up at USAs, Kate Grace, in both of their head-to-head matchups. Martinez will transition to the 1500 full-time next year, and after a strong 2017 season and no World Championship/Olympic team to make, the goal should be to break 4:00 (Martinez' PR is 4:00.94 from 2013).
3. Kate Grace • Nike Bowerman Track Club • 29 years old • 4:03.59 sb (#3 in U.S.) • World Championship semis • 2nd at USAs
DL results: 7th Pre, 10th London
Grace came out hot in 2017, clocking a 4:22.93 indoor mile at Millrose in February to put her #4 on the all-time U.S. list. After winning the U.S. title at 800 meters in 2016, she chose to move up outdoors and run the 1500, and the result was a second straight appearance on the U.S. national team (though unlike Rio, she was eliminated in the semis at Worlds).
After the season, Grace made the move to leave Drew Wartenburg's NorCal Distance Project for Jerry Schumacher's Bowerman Track Club, which makes four coaches for Grace since she graduated from Yale in 2011. Schumacher is one of the best coaches around, but coaching Grace will present a unique challenge as she is the only 800/1500 woman in the group.
4. Sara Vaughn • Unsponsored • 31 years old • 4:04.56 sb (#6 in U.S.) • World Championship semis • 3rd at USAs
Vaughn, an unsponsored mother of three, was one of the most inspiring stories of the year as she finally made her first U.S. team at the age of 31. And though Vaughn went out in the semis in London, she ran as well as she could have hoped for. Consider: she ran a PR of 4:04.56 in the prelims, and came back a day later to run 4:06.83 in the semis (her third-fastest time ever). She also ran 4:07.85 at USAs (her #4 time ever), showing that she was both fit and clutch in 2017.
5. Shannon Rowbury • Nike Oregon Project • 33 years old • 4:04.61 sb (#7 in US) • 8th at USAs
DL results: 9th Pre, 6th Rabat
Deciding on the #5 spot was tricky — Alexa Efraimson and Amanda Eccleston both had arguments as well — but when you factor in Rowbury's 4:23 mile indoors at Millrose, where she smoked Efraimson by six seconds and Eccleston by 15, we're giving her the edge. At her best, Rowbury was still better than both this year, but only managed 8th at USAs as it was her third race in as many days (1500 prelims Thursday, a grueling 5k final on Friday evening and the 1500 final on Saturday afternoon). That was still good enough to beat Eccleston (9th), though Efraimson did beat her (5th). It will be interesting to see in 2018 whether Rowbury, 33, sticks with the 1500 or if she moves up to the 5k full-time — an event in which she finished 9th at Worlds.
---
LRC 2016 women's 1500 rankings * LRC All 2017 Year-End Rankings * LRC 2017 World Championship 1500 Recap Faith Kipyegon Wins Another Gold As Jenny Simpson Beats Caster Semenya To Nab Her Fourth Global 1500 Medal
Discuss: 2017 World and US Women's Rankings are Here: Faith Kipyegon #1 in World, Jenny Simpson #3 Give us your feedback