2017 Foot Locker Girls' Preview: Claudia Lane Looks to Close Out Dream Season With Repeat Title, Can She Challenge Venerable Course Record?
By LetsRun.com
December 6, 2017
A week ago, we told you how Katelyn Tuohy would dominate the competition at NXN, and she did just that, running a course-record 16:44 to win by 40 seconds. Today, we're telling you to expect more of the same at the 2017 Foot Locker Cross Country Championships this weekend from Claudia Lane.
Like Tuohy, Lane, a junior at Malibu High School in California, has been tearing through the record books all fall. On Saturday, she'll look to close out a perfect season by becoming the first girl since Erin Sullivan (1997-1998) to win back-to-back Foot Locker titles. Lane has been so dominant this year — she won FL West by 72 seconds — that the relevant question isn't whether she will win, but how fast will she run?
Article continues below player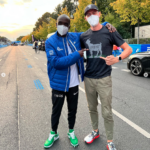 Kipchoge loves the 1:59:40 Shirt Get Yours Today
Shirts are $10 off if he breaks the world record and you order today.
We put Lane's excellence in context below before taking a look at her biggest challengers.
If you missed our boys' preview, you can find it here: LRC 2017 Foot Locker Boys' Preview: Illinois' Danny Kilrea Is the Slight Favorite as a Trio of Notre Dame Recruits Lead the Way
MB: Footlocker vs NXN. Footlocker is still the race to win.
What: 2017 Foot Locker Cross Country Championships
Where: Morley Field at Balboa Park, San Diego, California
When: Saturday, December 9. Girls' race begins at 12:15 p.m. ET, boys' race at 1:00 p.m. ET.
How to watch: You can stream the races live for free here beginning at 11 a.m. ET.
Results: 2016 FL Finals * 2017 FL Regionals
The Defending Champ
Claudia Lane • Junior • Malibu, CA • 4:47.73 mile • 9:57.52 3200
Regional result: 1st West, 16:59
Previous FL finishes: 1st 2016
College choice: N/A
Major results this fall: 15:49 CR (3-mile) at Mt. SAC Invite on 10/21; 16:30 CR at California DIV state meet on 11/25
For most of the fall, it's been as if Claudia Lane and Katelyn Tuohy have been involved in a coast-to-coast game of "Can you top this?" Tuohy set the 2.5-mile course record at Van Cortlandt Park on October 14, only for Lane to come out and break the 3-mile course record at Mt. SAC a week later. Tuohy ran 16:52 to set the Bowdoin Park CR on November 18, to which Lane responded by breaking the CR at Woodward Park, the annual site of the California state meet, clocking 16:30 for the 5k course. Most recently, the order was flipped. Last Saturday, Lane smashed another course record, becoming the first girl to break 17:00 on the 5k Mt. SAC course, to which Tuohy replied 90 minutes later by running a 16:44 course record at NXN at Glendoveer Golf Course.
We mention Tuohy simply because she is the only other current runner to whom one can compare Lane; October's Mt. SAC Invite is the only race all year where anyone has finished within a minute of Lane, and even that race was decided by 43 seconds. If you extend the comparison to runners of the past, there's an argument to be made that Lane is the greatest cross country runner to ever emerge from the talent-rich state of California, a list that includes former FL champs Jordan Hasay, Amber Trotter, Julia Stamps, and Kim Mortensen. Of that group, only Hasay has ever won two FL crowns — Lane can match that this weekend — and none have run faster on the three current California measuring sticks (Mt. SAC 3-mile, Woodward Park, Mt. SAC 5k) than Lane. And Lane is still only a junior.
The problem, of course, is that most of these girls never got the chance to race one another in high school (Stamps and Mortensen did overlap). That's where Bill Meylan's speed ratings come in. Meylan, who runs the Tully Runners site, has compiled speed ratings to compare athletes' performances at different courses through the years, and despite Lane's massive margins of victory this fall, her best speed ratings haven't quite been able to match those of Tuohy, Hasay, Trotter, or Stamps. Here's a list of each girl's best-ever speed rating, per Meylan:
Amber Trotter: 180.3, 2001 Foot Locker finals
Julia Stamps: 173.0, 1994 Foot Locker finals
Katelyn Tuohy: 172.1, 2017 NXN finals
Jordan Hasay: 169.0, 2005 Foot Locker finals
Claudia Lane: 166.1, 2017 Foot Locker West
With that said, speed ratings are still somewhat subjective (Meylan is the one determining them) and Lane's 166 at FL West was the second-highest ever at a FL regional meet (behind only Cathy Schiro's 16:46 at VCP in 1984). If you compare times straight up, Lane's 16:59 at FL West is 15 seconds faster than Trotter's previous course record — which Trotter ran in 2001, just one week before recording the highest speed rating ever (180.3) at Foot Locker finals. It would not be a shock to see Lane run something in the 170s on Saturday.
The numbers to watch in San Diego are 17:00 and 16:39. The former is important because in the past 30 years, only three girls have broken 17:00 on the Balboa Park course: Aisling Cuffe in 2010 (16:53), Stamps in 1994 (16:41), and Melody Fairchild in 1990 (16:39). The next-closest to 17:00 in that span? That would be Lane last year, when she clocked 17:04. Considering Lane has been much faster on every other course in 2017 compared to 2016, she should break 17:00 on Saturday if she's at her best. After that, it becomes a question of how close she can get to Fairchild's epic 16:39 course record — a mark only Stamps has approached since it was set 27 years ago.
Before we get to Lane's challengers, we'd like to reiterate our disappointment that Lane will not get to face Tuohy on Saturday. Two of the best prep runners in years happen to come along at the same time, yet the structure of the sport is such that neither gets to race each other. That's a shame. Last week, we argued that Foot Locker should have extended an invite to Tuohy after winning NXN, and MileSplit reported that FL explored that possibility in October, though an official offer was never made as Tuohy said she wasn't interested. We don't blame Tuohy or Lane, but as long as the sport has two national meets, this is going to be a problem.
LRC editorial NXN/Foot Locker Is Broken — Here's How to Fix It
MB: CLAUDIA MF LANE
MB: Claudia Lane vs Katelyn Tuohy time differences
MB: Katelyn Tuohy Given GOLDEN TICKET to FOOT LOCKER
The Challengers
Given how incredible Lane has been this fall, we fully expect her to win on Saturday. But there have been plenty of upsets in this meet in the past. Here are the girls most capable of toppling the champ.
Rebecca Story • Senior • Knoxville, TN • 4:45.63 mile • 9:59.80 3200
Regional result: 1st South, 17:24
Previous FL finishes: 3rd 2016
College choice: Stanford
Major results this fall: 18:11 win at Tennessee D-II A state meet on 11/4; 9:59.8 3200 at Hoka One One Postal Nationals on 11/17
Story was third last year as a junior, and many years that would make her the favorite as a senior. She looks to be at a similar level of fitness to where she was at last year. Though she ran slower at the Tennessee state meet, she ran a near-identical time on the track as part of Hoka One One Postal Nationals (9:59.85 in '16 vs. 9:59.80 in '17) and was 14 seconds faster this time around at Foot Locker South, winning in 17:24 (she was only 6th last year). But her speed ratings at her state meet (139) and FL South (145) lag behind what is necessary to contend for the FL title (150+ makes you a contender; it will likely take 160+ to defeat Lane). She definitely has a good chance of finishing in the top three again, but hasn't shown anything to suggest she can threaten Lane for the win.
Olivia Theis • Senior • Lansing, MI • 4:50.10 1600 • 10:14.34 2-mile
Regional result: 1st Midwest, 17:13
Previous FL finishes: 14th 2016
College choice: Michigan
Major results this fall: 16:59 CR at MSU Spartan Invite on 9/15; 16:58 win at Cougar Falcon Invite on 9/23; 16:59 CR at Portage Invite on 10/7; 16:52 CR at Michigan Lower Peninsula D2 state meet on 11/4
Theis has been spectacular this year, crushing course records all across the state of Michigan. In all, she's broken 17 minutes four times in 2017, most impressively clocking 16:52 at the Michigan state meet to take down the course record of 2009 Foot Locker champ Megan Goethals. Theis also ran significantly faster than Goethals (or subsequent course record holders Erin Finn and Audrey Belf) by setting the CR at the MSU Spartan Invite on September 15, and her 16:59 at the Portage Invite in October put her alongside Michigan legend Dathan Ritzenhein as the course record holder at that meet. Aside from a couple of small meets where she finished with teammates, she has not lost in 2017.
Most recently, at FL Midwest, she defeated Katelynne Hart (4th NXN) to win the title. After Lane, Theis has the next four fastest speed ratings of the fall of anyone in the FL field: 157 at states, 157 at Portage, 155 at MSU and 155 at the Cougar Falcon Invite. Theis also has a slight advantage over Lane in that she did not have to race last weekend. Lane remains the heavy favorite, but Theis is her biggest threat. If Theis runs her best race of the year and Lane is a little off her game, things could get interesting.
Marlee Starliper • Sophomore • Wellsville, PA • 4:49.68 1600 • 10:31.09 3200
Regional result: 1st Northeast, 17:47
Previous FL finishes: none
College choice: N/A
Major results this fall: 16:50 win at Carlisle Invitational on 9/30; 17:50 win at Pennsylvania AA state meet on 11/4
Starliper ran an astounding 4:49 as a freshman on the track last spring and has only improved as a sophomore, winning all five of her races (or at least all five listed on Athletic.net). There are a few reasons to back the other women we've mentioned over Starliper, the primary one being that Theis and Lane have had significantly better speed ratings this fall (Starliper's best was 151 at her district meet; both Thies and Lane have recorded 157 or better, which equates to 18+ seconds). But don't discount Starliper just because she's a sophomore. Younger athletes have the biggest room for improvement, and 17 of the last 31 female champions at FL have been non-seniors — including Lane last year.
Katelynne Hart • Sophomore • Glen Ellyn, IL • 4:44.92 1600 • 10:14.47 3200
Regional result: 2nd Midwest, 17:17
Previous FL finishes: none (18th '16 NXN, 4th '17 NXN)
College choice: N/A
Major results this fall: 16:08 (3-mile) win at Lake Park Lancer Invitational on 9/9; 16:22 (3-mile) win at Illinois 3A state meet on 11/4; 17:28 win at NXR Midwest on 11/12; 17:41 for 4th at NXN on 12/2
Of the three girls at FL who ran NXN last week, Hart was the top finisher (4th). And though she did lose to Olivia Theis at FL Midwest, it wasn't by much — just 3.7 seconds (and remember, Hart knew she had to race again at NXN the following weekend). Hart, like Starliper, is only a sophomore, so she's definitely got the potential for a big run on Saturday. Still, she's at a disadvantage compared to her rivals: of the girls listed above, only Hart and Lane raced last weekend, and the trip was a lot simpler for Lane (who raced in her native Southern California) than Hart (who had to fly from Illinois to Portland, then back to Illinois before heading out to San Diego). That's a lot to ask of a sophomore, even one as talented as Hart. Hart is also battling history. Though Illinois boys have a decorated history at this meet (Lukas Verzbicas, Matt Withrow, and Jorge Torres all claimed titles), no Illinois girl has ever won here.
A Few More Stats
Returners from 2016 Foot Lockers include: Lane (1st in '16), Story (3rd), Jacqueline Gaughan (Exeter, NH; 11th), Theis (14th), Bailey Hertenstein (Brandon, FL; 20th), Abigail Green (Bethesda, MD; 21st), Heather Holt (Fairfax, VA; 27th), Page Lester (Washington, D.C.; 32nd), Katie Thronson (Spokane, WA; 33rd), Taryn Parks (Greencastle, PA; 40th)
Exactly half (20) of the 2016 field consisted of freshmen, sophomores, or juniors. But of those 20, only 10 qualified again in 2017. On the boys' side, there were 12 underclassmen at 2016 Foot Lockers and only five qualified again in 2017.
Runners pulling the FL/NXN double include Hart (4th), Sarah Schmitt (Naperville, IL; 8th), and Tierney Wolfgram (Woodbury, MN; 27th).
Thanks to Athletic.net for the PRs and to Tully Runners for the speed ratings.
Be a fan of the sport and discuss the races on our messageboard. Our main forum (which has everything) is here but we also have a high school-only forum.