2017 Foot Locker Boys' Preview: Illinois' Danny Kilrea Is the Slight Favorite as a Trio of Notre Dame Recruits Lead the Way
By LetsRun.com
December 6, 2017
LetsRun.com is no frills and a bit old school, so there's a special place in our heart for the Foot Locker Cross Country Championships. Nothing was simpler — the best individual runners qualify from four regional races and have a winner-take-all-race for the high school bragging rights.
The introduction of Nike Cross Nationals, which at first was a team event but then added an individual component, started to complicate things as no longer did all the top runners go to one race.
Article continues below player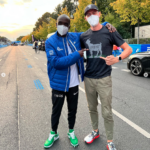 Kipchoge loves the 1:59:40 Shirt Get Yours Today
Shirts are $10 off if he breaks the world record and you order today.
However, even as Nike Cross Nationals began sucking up more individual talent, for most of the 2010s, the consensus #1 runner in the country — whether it was Edward Cheserek, Grant Fisher, or Drew Hunter — still ran Foot Lockers. The last two years, that has not been the case. In 2016, Casey Clinger ran NXN. This year, there was no overwhelming choice as national #1, but the top seven boys in DyeStat's national individual rankings all ran NXN, and only one is doubling back for Foot Locker. The top boy in Tully Runners' pre-race Foot Locker rankings, Danny Kilrea of Illinois, was only 5th at NXN.
Nonetheless, there's still a national championship to be won on Saturday, and the winner will add his name to a list that includes Marc Davis, Bob Kennedy, Adam Goucher, Jorge Torres, Dathan Ritzenhein, and Chris Solinsky. And the good news for running fans is that the lack of a clear favorite should make for an exciting race. That was the situation heading into last year's race, and the result was a thrilling race won by Reed Brown (who ran Foot Lockers after only getting 6th at NXN and then went on to go sub 4 in the mile) thanks to a big kick in the final 200 meters. We run through the top contenders below.
MB: Footlocker vs NXN. Footlocker is still the race to win.
What: 2017 Foot Locker Cross Country Championships
Where: Morley Field at Balboa Park, San Diego, California
When: Saturday, December 9. Girls' race begins at 12:15 p.m. ET, boys' race at 1:00 p.m. ET.
How to watch: You can stream the races live for free here beginning at 11 a.m. ET.
Results: 2016 FL Finals * 2017 FL Regionals
The Midwestern Quartet
Much of our high school analysis is based off the speed ratings put out by Bill Meylan of the fantastic Tully Runners site, and based on Meylan's data, much of the boys' talent at Foot Lockers this year is concentrated in the Midwest. We take a look at the four highest-ranked Midwest boys below — three of whom will be teammates next year at Notre Dame. Then we look at the winners of the other regions.
Danny Kilrea • Senior • La Grange Park, IL • 4:12.81 1600 • 9:00.81 3200
Regional result: 1st Midwest, 14:53
Previous FL finishes: none (45th at '15 NXN, 13th at '16 NXN, 5th at '17 NXN)
College choice: Notre Dame
Major results this fall: 14:02 3-mile win at First to the Finish Invitational (Detweiller Park) on 9/9; 14:08 3-mile win at Illinois 3A state meet on 11/4; 2nd at NXR Midwest in 15:00 on 11/12; 5th at NXN in 15:14 on 12/2
The fact that Kilrea "only" finished 5th at NXN may make it difficult to think of him as the favorite at Foot Lockers, but it's important to look at that performance in the context of the season. First, as we mentioned in the intro, the top seven boys in DyeStat's individual rankings were all at NXN. So the fact that Kilrea could finish 5th at that meet — the highest of anyone running FL this weekend — is still a very good performance.
In addition, Kilrea's performance at the Midwest Regional was magnificent; his 14:53 winning time was the fastest on that course since Lukas Verzbicas's 14:44 in 2010, a year in which Verzbicas went on to crush the field at FL Finals. Yes, that means that Kilrea was faster than Grant Fisher in both years that Fisher went on to win FL finals (Fisher never broke 15:00 at FL Midwest). He's also broken 14:10 at Peoria's Detweiller Park twice this season, long a measuring stick of greatness in the state of Illinois (anything close to 14:00 is considered exceptional; Kilrea ran 14:02 in the second week of September). At his best, Kilrea is the class of this field, and Tully Runners' speed ratings back this up. Kilrea's overall rating of 197 is tops in the field and he has the top three single-race speed ratings of any boy running NXN in 2017 (NXN, FL Midwest, & NXR Midwest).
The chief concern is fatigue. Foot Locker will be Kilrea's third hard race in as many weeks, and the second straight weekend he's made a West Coast trip. Only two runners — Verzbicas in 2010 and Brown last year — have won FL after racing NXN the previous weekend, and the fact that Kilrea was the top finisher in this field at NXN doesn't necessarily mean he'll be the top guy again one week later. Remember, last year Sam Worley entered as one of the favorites after finishing 2nd at NXN (top finisher among FL entrants) and wound up 9th at FL, behind three guys he defeated the previous week.
Dylan Jacobs • Senior • Orland Park, IL • 4:07.57 1600 • 9:11.67 3200
Regional result: 5th Midwest, 15:07
Previous FL finishes: 11th 2016
College choice: Notre Dame
Major results this fall: 13:57 3-mile win at Peoria High Invitational (Detweiller Park) on September 30; 6th at Illinois 3A state meet in 14:36 (3-mile) on 11/4; 4th at NXR Midwest in 15:07 on 11/12; 13th at NXN in 15:30 on 12/2
Jacobs finds himself in a similar situation to last year's champion, Reed Brown. Like Brown, Jacobs is a strong runner who happens to come from a strong state. The result is that he has not won a race since October and has lost to Kilrea, his future Notre Dame teammate, in their last four matchups. The silver lining? Last year, Brown had lost to in-state rival Sam Worley in their last four matchups, including NXN, before turning the tables and winning FL.
Jacobs has plenty going for him. Jacobs is the top returner from last year's FL meet (11th; he also won FL Midwest last year). He ran a stellar 13:57 at Detweiller Park, the #5 time ever on the fabled course and faster than what future studs such as Jim Spivey, Evan Jager, and 1998 FL champ Jorge Torres ever ran there. He's also the only guy in the FL field with a win over Kilrea this year, defeating him at the Illinois sectional meet (though Kilrea got the last laugh at states) and has the best 1600/mile pb in the field at 4:07.57. One other fun fact: if Jacobs wins on Saturday, he'd be the second boy from his high school (Carl Sandburg) to do so as 2009-2010 champ Lukas Verzbicas is also a Carl Sandburg graduate.
Still, it's hard to imagine a guy who finished 6th at his state meet winning Foot Lockers. Jacobs ran well at NXN (among FL entrants, only Kilrea and Drew Bosley — whom Jacobs beat at FL Midwest — finished higher than Jacobs' 13th) but Kilrea has been the better runner all postseason, and given Jacobs' best race of the year came all the way back in September, he may not be in the form he needs to be to win on Saturday. However, Jacobs was sick the week of the state meet, and wasn't fully recovered by NXR Midwest a week later. If he's 100% in San Diego, he's a serious threat to win.
Zach Kreft • Senior • Sunbury, OH • 4:10.10 1600 • 9:12.89 3200
Regional result: 2nd Midwest, 15:05
Previous FL finishes: none
College choice: Notre Dame
Major results this fall: 14:30 win (5k) at Midwest Meet of Champions on 9/30; 15:20 win at Ohio D2 state meet on 11/4; 6th at NXR Midwest in 15:17 on 11/12
No, that's not a typo — Kreft, like Kilrea and Jacobs, is headed for South Bend next fall, giving the Irish a killer 2018 recruiting class. Kreft has the fastest XC 5k in the country this fall — 14:30 from the Midwest Meet of Champions in September — and is the Ohio state champion, as well as the FL Midwest runner-up. However, Kreft didn't even qualify for NXN (he was 6th at NXR Midwest, behind Kilrea and Jacobs).
Drew Bosley • Junior • Thiensville, WI • 4:21.17 mile • 9:05.44 3200
Regional result: 10th Midwest, 15:10
Previous FL finishes: none (43rd '16 NXN, 7th '17 NXN)
College choice: N/A
Major results this fall: 15:39 win at Wisconsin D1 state meet on 10/28; 14:53 win at NXR Heartland on 11/12; 15:24 for 7th at NXN on 12/2
Bosley was the last qualifier out of the Midwest, so it might seem odd to list him as a contender to win at nationals. But considering Bosley had to run NXN regionals one week after FL Midwest, it's possible he followed the strategy of a fellow Badger Stater, Finn Gessner, who held back last year and took 9th at FL Midwest before taking 2nd at FL finals. After all, Bosley was 7th at NXN last week — among FL entrants, only Kilrea finished ahead of him. If he can replicate that performance, he'll be in the mix for the win in San Diego.
We may rely too much on speed ratings, but Bosley has the 5th-fastest speed rating ranking of the Foot Locker runners and in a wide-open race that should put him in the hunt.
The Other Regional Champions
Nine of the last 10 Foot Locker champs won their regional meets (2016 champ Reed Brown is the sole exception). So if one of the Midwest studs doesn't win on Saturday, chances are it's one of the guys below. All three have dominated the competition in their home states this fall but have yet to face top-tier national competition.
Tristan Shelgren • Senior • Boxford, MA • 4:15.93 1600 • 9:10.43 3200
Regional result: 1st Northeast, 15:32
Previous FL finishes: none
College choice: North Carolina
Major results this fall: 3rd at Manhattan Invitational Varsity D race in 12:45 (2.5 miles) on 10/14; 15:15 win at Massachusetts D1 state meet on 11/18
Shelgren has been dominant in Massachusetts this year, and he'll look to join 1996-1997 champ Abdirizak Mohamud as the only athletes from the Bay State — male or female — to win Foot Lockers. Shelgren's run last week at Foot Locker Northeast, where he clocked 15:32 for the win, was a good sign and, paired with his run at the state meet, gives him two 194 speed ratings this year, making him #2 in Tully Runners' pre-race rankings.
One worry: when Shelgren ran against out-of-state competition at the Manhattan Invite in October, he struggled. Shelgren ran 12:45 for the 2.5-mile Van Cortlandt Park course, and that put him third in the Varsity D race — which was not even the most competitive race of the day (Shelgren would have been 10th in the Eastern States race). That, however, was Shelgren's only loss on the year, and he's coming off his two best races of the season. Like fellow Mass native Shalane Flanagan, he will attend North Carolina.
John Tatter • Senior • Winston-Salem, NC • 4:23.5 1600 • 9:01.8 3200
Regional result: 1st South, 14:55
Previous FL finishes: none
College choice: Michigan
Major results this fall: 15:00 win at Adidas XC Challenge on 9/16; 15:20 win at North Carolina 4A state meet on 11/4
Tatter, who attends a school named for a tobacco magnate (R.J. Reynolds High School), won FL South by four seconds two weeks ago, but has yet to race this fall outside of the state of North Carolina. He did run 9:01.8 on November 18 as part of Hoka One One's Postal Nationals. Tatter has some upside considering he hasn't mixed it up before on the national scene in XC, and his win at FL South was obviously impressive. But that lack of experience could also hurt him at nationals.
Kashon Harrison • Junior • Red Valley, AZ • 4:25.14 1600 • 9:37.51 3200
Regional result: 1st West, 15:38
Previous FL finishes: none
College choice: N/A
Major results this fall: 14:48 win at Desert Twilight on 9/29; 15:54 win at New Mexico 5A state meet on 11/4
No region was hit harder by NXN defections in 2017 than the West, where the regional meet goes up directly against NXN finals. Three of the top four finishers at NXN are from the West region; the fastest boy at the California state meet, Justin Hazell, also opted for NXN over FL. But someone has to win, and the winner at FL West was Harrison, who attends Kirtland Central High School in New Mexico.
Harrison's race at FL West was by far his best of the year (192 speed rating; his next-best was 188 at states), so maybe he is rounding into form at the right time because many of his times were faster last year than in 2017. His time at the state meet was almost identical (15:54.9 in '17 to 15:54.8 in '16; granted, he was second last year and won this year by 36 seconds), and his times at the Broncos Ridge Runner Invite, and Rio Rancho Jamboree were all significantly faster in 2016 than 2017. Another knock on Harrison: his track PRs aren't particularly impressive. It's hard to win Foot Lockers when you've never broken 4:25 or 9:30 even if many of those races are at altitude.
Harrison is a very strong XC runner — he was 13th at FL West as a sophomore — and he has yet to lose this fall, suggesting he may be capable of reaching another level in San Diego (plus, he's only a junior). But the West region is not strong this year — Meylan has Harrison ranked 20th, in the field, and that's the highest ranking for any West boy. He's a long shot for the win.
Harrison is listed as living in Red Valley, Arizona, a town on the Arizona border on a Navajo reservation. If he lives there and goes to Kirtland Central High, that is 45 miles away one way.
A Few More Stats
Returners from 2016 Foot Lockers include: Dylan Jacobs (Orland Park, IL; 11th in '16), Meika Beaudoin-Rousseau (Sunnyvale, CA; 19th), Dalton Hengst (York, PA; 21st), Graydon Morris (Aledo, TX; 34th), and Drew Thompson (Trumbull, CT; 35th).
Runners pulling the FL/NXN double include Danny Kilrea (La Grange Park, IL; 5th NXN), Drew Bosley (Thiensville, WI; 7th), Jacobs (13th), Clayton Mendez (Chicago, IL; 18th), and Carter Cheeseman (Keller, TX; 36th).
Thanks to Athletic.net for the PRs and to Tully Runners for the speed ratings.
Be a fan of the sport and discuss the races on our messageboard. Our main forum (which has everything) is here but we also have a high school-only forum.