WTW: Flanagan's Close in NY Was Historically Fast, Jenny Simpson's Roommate Gets 5th in NY and More
The Week That Was In Running – October 30 – November 5, 2017
By LetsRun.com
November 9, 2017
What a week. For the first time in Shalane Flanagan's lifetime and the first time in the professional era, an American woman won the New York City Marathon and that winner was Shalane Flanagan. We've got a few more things we wanted to say about New York and few other things last week below. If you missed our coverage of the 2017 TCS New York City Marathon or the US 5k champs, catch up now.
Article continues below player
Past editions of the Week That Was can be found here. Questions, comments, or a tip? Please call us at 844-LETSRUN (538-7786), email us or post on our forum.
*****
Shalane Flanagan Closes Hard
After Galen Rupp's win in Chicago, we wondered if his close was the fastest in marathoning history and quickly the LetsRun.com community let us know that wasn't the case.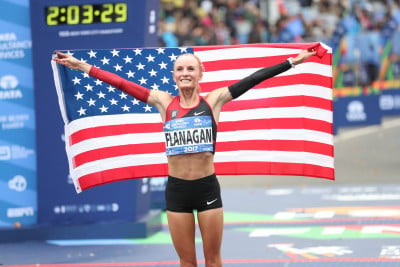 Likewise, Flanagan's close over the final 5.2 miles in hilly New York were super impressive but not the fastest in marathoning history. Flanagan covered the final 5.21875 miles from 21 to the finish in 26:48, which averages out to be 5:08.1 mile pace; Paula Radcliffe ran her 2:15:25 marathon WR at 5:09.9 pace and ran her final 12.2k at 5:07.2 pace. Regardless, to put the words "Shalane Flanagan," "Paula Radcliffe," and "marathon" in the same sentence is a testament to how great Flanagan ran.
And Flanagan's close appears to have been the best close in NY history. It certainly was way faster than what Mary Keitany has ever closed in during the last three years when Keitany won in 2:25:07, 2:24:25 and 2:24:26 — admittedly faster times than what Flanagan ran this year (2:26:53). The fastest close that Keitany ever had in New York was in 2014 when she was in a battle with doper Jemima Sumgong all the way to the finish line. In the 2014 NY race, which Keitany won by three seconds in very windy conditions, her last four miles were 5:10, 5:25, 5:10 and 5:09. Flanagan's close on Sunday was also faster than any of Radcliffe's closes during her three wins in NY.
If you know of a faster close, let us know.
MB: Was Shalane Flanagan's close the fastest-ever by a woman in NY? How does it rank for any marathon?
****
Sally Kipyego Update
In our prep work for the 2017 New York City Marathon, we obviously spent some time looking back at the 2016 race and remembered that Sally Kipyego finished second in her first marathon finish (she dropped out of her debut in New York in 2015). That made us wonder — has Sally had her baby yet (Kipyego announced earlier this year she'd be sitting out 2017 as she was pregnant)?
Answer: yes she has.
In July, Kipyego gave birth to a girl, Emma.
Emma recently made her first trip to Kenya for her first altitude stint and to see her extended family.
It will be interesting to see how quickly Kipyego gets back into running and whether or not she opts to run for the US in the future as she gained citizenship earlier this year.
****
In Her 12th Road Race of Year, Mamitu Daska Gets Third in New York
Ethiopia's Mamitu Daska, 34, has finished 14 marathons in her career and has won in Dubai (2010), Houston (2011) and Frankfurt (2016). On Sunday in New York, she equaled her career best at a major by placing third (she also was third in Berlin in her debut in 2009).
What fascinates us about Daska is her selection of races for 2017. After running three marathons in 2016 (9th in Dubai, 10th in Boston, 1st in Frankfurt), Daska took a break from marathons this spring. However, that doesn't mean she took a break from the sport. Far from it. She went nuts on the US road circuit.
New York was actually her 12th road race on the year in the US. Back early in his marathon career, Khalid Khannouchi used to rock the shorter distance road circuit in the US while excelling at 26.2 miles, but it's pretty rare in 2017.
So far in 2017, Daska has earned $97,000 on the roads in the US. It's worth noting that she actually earned more in the first half of the year when she was racing shorter distances ($50,500) than in the second half of the year ($46,500) when she was getting ready for New York despite a $40,000 New York payday. Now she probably got some sort of appearance fee for NY which will make the second half of the year more lucrative than the first but one can see why a top African talent who likely doesn't have a big apparel endorsement deal would choose to race shorter races — you are guaranteed to make some money versus risking it on a not-so-sure thing at the 26.2 distance.
Here are Daska's 12 US races this year and the prize money won at each (prize money comes from Race Results Weekly – subscribe here for $75 per year if you want a breakdown of prize money for all road races across the globe).
January 15 – Aramco Houston Half Marathon
5. Mamitu Daska, 33, ETH 1:09:01 $2,000 + $3,000i
February 26 – World's Best 10k (Puerto Rico)
2. Mamitu Daska, ETH          31:59    $7,500
April 2 – Credit Union Cherry Blossom 10-Mile 
4. Mamitu Daska Molisa, 33, Ethiopia       54:45     $1,500
April 1 – Cooper River Bridge Run
3. Mamitu Daska, 33, West Chester, PA (ETH) 32:47 $1,500
April 9 – UAE Healthy Kidney 10-K 
Mamitu Daska, 33, NIKE (ETH) 31:37 $10,000
April 15 – Allstate Sugar Bowl Crescent City Classic 10-K 
1. Mamitu Daska, 33, ETH                  32:19  $6,000
May 7 – Lilac Bloomsday
2. Mamitu DASKA, ETH                  40:21   $4,500
May 29 – Bolder BOULDER 10K & International Team Challenge 
1. Mamitu Daska, ETH                 32:44.9  $3,000 + $1500i + $5,000 team
June 10 – NYRR New York Mini 10-K
2. Mamitu Daska, 33, Ethiopia (NIKE)            32:09    $5,000
July 9 – Utica Boilermaker 15-K
4. Mamitu Daska, ETH              49:33   $1,500
August 20 –  New Balance Falmouth Road Race
4. Mamitu Daska, 33, Ethiopia               37:00    $5,000
November 5 – TCS New York City Marathon
3. Mamitu Daska, 34, ETH                2:28:08    $40,000
ARRS.net shows Daska with more than $1 million in prize money in her life. She picked up a quarter of that ($250,000 with her win in Dubai in 2010).
###
Buze Diriba — Who Has Given Up Her Track Career To Run US Road Circuit — Has Also Run 12 Times In the US This Year
Above we talked about why, from a financial standpoint, an African marathoner might not race marathons and instead focus on shorter races. The same is true for a shorter distance runner as well.
Case in point — meet 23-year old Buze Diriba. Diriba won the 2012 world junior 5000 title and ran 14:53 at age 18. The next year she improved to 14:50 and was 5th at Worlds in the 5000 at 19. What has she done since then? Gone for lasting glory on the track? No, for the last three years, she has basically totally skipped out on the summer track season and hammered it out on the roads. This year, she took it a step further and basically skipped out on all track races (she ran just one) to focus on the US road circuit. The US road circuit is likely more lucrative than running the Diamond League circuit unless you are contending the win on the DL circuit.
Like Daska, Diriba raced 12 times in the US this year. Like Daska, Diriba earned her biggest payday last week. At the EQT Pittsburgh 10 Miler, as she won $14,000 thanks to winning the race and taking home the PRRO Super Bonus of $10,000. That brings her 2017 winnings to $58,750. Here are her 12 races in 2017.
March 25 – Azalea Trail Run 10-K
2. Buze Diriba Kejela, 23, ETH            32:49   $2,000
April 2 – Credit Union Cherry Blossom 10-Mile 
2. Buze Diriba, 22, Ethiopia               53:52     $4,000
April 16 – B.A.A. 5-K
1. Buze Diriba, 23, Ethiopia,            14:54 PB $7,500
May 7 – Lilac Bloomsday Run
1. Buze DIRIBA, ETH                   40:19  $7,000
June 2 – adidas Boost Boston Games (track race)
1. Buze Diriba, Ethiopia              8:45.44 Prize money unknown
May 21 – Bay to Breakers 12-K
1. Buze Diriba, 23, Albuquerque, NM (ETH)        39:48  $3,000 + $2,500 + $5,000 team
June 25 – B.A.A. 10-K
3. Buze Diriba, 23, Ethiopia             31:37 PB    $3,000
July 9 – Utica Boilermaker 15-K
5. Buze Diriba Kejela, ETH        49:41   $1,250
July 23 – Wharf to Wharf 6 Mile
1. Buze Diriba, ETH            31:19  $4,000
August 26 – HAP Crim 10-Mile Road Race and Festival of Races
1. Buze Diriba, ETH                      51:49  $3,000
October 8 – B.A.A. Half-Marathon
4. Buze Diriba, 23, Albuquerque, NM (ETH) 1:13:04 $2,500
November 5 – EQT Pittsburgh 10 Miler
1. Buze Diriba, ETH 52:12 $14,000
It's certainly not an easy way to make 58k. We wonder how someone like Diriba makes it work logistically. Where does she live when in the US (based on her B.A.A Half Marathon result, we're guessing Albuquerque)? When does she go home to Ethiopia? If you know, email us.
****
Quotes of the week (that weren't quote of the day)
#1 Allie Kieffer Loves Running
"Running has given me an opportunity to become a more well-rounded as a person, it has given me confidence, and it has given me amazing things in life. It is a struggle to keep running, but I run because I love it and I self-identify as a runner. Running makes me a better me. That's who I am. That's who I've always wanted to be."
-American Allie Kieffer talking to Joe Battaglia in an excellent 3,600+ word profile Battaglia did of Kieffer before she ran a 15+ minute PB to place 5th at the 2017 TCS New York City Marathon. The 30-year-old Kieffer went into the New York with a 2:44:44 marathon pb (run indoors) and left with a 2:29:39 pb.
Our favorite tidbit of the profile was this — Kieffer was Jenny Simpson's roommate at the 2003 Foot Locker Cross Country Champs (the US HS individual champs) when both were juniors in HS. Simpson (then Jenny Barringer) was third in the race while Kieffer was 22nd.
So while we imagine many of you had never heard of Kieffer before Sunday, her great success just supports one of our favorite maxims: "Talent doesn't go away."
More: Allie Kieffer: Chasing Happy
#2 Stephen Sambu Explains Why He Chose Arizona Over Oregon
"At the beginning I thought about going to Oregon and visited there. Then I went to visit at Arizona and Coach [James] Li told me that after I finished college he would continue working with me. I thought that would be good for me and I really liked that. He was the only coach who told me he would continue helping me after I was done with school. Many of my friends ran for different schools and when they were done their coaches just forgot about them. Oregon had been my number one place to go to, but they didn't tell me what they would do to help me after my school running was over."
-road race ace Stephen Sambu talking in a lengthy interview with Gary Cohen about why he chose the University of Arizona over the University of Oregon. With so many collegians struggling to find coaching post-college, we were impressed by how far ahead he was thinking.
More: Q&A With Gary Cohen
****
Man Runs 2:19:41 Marathon and Wins $17,600?
What we wrote in the headline is true, but not nearly as easy as it sounds.
Lesotho's Tsepo Mathibelle — LRC co-founder Wejo's 2015 Athlete of the Year — won the 25th Old Mutual Soweto Marathon last week in 2:19:41 and won $17,600 (R220,000). Similarly, South Africa's Irvette van Zyl won $17,600 for taking home the women's crown in 2:41:06.
At first glance, that sounds like a huge payday for two very modest times.
Then one realizes that Soweto is more than 5,600 feet above sea level (1,710 meters). And it's hot this time of year there: the high on Sunday was 86. But a close look at the weather reveals it was below 60 at the start and "only" around 70 when the elites finished as the marathon started at 6 a.m.
In case you were wondering, the course records in Soweto are 2:16:28 and 2:36:02 according to Arrs.net.
****
Recommended Reads
LRC Digging Deep: The Legacy Of Ryan Shay Ten Years After His Death At Olympic Marathon Trials
Tim Layden: Meb Keflezighi's Impact On US Distance Running
Recommended Watch: Meb The Home Stretch Episode 1: Excellent Five Part Documentary Taking A Look Back At Meb's Career And His Training For His Final Marathon
*Episode 2 *Episode 3 *Episode 4
Toni Reavis Takes A Look Back At Shalane Flanagan's Career Of "Relentlessness" From her front running her way to DNFs in high school and college, to her blistering pace setting at Boston 2014, Flanagan has been working her way towards this for a long time.
Desiree Linden Is Using Shorter Races To Burst Out Of A Running Slump "I feel like I'm not getting any better, which is totally normal," she said. "And fourth at Boston, 2:25, is a totally fine place to plateau. If I could ride off into the sunset there, it wouldn't be the worst thing. But I feel like I would rather try to shake things up and fail miserably, but at least try, than just keep doing the same thing and getting the same result."
NY Times: Meb Keflezighi Reveals His Secret Is His Mom's Himbasha All Meb's family are in town to celebrate his final marathon.
Nice Profile On Ireland's National 3000m Record Holder (7:30.36) And Former NYC Marathon Runner-Up Mark Carroll Carroll, now the coach at Drake University, talks about how he once passed on a very lucrative offer to pace a world record attempt because he suspected (and it was later confirmed) the athlete was dirty.
RW: "Capping A Legendary Career, Meb Keflezighi And His Team Prepare For A NYC Curtain Call" A very nice profile on Meb's dedication with great quotes from himself, coach Bob Larsen and his wife Yordanos.
Check Out This Excerpt From Brandon Hudgins' Book On How He Battled Against Vasculitis To Achieve His Dream Of Competing At The Olympic Trials In this excerpt from his book, Going the Distance: The Journey of a Vasculitis Patient on the Road to Olympic Glory, Hudgins walks through his decision to quit his job to chase the standard for the 2016 OT. Hudgins has got a lot of love over the years on the boards and was the LRC quote of the day a couple of years ago when he first went sub-4. *Press Release On The Book *Buy It On Amazon
To see our favorite reads from other weeks, go here.
*****
Other News of Note
Maybe the LetsRun.com jinx does exist? Two weeks after we praised Mo Farah for sticking with Alberto Salazar, he left him: Salazar And Mo Farah Split .
Van Niekerk ACL TEAR! Wayde tears ACL in celebrity tag rugby game! 
****
Quotes Of The Day And Last Week's Home Pages
To see the actual quotes of the day from last week or last week's home page or any home page, go to our archive page.
---