The Week That Was In Running – October 9 – 15, 2017
by LetsRun.com
October 18, 2017
Last week was a brutal one for those of us that are combined track and US soccer fans. With no global outdoor championship in 2018, we were at least looking forward to spending much of our summer watching the World Cup – which now won't include the US. We thought about shutting the site down for 24 hours to mourn but didn't and have our Weekly Recap here ahead of schedule.
If during last week, you missed our article where both Shalane Flanagan and Meb Keflezighi reacted to Galen Rupp's Chicago Marathon win, catch up now: LRC Shalane Flanagan Reacts To Galen Rupp's Chicago Marathon Win: "There's still an investigation going on, so it's hard to truly and genuinely get excited about the performances that I'm watching."
Past editions of the Week That Was can be found here. Questions, comments or a tip? Please call us at 844-LETSRUN (538-7786), email us or post in our forum.
****
Lawrence Cherono and The 2017 TCS Amsterdam Marathon Impress
The men's race at the 2017 TCS Amsterdam Marathon was a dandy in virtually every single way one could judge a marathon.
Article continues below player
Fast times? Yes. The top five guys all broke 2:06, led by Lawrence Cherono's 2:05:09 course-record win. This was only the fourth time in history that five guys broke 2:06 in the same race, and the first time ever outside of Dubai.
Close finish? Yes, it came down to a sprint finish on the track over the final 100 meters as shown here:
Great depth? Yes.
In addition to five breaking 2:06, a total of eight men broke 2:08 and 14 broke 2:10. However, that's not that unusual for Amsterdam. In last year's race, 10 men broke 2:08 and a total of 13 broke 2:10. If you are wondering if that's some kind of record, no it is not. In Dubai in 2012, a ridiculous eight men broke 2:06, 14 broke 2:08, and 17 broke 2:10.
But the fastest of them all this year in Amsterdam was the 29-year-old Cherono, who has been fantastic in his last six marathons, which all resulted in a first- or second-place finish.
Lawrence Cherono's Last Six Marathons
2016
Jan 17 – 2nd Hong Kong in 2:12:14
May 8 – 1st in Prague in 2:07:24
Sep 24 – 2nd in Hengshui in 2:11:13
Dec 11 – 1st in Honolulu in 2:09:39
2017
Apr 9 – 2nd in Rotterdam in 2:06:21
Oct 15 – 1st in Amsterdam in 2:05:09
As has been pointed out on the messageboard, Cherono's final 12k in Amsterdam was very fast, and as a result, he ran his second half in 62:18 (1st half 62:51). A week ago, we were going ga-ga over Rupp's final 7.2 k in Chicago but Cherono ran almost exactly as fast as Rupp over the final 7.2 k as Cherono (Cherono ran it in 20:42, Rupp ran it in 20:37) and that's after running the first 35k four minutes and 21 seconds quicker.
Here is how Cherono closed off a 62:51 first half compared to Rupp's close in Chicago off a 66:11 first half.
| | | | |
| --- | --- | --- | --- |
| | Cherono | Rupp | Diff |
| 1st Half | 62:51 | 66:11 | Cherono by 3:20 |
| 21.1k to 25k | 11:52 | 12:05 | Cherono by 13 secs |
| 25k to 30k | 15:09 | 15:05 | Rupp by 4 secs |
| 30k to 35k | 14:30 | 15:12 | Cherono by 42 secs |
| 35k to 40k | 14:33 | 14:25 | Rupp by 8 secs |
| 40k to finish | 6:09 | 6:12 | Cherono by 3 secs |
As a result, we'd be shocked if he's not running Abbott World Marathon Majors in 2018. Remember, last year's Amsterdam champ was Daniel Wanjiru. This year, Wanjiru won one of the toughest races in the sport of running: the London Marathon.
One other thing about Cherono — his professional CV is fascinating as both of the results databases that we use list zero races other than marathons on his CV.
Yes, that's right. The first result we see is a 2:10:16 marathon in 2014 at age 26. Then he ran three more in 2015 (2:09:39, 2:12:33 and 2:14:22) before getting on his hot streak.
###
In the women's race in Amsterdam, 26-year-old Tadelech Bekele ran a pb of 2:21:54 (previous pb of 2:22:23) to earn the first marathon victory of her career.
More: MB: So if Galen Rupp had run Amsterdam, he would have been at best 3rd and maybe 5th?
*Amsterdam Results
Amsterdam Recap: Lawrence Cherono Runs 2:05:09 Course Record As 5 Guys Break 2:06, 8 Break 2:08 And 14 Break 2:10!
****
Galen Rupp Is A Stud
While we were impressed by Cherono's finish and did compare it to Rupp's above, we want to make something clear. Galen Rupp is VERY GOOD at the marathon.
An annoying small minority of people on the messageboard are arguing that since Rupp hasn't run a fast time, he isn't a good marathoner. A few of these people act like anyone who runs faster than him is automatically a better marathoner. That's just flat-out stupid. We hope these people are trolling as anyone with a brain should know better.
In 2016, the winning time in the Paralympic 1500 was faster than the winning time in the Olympic 1500 and that certainly doesn't mean that Mikey Brannigan is a better runner than Matthew Centrowitz. Centrowitz also had a slower pb than the next five finishers in that Olympic 1500 final, but guess what? He's got the 2016 gold medal and they don't.
We're not saying times are irrelevant. Times are important, as are splits — particularly when comparing people from different eras and different races. Looking at the finishing times and splits, it's not crazy to make the argument that Galen Rupp wouldn't have won Amsterdam (it's also quite possible that he would have won it). But come on, just because someone has a better PR than someone else doesn't mean they are automatically a better runner.
Galen Rupp himself is actually the perfect proof of this. He has a better 10,000 pb than Mo Farah (26:44.36 versus 26:46.57) but does anyone think Rupp is a better 10,000 runner than Farah? We hope not as Rupp is 0-5 against Farah at 10,000 and 1-21 against him in all events.
There are tons of marathoners with PBs way faster than Rupp's that aren't half the marathoner that Galen Rupp is. To prove this point, we decided to look at the top 17 finishers at the fastest marathon in history — 2012 Dubai — and see how fast all 17 have run since, how they have done in the Abbott World Marathon Majors since and what their best time is in 2017. All 17 men have a PB faster than Galen Rupp, but there are only three guys whose marathon careers come close to Rupp's — #1 Ayele Abshero, #5 Tadesse Tola, and #10 Yemane Tsegay.
Here is how they've done.
2012 Dubai results – best time since, best results at a major since, best recent result.
1. Ayele Abshero ETH 2:04:23 – Twice finished top 4 in London but has never run faster than 2:06:31. 4th at Gongju Dong-A Marathon on October 15 in 2:08:37.
2. Dino Sefir ETH 2:04:50 – Hasn't run faster than 2:08:14. Hasn't finished higher than 8th in a major. 2:14:26 and 8th in Boston this year.
3. Markos Geneti ETH 2:04:54 – Next best time in 2:05:14 for 2nd in Dubai in 2014. Three times top-6 at a major (but no higher than 5th). Only result this year is 67:38 for 11th at BAA Half in October.
4. Jonathan Maiyo KEN 2:04:56 – Next best time is 2:06:47. Best finish in major was 7th at 2012 Berlin. No results in 2016 or 2017.
5. Tadesse Tola ETH 2:05:10 – Ran 2:04:49 in Dubai the next year. Won bronze at 2013 Worlds as well. 2014 Tokyo runner-up. 7th in Bolder Boulder 10k this year in 29:27.
6. Dadi Yami ETH 2:05:41 – Hasn't run faster than 2:07:01 since. Best major finish was 8th at 2012 Chicago. 2:14:23 this year.
7. Shami Abdulahi ETH 2:05:42 – Best time since is 2:05:58 later that year in Hamburg. 10th in Chicago that year also. No races since 2014.
8. Deressa Chimsa ETH 2:05:42 – Ran 2:06:25 later that year in Prague. 7th in Tokyo in 2014. No races since 2015.
9. Seboka Dibaba ETH 2:06:17 – Ran 2:07:26 in Seoul the next year. Never run a major. 2:10:31 in Ottawa this year.
10. Yemane Tsegay ETH 2:06:29 – Ran 2:04:48 in Rotterdam later that year. 2nd at Boston and Worlds in 2015, 5th in NY in 2015, 3rd in Boston in 2016. 12th in Boston this year and DNF at Worlds.
11. Eshetu Wendimu ETH 2:07:28 – 2:07:54 later that year in Paris. No majors since. No races since 2015.
12. Moses Kigen KEN 2:07:45 – 2:11:05 marathon at altitude is his next best time. No majors since. No results since 2014.
13. Bazu Worku ETH 2:07:48 – 2:07:09 in Dubai in 2015. Hasn't run a major since 2012 London. 2:08:48 this year in Prague.
14. Julius Nderitu KEN 2:08:01 – Next best time was the 2:09:14 he ran in his next marathon. Has never run a major. 2:12:11 is his best this year.
15. Stephen Kibiwot KEN 2:08:11 SB – Hasn't broken 2:10 since. Never run a major. Last race was in 2015.
16. Mike Mutai KEN 2:09:18 – That was the only sub-2:10 of his career. Never run a major. Three 2:13s this year.
17. Chala Dechase ETH 2:09:22 SB – While he'd already run 2:06 in 2010 in Dubai, he hasn't run faster than 2:08:11 since. 2:10:24 this year in Dubai. Only major of his career was 2010 Boston where he was 15th.
****
Chris Zablocki is America's Winningest Marathoner
Rupp may be a stud but no one in the US – maybe the world – has won more marathons this year than Chris Zablocki. Zablocki, whom we profiled in 2016 (Meet The Most Interesting Man In Running: Chris Zablocki'sLong Road To Los Angeles) has won 7 marathons this year – and raced 10.
Chris Zablocki's Marathons In 2017
Janauary 15 – 1st at Carlsbad Marathon in 2:20:10 987
January 29th – 1st at Miami Marathon in 2:18:17
February 26th – 1st at Hyannis Marathon in 2:21:29
March 12th – 1st at Newport News City Marathon in 2:25:52
March 25th – 1st at Armory Indoor Marathon in 2:21:48 world record
April 17th – 57th at Boston in 2:31:04
May 21st – 1st at Run for the Red Marathon 2:21:25
June 17th – 3rd at Tromso Midnight Sun Marathon in 2:30:13
August 27th – 3rd at Quebec City in 2:29:10
October 14th – 1st at Hartford Marathon in 2:18:01
****
The BYU Men's Cross Country Team Was Totally Dominant at Pre-Nats
In our initial analysis of the 2017 Pre-Nats NCAA cross country meet, we pointed out that the BYU men (41 points) were so dominant they would have won even if the rules were changed and they had to score seven versus runner-up Colorado's top five. Further analysis reveals that BYU would still have won the meet if the #2-5 teams in the meet – Colorado, Oregon, Virginia Tech and Ole Miss – had combined forces and ran as one team. If that had happened, here is the score.
BYU 41
Colorado-Oregon-V Tech-Ole Miss All-Stars 49
| | | | | | | | | | | | |
| --- | --- | --- | --- | --- | --- | --- | --- | --- | --- | --- | --- |
| Rank | Team name | Total Time | Avg. Time | Score | 1 | 2 | 3 | 4 | 5 | 6 | 7 |
| 1 | BYU | 1:56:28 | 23:17 | 41 | 1 | 6 | 7 | 12 | 15 | 27 | 36 |
| 2 | Col. | 1:57:52 | 23:34 | 118 | 9 | 11 | 14 | 40 | 44 | 61 | NA |
| 3 | Oregon | 1:58:13 | 23:38 | 129 | 17 | 24 | 28 | 29 | 31 | 33 | 124 |
| 4 | V. Tech | 1:58:18 | 23:39 | 148 | 2 | 13 | 41 | 42 | 50 | 54 | 64 |
| 5 | Ole Miss | 1:59:11 | 23:50 | 193 | 20 | 32 | 34 | 48 | 59 | 112 | 122 |
So please let there be no doubt. #2 BYU is very good. But so is #1 NAU as they dominated a more loaded Wisconsin meet with just 50 points (in case you are wondering, they wouldn't have beaten a combined team of the any of the teams behind them as runner-up Portland and third-place Syracuse had some low sticks).
Now that we have some major meets in the rear view mirror, here is the LetsRun.com stone-cold lock prediction: the men's national meet is being won by either BYU or NAU. Sorry #3 Syracuse, if you want to win something in Louisville this year (the Orange won it all the last time the meet was in Louisville), make sure Justyn Knight – who won Wisco on Friday – is ready to take home the individual crown.
###
On the women's side of things, we feel confident in the following predictions.
Your women's national team champion will either be New Mexico (who dominated Wisco last week), Oregon (who won Pre-Nats), or Colorado (who was 2nd at Pre-Nats).
Individually, we feel that New Mexico's Ednah Kurgat – who took home the individual crown at Wisco last week by 16.2 seconds – will be your champion. Now that's not a stone-cold 100% guarantee like our men's team picks, but we feel pretty confident in that pick thanks to the LetsRun.com version of the transitive property.
The transitive property says that if A > B and B > C, then A > C. Our version is as follows: if A >C by a bigger margin that B > C, then A is likely greater than B.
What the hell are we talking about?
Well two weeks ago, Kurgat defeated Colorado's Dani Jones by 11 seconds at Notre Dame. On Saturday at Pre-Nats, UNH's Elinor Purrier won the meet (with reigning NCAA champ Karissa Schweizer just behind her in 2nd) with Jones some 5.1 seconds arrears in third. So Kurgat is 11 seconds better than Jones and Purrier is just 5.1 seconds better than Jones. Plus Kurgat's 11-second margin came on a shorter course (5k at ND vs. 6k at Pre-Nats). So we think Kurgat is better than Purrier.
More: MB: Official 2017 Wisco / Pre-Nats Discussion Thread- Who you got?
2017 Pre-Nats Analysis: Who Surprised and Bombed in Louisville?
*2017 Wisconsin XC Women's Recap: Ednah Kurgat Leads New Mexico To Victory
*2017 Wisco XC Men's Recap: Justyn Knight Edges Grant Fisher As NAU Dominates, But Who Were The Biggest Winners and Losers?
*Wisco Results*Pre-Nats Results *Other Results
*****
If Your Team Runs So Badly (Or Has So Many Injuries/Illnesses) That You Don't Record a Score in Cross Country, You Still Should Be Listed in Last
Last year, we ranted about how it drives us nuts that when a team scores zero points at a conference meet in track & field, they often won't show up at all in the team standings. That's stupid. List them in last with zero.
Last week, we had a similar thing happen in cross country.
As we were scouring the NCAA Pre-Nats results for the results of Yale University – the beloved alma mater of LetsRun.com co-founder Weldon Johnson – we noticed that Yale had three DNFs. Wait a minute, wouldn't that by definition mean they only had four scorers? Yes, it would, as you can only run seven at Pre-Nats.
But does Yale show up as the last-place team in the Pre-Nats results? No, they do not. Instead, they were just left off of the team results. That makes no sense. If you don't score in a football game, they don't fail to put you up on the scoreboard. A team that fails to record a team score should be listed in last with an incomplete next to their name. If more than one team is incomplete, then we think the teams should be ranked by whoever had the most finishers (or lowest score if they have the same number of finishers). This is how it should look (with the addition of Yale's finishers' places on the right).

Making matters worse is the Yale sports information department also acted like Yale didn't enter a team as they simply listed the individual results. Come on people. At least admit we are keeping team scores at these competitions or that three guys didn't finish. It is newsworthy.
If you are wondering if this is the first time it's ever happened at a major cross country meet, the answer is of course not.
At the 2004 NCAA meet, William & Mary didn't record a men's team score. However, Track and Field News, to their credit, lists them as incomplete whereas the coaches association acts like they didn't even compete at the meet and only lists 30 teams in the results.
| | |
| --- | --- |
| The Proper Way | The Incorrect Way |
And of course, there was the 2007 NCAA meet where Georgetown had three guys drop out, but one went back on the course and finished dead last and they still showed up 13th in the team standings as their top four guys ran well and there was no DQ (although there should have been). We were talking this week with an NCAA coach who is still mad about it as Georgetown beat his team that day even though it should have been a DQ.
MB: Georgetown
****
Army Beats Navy x2
Speaking of scored cross country meets, they definitely keep score at the Army-Navy meet. This year, Army won both the men's and women's races for the first time since 2005. Both races were very tight as the women's score was 27-28 and the men's score was 27-29.
Overall, Navy leads both the men's and women's series. The Navy women lead the all-time series 20-12 and the Navy men, who made NCAAs last year and have won the last four Patriot League crowns, lead it 49-30-1.
For the Army men, who are enjoying their best XC season in more than a decade, this was just their 11th win since 1966. Only total geeks/college coaches normally pay attention to the regional rankings in collegiate cross country, but Army is ranked fourth in the Northeast Region. The men's NE regional rankings certainly don't look like they normally do as Providence is really having an off year and is just 11th.
*Army Women win 27-28 *Army Men win 27-29.
****
Katelyn Tuohy is a Star
Tuohy, a 10th grader from North Rockland in New York, has been turning heads on LetsRun since 2016, when as an 8th grader she ran 4:24 for 1500m. Tuohy improved to 4:18 for 1500m this past spring. This past weekend she upped her game even more as she broke the course record on the 4k course at famed Van Cortlandt Park in New York City by over 30 seconds. Before you start thinking a 30 second course record on a course that is run year after year may be the greatest high school XC run ever, let us put the brakes on that thought.
The Van Cortlandt course is faster now than it was in years past, so Tuohy's run, while very, very good, is not unheard of. Tully Runners (which compares XC races and runners across eras by assigning speed ratings to runs) gave Tuohy's run a speed rating of 166, which while very good is not totally unheard of. It's a run good enough to win Foot Locker's most years and equivalent to Sarah Baxter's course record run at Mt. Sac in 2012.
More: The Next Girls Phenom Has Arrived
*Katelen Tuohy smashes VCP record 
****
2018 World Indoor Tour Dates and Events Announced

With no world outdoors in 2018, a lot of attention will be on the 2018 World Indoor Championships. We are pleased to report that the event has been moved up this year by a few weeks and will take place March 1-4 in Birmingham, England (in 2016, it was March 17-20 in Portland). We think that's a good time of year to have it as it gives athletes more time to recover, maybe take a mini-break and still have plenty of time to get ready to rock outdoors.
To get people ready for World Indoors, the IAAF announced that there will be six official events in its 2018 World Indoor Tour, up from five in 2017. The New Balance Indoor Grand Prix in Boston — which will be held on February 10 — is the lone US stop once again.
Here are the dates and scoring events at each meet (each meet will have other events as well). The winner of the series title for each event will take home $20,000 and receive a wild card entry to 2018 World Indoors.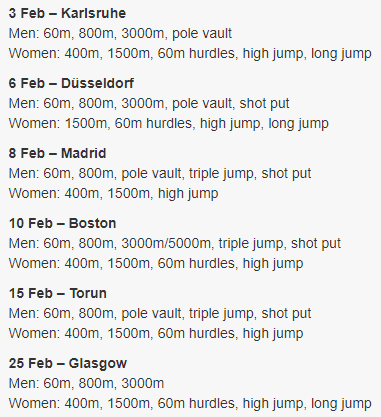 More: Scoring Events Announced For 2018 World Indoor Tour
****
Claudio Berardelli is Cleared in Kenya — So Who Doped Rita Jeptoo?
"The prosecution failed to avail evidence to show how Berardelli, Kiplangat and Dr Tanui conspired to administer the prohibited drug EPO on Jeptoo.
"After analyzing all the evidence from the 12 witnesses called by the prosecution I do not even find any iota of evidence to link Berardelli, Kiplangat and Dr Tanui with Jeptoo's predicament." 
-quote from senior principal magistrate Kennedy Cheruiyot, who very forcefully cleared coaches Claudio Beradelli, Daniel Cheribo Kiplangat, and a medic, Dr. Stephen Kiplangat Tanui, of doping former Boston and Chicago Marathon champion Rita Jeptoo. Apparently, zero evidence was presented at trial linking them to Jeptoo's drug use according to The Nation. 
Since the international Court of Arbitration for Sport (CAS) had already clearly Berardelli as well, last week's ruling was far from a surprise. In fact, the judge quoted the CAS report in his ruling. And we certainly thought it would be easy for the Kenyans to try to blame their doping problem on a foreign coach.
So the not-guilty verdict is fine and dandy.
But we have one question: who doped Jeptoo? We hope one of the biggest doping scandals in sports doesn't go away without that question being answered.
More: Claudio Berardelli cleared by court
****
Good For Mo — Farah Refuses To Drop Alberto Salazar As Coach
Last week, the Daily Mail reported that senior officials with UK Athletics tried to get Mo Farah to dump his coach Alberto Salazar as they were "concerned by the negative impact Farah's continued association could have."
While we certainly still have questions about the legality of Salazar's methods, we are pleased Farah stuck with Salazar. Loyalty is a trait that we admire.
And what good would Farah dumping Salazar do now? It would only help if you are a total imbecile on a PR front. Does UK Athletics somehow think that by dumping Salazar now, people would forget that Farah only became a world beater after he joined Salazar's group?
If Farah dumped Salazar, we actually think it would make Mo look like he's got something to hide. It would be unofficially sending the bizarre signal of "I don't want to be associated with him because he's shady, but I, of course, am clean."
So we commend Mo for standing by Salazar.
More: Sir Mo Farah refused UK Athletics' call to dump controversial coach Alberto Salazar
*****
Tweet of the Week
Last week, it came out that anti-doping leaders think the future in the fight against doping might involve placing a microchip into athletes to make sure they don't take drugs. After that came out, agent Dan Lilot had the perfect response.
Proposal: athletes agree to be microchipped if governing body officials (IAAF/IOC) agree to complete monitoring of their bank accounts.

— Dan Lilot (@Lilot1TrackMind) October 11, 2017
For the record, while at first glance it seems a bit crazy, athletes having to be microchipped to compete may not be that crazy. Athletes are already giving up privacy (they have to make their location known each day so they can be drug-tested) so why not actually make sure people are competing on an even playing field? We never understood why a players' union would be against more stringent anti-doping rules. When we were competing, we would have been fine with daily drug tests. Microchipping is way more far fetched, but at the very least some athletes might do it voluntarily.
More: *MB: At last, they've found a way to stop dopers – microchip all elite athletes
*Microchip athletes 'like dogs' to stop doping, says Olympians' chief
*World Olympians Association Chief Says His Microchip Comments Were Taken Out Of Context Many apparently reacted negatively to the proposition, although we were all for it.
****
Tweet of the Week #2: Kyle Merber's Wedding Makes the Daily Mail
American miler Kyle Merber is known for being fast and also pretty proficient at twitter. Earlier this month Merber married Patricia Barry in Ireland. Before the wedding, which had 15 sub 4 minute milers in attendance, Merber tweeted out this translation sheet so the Irish and American guests would be able to communicate with one another:
Placed these at the tables yesterday to help the guests out. Wish I had this when we started dating pic.twitter.com/gLpQYHVrvv

— Kyle Merber (@TheRealMerb) October 8, 2017
The translation got Merber's wedding a write-up in The Daily Mail: "'Who is your one? Is she doing a line with your man?' Irish bride makes hilarious slang translator for American guests at her wedding in Ireland".
Congrats to Kyle and Patricia.
****
Stat of the Week
31 – number of siblings that Aliphine Tuliamuk has as her father had eight children with each of his four wives.
The stat comes from a nice profile of Tuliamuk by ESPNW.
*****
Quote of the Week (that wasn't quote of the day)
"We chip our dogs. We're prepared to do that and it doesn't seem to harm them. So, why aren't we prepared to chip ourselves?"
–Mike Miller, the chief executive of the World Olympians Association and chairman of the Association of Football Agents, talking about microchipping athletes to prevent doping according to The Telegraph.