2017 Berlin Marathon Men's Preview: Kipchoge vs. Bekele vs. Kipsang — Who Breaks The WR, And By How Much?
By LetsRun.com
September 21, 2017
On Sunday in Germany, two historic races are set to unfold. The first, the 2017 BMW Berlin Marathon, will finish up just past the Brandenburg Gate just after 11:15 a.m. The other race is for the Bundestag, which meets barely a quarter of a mile away in the historic Reichstag building, as Germany will hold its 2017 federal election.
We can't speak for the election, but the marathon is going to be epic. If you don't know the basics, the greatest marathoner of all time, Eliud Kipchoge, the greatest distance runner of all time, Kenenisa Bekele, and the former world record holder in the marathon and the only man to ever to beat Kipchoge in a marathon, Wilson Kipsang, will all square off trying to break the 2:02:57 marathon world record on the course where all the men's world records have been set in the marathon during the last 15 years (See: World Record History: A Look Back At The Men's Marathon World Records Set in Berlin. Hopefully you've also already read our pump-up article and our look at the incredible Kipchoge-Bekele-El Guerrouj battle at the 2003 Worlds). Now that the big day is almost upon us, it's time to dig into the analysis. Who's going to win? Will the world record fall, and by how much? We give you the race details below, followed by our analysis.
What: 2017 BMW Berlin Marathon
When: Sunday, September 24, 2017. Elite start at 3:15 a.m. ET.
Where: Berlin, Germany
How to watch (U.S. viewers): Live on NBC Sports Network or streaming via NBC Sports Gold. Coverage begins at 3:00 a.m. ET. The Olympic Channel will re-air the broadcast at 12:00 p.m. and 6:00 p.m. ET on Sunday.
Rest of World:
Users with German IP Address: Watch Free Here
How to watch (Canadian viewers): CBC Sports will stream the race live online.
How to watch (UK viewers): On TV, FreeSports will be airing the race. Flotrack will stream the race live online (requires subscription).
Berlin Marathon official site * 2016 LRC coverage
Elite Men
Article continues below player.
| | | | |
| --- | --- | --- | --- |
| Name | Nation | PB | Comment |
| Kenenisa Bekele | Ethiopia | 2:03:03 | Defending champ has high ceiling but not as consistent as Kipchoge/Kipsang |
| Eliud Kipchoge | Kenya | 2:03:05 | Has accomplished everything there is in the marathon — apart from the WR |
| Wilson Kipsang | Kenya | 2:03:13 | The only man to have beaten Kipchoge in a marathon (2013 Berlin when he set WR) |
| Patrick Makau | Kenya | 2:03:38 | Set WR at 2011 Berlin but hasn't broken 2:06 since |
| Vincent Kipruto | Kenya | 2:05:13 | Won 2016 Xiamen; silver at 2011 Worlds |
| Felix Kandie | Kenya | 2:06:03 | Coming off 2 straight PRs (2016 Amsterdam, 2017 Seoul) |
| Luke Kibet | Kenya | 2:08:52 | '07 world champ ran 5 marathons last year but fastest was 2:10 |
| Hiroaki Sano | Japan | 2:09:12 | Highest finish in major was 7th at 2013 Chicago |
| Koji Gokaya | Japan | 2:09:21 | 22nd in Tokyo in February |
| Yuta Shitara | Japan | 2:09:27 | Set Japanese HM record (60:17) 1 week ago…can he recover? |
| Mosinet Geremew | Ethiopia | 2:10:20 | 59:11 half marathoner was 2nd in debut in Xiamen in Jan. |
| Melaku Belachew | Ethiopia | 2:10:31 | Coming off PR/win in Hong Kong in Feb. |
| Scott Overall | Great Britain | 2:10:55 | 34-year-old set PR here in 2011 |
| Ryan Vail | USA | 2:10:57 | Solid when healthy, but hasn't finished a marathon since 2014 |
| Michael Shelley | Australia | 2:11:14 | Commonwealth Games champ was 47th at Olympics |
| Willem Van Schuerbeeck | Belgium | 2:12:49 | PR'd here in 2015 |
| Philipp Pflieger | Germany | 2:12:50 | PR'd here in 2015 |
| Christian Kreienbuhl | Switzerland | 2:13:57 | PR'd here in 2015 |
| Deresa Geleta | Ethiopia | 2:15:00 | |
| Jonathan Mellor | Great Britain | 2:16:52 | |
| Masato Kikuchi | Japan | 2:17:23 | |
| Marcus Schofisch | Germany | 2:17:56 | |
| Guye Adola | Ethiopia | Debut | Bronze at '14 World Half Champs; 59:06 pb |
| Samuel Barata | Portugal | Debut | 63:52 HM pb from Lisbon in March |
Making the case for each of the three studs
There are three guys who could realistically win this race, and all three will be gunning for the world record. And considering how good Kipchoge, Bekele and Kipsang are, it's quite possible that one of them runs faster than Dennis Kimetto's 2:02:57 world record and fails to win the race. Let's run through all three and explain why each guy will — and won't — win Berlin.
Eliud Kipchoge — Kenya, 32 years old, 2:03:05 pb (2016 London), 59:25 half
Recent marathons: 1st 2016 London (2:03:05 CR), 1st 2016 Olympics (2:08:44), 1st 2017 Breaking2 (2:00:25)
Why Kipchoge will win Berlin: Quite simply, because nobody in the world has been able to beat him in the past four years. Kipchoge has run eight career marathons plus Breaking2, and in his only loss, to Kipsang in Berlin in 2013, it took a world record to beat him. That will likely be the case again at Berlin 2017, only this time Kipsang may have to run 2:02:23 rather than 2:03:23.
At his best, Kipchoge is untouchable, and it's quite possible that, but for a footwear disaster, he would already have the world record: two years ago, he ran 2:04:00 in Berlin with the insoles of his shoes running out. In Kipchoge's next race, he showed his supreme fitness by running 2:03:05 in London to smash Kipsang's course record before winning the Olympics by 70 seconds, the largest winning margin in 44 years. Most recently, in May, Kipchoge surpassed nearly everyone's wildest expectations (save Nike) by running 2:00:25 for the marathon distance.
You can debate how much the shoe malfunction and Nike's bells and whistles in Monza were worth toward Kipchoge's finishing times, but there's a compelling argument to be made that Kipchoge was in world record shape at all four of those races. Focusing on his most recent effort, we at LetsRun.com think that, at the most, the benefits Kipchoge received at Breaking2 (having bottles hand-delivered and drafting off a phalanx of pacers) were worth two minutes towards his time. So that would put the Kipchoge of May 2017, conservatively, at 2:02:25 shape. And considering Kipchoge is not just the greatest marathoner in history but also the most consistent (aside from the Olympics, he's run 2:05:00 or faster in his last six marathons, not including Breaking2), we expect Kipchoge and his coach Patrick Sang will have him in world record shape in Berlin.
"I think he's quite close to [his Breaking2 shape]," Kipchoge's agent Jos Hermens said. "He's in good shape…He's ready, he's fit, if it's exactly Breaking2 shape or better or worse, that's not something you're going to ask an athlete a week before [the race] because he could run a little worse and still run a great time."
Hermens is right — Kipchoge is so good that he only needs to be close to peak shape for the world record to fall. And unlike London 2016, where Kipchoge scared the world record as a result of trying to win the race, in Berlin, Kipchoge will be trying to win the race by breaking the world record. It's not normal to expect someone to break the world record, but there's nothing normal about Eliud Kipchoge. If the conditions are good, and his shoes don't fall apart, he will run faster than 2:02:57 on Sunday. If conditions are perfect, a time under 2:02 would not shock us.
Why Kipchoge won't win Berlin: Breaking2 took more out of Kipchoge than any of his other marathons, and he'll also have had less recovery time than either Kipsang (who last raced Tokyo in February) or Bekele (London in April). Still, it will have been 20 weeks since Breaking2 when Kipchoge toes the line on Sunday, which is three more weeks than he had between London and the Olympics in 2016.
There's also the possibility that something goes wrong (Kipchoge falls, another shoe mishap) or Kipchoge is just a little off his game, allowing Kipsang or Bekele to win with a great race.
The final argument: Father Time is undefeated. Whether Kipchoge is 32 or a few years older, he now has nine marathons in his legs (including Breaking2). Eventually, he has to slow down, and marathoners, in particular, have a short shelf life. But considering Kipchoge has yet to show any signs of slowing down, we're not betting that it happens in Berlin.
Kenenisa Bekele — Ethiopia, 35 years old, 2:03:03 pb (2016 Berlin), 60:09 half
Recent marathons: 3rd 2016 London (2:06:36), 1st 2016 Berlin (2:03:03), DNF 2017 Dubai, 2nd 2017 London (2:05:57)
Why Bekele will win Berlin: Bekele is the greatest runner of all time, and at his best, can mix it up with anyone in the world in the marathon. He's the second-fastest marathoner of all time, his PR (2:03:03) is faster than Kipchoge's (2:03:05) or Kipsang's (2:03:13), and he ran that time on this course, ahead of Kipsang, only one year ago. Bekele is also 15-7 against Kipchoge all-time, though, to be fair, the most recent of those victories was in 2011. If he's in the same shape he was in at Berlin 2016 — or slightly better — he has to be taken seriously.
Why Bekele won't win Berlin: There are more questions about Bekele than either of the other two. Let's start with his marathon record. Here are the results of Bekele's seven career marathons:
| | | | |
| --- | --- | --- | --- |
| Date | Location | Time | Place |
| 4/6/2014 | Paris | 2:05:04 | 1st |
| 10/12/2014 | Chicago | 2:05:51 | 4th |
| 1/23/2015 | Dubai | DNF | DNF |
| 4/24/2016 | London | 2:06:36 | 3rd |
| 9/25/2016 | Berlin | 2:03:03 | 1st |
| 1/20/2017 | Dubai | DNF | DNF |
| 4/23/2017 | London | 2:05:57 | 2nd |
His 2:03:03 in Berlin was obviously a phenomenal effort. Overall, he has two wins, three races where he ran well but didn't win and two DNFs. We should also note that he is 0-2 against Kipchoge in marathons (2014 Chicago and 2016 London).
But to get a full sense of Bekele, the marathoner, you need to look beyond the results. In Paris and Chicago, Bekele was still learning how to train for the marathon after a decade of racing on the track. Bekele headed into London 2016 undertrained after battling a nagging calf problem in all of 2015. Bekele was in terrific shape for Dubai 2017 but fell at the start, where he was trampled and suffered back, calf and hip injuries. Those injuries took longer to heal than Bekele would have liked, and as a result his buildup for London 2017 (where he still finished second) was limited to around six weeks, per Hermens (who also represents Bekele).
The optimist would say, Wow, Bekele has had some bad luck. If everything goes right in Berlin, he could run the world record! The pessimist would say, Something usually goes wrong with this guy. Why should this race be any different?
So how have things gone in this buildup for Bekele? Hermens said that Bekele's preparation has gone well and that he's "ready" for Sunday, but even he admitted that he doesn't know exactly how his star client will fare.
"It's difficult to say with him," Hermens said. "He's very secretive with the training. Very few people know. I think even his wife doesn't know."
It's also difficult to compare Bekele's buildups to each other as he generally doesn't run tuneup races. Since moving to the marathon in 2014, he's finished a grand total of two non-marathons, and neither were within four months of his next marathon. And in training, he generally doesn't run the same workouts or courses from year to year.
"He's not somebody you can say, 'He's done this track session a year ago [and this is how it compares to this year],'" Hermens said.
One thing we do know: in general, Bekele's marathon buildups are on the shorter side, sometimes due to the nagging injuries he's battled over the second half of his career, and that's okay. He's so good that he doesn't need to string together that much training to get into really good shape.
"He's not the guy that focuses for six months," Hermens said. "He's different from Eliud or Haile [Gebrselassie]. They can focus for a long time…The thing is, he's done this before and had great performances. That's Kenenisa. He's [done it in the past], I'm not going to change it."
With this much uncertainty, Kipchoge and Kipsang are safer bets for the win, but Bekele's ceiling is almost as high. If he runs his best, he has a very good chance to win on Sunday.
Side note: Wait, wasn't Bekele supposed to run Worlds?
It's true that, in June, the Ethiopian Federation announced that Bekele was going to run the World Championship marathon in London last month. But in that same announcement, Ethiopia also announced that Tirunesh Dibaba would be running the World Championship marathon, and she's doing Chicago instead. And remember in May, when Kenya named a dream team of Kipchoge, Kipsang and Mary Keitany to the World Championship marathon squad — none of whom wound up running?
Federations, naturally, want their best athletes to run Worlds. But top marathoners don't always want to run Worlds — a hot-weather marathon, for which there is no appearance money and no chance at a world record.
"The federation wanted him to run but there was a big discussion [because] he didn't want to, but then you get the whole country on your back if you don't run for Ethiopia," Hermens said. "But from the beginning, he wanted to be more in Berlin than London."
Bekele eventually backed out, with Bekele claiming he was not fit enough to compete at Worlds, and Hermens confirmed to LRC that was true — Bekele was not going to be ready to go on August 6. Is that a problem? Well, considering Bekele had his eye on Berlin all along, and Berlin is seven weeks after Worlds, perhaps not.
We're glad Bekele is running Berlin instead of Worlds. The two best marathoners in the world (Kipchoge and Kipsang) are running Berlin, and fans have been clamoring for the Bekele-Kipchoge showdown they didn't get last spring when Kipchoge decided to do Breaking2. The sport is at its best when the biggest stars race each other, and that's what's going to happen in Berlin.
"If two guys are going to attack the world record, he wants to be there," Hermens said of Bekele, noting that Bekele already has 20 gold medals between the Olympics, World Indoors, World Outdoors and World XC. "In the end of your career, [whether it's] 17 or 18 or 19 [gold medals, an extra one] is not going to make a difference…This is kind of the race of the decade, I think, to have three guys within 25 seconds of the world record racing against each other."
Wilson Kipsang — Kenya, 35 years old, 2:03:13 pb (2016 Berlin), 58:59 half
Recent marathons: 5th 2016 London (2:07:52), 2nd 2016 Berlin (2:03:13), 1st 2017 Tokyo (2:03:58)
Why Kipsang will win Berlin: What if we told you that Wilson Kipsang, not Eliud Kipchoge, is actually the greatest marathoner of all time? Check out the chart below:
| | | |
| --- | --- | --- |
| | Kipsang | Kipchoge |
| PR | 2:03:13 | 2:03:05 |
| Sub-2:04s | 4 | 1 |
| Marathon wins | 9 | 7 |
| WMM wins | 5 | 5 |
| World records | 1 | 0 |
| Olympic medals | Bronze, 2012 | Gold, 2016 |
| Head-to-head wins | 1 | 2 |
Closer than you thought, right? Kipchoge still has the edge, particularly if you factor in his 2:00:25, but if Kipsang breaks the WR on Sunday, the chart would look like this (we'll say Kipchoge takes second in a time under the old WR):
| | | |
| --- | --- | --- |
| | Kipsang | Kipchoge |
| PR | 2:02:xx | 2:02:xx |
| Sub-2:04s | 5 | 2 |
| Marathon wins | 10 | 7 |
| WMM wins | 6 | 5 |
| World records | 2 | 0 |
| Olympic medals | Bronze, 2012 | Gold, 2016 |
| Head-to-head wins | 2 | 2 |
Looks like Kipsang would have the better career, right? We're not saying Kipsang is going to win, but if he does, the marathon GOAT discussion gets a lot more interesting.
What do you think? You can weigh in on this thread: MB If Kipsang breaks the WR in Berlin, he is the best marathoner of all time (hat tip to poster "Kipsang fan" for giving us the idea for this comparison).
Point is, Kipsang is really, really good, and he enters Berlin in great form. In his last two marathons, he ran 2:03:13 for second in Berlin and 2:03:58 to set a course record in Tokyo, making him the first person in history to run back-to-back sub-2:04 marathons. He's also the only guy to have ever defeated Kipchoge in a marathon, and he did so on this very course back in 2013.
Why Kipsang won't win Berlin: As great as Kipsang is, Kipchoge has been better over the past four years. Kipchoge beat Kipsang in their last two head-to-head matchups (London 2015 and London 2016) and though he didn't run back-to-back sub-2:04s, his last two marathon efforts were Olympic gold in Rio (in dominant fashion) and 2:00:25 at Breaking2 — two performances that, when taken collectively, are even more impressive than Kipsang's.
Which brings us to our other point — Kipsang ran 2:03:13 in Berlin last year, the fourth-fastest marathon in history, and still lost to Bekele. As great as Kipsang is, it wouldn't surprise us at all if he runs 2:02:50 and loses because Kipchoge or Bekele runs even faster.
The Rest of the Field
We'd be totally shocked if someone other than Kipchoge, Bekele, or Kipsang wins in Berlin. Winning a World Marathon Major is very difficult to begin with, and here you'd have to beat one of the Big 3 to do it. LRC research reveals that since the start of the current World Marathon Majors format in 2013, there have been 27 marathons, and 100% of the races on the men's side have been won by a man who had already broken 2:08 or had already won a World/Olympic medal. (96.3% had a PR under 2:07 or a global medal and 92.6% had a PR under 2:06 or a global medal. For a spreadsheet on this, click here. That means in addition to the Big 3, Patrick Makau, Vincent Kipruto, Felix Kandie and Luke Kibet are guys with the credentials to win)
The only way one of the Big 3 doesn't win is if they go out ludicrously fast (60:30 or faster) and all three totally crater, but we don't imagine that will happen. If someone is to split up the Big 3, the most likely candidate is Patrick Makau, who set the world record on this course in 2011 (2:03:38, since broken). Makau hasn't broken 2:06 since, but he's placed 1st, 1st and 2nd at the last three Fukuoka Marathons, so he's not totally done. There are a few other intriguing prospects — Kenyan Felix Kandie has run two straight PRs (2:06:25 at 2015 Amsterdam, 2:06:03 at 2017 Seoul), Ethiopian Mosinet Geremew has run 59:11 for the half and finished second in his marathon debut in Xiamen in January (2:10:20), and Ethiopia's Guye Adola has a 59:06 half marathon pb and will be making his debut. But it would take close to a miracle for them to contend with three of the greatest runners in history in a world record assault.
31-year-old Ryan Vail is the sole American in either the men's or women's elite fields, and he'll be looking to improve upon his marathon best of 2:10:57 set in London in 2014. Vail has battled a series of injuries over the past few years, and once he finally got healthy for another marathon in New York last fall, he had an awful day and DNF'd. It has now been almost three years since he finished a marathon (2014 NYC). But he has been healthy for the last six months following a plantaris injury in March, and he heads to Berlin hoping to run a personal best.
"He seems to be in the best marathon shape of his life," said Vail's coach Dave Smith. "Workouts right now are very similar to what he's done in the past except for it feels much easier and much less effort than it was previously to do the same thing."
One more thing that should help Vail: he will have company in Berlin. In many of his previous marathons, Vail has had to run alone for big chunks, particularly in the second half. In Berlin, there will be several guys coming through somewhere between 64:30 and 65:30; if Vail can find a group to run with for the first 30k and race the final 12k, that's a recipe for success. For more info on Vail, be sure to check out his blog, which includes his entire Berlin buildup, and David Monti's feature on him for Race Results Weekly: Ryan Vail – America's Lone Elite Men's Entry – Is Hoping for a PB At 2017 BMW Berlin Marathon.
How will the race play out?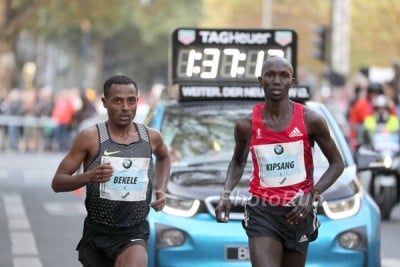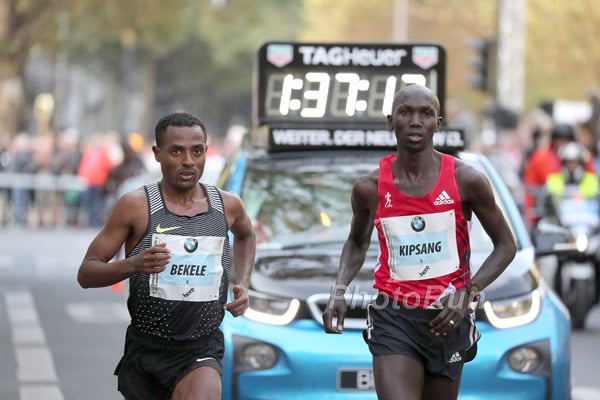 Currently, the forecast in Berlin calls for a sunny day on Sunday, with a high of 65 degrees Fahrenheit. While some cloud cover would be nice for running, that's not too bad for marathoning, especially when you consider the temperature should be in the 50s for a good portion of the race (9:15 a.m. local time start). The bigger concern is the wind — which right now is supposed to be around 15 mph per Weather.com. That's way more than ideal.
Berlin will employ three pacers for the lead male group — Sammy Kitwara (58:48 half/2:04 marathon pb), Gideon Kipketer (2:05 pb, 6th in last month's World Champs marathon), and Geoffrey Ronoh (59:45 half, 6th at 2016 Berlin Marathon). All three men are great athletes in their own right, and they'll need to be. Jos Hermens informed us that they've been talking about hitting halfway in 60:50, with the plan for Kitwara, Kipketer, and Ronoh to continue as long as possible "until they die" (figuratively).
Having three pacers will help, but we're a little surprised Berlin isn't using more. After all, one of the takeaways from Breaking2 was that the six-man arrowhead pacing formation may have significantly aided Kipchoge by cutting down air resistance. As Alex Hutchinson demonstrates in this article for Runner's World, the last four marathoners to break the world record likely left a few seconds on the table by not running directly behind the pacers.
Given the success of Breaking2, and the fact that Berlin, like Breaking2, will have three guys chasing the WR, it would make sense to employ the same arrowhead pacer formation in Berlin. Obviously it won't work out exactly the same — there are way more sharp turns in Berlin, which will cause the formation to occasionally break down, and the formation won't last nearly as long as in Monza since the rabbits can't be subbed in and out.
And even if you're not going to use the arrowhead formation, it makes sense to have more than three pacers when you're asking the rabbits to go out in 60:50. Think of it as insurance.
"It's very tough to find three good guys," said Hermens, who wants Berlin to use more than three pacers. "If you have four or five or six, there's a chance someone will have a good day and go further…If you have a world record in your legs, there's not that many chances, let's be honest. There's not that many chances, there's not that many [chances with good] weather conditions. If you're an athlete in the best shape of your life like Eliud [at] Breaking2 or now…the athlete deserves to have the best possible circumstances. The weather we can't plan, but this, pacemakers, we can plan."
We agree with Hermens, but perhaps one reason that there are only three pacers is one he brought up himself: "it's very tough to find three good guys." Paying athletes the caliber of Kitwara, Kipketer, and Ronoh not to finish a race is already expensive, and that's in addition to the appearance fees for megastars Kipchoge, Bekele, and Kipsang. Then you'd have to find three more guys capable of running 60:50 for the half — and the money to pay them to do it. Not an easy task.
Our advice to Kipchoge, Bekele, and Kipsang: try to run directly behind the pacers for as long as possible. Even if they're not in the perfect formation, the pacers can still provide some cover from the wind, which could be significant on Sunday. And those fractions of a second saved through drafting can add up over the course of a 26.2-mile race.
Once the final pacer drops out, things will become very interesting. Certainly, it can be beneficial to have a fellow racer to run during the second half of a marathon, but as the runners approach the finish line, their mindset can shift from running fast to winning the race. That's what happened to Kipchoge when he ran 2:03:05 in London in 2016 and Bekele when he ran 2:03:03 in Berlin last year. In both cases, Kipchoge and Bekele timed their moves perfectly to win the race and closed strong. But if they had been focused solely on the world record rather than the win, it's possible they may have moved earlier in the race and run a few seconds faster (this would have been a more likely scenario for Kipchoge as Bekele was actually dropped a few times late in the race before catching back up).
Overall, however, it should help that three guys are going for the world record rather than one. And considering Kipchoge has already accomplished everything else there is in the sport of marathoning and has spoken at length about how much he wants the world record, we don't expect him to stop pushing the pace at 30k just because he's worried it might help the other guys. He'll keep plowing ahead, knowing that, if he can close fast enough, no one will beat him.
Even though he'd like to have a few more pacers, Hermens expects a world record. And if the wind dies down a little from what's in the forecast, so do we.
"If the weather is like it is nine out of 10 times in Berlin, the record will not be broken by five seconds, but by a lot more," said Hermens.
For more on the world records set in Berlin, go here: World Record History: A Look Back At The Men's Marathon World Records Set in Berlin.

 [gravityform action="

polls

" id="611″ mode="

poll

" cookie="1 month" show_results_link="false" display_results="true" percentages="true" counts="false" ajax="true"]
Talk about the amazing 2017 Berlin Marathon on our messageboards:
MB: Berlin is next weekend. We can officially start the "Expect Great Things" thread!
MB: If Kipsang breaks the WR in Berlin, he is the best marathoner of all time
More LRC Berlin Coverage (See our special 2017 Berlin Marathon section here)
*World Record History: A Look Back At The Men's Marathon World Records Set in Berlin
*Let's Get Excited: Eliud Kipchoge vs Kenenisa Bekele vs Wilson Kipsang vs World Record Sunday in Berlin
*The Craziest Guy in Berlin? Japan's Yuta Shitara Will Race 8 Days After Running 60:17 Half And Likely Go Out With Leaders