WTW: Why NCAA Regionals Should Not Be Cancelled, Jakob Ingebrigtsen Becomes The Youngest To Break 4:00* and Team USA Wins Its First Title at Bolder Boulder*
The Week That Was In Running – May 22 – 28, 2017
by LetsRun.com
June 1, 2017
Past editions of the Week That Was can be found here. Questions or comments? Please email us or post them in our forum.
Last week was a very busy one. If you missed our extensive analysis of the USADA report on Alberto Salazar and the Nike Oregon Project or our extensive coverage from Eugene of the 2017 Prefontaine Classic, catch up now:
LRC 6 Takeaways on Full USADA Report on Alberto Salazar, NOP: USADA: "It Appears Highly Likely" That 6 NOP Athletes Including Galen Rupp and Dathan Ritzenhein Violated Anti-Doping Rules 
Article continues below player.
LRC 2017 Prefontaine Classic coverage
****
Stat of the Week I
16 years, 8 months, 8 days – age at which Norway's Jakob Ingebrigtsen broke 4:00 in the mile at the Pre Classic last week to become the youngest person to break 4:00 in a full mile race.
16 years, 6 months, 27 days – age at which Ethiopia's Yomif Kejelcha ran 2,000 meters in 4:57.4 – during which he must have run a mile in under 4:00 – back in 2014.
*****
Team USA Men Win Their First Bolder Boulder Title*
Memorial Day was Monday in the US and that means the famed Bolder Boulder road race took place. At Bolder Boulder, a lot of the prize money is in the team competition, which features three runners per team.* In the men's race, Tanzania's Gabriel Geay, who already won Bloomsday this year and beat Edward Cheserek at Stanford, edged Leonard Korir for the title but the big storyline was that them men's Team USA won its first-ever team title as they beat Team Ethiopia, 13 to 15. Team USA went 2-3-9 (Leonard Korir, Sam Chelanga and Diego Estrada) and Team Ethiopia went 3-6-7 (Terefa Debela, Yitayal Atanfu and Tadese Tola).
*We put a couple of asterisks up above because Team USA had a bit of an advantage as there were nine US runners in the elite race. The first three across the line were, after the fact, designated as Team USA Red, the next three Team USA White, and the final three Team USA Blue. That's not exactly fair although we're not really sure if it is what resulted in the US winning as if you asked us before the race which of the nine US runners were the best for the US, we would have definitely said it was the three that wound up scoring for Team USA Red.
In the women's race, Mamitu Daska of Ethiopia joined Portugal's Rosa Mota as a five-time winner as she led Ethiopia to a team title over the US Team of Natosha Rogers, Neely Gracey and Lindsey Scherf by one point.
It proved to be a very lucrative day for Korir, Chelanga and Estrada as Team USA was given a massive $30,000 bonus for winning the title on top of the normal $15,000 team prize for first. Add in the individual money and here is how much each of them won.
Team USA Red
2nd Leonard Korir – $21,500
3rd Sam Chelanga – $19,750
9th Diego Estrada – $16,300
On the women's side, thanks to the US bonuses, the American runners earned way more than the Ethiopians as the prize money was as follows.
Team Ethiopia
1st Mamitu Daska – $9,500
2nd Ruti Aga – $7,250
10th Buzenesh Deba – $5,300
Team USA Red
3rd Natosha Rogers – $14,666.67
5th Neely Gracey – $11,566.67
6th Lindsey Scherf – $11,266.67
****
Tirunesh Dibaba Recovers Quickly From London / Bernard Lagat Keeps Running Strong At Age 42
Everyone that ran at the Simplyhealth Great Manchester Run last week was a winner as it showed radical Islamic terrorists that cities will not cower in fear.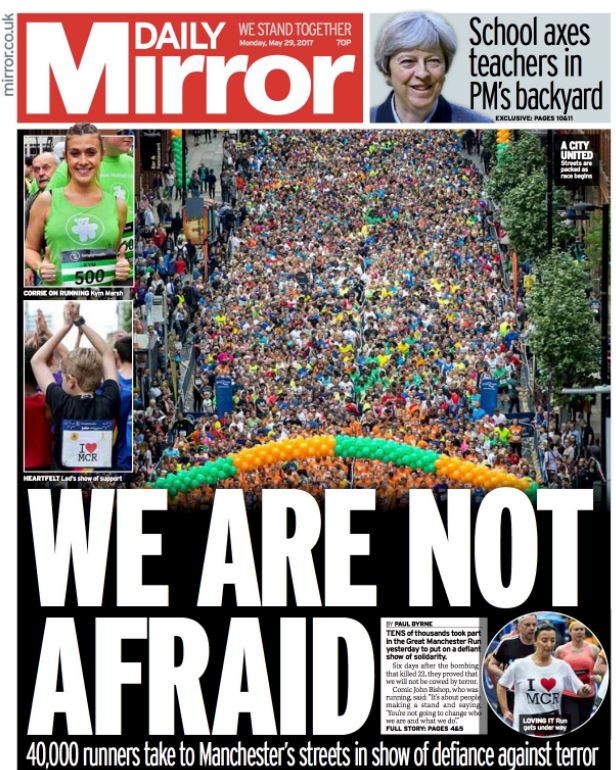 The latest edition of AW magazine is out now. Here's some of what you can find inside… pic.twitter.com/bNyiVDjtRh

— AW (@AthleticsWeekly) June 1, 2017
The fastest of the 40,000 runners in Birmingham were American Dathan Ritzenhein and Ethiopian Tirunesh Dibaba. Just five weeks after running 2:17:56 at the 2017 Virgin Money London Marathon, Dibaba dominated the women's competition by more than two minutes and won in 31:03. Ritz got a road PB of 28:06. It's certainly worth pointing out that the runners-up in both races were 42-year-olds.
In the women's race, France's Christelle Daunay was second in 33:08, while in the men's race Bernard Lagat destroyed the 10k record for a 42-year-old by running 28:13, wiping drug cheat Eddy Hellebuyck's 29:05 off the books.
On Monday in London, 43-year-old Jo Pavey set an age 43-record at the Vitality London 10,000 by running 32:57. Pavey said after the race that she's still hoping to make it to Worlds.
"I'm still going for the World Championships. I've got the qualifying time but I think I've got to prove to the selectors in the next few weeks that I'm worth that place. There are lot of very good girls around and it won't be easy."
*****
Talk About Depth – This Meet Looks Way Better Than Oxy Or Payton Jordan
37 – number of men who broke 1:50 at the IFAM Outdoor Meeting in Oordegem, Belgium last week, led by Kenya's Willy Tarbei's 1:45.34.
52 – number of men who broke 14:00 in Oordegem, led by Uganda's Stephen Kissa's 13:13.00.
73 – number of men who broke 3:50 in Oordegem, led by 22-year old Brit Jake Wightman's 3:35.93.
One the women's side, 16 women broke 2:05 and 12 broke 4:15 in the 1500.
More: 2017 IFAM Results
****
NCAA D1 Regional Casualties and Standouts
The two NCAA D1 regional meets were held last week. Since they are qualifying meets, normally the big storylines are the people who fail to advance in the mid-d and distance events and the incredible sprint action. That certainly proved to be the case this year.
A few weeks ago, we mentioned how long distance stars Molly Seidel of Notre Dame and Erin Finn of Michigan both didn't compete at their conference meets and how that meant Finn's collegiate season was definitely over as she hadn't competed outdoors this year. Seidel's collegiate career is now officially over as well she didn't compete at regionals last week.
They aren't the only prominent names who won't be competing in Eugene.
2016 NCAA indoor mile champion Henry Wynne of Virginia failed to make the final of the East Regional and was sent home. Elise Cranny of Stanford, the 2016 NCAA 1500 runner-up who had run a stellar 4:11 earlier this year, didn't make it out of the West Regional as she was just 11th in her semifinal heat. Perhaps that wasn't a total surprise, however, as she did not compete at Pac-12s (presumably because of some sort of injury).
Yale's James Randon, who was the third-fastest collegian in the country this year at 3:37.93 (and third-fastest Ivy League guy ever) also failed to advance. Maybe he can get a pep talk from Hoka One One's Kyle Merber as Merber, the Ivy League record holder at 3:35.59, failed to make it to the NCAA final when he ran his 3:35 in 2012 (he made it to NCAAs, but went home in the semis).
###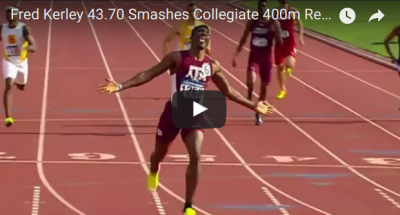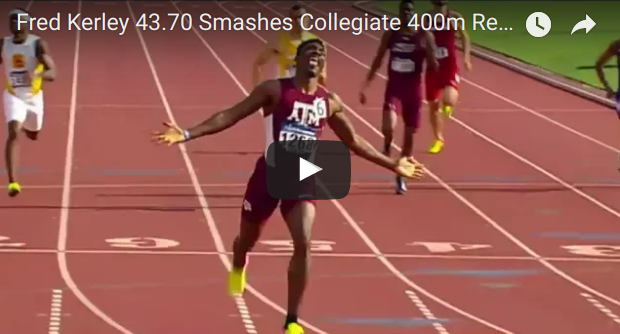 The sprint action at the regionals was unreal. By now, we imagine all of you know that Texas A&M's Fred Kerley shattered Quincy Watts' 44.00 NCAA record that had stood since the 1992 NCAA champs (he won the Olympics in 43.50 two months later) by running a 43.70 to move up to #7 all-time in the world. Kerley also split an unofficial 43.35 on the 4 x 400. What some of you may not know is that UTEP freshman 800 star Emmanuel Korir continued to show what a SPECIAL talent he is. Korir actually ran faster on his 4 x 400 leg as he split a 43.34 at the regional. And Korir's split was an FAT split.
MB: Korir 43.34 4×400 anchor in West regionals  
And the 100 and 200 results were very impressive as well, led by Christian Coleman's 19.85 in the 200 (into a 0.5 m/s headwind), which moves him into a tie for #25 in world history.
Here is what the collegiate outdoor record book looks like after @Vol_Track's Christian Coleman moved up to No. 2 all-time over 200 meters. pic.twitter.com/rhFvl4aVD4

— USTFCCCA (@USTFCCCA) May 28, 2017
****
There Is No Need To Cancel NCAA Regionals
Can we please stop the stupid talk about canceling the regionals? There is nothing wrong with the regional meets. We've been told that it's not "spectator-friendly." Who cares? Is the rest of track's regular season spectator-friendly? No, it's not. Regionals may suck for fans but it makes for a better national meet.
The regional meet ensures that only in-form people compete at NCAAs. It is also a boost to distance runners as they don't have to worry about putting up a super fast time right after indoors to make sure they make to Eugene. And it gives athletes from smaller schools that don't necessarily have the money to fly out to California to chase a fast early-season time a chance to make it to NCAAs as every athletic department will find the money to send an athlete to regionals.
And we don't want to hear about how regionals prevent stars from making it to NCAAs. We took a look at the 10 fastest performers in the NCAA in the 100, 200, 400, and 800 to determine how many of them made it to Eugene. We didn't bother to look up the long-distance events as we know regionals benefits those athletes. With regionals, a 10,000 runner doesn't need to go fly halfway across the country to run 28:50 on April 1st to make sure they make it to NCAAs two months later, by which time they may be so burned out they run awfully.
Here are the results:
Women: 
100: 9 of the 10 fastest people in the NCAA this year that entered the event made it to Eugene. The lone casualty was Oregon's Hannah Cunliffe who had the 9th best seasonal best of anyone entered in the 100 at regionals and withdrew during the meet.
200: 9 of the top 10 fastest 200 runners that entered the 200 made it to Eugene. Again, the lone casualty was Cunliffe, who had the 8th best seasonal best of anyone entered in the 200 at regionals.
400: 9 of the top 10 fastest 400 runners on the year that entered the 400 made it to Eugene. The lone casualty was #7 seed Brittny Ellis of Miami.
800: 9 of the 10 fastest 800 runners on the year that entered the 800 made it to Eugene. The lone casualty was #6 seed Rachel Pocratsky of Virginia Tech.
Men:
100: 8 of the 10 fastest 100 runners on the year that entered the 100 made it to Eugene. #3 seed Lawrence Crawford of Mississippi State, who has run a windy 9.97 this year, didn't advance. Something may have been up with Crawford before regionals, however, as he only ran 11.21 at SECs — the only guy in the meet who failed to break 11 seconds. #8 seed Eli Hall-Thompson of Houston also didn't make it but we think he might have been injured before the meet as he didn't even enter the 200 despite having run 19.97 this year.
200: 8 of the 10 fastest 200 runners on the year that entered the 200 made it to Eugene. #7 seed Just'N Thymes of USC didn't make it nor did #10 seed Brandon Carnes of Northern Iowa.
400: 8 of the 10 fastest 400 runners on the year that entered the 400 made it to Eugene. #5 seed Steven Champlin of Texas Tech didn't make it nor did #7 Kyle Collins of Texas Tech. Champlin didn't even finish his heat in the 400 at Big 12s.
800: All 10 of the 10 fastest 800 runners on the year made it to Eugene.
So in recapping that, there were a few minor casualties but many of those people were already injured and thus we'd rather see their spot taken by someone who is 100% healthy.
More: *East Live Results, Schedule, Start Lists *West Live Results, Schedule, Start
****
Meet The Stars of the NCAA D2 and D3 Ranks
58.18 – combined margin of victory for Missouri Southern sophomore Vincent Kiprop in the 5,000 and 10,000 at the NCAA D2 championships last week. Kiprop won the 10k by 44.05 seconds in 28:32.07 and the 5k by 14.13 seconds in 13:48.88.
He wasn't the only dominant winner of the meet. Sophomore Alicja Konieczek of Western State and Poland won the women's steeple by 6.73 seconds in 9:55.39 and the 5,000 by 2.30 in 16:24.22. Also impressing was Minnesota-Duluth sophomore Emilee Trost, who lowered her 1500 pb to 4:12.64 and won by a ridiculous 6.50 seconds. In high school, Trost was a 4:50 1600 performer.
###
At the D3 champs, Ohio Northern's Emily Richards was the big star as she won the 800 by 4.51 seconds in a championship record of 2:03.51 and the 1500 by 1.42 seconds in 4:23.87.
More: Results: DII *DIII *NAIA
*****
The Caster Semenya Controversy Is Nothing Compared To This
In the professional ranks, the women's 800 is currently being dominated by women with hyperandrogenism like Caster Semenya. That's nothing compared to what's happening in the high school ranks. In Connecticut, the adults in charge are too afraid to upset anyone so they are letting someone who identifies as a girl but is biologically male and not undergoing hormone treatment compete in the girls' division in track and field. The results are predictable. She won two state titles last weekend.
The NCAA requires one year of hormone treatment. High schools should have requirements as well.
MB: Transgender Athlete – Who Isn't Undergoing Hormone Treatment – Wins Connecticut Girls' 100m And 200m State Titles –
****
Weekly Free Coaching  Advice – Don't Put Pressure on Yourself
The winner of the women's 200 at the 2017 Nike Prefontaine Classic, which was certainly more stacked the 2016 Rio Olympic final (and the winning time was faster than Rio as well), was American Tori Bowie. After her big win, Bowie revealed that she put no pressure on herself. She said she just told herself she was getting ready for the US championships. And it's true. In track and field, the results of early-season meets don't really impact anything (other than maybe your bank account). Here is part of what she said after the race to the IAAF:
"I felt really good before the race, both physically and mentally. I tried something new this race. I came in not putting any pressure on myself.
"I don't look at it as a big deal because I'm just preparing for the national championships. I knew that we had some 400m runners in the race, so I thought: 'Oh my god, their closing is going to be amazing,' so I knew I couldn't slow down or they would catch me."
https://www.youtube.com/watch?v=GlShpjjhu5s#t=131s
****
Quotes of the Week (That weren't quote of the day)
#1 Whether you think Alberto Salazar and the NOP are guilty or innocent, we imagine most will agree with this quote
"Any fleeting romantic ideas I may have held about pro distance runners training like animals have been replaced by images of secret flights to Houston to guzzle sugary drinks with needles attached to their arms."
-messageboard poster 'hart crane' writing after the entire USADA report on the NOP and Dr. Jeffrey Brown was released last week on Flotrack.
MB: The full USADA report on Alberto Salazar has been leaked – Here it is
#2 Maybe We All – Even Genzebe Dibaba Herself – Don't Appreciate How Good She Is
"I'm happy I won, but I'm not happy about the time. It was a perfect condition for running, but things didn't go as planned. The pacemakers didn't do well, and I'm a bit disappointed about that."
– Genzebe Dibaba talking to Race Results Weekly through a translator, Netsanet Debebe, after winning the Prefontaine Classic 5000 in 14:25.22 – a time that only eight women in world history have bettered.
#3 In Track and Field, If You Set A Big PR, You Can't Really Complain Too Much As You Can't Control What Your Competitors Do
"I saw the stat that says it's the best fourth place score in heptathlon history so maybe I'll change my biography to that…All those three girls were on fire. It's one of those things where you can't control what other people do."
-24-year-old Katarina Johnson-Thompson talking last week after placing 4th at the Gotzis Hypo-Meeting in a new pb of 6691, her first PB in nearly three years as her old pb of 6682 was set at the same meet in 2014. The PR was a needed boost to Thompson who was frustrated after going so long without a PB. In December, she moved to France and switched coaches to try to get a reboot. She has a new shot put technique, high jump and long jump run-up and 800 training.
#4 Haile G is Fine With Getting Rid of All The World Records
"As long as it is for good reasons, for athletics, I support this idea. I learnt about the proposal by European Athletics from different sources, and if that is to bring integrity and faith to the sport I am fully behind it…Even though I don't have any record to be scrapped off at this moment, it will still affects my legacy like the rest of my generation – the clean athletes who did our necessary pre and post-race tests when we were asked to. But I want to see the bigger picture here. Why? If this issue was raised to rebuild the trust in my sport, athletics, as it is being said, then yes! I will support the idea, and I would have supported it knowing that I had to lose my world records as well."
–Haile Gebrselassie talking to aipsmedia.com last week.
#5 Vladimir Putin Compares Whistleblowing To Making Up Trumped-Up Charges To Get People Executed During The Stalin era
"We know well that this institution (of whistleblowing), very sadly, is linked to tragic pages in the history of our country. This institution is linked to Stalin's mass political repression," he (Putin) said.
During the 1930s, many in the Soviet Union were executed on trumped-up charges based on accusations by neighbors.
-excerpt from an AP article last week
****
Recommended Reads
To see our favorite reads from other weeks, go here.
How Much Did The Tesla Pace Car Aid Eliud Kipchoge's 2:00:25 Marathon Run? Two aerodynamic engineers estimate that he saved 4:35 from drafting (compared to a solo effort), but most of it came from the pacers rather than the car. *Discuss
Gary Cohen Does Extensive Interview With Matt Centrowitz Sr. Centrowitz goes into great detail about his own running career, his coaching at American University and his Olympic champion son.
****
Quotes Of The Day And Last Week's Home Pages
To see the actual quotes of the day from last week or last week's home page or any home page, go to our archive page.
Past editions of The Week That Was can be found here. Questions or comments? Please email us or post them in our running fan forum.