2017 Boston Marathon International Men's Preview: Lemi Berhanu Hayle Goes For the Repeat Against a Field That Contains 5 Sub-2:05 Guys
By LetsRun.com
April 12, 2017

The 2017 Boston Marathon is upon us, and despite some high-profile scratches (Shalane Flanagan, Dennis Kimetto and Patrick Makau), we're set for two terrific races on Marathon Monday with legitimate chances for American victories on both the men's and women's sides. Of the four 2016 U.S. Olympians running spring marathons (Galen Rupp, Jared Ward, Meb Keflezighi and Desi Linden), all four will be racing in Boston, and both Rupp and Linden have already made it clear that their goal is to win. That won't be easy, however. In the men's race, Rupp faces five sub-2:05 men (although only one of them has run that time in the last two years), led by defending champ Lemi Berhanu Hayle of Ethiopia. Linden has her work cut out for her as well, as defending champ Atsede Baysa is joined by three sub-2:20 marathoners (course record holder Buzunesh Deba, two-time world champ Edna Kiplagat, 2015 Berlin champ Gladys Cherono) in the women's field.
We'll be on-site in Boston all week providing behind-the-scenes access. In addition to our race previews, we'll also be on hand at the elite press conference to give you the scoop on the top pros and will have race-day coverage from Marathon HQ in Copley Square. We always feel the best way to follow a major marathon is to watch it live with a second screen opened to the LetsRun.com messageboard.
There's a lot to cover before the race, so we've broken down our previews into multiple articles. This one will cover the international men. We've got another one looking at the American men and a third looking at Galen Rupp specifically:
*Why Galen Rupp Will (& Won't) Win The 2017 Boston Marathon
*2017 Boston Marathon U.S. Men's Preview: Olympians Galen Rupp, Meb Keflezighi, Jared Ward & Abdi Abdirahman Headline a Stacked Field
Article continues below player.
Our women's preview is coming later this week.
All 2017 Boston Marathon coverage * Race website * 2016 LRC coverage
What: 121st Boston Marathon
When: Monday, April 17, 2016. Elite women start at 9:32 a.m. ET; elite men start at 10:00 a.m. ET.
Where: Hopkinton to Boston, Massachusetts
How to watch: Live on NBC Sports Network and NBC Sports Live starting at 8:30 a.m ET. In Boston, WBZ4 will provide local coverage beginning at 7:00 a.m. ET.
Prize money (amount is the same for men's and women's races)
1st: $150,000                           6th: $12,000                       11th: $2,600
2nd: $75,000                           7th: $9,000                         12th: $2,100
3rd: $40,000                           8th: $7,400                         13th: $1,800
4th: $25,000                           9th: $5,700                          14th: $1,700
5th: $15,000                           10th: $4,200                        15th: $1,500
Abbott World Marathon Majors
Boston is one of six Abbott World Marathon Majors (AWMM) events (Tokyo, Boston, London, Berlin, Chicago, New York). The current series, Series X, began at last year's Boston Marathon and concludes with the 2017 Boston Marathon. At the end of the series, the athlete with the most points wins the $500,000 grand prize (though that prize will be reduced to $250,000 starting with Series XI, which begins with next week's London Marathon). Scoring is 25 points for a win, 16 for 2nd, 9 for 3rd, 4 for 4th and 1 for 5th. Only two races can count in a given series.
The men's champion is decided as Kenya's Eliud Kipchoge earned the maximum 50 points thanks to victories in London and at the Olympics last year. Lemi Berhanu Hayle could tie him with a win in Boston, but since Kipchoge beat Hayle head-to-head at the Olympics, Kipchoge would win the tiebreaker.
Elite Men's Field
| | | | |
| --- | --- | --- | --- |
| Name | Nation | PB | Comment |
| Emmanuel Mutai | Kenya | 2:03:13 | Has broken 2:10 just once in 4 attempts since running #4 A-T 2:03:13 at '14 Berlin |
| Sammy Kitwara | Kenya | 2:04:28 | 6th last year, then 2nd in Amsterdam & 1st in Taipei |
| Lemi Berhanu Hayle | Ethiopia | 2:04:33 | Defending champ was 13th at Olympics, then won Xiamen in January |
| Yemane Tsegay | Ethiopia | 2:04:48 | 3rd last year, then won Fukuoka in December |
| Dino Sefir | Ethiopia | 2:04:50 | Wins in Barcelona & Ottawa in '16 |
| Sisay Lemma | Ethiopia | 2:05:16 | 3rd in Dubai in January |
| Wilson Chebet | Kenya | 2:05:27 | 2nd in '14, 3rd in '15; 2nd in Honolulu in December |
| Wesley Korir | Kenya | 2:06:13 | 4th last year but hasn't finished top 3 in any marathon since winning 2012 Boston |
| Geoffrey Kirui | Kenya | 2:06:27 | Boston is marathon #3 after 3rd Rotterdam, 7th Amsterdam in '16 |
| Yared Asmerom | Eritrea | 2:07:27 | Eritrean NR holder is 37 years old. 9th Fukuoka in December. |
| Meb Keflezighi | USA | 2:08:37 | At 41, does 2014 champ have anything left for final Boston? |
| Abdi Abdirahman | USA | 2:08:56 | 40-year-old resurrected career with 3rd at NYC last year |
| Cutbert Nyasango | Zimbabwe | 2:09:52 | 11th last year, 58th at Olympics |
| Galen Rupp | USA | 2:10:05 | Olympic bronze medallist is among favorites — if his foot is okay |
| Luke Puskedra | USA | 2:10:24 | 4th at Olympic Trials, but only 19th in Chicago last year |
| Jared Ward | USA | 2:11:30 | Making Boston debut after stellar '16 (3rd Trials, 6th Olympics) |
| Shadrack Biwott | USA | 2:12:01 | Former Oregon star was 7th Olympic Trials, 5th NYC in '16 |
| Sean Quigley | USA | 2:13:30 | 9th Olympic Trials |
| Suguru Osako | Japan | debut | Japanese 5k record holder & NOP member ran 61:13 HM pb in Feb. |
| Daniel Salel | Kenya | debut | Has won BAA 10k + BAA HM but winning the full will be much harder |
The biggest storyline in the men's race is Galen Rupp's Boston Marathon debut, an issue we tackled in a separate article. Rupp's foot has caused problems during his buildup, but as the Olympic bronze medallist he remains a threat to become the first American-born men's champion since Greg Meyer in 1983. Below, we take a look at the international athletes who will try to defeat Rupp.
The Defending Champion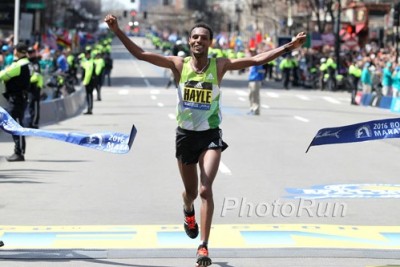 Lemi Berhanu Hayle — Ethiopia, 22 years old, 2:04:33 pb (2016 Dubai), 61:37 half
Recent marathons: 2nd 2016 Dubai (2:04:33), 1st 2016 Boston (2:12:45), 13th 2016 Olympics (2:13:29), 1st 2017 Xiamen (2:08:27)
Hayle (we're calling him Hayle for the purposes of this preview, but we've seen him go by any of his three names) is a marathon stud. He's won five of his eight career marathons, including impressive victories in Dubai (2015) and Boston (2016), in addition to a runner-up showing in Dubai last year, where he ran his PR of 2:04:33. His other two marathons were a 15th-place showing at Worlds in 2015 (2:17:36) and a 13th-place finish at the 2016 Olympics (2:13:29). Those were his worst marathons in terms of time and place, but he didn't exactly bomb either one considering the heat and level of competition. He may only be 22 years old officially, but he's got good experience at 26.2 miles and has won fast, rabbitted races as well as slow, tactical ones. Expect Hayle to contend for the win on Monday. Don't expect him to beat himself.
Hayle rarely races apart from marathons (All-Athletics.com lists just one non-marathon in his profile), so we don't have a gauge on his current fitness, but he did win the Xiamen Marathon by almost two minutes on January 2 (2:08:27). Two marathons in four months is a challenge for some, but Hayle should have no problem bouncing back from Xiamen. In 2015, he won Dubai and Warsaw; in 2016, he was second in Dubai and won Boston. In both cases, he had less time to recover than he will between Xiamen and Boston in 2017.
They've Come Close in the Past
Yemane Tsegay — Ethiopia, 32 years old, 2:04:48 pb (2012 Rotterdam), 61:37 half
Recent marathons: 3rd 2016 Boston (2:14:02), 1st 2016 Fukuoka (2:08:48)
Wilson Chebet — Kenya, 31 years old, 2:05:27 pb (2011 Rotterdam), 59:15 half
Recent marathons: 12th 2016 Amsterdam (2:08:19), 2nd 2016 Honolulu (2:10:50)
Neither Tsegay nor Chebet have competed since running marathons in December, but both are veterans who have come close to winning Boston on multiple occasions. Tsegay was second to Lelisa Desisa in 2015 and third last year, while Chebet is famous for being the man who couldn't quite run down Meb in 2014 (he wound up second in that race, and third the following year). Of the two, Tsegay, who was also the runner-up at the 2015 World Championships, enters in the better form, as he won the Fukuoka Marathon in December. But Chebet is no slouch, either. His 2:10:50 was the second-fastest time in the 44-year history of the Honolulu Marathon, a hilly race that includes Ibrahim Hussein (3-time Boston champ), Josia Thugwane ('96 Olympic champ) and Wilson Kipsang among its former winners. Both men have the experience and makeup to succeed in Boston.
Coming In Off Wins
Sammy Kitwara — Kenya, 30 years old, 2:04:28 pb (2014 Chicago), 58:48 half
Recent marathons: 6th 2016 Boston (2:16:43), 2nd 2016 Amsterdam (2:05:45), 1st 2016 Taipei (2:09:59)
Kitwara, who has four top-four finishes in Chicago, was only sixth in his Boston debut last year, but he followed that up with two quality marathons, running 2:05 in Amsterdam in October and winning in Taipei in December. Though Taipei was his first career marathon victory, Kitwara is very consistent — he's broken 2:10 in nine of the 10 career marathons that he's finished (he's had at least one DNF in there as he DNFd his 2012 debut in Rotterdam). The sole exception was Boston last year, but there's no shame in that considering the winning time was 2:12:45. Kitwara, the man we called "The Best Runner You've Never Heard Of" in 2009, may be more suited for a flatter, faster marathon, but he's coming off two very good efforts and has to be considered for the win here.
Dino Sefir — Ethiopia, 28 years old, 2:04:50 pb (2012 Dubai), 59:42 half
Recent marathons: 1st 2016 Barcelona (2:09:31), 1st 2016 Ottawa (2:08:31)
Sefir burst onto the scene in 2012, running 2:04 at Dubai and making the Ethiopian Olympic team, but he's laid low recently, running just three marathons (and four races, total) over the past three years. Boston will be his first race in almost a year, so it's impossible to say what kind of shape he's in, but two wins in 2016 — even if they were at second-tier marathons in Barcelona and Ottawa — puts him in contention. He trains with Hayle's group.
They're Younger Than Most In The Field And Have Been Running Very Consistently of Late
Sisay Lemma, Ethiopia, 26 years old (2:05:16 pb)
Recent Marathons: 4th 2016 Dubai (2:05:16), 7th 2016 London (2:10:45), 4th 2016 Berlin (2:06:56), 3rd 2017 Dubai (2:08:04)
Lemma, who won Frankfurt in 2016,  hasn't shown the ability to win a major yet, but he's certainly been putting forth credible effort after credible effort in recent years. Lemma has finished 5th, 4th and 3rd in Dubai the last three years (including 3rd this year) and was also 7th in London and 4th in Berlin in 2016. In the seven marathons that he's run since the start of 2015 (three per year, including one already in 2017), he's run 2:08:04 or better in six of the races.
Geoffrey Kirui, Kenya, 24 years old (2:06:27 pb), 59:38 half, 26:55 10,000
Recent Marathons: 3rd 2016 Rotterdam (2:07:23), 7th 2016 Amsterdam (2:06:27)
Kirui, the 2012 world junior bronze medallist at 10,000, knows the money is on the roads and has gone to the marathon early in his career. His first two attempts at the 26.2-mile distance went well last year as he debuted with a 2:07:23 in Rotterdam last spring and followed it up with a 2:06:27 in Amsterdam in October. The biggest thing that we like about Kirui is his age. Every other Kenyan in Boston that has finished a marathon may be on the downside of their careers as they are all over 30. Kirui is just 24.
Looking to Resurrect Their Careers
Emmanuel Mutai — Kenya, 32 years old, 2:03:13 pb (2014 Berlin), 59:52 half
Recent marathons: 7th 2016 Tokyo (2:10:23), 12th 2016 Berlin (2:10:29)
Prep race: 62:57 for 12th at Eldoret Half Marathon on March 19
From 2009 to 2014, Mutai was one of the planet's best marathoners, racking up an astonishing seven runner-up finishes in majors, a 2:03:13 personal best (#2 in history at the time he ran it) and a win at the 2011 London Marathon. But Mutai has struggled to recapture that form since running that 2:03 in Berlin in September 2014, as he's cracked 2:10 just once in his last four marathons. At 32, Mutai isn't exactly old for a marathoner, but he's got a lot of miles in his legs — he debuted at age 22 in 2007, and Boston will be his 21st career marathon. While it looks good to have Mutai's 2:03:13 pb on the start list, he hasn't done anything recently to suggest he'll be in contention in Boston.
Wesley Korir — Kenya, 34 years old, 2:06:13 pb (2012 Chicago), 61:19 half
Recent marathons: 4th 2016 Boston (2:14:05), DNF 2016 Olympics
It may be a little unfair to say that Korir needs to "resurrect" his career — after all, he was fourth in Boston last year and made the Kenyan Olympic team. But Korir's Olympic selection was very questionable (In our minds, it was definitely a mistake. Only politics would result in a Kenyan who has broken 2:10 only once in his last seven marathons being selected to the Olympics), and he wound up dropping out in Rio. And that fourth place in Boston was the closest he's come to victory in any race since his shock win in Boston five years ago. In his nine marathons since, he's finished 5th, 5th, 9th, 4th, 8th, 5th, 6th, 4th and DNF.
Korir has raced well in hot weather in the past (the high was 87 when he won in 2012 and 67 last year), and the forecast for this year's race has been creeping up over the last few days Boston has been creeping up — as of Wednesday morning, the high is forecast to be 61 degrees on race day. But that's not hot enough to make a huge difference, and with several in-form studs in the field, it's unlikely Korir challenges for the win.
Best of the Rest
Suguru Osako, Japan, 25 years old (debut): Nike Oregon Project runner was 17th in the Olympic 10,000 final last year. He ran an impressive PR of 61:13 at the Marugame Half Marathon in February.
Daniel Salel, Kenya, 26 years old (debut): Salel is a favorite of the B.A.A., having won the B.A.A. Half in 2015 and 2016 and the B.A.A. 10K in 2015. He owns a HM best of 60:41 set in Boston in 2013, but only ran 63:12 in Houston in January.
LRC Prediction: We'll make it after talking to the elites at the press conferences on Friday.
[gravityform action="

polls

" id="519″ mode="

poll

" cookie="1 month" show_results_link="false" display_results="true" percentages="true" counts="false" ajax="true"]
More: Why Galen Rupp Will (& Won't) Win The 2017 Boston Marathon
*2017 Boston Marathon U.S. Men's Preview: Olympians Galen Rupp, Meb Keflezighi, Jared Ward & Abdi Abdirahman Headline a Stacked Field