Six Takeaways From Some Fantastic Action Across The Globe on Super Saturday
By LetsRun.com
February 4, 2017
"Super Saturday" saw some stellar action across the globe with the Nitro Athletics Meet in Australia, the IAAF Indoor meet in Karlsruhe, Germany, the Armory Track Invitational in New York City, the Camel City Elite Meet in Winston-Salem, NC, and the USA Cross Country Championships in Bend, Oregon. We give you our six highlights below.
Update on 2/5: And the great action has continued into Sunday. Here is a 7th highlight: 60:24 Was No Fluke: Scotland's Callum Hawkins Smashes British Half-Marathon Record In Japan As He Wins Kagawa Marugame Half In 60:00.
If you want full results, check out the links below. We also pasted many of the other top results in the messageboard thread devoted to the action: MB: Official Super Saturday (Camel City, ATI, IAAF Karlsruhe, and USA XC) Live Discussion Thread
*IAAF World Indoor in Karlsruhe, Germany
*Camel City Elite
*Armory Track Invite
*USA XC
*Nitro Athletics

Article continues below player.
We also have Race Results Weekly's recap of the Armory meet here: RRW 2017 Armory Track Invitational Full Recap: Ajee Wilson and Sammy Watson Impress With Fast 600m Times.
1) Laura Muir (8:26.41) takes down Hellen Obiri (8:29.46) and the European 3000 record in Karlsruhe
On paper, this was the race of the day and it didn't disappoint. One week ago in Boston, Obiri laid the hurt on Sifan Hassan and Shannon Rowbury over the final laps and ran a world-leading 8:39.08. Today, Muir turned the tables on her thanks to a sensational 61.69 final 400 (29.82 final lap), clocking a scorching 8:26.41 that pried the European record out of the hands of convicted doper Liliya Shobukhova and puts Muir #5 on the world all-time indoor list.
Obiri stuck on Muir until the back straight of the final lap, where she launched a furious surge in an attempt to pass Muir before the two encountered a pack of lapped runners. Obiri couldn't get there, however, and, realizing that she didn't have enough energy to pass Muir (and fight passed lapped runners in the process), she backed off as Muir sprinted away to the win. Obiri's 8:29.46 was still a slight PR (and a new Kenyan record). Behind them, 19-year-old Konstanze Klosterhalfen of Germany lowered her indoor PR to 8:51.
Muir has already talked about the potential of the 1500-5k double at Worlds this summer, and this run was evidence that Muir is a medal contender in the longer event. Remember, Obiri was the Olympic silver medallist in the 5k last year, and the only woman who beat her, Vivian Cheruiyot, won't be at Worlds as she's moving up to the marathon. And it's not as if Muir caught Obiri on an off day: she set a Kenyan record in the race and has been crushing it in cross country this year. The double at Worlds is also very doable for Muir as there is a day in between the 1500 final and the 5k prelim. If she were to medal in the 5k, she'd be the first non-African-born woman to do so in 14 years (Marta Dominguez of Spain, who was later busted for doping, was the last to do it).
Top 5 women all-time, indoor 3000m
8:16.60 Genzebe Dibaba, Ethiopia      2/6/2014

8:23.72 Meseret Defar, Ethiopia           2/3/2007

8:23.74 Meselech Melkamu, Ethiopia   2/3/2007

8:25.27 Sentayehu Ejigu, Ethiopia        2/6/2010

8:26.41 Laura Muir, Great Britain       2/4/2017
https://www.youtube.com/watch?v=chnw1nEQ44k
MB: Laura Muir 8:26 indoor 3000m! European record!
2) African-born runners are starting to dominate USATF distance events /  Leonard Korir takes another big win

One of the bigger themes over the last year has been the fact that African-born runners have started to dominate the distance events at USA national championships. At the Olympic Trials in Eugene last summer, African-born runners took 5 of the 6 Olympic spots in the men's 5000 and 10,000.
Today at the the 2017 USA Cross Country Championships that theme continued in a big way as Kenyan-born runners went 1-4 in the men's race and Kenyan-born Aliphine Tuliamuk absolutely dominated the women's race, winning by nearly a minute (48 seconds) in 34:23.5.
The men's winner was Leonard Korir, who continued his winning ways in 2017 by breaking the tape in 30:11.8. Korir was quickly followed by Stanley Kebenei (2nd, 30:14.3), Shadrack Kipchirchir (3rd, 30:18.6) and Sam Chelanga (4th, 30:22.2), all of whom train with Korir under coach Scott Simmons in Colorado Springs.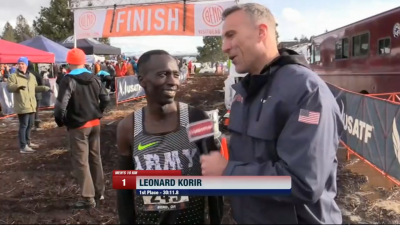 The top American-born finishers were Laura Thweatt in the women's race (2nd, 35:11.7) and Chris Derrick in the men's race (5th, 30:27.7). In fact, if "American-born" were a category, Derrick would have quite the collection of wins. In addition to the "win" today, Derrick was the top American-born finisher at two NCAA cross country championships and five NCAA finals on the track. Without foreign competition, Chris Derrick would be a 7-time NCAA champion.
The U.S. men's team for World XC should be quite strong as the top four will all be going to Uganda and they're clearly all very fit (they beat Derrick, who ran 27:38 on the track in November, though Derrick won't be at World XC).
Men's Top 10 USA XC
    
    1  249 Leonard Korir              M 30   1/22   M3034                                   30:12  
    2  187 Stanley Kebenei            M 27   1/41   M2529                                   30:15   
    3  220 Shadrack Kipchirchir       M 27   2/41   M2529                                   30:19  
    4  184 Samuel Chelanga            M 31   2/22   M3034                                   30:23  
    5  189 Chris Derrick              M 26   3/41   M2529 Bowerman Track Club A             30:28 
    6  185 Trevor Dunbar              M 25   4/41   M2529                                   30:34
    7  186 Mason Ferlic               M 23   1/34   M2024                                   30:38
    8  170 Scott Fauble               M 25   5/41   M2529 HOKA ONE ONE NAZ Elite            30:56
    9  246 Joseph Gray                M 33   3/22   M3034                                   31:02
   10  223 Augustus Maiyo             M 33   4/22   M3034                                   31:04

Women's Top 10
    1  340 Aliphine Tuliamuk          F 27   1/31   F2529                                   34:24   
    2  295 Laura Thweatt              F 28   2/31   F2529                                   35:12  
    3  284 Kellyn Taylor              F 30   1/16   F3034                                   35:37   
    4  275 Courtney Frerichs          F 24   1/13   F2024 Bowerman Track Club A             35:40   
    5  272 Sarah Pagano               F 25   3/31   F2529                                   35:44  
    6  271 Elaina Balouris            F 25   4/31   F2529                                   36:19  
    7  293 Stephanie Bruce            F 33   2/16   F3034                                   36:21 
    8  287 Liz Costello               F 28   5/31   F2529                                   36:36    
    9  276 Emily Pritt                F 26   6/31   F2529 Bowerman Track Club A             36:47 
   10  286 Natosha Rogers             F 25   7/31   F2529                                   36:50   

Since my hotel room has a small kitchen I opted for Kenyan style pre-race dinner #usatfxcchamps -Bend, Oregon pic.twitter.com/s8pBoWeJTr

— Aliphine Tuliamuk (@mamaZoeCherotch) February 4, 2017
MB: Congrats to ALL the Americans who made the Xc team, right Letsrun!!!
*2017 USA XC Results
3) The year of the 600 continues as Ajee Wilson (1:24.48) ran the #4 all-time and Sammy Watson (1:27.13) smashed the HS national record (again) at the Armory Track Invite
Wilson ran 1:25.23 at the Armory two weeks ago in a race she won by over four seconds. Today, she had a little more competition and went even faster, streaking away to win in 1:24.48, which puts her fourth all-time and second among Americans (Alysia Montano ran 1:23.59 in 2013). High schooler Sammy Watson, who already entered this race as the HS national record holder as she ran 1:28.67 earlier this season, put that record in another stratosphere today by running 1:27.13, slashing over a second and a half off the mark and beating an Olympic 800 finalist in the process (Lynsey Sharp). We expect Watson's new record to stand for some time.
Watson is regarded by many as the next Ajee Wilson as both women won World Youth and World Junior titles in the 800 meters. But while Wilson accomplished those feats at age 17 and age 18, Watson, a senior at Rush-Henrietta (N.Y.) High School, won those crowns at age 15 and 16. Looking ahead, it will be interesting to see if Watson runs USA Indoors as clearly there is no high schooler in the country capable of pushing her.
Elsewhere, 400m runner Courtney Okolo ran 1:25.21 in Lincoln, Neb., to move to #3 all-time among Americans. Could she possibly ever move up to the 800?
Courtney Okolo 1:25.21 #2 USA All-time 600m @courtneyokolo Congrats!!!! @TrackDiddy @NikeRunning @usatf pic.twitter.com/BJeJ1P5w7v

— Tonja Buford-Bailey, OLY (@BaileyTonja) February 4, 2017
4) HS sophomore Tyrese Cooper sets world U20 best at 300m (32.87), becomes first U.S. high schooler under 33 seconds
Like Watson, the 16-year-old Cooper from Miami is smashing records this year indoors. Earlier this year, he ran 33.03 to set the US HS record and today he beat that by running 32.87 to finish second behind Olympic medallist Lalonde Gordon (32.37).
Great start to @ArmoryNYC Invitational World Junior Record Tyrese Cooper pic.twitter.com/UBNuuQgoER

— RayPFlynn (@RayPFlynn) February 4, 2017
5) Charlene Lipsey, Andrew Butchart and Morgan Pearson keep rolling in New York
The 25-year-old Lipsey has been in inspired form so far in 2017 since joining Derek Thompson's training group and she followed up her 800 win in Boston last week with a mile victory at the Armory Track Invitational, running a PR of 4:30.13 (previous pb 4:31.15 from January but before this year her pb was just 4:44.20). Given the success she's enjoyed in both the 800 and the mile, Lipsey is looking like a serious contender for the 1k national title should she run USA Indoors.
The Scot, Butchart, who is best known as a 5k runner (13:08 pb) ran a big PR in his first mile since 2013, clocking a world-leading 3:54.23, while Pearson, who was third at the US Club Cross Champs in December, ran 7:49.46 to defeat Wisconsin's Morgan McDonald (7:51.19) and Drew Hunter (7:51.90) in a race that featured some shoves and elbows between Hunter and Daniel Winn.
RRW 2017 Armory Track Invitational Full Recap: Ajee Wilson and Sammy Watson Impress With Fast 600m Times
MB Hunter runs 7:51.90 at Armory
6) Paul Chelimo goes 7:45 on a flat track as Leo Manzano struggles in season opener; someone please sponsor Nate Brannen
The JDL Fast Track in Winston-Salem, N.C., has developed a reputation as one of the fastest flat 200-meter tracks in the U.S. and Olympic silver medallist Paul Chelimo provided some more evidence of that today, running 7:45.49 for the win. Chelimo made short work of Brit Lee Emanuel (second in 7:49.29), who was no match for Chelimo's 26.95-second final lap. If Chelimo were a collegian, his 7:45.49 would be converted to a 7:40.14 on a banked track. 7:39.94 is #10 all-time in the US indoors.
The other interesting race in Winston-Salem was the men's mile, in which Canadian Nate Brannen (who was dropped by Saucony after making his first Olympic final last year at age 33) held off Andy Bayer, 4:00.29 to 4:00.46. Manzano, who spoke highly of his fitness when we interviewed him on Wednesday, got dropped at halfway and was never in it, finishing sixth in 4:08.75 (Chelimo didn't double back, which was a possibility).

Being unsponsored, Brannen will certainly be happy to take home the $4,000 first-place prize.
Talk about today's action on the messageboard:
Full Event Coverage – Camel City, ATI, USA XC.