LetsRun.com Breaks Down Galen Rupp's Boston Marathon Debut – Will he (and should he) be the favorite? How well is he suited for the course? + conspiracy theories galore
by LetsRun.com
December 22, 2016
Editor's note: On Wednesday, it was surprisingly announced that two-time Olympic medallist Galen Rupp will be making his Boston Marathon debut in April. Since an American-born man hasn't won the race since 1983, Rupp's Boston debut instantly became THE talk of the running community.
Since we had people traveling all over the country for the holidays and one staffer is eagerly awaiting the birth of his first child, the LetsRun.com team decided the best (ok ,most convenient) way to react to the announcement was go back and forth online. LRCs Robert Johnson, Jonathan Gault, Steven Soprano, and Weldon Johnson share their thoughts on Rupp's debut below.
Article continues below player
Jonathan: While it's great to see so many big American names in the field, I think we can all agree the headline from Wednesday's announcement is that Galen Rupp is running the 2017 Boston Marathon. As a running fan, I'm pumped. When I spoke to Alberto Salazar in Rio this year, he said Rupp was leaning toward returning to the track next year (and he could still run Worlds), but I've seen Rupp run a million 10,000s and I know his ceiling at this point. In the marathon, Rupp is still finding his limits, and that's much more exciting to me.
I also think that Rupp could well enter Boston as the favorite, which is crazy to me. When was the last time any American entered a major marathon as the favorite? Right now, we know that, in addition to Rupp, the men's field at Boston includes defending champ Lemi Berhanu Hayle, Wesley Korir, Jared Ward and Meb Keflezighi. Guess what? Rupp beat all of those guys in Rio.
I expect a few more international names to come out between now and Marathon Monday, but do you guys agree that, as of now, Rupp is the favorite?
Steve Soprano: Jon, yes I agree that Rupp is the favorite and will most likely remain so leading up to the race. As you pointed out, he beat everyone announced for Boston and in fact, one the only guy he didn't beat in Rio (Eliud Kipchoge) will be chasing a sub-2 hour "marathon" on some downhill course with Nike rockets or something in his shoes this spring. With Lelisa Desisa joining Kipchoge, that's two more spots for London to fill and two less potential 2:04-2:06 type guys that could end up in Boston.
So yes, Rupp is the favorite and I'm excited to see him compete for the win in Boston. However, I'm a little less surprised than you to say, "An American is the favorite at Boston." Yes, it might seem "crazy" when you consider that when Meb won in 2014, he was the first to do it in 31 years, but Rupp is the Olympic bronze medalist (and he's not 38 years old like Meb was in 2014). In any given year if someone told you the Olympic bronze medalist was the favorite in Boston, you wouldn't find that shocking. Also, Boston isn't London or Berlin; it's a race that's been won by Wesley Korir and where 2:11 man Jason Hartman finished 4th twice. Maybe the time to be shocked was when Rupp won bronze in Rio, but going forward he has to be considered a contender in just about any marathon he enters (especially if that race is missing Eliud Kipchoge). As an American distance fan, that's an exciting prospect to look forward to.
Here's a question for you, would you rather see Rupp racing (and possibly winning) in Boston, or would you prefer to watch him take on the deeper field in London on a fast course? They will be two completely different styles of race and I have to admit, I'm curious how fast Rupp can run. 2:05 ish?
Jonathan: Steve, you make some great points. I have actually asked myself that question several times since the Olympics. Here's what Boston has going for it:
History. Boston is the world's oldest annual marathon, the course is iconic, and Rupp's coach

Alberto Salazar

won there in 1982. Watching Rupp tackle the Newton hills and make the left turn onto Boylston Street would be awesome.

It would be easier for American fans to watch/follow. I know Monday morning isn't ideal for most people outside of Massachusetts and Maine (where Patriots' Day is a state holiday) but it's easier than getting up at 4:30 a.m. ET on a Sunday morning to watch London.

Rupp has a greater chance to win Boston than London because Boston's field probably won't be as strong as London's.
And here's what London has going for it:
Better competition. I'm guessing

Wilson Kipsang

,

Kenenisa Bekele

and

Ghirmay Ghebreslassie

will all be in London. A win in London is more impressive than a win in Boston, even without Kipchoge.

We get to see how fast Rupp can run. Rupp could run 2:10 and win in Boston. In London, it's taken sub-2:05 to win in five of the past six years.
Weldon (Wejo): I'm glad that Galen is running any spring marathon. It's a bonus for me that he is running Boston. Most of the top Americans should run Boston every year so I'm glad and surprised Galen is running it this year. I'm surprised because I didn't think Galen would do a spring marathon this year and I don't think of Boston as the best course for him.
For the general running public, Galen running Boston is a much, bigger deal than if he ran London.
Steve: Weldon, same for me, the big surprise was that Rupp is running Boston, not that he's the favorite. It's just not something I would have predicted and had a hard time seeing him running this race. It makes sense for all the reasons Jon mentioned, but it didn't strike me as a race/course Rupp would want to run and I assumed he'd be back on the track.
Jonathan: I think I'd prefer to see him run Boston, though I may be biased as I grew up in Massachusetts and now live in Boston. Ideally what happens is Rupp runs Boston this year and then goes to London next year to face Kipchoge, Bekele etc.
Steve also touched on another interesting point: who else will be announced in the 2017 Boston field? I'm guessing John Hancock used a good chunk of its budget to land all these American stars (not just Rupp, but Meb Keflezighi, Jared Ward, Desi Linden and Shalane Flanagan). London traditionally has deeper pockets than Boston anyway, and now that they're not doling out a fortune to Kipchoge, I think they suck up the remaining studs: Kipsang, Bekele, Ghebreslassie, Stanley Biwott and Feyisa Lilesa.
I'm going to get even more hypothetical here (though isn't what this whole discussion is about?): if Rupp wins Boston next year, is it devalued in your eyes at all if the best guys he beats are Lemi Berhanu Hayle, Wesley Korir and Jared Ward? Or am I just being silly? I mean, if he wins Boston next year, how many people are really going to look back in 2030 and say, "Oh yeah, but he only beat a couple good guys that year"?
Robert (Rojo): I don't know how many, but I certainly will be one of them. Sorry for not responding earlier but I was on a plane. I got off and saw that the staff is texting all about Rupp running Boston. I swear to you the very first thought I had was, "So Nike waters down Boston with the sub-2 crap so Rupp can win Boston."
I told that to Jon and he laughed and said, "That's a great conspiracy theory." Maybe I'm being a little bit harsh, but I got that from my father who heard a Texan politician once quip, "Why let the facts get in the way of a good conspiracy theory?"
Weldon: I can't believe we've gotten the most exciting American marathoning announcement since 2008 when Ryan Hall made his debut in London and we're already going down "if Galen wins, was it too watered down" rabbit hole. The rest of the field hasn't been announced, but I do think this debate is a testament to how good we think Galen is going to be in the marathon.
Steve: Right Weldon. Like I said, he's the Olympic bronze medalist. He doesn't need the field to be "watered down" in order to have a shot at winning. Although, I like you don't think the tough hilly Boston course favors Rupp.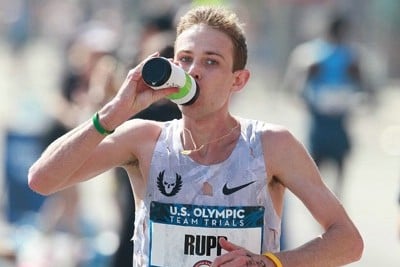 Robert (Rojo) On a serious note, let me be clear. My fear of an "orchestrated American win" is something I'm always looking into. Every year when the Boston, Chicago and New York fields are announced I take a long look as I'm always on the lookout for the possibility that one of them might purposely water down the field enough so that an American wins.
Think about it: from their perspective, it makes sense. You save money by paying out less in appearance fees to the Africans and generate more publicity when an American wins, but it's not sport. It turns the Boston Marathon into an exhibition – an almost fixed event.
We should talk to an agent about this, but the fact that Kipchoge isn't doing a spring marathon changes things in a HUGE way. I imagine the #1 amount of money paid out in marathoning each year is for the appearance fee for the London Marathon champ to defend his title. With that expense out the window, London has a big six-figure sum they can spend on guys that might normally run Boston. Plus we already known Lelisa Desisa isn't doing Boston.
So normally Boston gets like maybe the world's fourth and eighth best marathoner but this year it might be something like 7th and 10th.
Can someone tell me who besides Rupp is doing Boston? I was focused on trying to buy a house last week when the first Boston press release came out about their 2017 field. But when I saw the headline, I thought to myself, "That's pathetic. I hope they are starting with past champions and then are coming out with the international studs later." Even after today's announcement, I still basically feel the same. I hope they are starting with past champions, and then Americans before announcing the real international field.
Last year, Boston had six sub-2:06 guys entered in it. This year, it has how many? One?
That's ridiculous.
Jon, please get over your Boston bias. I know you live there but come on. You wrote, "Rupp has a greater chance to win Boston than London because Boston's field probably won't be as strong as London's."
Probably? No. There is a 100% chance that the London field will be WAY better than Boston's. I don't want Rupp to be the favorite. Yes, he has an Olympic medal but he (for now) is a 2:10 guy. He shouldn't be the favorite. Let's hope Boston announces some significant challengers in the New Year.
I'll tell you one thing. I fully believe the following statement is true. "If Boston spent the same amount of money it spent on getting Rupp to run Boston on Kenyans/Ethiopians, then I would pretty much guarantee you that Rupp wouldn't win the race."
Steve: Okay, that's going a little too far. I don't think anyone is disagreeing with you that as far as what we know now, the Boston field isn't the best (Jon was the one who asked if Rupp's hypothetical win would be "devalued"). However, to say that if the organizers had a bit more money to spend, Rupp would be "guaranteed" not to win is just ridiculous. Again, bronze medalist. As far as I'm concerned, (especially in a non-rabbited race) Rupp has a respectable chance of beating any marathoner in the world except for Kipchoge. Throw in a few more 2:05-2:07 guys and sure, Rupp would no longer be the favorite, but he'd still have as shot.
I 100% agree with you that I hope they bring in some more challengers. It'll be a more exciting race (and potentially worthy victory) if he doesn't come in as the favorite.
Robert (Rojo) I"ve got to go out to eat with my family so can someone else please answer this question for me. "In 2016, 15 guys have broken 2:06 and 30 have broken 2:07, how many of those 15 and 30 are committed to 2017 Boston?"
Jonathan: As of now, the answer is one: Lemi Berhanu Hayle. But Boston will be rolling out more international elites (aside from the returning champs already announced), so I expect that number to rise.
Now let's calm down here, Robert. I don't think Boston is orchestrating an American win, and I don't think Rupp will have it easy. Even if he winds up as the best marathoner in the field, how often does the best guy on paper at a major actually win the marathon? Unless your name's Eliud Kipchoge, I'm guessing it's under 50%.
And how about this wrinkle: what if Boston gets Olympic silver medallist Feyisa Lilesa? He's been training in the Arizona with Abdi Abdirahman, and, depending on his visa situation, he may not want to/be allowed to leave the U.S., making Boston his only option for a spring major. Then say Boston gets one other guy from your sub-2:06 list. So you would have two of the three Olympic medallists (London would have none) and half of the top six (remember, Jared Ward was sixth), plus the defending champ in Hayle. Add in Meb and some fillers and that's not a bad lineup. Rupp would have to run a good marathon to win that race.
Rojo: Ok, I'll admit it's late and I'm jet lagged and ok, I had a few drinks at dinner, but are you joking? If Boston gets a guy who is homesick and hasn't seen his family in nearly a year and has won one of his last 17 marathons and was just 4th at the Honolulu marathon two weeks ago (Lelisa) plus America's third best marathoner from the Trials (Ward), then you think it's loaded? No.
(And as the defending champ in Tokyo, won't Lelisa be going back there?)
We already know Galen Rupp is WAY better than Jared Ward. They aren't even in the same league. Meb is a freaking master. Rupp is the best American born-distance runner in history. I already know that. I want to see if he can compete with the world's best at 26.2.
At a minimum, II want some young and up and coming Africans who are cheap and fast to be toeing the line. I'll be counting the number of guys with PBs under 2:07, 2:06 and 2:05 and seeing how it compares to recent years.
Steve: Well I can tell you right now, you're probably not going to see any sub-2:05 guys. They'll all be in London or recovering from Dubai … or running a sub-2 hour "marathon." Jon makes a good point though; if they add Feyisa Lilesa, then that isn't a bad field at all. London or Berlin level? Obviously not, but you can't call any field with 2 out of 3 Olympic medalists bad.
Wejo: Almost every year you could compare Boston to London and say it is watered down. I think Rojo's idea of looking at the number of sub-2:07 guys is a fair one, once the final fields are announced. Right now it is pointless.
When an American star like Rupp commands a huge appearance fee (six figures for sure) there is less money to attract foreign runners so Boston's international field should be weaker than a lot of years just for financial reasons. Meb's final Boston doesn't come cheap either nor does Jared Ward.
But let's stop discussing Galen's chances versus an unannounced field in Boston and discuss something that is more concrete: how we think Galen will do on the Boston course?
A lot of guys really struggle running the downhills of Boston. The course isn't exactly "Rupp-certified". Galen may have won NCAA cross country once, but I don't think his strength is running on difficult terrain.
He has a huge advantage in that his coach Alberto Salazar not only won Boston in 1982, but he also will leave no stone unturned in preparing Galen for the hills of Boston. I think it is fair to say any time Galen steps on the line of a race, Alberto has ensured Galen is the most prepared guy in the field to face the conditions and I think that includes the course. At the Olympic track trials, Alberto said he hoped it was hot as they view that as an advantage for Galen. At the Olympics, there was only one runner in the entire field swapping out his hat for a chilled hat and that was Galen.
Between now and April Galen will do as much as possible to get prepared for the hills of Boston, but that still doesn't guarantee success. Some guys are not made to run Boston.
Rojo: I think Rupp is very well suited for Boston. I don't have any doubts about that. He was a good XC runner. Plus if he wasn't well suited for it, do you really think he'd be running it? Salazar doesn't leave anything to chance.
Steve: My gut reaction is the same as Weldon's; I don't think the course favors Rupp and I didn't say it above, but I was partly so surprised Rupp was running Boston because I didn't think Salazar would let him. (Salazar did a lot of things in his own career that he doesn't consider "Rupp-certified".) That said, Rojo you make a good point that Salazar must think Rupp can run well in Boston and he would know better than us. I guess I should ask myself, "Why don't I think the Boston course suits Rupp?" Because he's a finesse runner with 3:50 mile speed on the track? Sure, but he also has a 26:44 10,000m PB and has ran great in both his marathons thus far. You don't do that without strength.
PS – I'm going to defend Rojo on his conspiracy theory thoughts. Not that I think that there is one in this case or that there has been before, but the thought has crossed my mind. When Meb won Boston the year after the bombing through a combination of a couple top contenders dropping out and the rest of the field letting him go, the thought that they could have staged that did cross my mind. To be clear, I did not/do not think that happened, but the situation lends itself to a conspiracy theory. And I wasn't the only one who had that crazy line of thought.
Weldon (Wejo): Now we're really veering off into the deep end. I took a class on conspiracy theories in college. Of course I can't remember why people love them so much, but the whole point of the class is they do.
---
Talk about Galen Rupp's Boston Marathon debut on our world famous fan forum / messageboard:
MB: Galen Rupp to run Boston Marathon. He will need volunteers to hand him new hats throughout the race.
MB: Calling it now, Rupp wins Boston 2017 2:07:04, prove me wrong.