2016 LRC Year-End Rankings, Women's 800: Caster Semenya Is the Clear World #1; Kate Grace Finishes a Shocking Year as U.S. #1
By LetsRun.com
December 27, 2016
With few professional events on the running calendar until 2017, LetsRun.com is once again rolling out its year-end rankings of the mid-d and distance events (2014 rankings here; 2015 rankings here). From now until the end of the year, we'll be ranking the top 10 men and women in the world (plus the top five Americans) in the 800, 1500/mile, 3000 steeplechase, 3,000/5,000 and marathon. We hope you enjoy reading these rankings as much as we enjoyed putting them together.
Since these rankings are obviously subjective, we'll lay out the criteria we're using for them:
An emphasis on performance in big races. How the athlete fared in the Olympics is obviously a major consideration but winning Olympic gold doesn't guarantee that an athlete will earn a #1 ranking. For U.S. athletes, their performance at the U.S. Olympic Trials also factors heavily in the rankings.
Season-best times matter but they're less important if the time wasn't run against good competition.
Runners who specialized in one event will be considered for other events but can be penalized in the rankings for not running enough races.
Indoor races will be considered and can help an athlete's ranking, with an emphasis on World Indoors.
LRC 2015 women's 800 rankings * LRC All 2015 Year-End Rankings * LRC 2016 Olympic 800 Recap Caster Semenya Delivers Gold As Women's 800 Favorite, Francine Niyonsaba and Margaret Wambui Go 2-3 as Melissa Bishop Sets Canadian Record in 4th
LRC All 2016 Year-End Rankings
World Rankings
The women's 800 meters is simultaneously the easiest and the hardest event to discuss when it comes to world rankings. It's easy in the sense that there was a clearly defined pecking order at the top of the world in 2016: Olympic gold medallist Caster Semenya was undefeated at 800 meters, Olympic silver medallist/World Indoor champ Francine Niyonsaba only lost to Semenya and Olympic bronze medallist Margaret Wambui only lost to Semenya and Niyonsaba outdoors.
Complicating things significantly, however, is the debate over hyperandrogenism: the question of whether Semenya, Niyonsaba and Wambui have the condition and whether they should be allowed to compete without treatment. As of now, thanks to a Court of Arbitration for Sport's ruling that relaxed hyperandrogenism regulations, Semenya, Niyonsaba and Wambui are all allowed to compete without treatment, and as a result, they dominated what is traditionally one of track and field's most unpredictable events. Our rankings reflect their performances on the track.
Article continues below player.
With the "Big 3" raising the bar up front, times across the world were also much faster in 2016 than in recent years (of the 10 fastest women in the world this year, only one failed to PR in 2016). Check out the average winning time in a Diamond League race since the DL's inception in 2010:
Average Diamond League winning time
2010: 1:58.81
2011: 1:58.91
2012: 1:57.85
2013: 1:58.51
2014: 1:58.85
2015: 1:58.77
2016: 1:56.84 
That's the Semenya effect — winning times were, on average, two seconds faster than last year and over a second faster than the second-fastest year in Diamond League history. So the good news for women's 800 runners is that, if you run against Semenya, you have a great chance of PRing. The bad news is that you have almost zero chance of winning.
1. Caster Semenya • South Africa • 25 years old • 1:55.28 sb (#1) • Olympic champion • Diamond League champion
DL results: 1st Doha, 1st Rabat, 1st Rome, 1st Monaco, 1st Zurich (DL final)
If you watched the women's 800 in 2016, we don't need to explain why Semenya tops our rankings. If not, allow us to summarize. Semenya was undefeated over two laps this year and ran the world's three fastest times and six of the top eight. In the past 13 years, only Semenya, Pamela Jelimo and doper Mariya Savinova have broken 1:56, a mark Semenya eclipsed three times in 2016, most notably in the Olympic final in Rio.
It wasn't just the times; it was the way Semenya ran them. Semenya sat and kicked on the best women in the world as if she were toying with them. When she did finally make her move, usually during the final 200 meters, no one, not even Niyonsaba, had a chance. After crossing the line, the polite Semenya would inevitably seek out her beaten competitors to offer a hug or handshake, and during those moments it was hard to tell she had even run a race at all. Phoebe Wright's tweet following Semenya's win in Rome summarized the situation succinctly.
What it's like racing Caster Semeya pic.twitter.com/j0tcOAGApJ

— Phoebe Wright (@Phe800) June 3, 2016
Assuming she stays healthy, the only impediment to the 25-year-old Semenya's dominance in 2017 and beyond is the courts. If the IAAF and Court of Arbitration for Sport continue to allow hyperandrogenous females to compete in the female division without treatment, Semenya is unstoppable. The only question is whether she makes a serious attempt at Jarmila Kratochvílová's 1:53.28 world record (something Semenya shied away from in 2016).
Fastest women's 800s since 2009
1. Caster Semenya, 1:55.28 (2016 Olympics)
2. Caster Semenya, 1:55.33 (2016 Monaco)
3. Caster Semenya, 1:55.45 (2009 Worlds)
4. Mariya Savinova, 1:55.87 (2011 Worlds)*
5. Mariya Savinova, 1:56.19 (2012 Olympics)*
6. Francine Niyonsaba, 1:56.24 (2016 Monaco)
7. Caster Semenya, 1:56.35 (2011 Worlds)
8. Caster Semenya, 1:56.44 (2016 Zurich)
9. Francine Niyonsaba, 1:56.49 (2016 Olympics)
10. Francine Niyonsaba, 1:56.59 (2012 Brussels)
*Savinova was caught on tape admitting to doping and was recommended by WADA to be banned from the sport for life but has yet to be officially punished
LRC 2016 Olympic 800 Recap Caster Semenya Delivers Gold As Women's 800 Favorite, Francine Niyonsaba and Margaret Wambui Go 2-3 as Melissa Bishop Sets Canadian Record in 4th
LRC Caster Semenya archives
2. Francine Niyonsaba • Burundi • 23 years old • 1:56.24 sb (#2) • Olympic silver medalist • World Indoor champion
DL results: 2nd Rabat, 2nd Rome, 1st Birmingham, 2nd Monaco, 1st Lausanne, 2nd Zurich (DL final)
Niyonsaba ran 1:56 as a 19-year-old in 2012 but after racing just three times in 2013 and not at all in 2014, she returned in 2015. She struggled early in the year, failing to run faster than 2:07 in six races from April to July, but once the IAAF was forced to suspsend its hyperandrogenism guidelines, she posted a 1:59 and a 1:57 a week apart in September. Niyonsaba moved to Eugene in 2016 to train under Mark Rowland in the Oregon Track Club and found great success, winning World Indoors in her first-ever indoor competition and winning two Diamond League events. Were it not for Semenya, Niyonsaba would have been undefeated and had the world's three fastest times.
LRC World Indoors: Burundi's Francine Niyonsaba Sprints to Gold in Women's 800 as Ajee Wilson Has to Settle for Silver
3. Margaret Wambui • Kenya • 21 years old • 1:56.89 sb (#3) • Olympic bronze medallist • World Indoor bronze medallist
DL results: DQ Monaco (cutting in early), 3rd Zurich (DL final)
Following the trend, Wambui was clearly behind Semenya and Niyonsaba this year but clearly ahead of everyone else, taking bronze at the Olympics and running the world's third-fastest time (the time would have been #1 in the world in 2014 or 2015). She may have cost herself a PR in Monaco (she ran 1:56.64 but was later DQ'd for cutting in early) but 1:56.89 is still mighty fast. Catching Semenya will take some work, but at 21 she's two years younger than Niyonsaba and could have a shot at silver in London next year.
4. Melissa Bishop • Canada • 28 years old • 1:57.02 sb (#4) • 4th at Olympics
DL results: 7th Rome, 3rd Birmingham, 4th Lausanne, 8th Zurich (DL final)
Bishop broke out with a silver at Worlds last year and followed that up with an even better season in 2016. She broke her own Canadian record twice, including in the Olympic final, and though it must have been devastating to go home without a medal (1:57.02 would have medalled at every Worlds/Olympics from 2009 to 2015), Bishop has nothing to be ashamed of; you can't ask for more than a national record in the Olympic final.
Untouchable as the Big 3 may seem, Bishop's SB was only a hair slower than Wambui's in 2016; it would not be a surprise to see her defeat Wambui in a race next year. But, as Rio proved, even if Bishop puts it all together on the right day, that may not be enough for a medal given the era in which she is competing.
5. Joanna Jóźwik • Poland • 25 years old • 1:57.37 sb (#5) • 5th at Olympics • 6th at Euro Champs
DL results: 10th Rabat, 8th Rome, 8th Birmingham, 4th Zurich (DL final)
Jóźwik's early-season form was poor, as she finished no better than eighth in three Diamond League appearances and was just sixth at the European Championships in July. But the Pole peaked at the right time, PR'ing by almost a second in the Olympic final (the fastest time by a Pole in 36 years) before notching a pair of fourth place finishes in Zurich (behind Semenya, Niyonsaba and Wambui) and Berlin (behind Semenya, Niyonsaba and Eunice Sum). Those late-season results and her 2:00.12 indoors (#3 in the world) were enough to propel her to fifth in our rankings even though she was 0-4 against Renelle Lamote, who appears later on this list.
6. Eunice Sum • Kenya • 28 years old • 1:57.47 sb (#6) • Olympic semifinalist
DL results: 3rd Doha, 4th Rabat, 10th Rome, 3rd Monaco, 2nd Lausanne, 9th Zurich (DL final)
The #6 spot came down to Sum vs. Brit Lynsey Sharp, and though Sharp ran better at the Olympics (she was sixth in the final, while Sum went home in the semis), Sum was 5-1 against Sharp this year, had a faster SB and placed higher at the DL final, which settles the case firmly in her favor. Sum was our World #1 in 2014 and 2015, but she'll have a hard time returning to the top in 2017 with Semenya, Niyonsaba and Wambui in the fold.
7. Lynsey Sharp • Great Britain • 26 years old • 1:57.69 sb (#8) • 6th at Olympics
DL results: 3rd Doha, 4th Rabat, 10th Rome, 3rd Monaco, 2nd Lausanne, 9th Zurich (DL final)
Sharp, like Bishop and Jóźwik, ran her best race when it mattered most, setting a personal best in the Olympic final to place sixth. She posted four top-four finishes at Diamond League events, though she lost her two biggest races on British soil, the British Champs and the London Diamond League (both to Shelayna Oskan-Clarke). Sharp has been fourth, fourth and seventh since we started putting together our world rankings in 2014 and all signs point to another strong year in 2017.
8. Renelle Lamote • France • 23 years old (on 12/26) • 1:58.01 sb (#9) • European silver medallist
DL results: 3rd Rabat, 4th Rome, 2nd Birmingham
The #5 through #8 spots were tough, with Jóźwik, Sum, Sharp and Lamote all enjoying strong seasons. Lamote's season was in effect the opposite of Jóźwik's: she started out strong but sputtered late, going home in the first round at the Olympics. But her performances to that point were impressive, particularly her silver medal at the European Championships in Amsterdam.
9. Marina Arzamasova • Belarus • 29 years old • 1:58.36 sb (#11) • 7th at Olympics
DL results: 8th Rabat, 5th Rome, 5th Birmingham, 6th Zurich (DL final)
The surprising 2015 world champ could not medal again in 2016, but she made it to the Olympic final and even though she ran a season's best in Rio, it was only good for seventh on a quick day.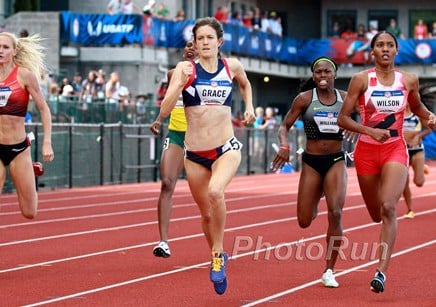 10. Kate Grace • United States (Oiselle) • 28 years old • 1:58.28 sb (#10) • 8th at Olympics • U.S. champion
DL results: 2nd Pre Classic, 5th Zurich (DL final)
After missing the entire 2015 season, Grace became one of the unlikeliest U.S. champions in 2016, with her outstanding season culminating in the final of the Olympic Games. The Yale grad, working with new coach Drew Wartenburg, got healthy and asserted herself indoors with PRs in the 1500 (4:06.75) and mile (4:28.30). But that was just the beginning. Grace PR'd again in the 1500 at Oxy (4:05.65) and finished either first or second in her five pre-Olympic Trials races.
Grace headed to Eugene as a contender for the Olympic team, but in a deep, unpredictable field, she was far from a lock to make it to Rio. But she ran a terrific race to win a crazy U.S. final, and if there were any doubts about her superiority, she erased them by making it to the Olympic final and following that up with a 1:58.28 PR in Zurich two weeks later.
Early in 2016, Grace and Wartenburg drew up a sheet of goals. She had A, B and C goals plus a "dream goal." Grace hit all of them this year. But she also had one last goal on the list, a "dream, dream goal": make the Olympic final. Grace hit that one too. And it wasn't a dream.
LRC Kate Grace's 'Dream, Dream' Season Now Includes the Dream of a Medal in the Olympic Final
LRC Olympic Trials: Absolute Madness in the Women's 800: Alysia Montaño Falls Down In Tears As Kate Grace Wins a Wild Race
LRC Kate Grace archives
Honorable mention: Nataliya Prishchepa, Ukraine (#13 in world with 1:58.60 sb, European champion, Olympic semifinalist)
U.S. Rankings
The women's 800 was a wild event in 2016, with the Olympic Trials final a microcosm of the craziness involved. In that race, defending U.S. champ Alysia Montaño fell, an incident that almost destroyed Brenda Martinez's Olympic dreams as well (Martinez lost her momentum and wound up seventh but came back to make the team in the 1500). Ajee Wilson made the team in second alongside unlikely Olympians Kate Grace and Chrishuna Williams, while Molly Ludlow had to settle for fourth place again. All of those women had strong seasons, which made putting this list together tough. Our best effort is below.
1. Kate Grace (see above)
2. Ajee Wilson • adidas • 22 years old • 1:59.44 sb (#3 in US) • World Indoor silver medallist • 2nd at U.S. Olympic Trials • U.S. Indoor champion
DL results: 11th Rome, 7th Birmingham
Wilson began 2016 in fine form, clocking an indoor PB of 2:00.09 at Millrose, winning her third U.S. indoor title in Portland and earning a silver medal at World Indoors a week later. Outdoors she started slowly but rounded into form by the Trials to make her first Olympic team.
In Rio, Wilson made it through the first round but drew the toughest of the three semis, with only two auto spots available and eventual medallists Niyonsaba and Wambui both in her heat. Rather than make it fast and hope for a time qualifier, Wilson elected to take her chances going for an auto spot and failed, finishing third, .16 of a second behind Wambui. Wilson told us after the race that she didn't regret her strategy but we wonder, with four months to think on it, whether she still feels the same way now (we think it was a mistake).
Regardless, Wilson remains one of the U.S.'s brightest young talents and, at age 22, has already made five U.S. senior teams between indoors and outdoors. We expect her to make several more before all is said and done. A year and a half ago, however, a global outdoor medal seemed like an eventuality for Wilson, now it looks improbable unless rule changes are made.
LRC USATF Indoor Flash Recap: Centrowitz Hold Off Andrews, Favorites Martinez, Berian, Wilson Win With Ease, High Schooler Vashti Cunningham World Leading High Jump, Sandi Morris Joins 16 Foot Club
LRC Ajee Wilson archives
3. Molly Ludlow • Saucony • 29 years old • 1:57.68 sb (#1 in US) • 4th at U.S. Olympic Trials
DL results: 9th Doha, 5th Pre Classic, 4th Monaco, 3rd London
For the second year in a row — and the third time in her career — Ludlow finished fourth at a U.S. championship, missing out on the final Olympic spot by a measly .04 of a second — the same exact margin she missed making Worlds by last year. But, just as she did in 2015, Ludlow responded by heading to Europe and running a big PR, clocking 1:57.68 in Monaco to make her the seventh-fastest American of all time.
Making a U.S. team won't be any easier for Ludlow in 2017, but we hope, for her sake, that if she misses out she doesn't finish fourth again.
4. Brenda Martinez • New Balance • 29 years old • 1:59.64 sb (#5 in US) • 7th at U.S. Olympic Trials
This spot came down to Martinez vs. Chrishuna Williams (with apologies to Alysia Montaño, to whom we're assigning a grade of "incomplete" given she raced just three times and fell in the most important one). Williams had the faster SB, but Martinez was more consistent and we're 100% convinced that if Martinez hadn't got caught up in Montaño's fall at the Trials, she would have beaten Williams in that race. Martinez also beat Williams in their only other encounter, at the Harry Jerome Classic in June. 2017 will likely be Martinez' last season as an 800-meter runner before moving up to the 1500; can she recapture the form that saw her medal at Worlds in 2013?
5. Chrishuna Williams • Nike • 23 years old • 1:59.59 sb (#4 in US) • 3rd at U.S. Olympic Trials
DL results: 3rd Pre Classic
Williams, a 2015 Arkansas grad, didn't take up the 800 until last year and had a best NCAA finish of fourth. Yet one year later, she was a U.S. Olympian. Williams certainly benefited from Montaño's fall and the ensuing chaos (she was seventh at the time of the fall), but she ran a terrific final 100 meters at the Trials, producing a personal best in the biggest race of her life. Ludlow probably should have taken advantage of the fall and grabbed the third spot, but history will forever show that Williams was the on that did and became a 2016 US Olympian. Only one year older than Wilson, Williams certainly has room for improvement in 2017 and beyond.
LRC Chrishuna Williams archives
Do you agree or disagree with these rankings? Talk about them our on world famous fan forum / messageboard. MB: 2016 World and US 800 Meter Rankings – Does American Kate Grace crack the top 10?
---
LRC 2015 women's 800 rankings * LRC All 2015 Year-End Rankings * LRC 2016 Olympic 800 Recap Caster Semenya Delivers Gold As Women's 800 Favorite, Francine Niyonsaba and Margaret Wambui Go 2-3 as Melissa Bishop Sets Canadian Record in 4th