Women's 800 Semifinals: Kate Grace Advances to What Will Be One of Most Controversial Finals in Track and Field History
Like It Or Not, Intersex / Hyperandrogenism Is Going To Dominate Talk About The Women's 800 Final on Saturday
by LetsRun.com
August 18, 2016
RIO DE JANEIRO — The women's 800 semis went pretty much according to form save for one big surprise. Of the eight fastest women in terms of 2016 seasonal bests that toed the line today, six of them will be in Saturday's final. The casualties being that 2013 world champ Eunice Sum of Kenya (7th in heat #2) and 2016 European 1500 champ Angelika Cichocka of Poland (last in heat #1) were eliminated.
Article continues below player
Like our coverage from Albuquerque?
Taking their place in the final will be 2016 US champion Kate Grace, the 12th fastest woman in 2016 toeing the line this evening, who made the final as a time qualifier with a 1:58.79 pb in heat #3 as well as Poland's Joanna Jóźwik, who went from last to first over the final 100 to win heat #2.
Here is how the top 8 seeds did in the semis.
Seed    ATHLETE    Nat.    SB 2016    Comment
1    Caster SEMENYA    RSA    01:55.33    Won heat #3
2    Francine NIYONSABA    BDI    01:56.24    2nd heat #1
3    Melissa BISHOP    CAN    01:57.43    2nd heat #2
4    Eunice Jepkoech SUM    KEN    01:57.47    7th in heat #2
5    Margaret Nyairera WAMBUI    KEN    01:57.52    Won heat #1
6    Lynsey SHARP    GBR    01:57.75    2nd heat #3
7    Marina ARZAMASOVA    BLR    01:58.44    2nd time qualifier, heat #3
8    Angelika CICHOCKA    POL    01:58.97    last heat #1
Our analysis is below the heat recaps.
Heat #1: Wambui and Niyonsaba Go 1-2 As Expected; Ajee Wilson Doesn't Advance
Uganda's Halimah Nakaayi, who had never broken 2:01 before running 1:59.78 in the first round, took it out in 27.4 followed by Burundi's Francine Niyonsaba and American Ajee Wilson. At 400 (59.30), Nakaayi had fallen back to third as Niyonsaba and Wilson were up front. On the backstretch, Kenya's Margaret Wambui moved into 2nd, and at 600 (1:29.74), Niyonsaba and Wambui were 1-2 with Wilson in third.
The order didn't change all the way home but in the end Wilson's 1:59.76 time wouldn't be fast enough to get her in as a time qualifier.
Heat #2: Patience Pays Off, Jozwik Goes From Last To First
Kenya's Eunice Sum, the 2013 world champ, and Ethiopia's Habitam Alemu took this one out quickly in 27.4 and 57.65. Despite the fast early pace, it was very tightly bunched as everyone in the field was out in 58.1 or faster.
At 600 (1:28.81), Alemu and the Ukraine's Nataliia Lupu were up front side by side with Sum and 2015 silver medallist Melissa Bishop behind them in third and fourth. Alemu still led coming off the turn but Sum and Lupu had started to fade. Coming off the final turn, Bishop soon moved to the lead. However, she wouldn't keep it as the winner of the heat would end up being Poland's Joanna Jozwik who came on like a freight train over the final 100, going from last to first. Jozwik, who was seventh at Worlds last year, ran her final 100 in 13.9 to finish off a 29.7 final 200.
Heat #3: Caster Semenya Wins With Ease As The Top 4 Advance
The gun went off and Caster Semenya crawled off the line for the first 5 meters. With Semenya a lock for a spot in this heat, 2015 world champ Marina Arzamasova of Belarus wanted this heat to be fast, so she led the field through 200 (27.4) and 400 (57.65). Arzamasova would actually lead all the way until the final 100 as she hit 600 in 1:28.17 and 700 in 1:43.6. On the backstretch, Semenya, who was 5th at the bell, would move up into third behind Britain's Lynsey Sharp, who has already run 1:57.75 this year. Grace was following Semenya and those four would separate from the rest of the field on the final turn.
Once on the homestretch, Semenya would pull away with ease and win by a half second. The real drama was in the battle for second as Sharp, Grace and Arzamasova ran much of the final 100 almost three abreast. In the end, Sharp pulled away from Arzamasova on the outside to get second as Grace got by last year's world champ right before the line on the inside. In the end, the finish order was a moot point as all four would move on thanks to Arzamasova's front-running.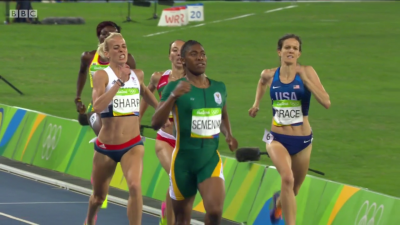 Quick Take #1: Hyperandrogenism Is Going To Be A World Issue on Saturday
Caster Semenya's hyperandrogenism is a much-discussed issue but it is widely believed that both Margaret Wambui and Francine Niyonsaba also are impacted by last year's CAS ruling on intersex athletes.
There are many journalists showing up solely to talk to the women's 800m runners hoping they will comment on Semenya. Most do not take the bait, or do as Kate Grace did and say now is not time to discuss the rules and that everyone here is competing fairly under the rules.
Some journalists have even tried to get athletes in other events to comment on the controversy. Ezekiel Kemboi at the men's steeplechase press conference did not take the bait either saying, "I think we are men and the ladies can answer that."
Quick Take: Ajee Wilson doesn't regret her tactics
After the race, we asked Wilson whether she ever considered trying to make the race fast considering both Wambui and Niyonsaba, two favorites to make the final (and, like Wilson, World Indoor medallists from March) in her heat.
"Our first goal is always just to get the secure spot," Wilson said. "We didn't want to rely on time. So the goal was always to place top two and just hope that if I didn't the time would have been enough and today it wasn't."
Obviously everyone wants to be top two, but if we were in Wilson's shoes, we would have tried to make the semifinal fast. There's a day of rest before the final, and Wilson on paper was not favored to defeat either Wambui or Niyonsaba, who have run 1:56 and 1:57 this season. There's no guarantee Wilson would have made it on time anyway (the times in heats 2 and 3 could have been faster) but she would have increased her chances of making the final had she tried to make her semi faster.
Quick Take: Francine Niyonsaba thinks she can beat Semenya
Semenya has beaten Niyonsaba three times this year, but otherwise Niyonsaba is undefeated, including a World Indoor title in March. Though she'll be an underdog on Saturday night, Niyonsaba will be running for the win.
'"Anything is possible," Niyonsaba said. "I'm going to relax, sleep well and think about the final. I'm going [for the win], for sure."
Quick Take: Kate Grace ran a near-perfect tactical race
Entering Grace's heat (the final one), the time qualifiers to beat were 1:59.35 and 1:59.41. Those times were quick but achievable, and Arzamasova was willing to chase it, leading the heat through in 57.7. That opened a path for Grace to make the final, but she had to walk a fine line between going out quick enough to not get left behind and be in contention for a qualifier and controlled enough that she was not totally spent over the last lap. Grace struck that balance extremely well, following Semenya when she made her move on the backstretch and passing Arzamasova on the inside late to take third. The result was a shiny new pb (1:58.79; previous pb 1:59.10) and a spot in the Olympic final.
We have to give huge props to Grace and her coach Drew Wartenburg for her 2016 season. If you had told us at the start of the season the U.S. would get one woman to the Olympic 800 final, we don't know how many guesses it would have taken us to get to Grace.
Grace, who was the second-to-last time qualifier for the semifinals, said she has a tendency of "leaving my races until the last 100m." Wartenburg told her at this level she can no longer do that. "Your strength is your strength. You have to start going at 300. Make a move early. Put some cards on the table at 300 to go," is what she said he told her. She tried to do that tonight and was very pleased with the outcome, a PR and a ticket to the final. "I'm happy with a PR. I knew I'd have to PR in order to make the final… but I went in confident knowing that was possible," said Grace who also PR'd to win the Olympic Trials.
She felt her tactics were far from perfect. "My tactics were meh," she said, not pleased she had to go wide on the turn.
Quick Take: Kate Grace Has Now Achieved Her 'Dream, Dream' Goal for the Season
When asked by us what it felt like to be in the final, Grace said, "Exciting. Awesome." Then she explained, "We did a dream goal sheet earlier in the year. I had my a, b, c, goals and my dream goal, and I put in parentheses my dream, dream goal. On which Drew [Wartenburg] was like 'you can't have multiple levels of dream goals.' But my dream, dream goal was to make the final of the Olympics." Kate has done that and when asked what the dream, dream, dream goal was, she quickly said "medalling."
Kate was asked if Semenya was unbeatable, but she doesn't look at it that way. "I look at it as having three medal spots, so there are three places and three wins," she said.
Plus she knows there's a reason they run the race. She said her coach at Yale, Mark Young, said, "If it was all about comparing times, we'd just hand them our times and they'd handle us the medals." That's not how it works and the crazy Olympic Trials 800m final shows anything can happen. "We've seen it in past races, and Trials, things happen. I'm looking forward to racing the final," Kate said.
Quick Take: Eunice Sum will not medal at a third straight global championship
Sum has been one of the world's best on the circuit over the past three years (Diamond League champ in 2013, 2014 and 2015) and was coming off a 1:57.47 in Monaco on July 15, her third-fastest time ever. But she was a disappointing seventh in heat 2 today and will not advance to the final.