2016 LRC Year-End Rankings, Men's 3,000/5,000: Mo Farah Is #1 Again; Paul Chelimo Tops U.S. List After Shock Silver in Rio
By LetsRun.com
December 30, 2016
( Talk about these rankings in our world famous messageboard / fan forum. MB: What a year for Team USA! Three American men make our World Top 10 in our 3000/5000 rankings.)
With few professional events on the running calendar until 2017, LetsRun.com is once again rolling out its year-end rankings of the mid-d and distance events (2014 rankings here; 2015 rankings here). From now until the end of the year, we'll be ranking the top 10 men and women in the world (plus the top five Americans) in the 800, 1500/mile, 3000 steeplechase, 3,000/5,000 and marathon. We hope you enjoy reading these rankings as much as we enjoyed putting them together.
Article continues below player
Like our coverage from Albuquerque?
Since these rankings are obviously subjective, we'll lay out the criteria we're using for them:
An emphasis on performance in big races. How the athlete fared in the Olympics is obviously a major consideration but winning Olympic gold doesn't guarantee that an athlete will earn a #1 ranking. For U.S. athletes, their performance at the U.S. Olympic Trials also factors heavily in the rankings.
Season-best times matter but they're less important if the time wasn't run against good competition.
Runners who specialized in one event will be considered for other events but can be penalized in the rankings for not running enough races.
Indoor races will be considered and can help an athlete's ranking, with an emphasis on World Indoors.
LRC 2015 men's 5,000 rankings * LRC All 2015 Year-End Rankings * LRC 2016 Olympic 5,000 Recap Men's 5000: Mo Farah Completes The "Double Double"; American Paul Chelimo Surprises With Silver After A Slew Of DQs And Reinstatements Temporarily Cause Silver And Bronze Medal Pandemonium
LRC All 2016 Year-End Rankings
World Rankings
2016 marked Year 6 of Mo Farah's reign over the 5,000 meters, and the Olympic final in Rio, though faster (13:03) than Farah's previous global titles, produced the same outcome: Farah sprinting away from the field to earn yet another gold medal. The problem, as it always has been for the rest of the world, is that there's no blueprint to beat Farah. His 3:28 1500 pb is better than any other 5,000 runner, but so is his 59:22 half marathon pb. Let the race go slow and Farah will blow you away on the last lap; make it fast, and he'll just run faster than you.
Behind Farah, it was an unpredictable year in the men's 5,000. At the start of the year, did anyone in the world have Paul Chelimo winning the Olympic silver medal? Or Mohammed Ahmed getting fourth? Or Andrew Butchart getting sixth? And what about the fact that precisely zero Kenyans made the Olympic final? Yet all those things actually happened. What surprises does 2017 have in store?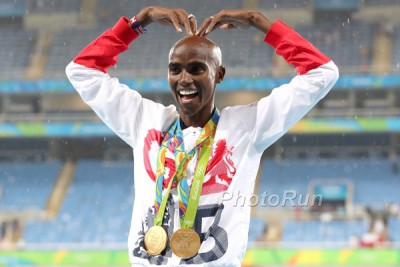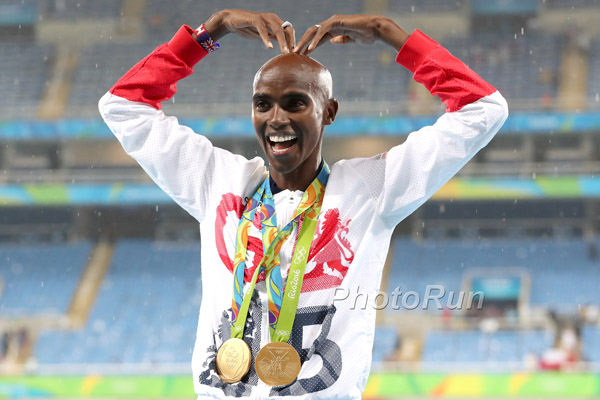 1. Mo Farah • Great Britain • 33 years old • 12:59.29 sb (#1) • Olympic champion
DL results: 1st Birmingham (3k), 1st London
What Farah has done in his career is simply incredible. To be the world's best in an event for six straight years (technically he wasn't World #1 in 2014, but we'll give him credit considering there wasn't a global championship that year) is incredibly difficult. To do it after being an also-ran at the global level until age 27 is practically impossible. Farah wins so often these days — he's lost one 5,000 on the track over the past six years — that many fans have come to take his brilliance for granted. They shouldn't: we're witnessing one of the greatest stretches ever by a distance runner.
Farah's win in Rio was his fifth straight global title at 5,000 meters. Here's the complete list of other men who have won at least five straight global titles in the same event dating back to the first World Championship in 1983:
7 straight
Usain Bolt (200m), Jamaica, 2008-2016
6 straight
Michael Johnson (400m), USA, 1993-2000
Haile Gebrselassie (10,000m), Ethiopia, 1993-2000
Kenenisa Bekele (10,000m), Ethiopia, 2003-2009
5 straight
Mo Farah (5,000m), Great Britain, 2011-2016
Carl Lewis (100m), USA, 1983-1991
Ezekiel Kemboi (3,000m steeplechase), Kenya, 2009-2015
Look at the other names on that list: Farah is in the company of legends. And if Farah can win the 10,000 at Worlds next year, he'll have added an even more impressive accomplishment: five straight global titles in two separate events. Not even Bolt has done that (though Bolt has the chance to win five straight 100 titles next summer).
Perhaps the only area in which Farah does not look totally effortless is the press conference room, where he provided some unconvincing answers about his relationship with coach Jama Aden. Of course, if Aden is convicted of something — and so far he hasn't been, even though performance-enhancing drugs were found at his hotel in Spain — that doesn't necessarily indict Farah. But if more comes out about Aden, Farah should prepare for a few more rounds of questions about Aden in 2017.
LRC LRC Debate: After Berlin Who is the Greatest of All-Time – Kenenisa Bekele, Haile Gebrselassie or Mo Farah?
LRC 2016 Olympic 5,000 Recap Men's 5000: Mo Farah Completes The "Double Double"; American Paul Chelimo Surprises With Silver After A Slew Of DQs And Reinstatements Temporarily Cause Silver And Bronze Medal Pandemonium
LRC London DL Recap On to Rio: Mo Farah Delivers a World-Leading 5000m, Molly Ludlow Comes Close
LRC Mo Farah archives
2. Hagos Gebrhiwet • Ethiopia • 22 years old • 13:00.20 sb (#5) • Olympic bronze medalist • Diamond League champion
DL results: 6th Shanghai, 1st Oslo, 3rd Paris (3k) 1st Zurich (DL final)
As we mentioned in the introduction, the men's 5,000 can be an unpredictable event, but at the last three global championships, two of the medallists have been the same each time: Farah and Gebrhiwet, who earned bronze in Rio to go with bronze at the 2015 Worlds and silver at the 2013 Worlds. In addition to his Olympic bronze, Gebrhiwet won two Diamond League events (Oslo and the final in Zurich) to become DL champ and ran the world's fifth-fastest time this year. His consistency earned him the nod over several other candidates for #2.
LRC  2016 Zürich Full Meet Recap: Evan Jager Goes For It, Caster Semenya and Ruth Jebet Finish Off Historic Seasons, The World's Best Women Clash at 200 And Massive Marks In The Men's Shot
LRC 2016 Bislett Games Full Meet Recap: Asbel Kiprop Crushes Everyone In the Mile, Dafne Schippers Crushes Everyone in the 200, and Hagos Gebrhiwet Wins The Loaded 5000
LRC Hagos Gebrhiwet archives
3. Muktar Edris • Ethiopia • 22 years old • 12:59.43 sb (#2) • DQ in Olympic final (crossed line in 4th)
DL results: 1st Shanghai, 1st Pre Classic, 2nd Oslo, 3rd Stockholm, 7th Paris (3k), 10th Zurich (DL final)
Early on, it looked as if Edris would be Mo Farah's biggest competition in Rio as he racked up Diamond League victories in Shanghai and Eugene before adding top-threes in Oslo and Stockholm. But when he got to Rio, Edris chose not to go along with countrymen Hagos Gebrhiwet and Dejen Gebremeskel, who elected to push the pace in the Olympic final (a strategy that figured to benefit Edris given his DL success) and wound up out of the medals in fourth, a result that was later nullified when Edris was disqualified for running inside the curb (it's worth noting that both Paul Chelimo and Mo Ahmed were DQ'd for the same violation but those two were both reinstated while Edris remained DQ'd). Still, even though his season fizzled out post-Rio, those early-season wins (and the fact that he was one of just four men to break 13:00 this year) count for something.
LRC 2016 Prefontaine Classic: Asbel Kiprop Wins an Underwhelming Bowerman Mile, Mo Ahmed Goes for It in the Men's 5K and Keni Harrison Gives the World Record a Scare
LRC Shanghai Recap: Faith Kipyegon (3:56.82), Muktar Edris (12:59.96) & Hyvin Kiyeng (9:07.42) Get World Leaders; Justin Gatlin (9.94) & Omar McLeod (12.98) Pick Up Big Wins
LRC Muktar Edris archives
4. Paul Chelimo • USA • 26 years old • 13:03.90 sb (#13) • Olympic silver medallist • 3rd at U.S. Olympic Trials • 7th at World Indoors (3k) • U.S. Indoor runner-up (3k)
DL results: 13th Pre Classic, 8th Paris (3k) 2nd Zurich (DL final)
On the one hand, you can argue that Chelimo, who was just .06 away from missing out on the Olympics altogether at the U.S. Trials, should not be this high on the list. But … he was second at the Olympics and second at the Diamond League final. When you're second in the two biggest international races of the year, it's hard to fall very far from the top of the world rankings. Clearly, Farah was better than Chelimo this year, and we've put Gebrhiwet above him — despite Chelimo's head-to-head win in Rio — since Gebrhiwet ran faster and more frequently on the international circuit. Chelimo vs. Muktar Edris was a tougher call; Edris was the class of the DL circuit in the early part of the season, but they were 2-2 against each other and Chelimo beat him when it mattered most: in Rio and Zurich. It was close, but ultimately we went with Edris on the basis of his stronger DL record (two wins, two more top threes).
This isn't the sort of debate we thought we'd be having about Chelimo this time last year. In fact, we didn't think we'd be talking about Chelimo much at all. Though he was twice the NCAA runner-up at 5,000 meters at UNC Greensboro, running 13:21 as a collegian, he barely raced in 2014 and was only 11th at USAs in the 5,000 last year. At the start of 2016, few expected him to even make the U.S. Olympic team, let alone medal in Rio. But Chelimo came out strong, defeating Eric Jenkins in a 3k in Portland in January, and never looked back, making World Indoors in the 3k (one of the hardest events to make it in for the U.S.) before barely edging out Jenkins for the final Olympic spot in Eugene in July.
Chelimo was a bit overeager at the U.S. Trials, which almost cost him his spot on the team, but he learned from his tactical error and ran a more patient race in Rio, executing brilliantly for a surprise silver medal. Like Emma Coburn, Chelimo is relocating after a career year, moving from Beaverton, Ore., to Colorado Springs to work under Scott Simmons. An interesting decision for sure, though Chelimo has worked with Simmons in the past and will have a deep stable of training partners including Shadrack Kipchirchir (who also trained with Chelimo under Dan Browne in Beaverton) and Leonard Korir.
LRC Paul Chelimo Proves Everyone Wrong (Including LetsRun.com) Once Again to Win the U.S.'s First Olympic 5,000 Medal in 52 Years
LRC 2016 Olympic 5,000 Recap Men's 5000: Mo Farah Completes The "Double Double"; American Paul Chelimo Surprises With Silver After A Slew Of DQs And Reinstatements Temporarily Cause Silver And Bronze Medal Pandemonium
LRC Paul Chelimo archives
5. Yomif Kejelcha • Ethiopia • 19 years old • 13:03.29 sb (#12) • World Indoor champion (3k)
DL results: 5th Shanghai, 3rd Oslo, 2nd Stockholm, 1st Paris (3k), 7th Zurich (DL final)
Sadly, Kejelcha didn't run at the Olympics, in part due to the Ethiopian federation's silly selection process (it selects the team based on season best rather than holding a trials race), which limits his ceiling on this list. Of course, there's no guarantee Kejelcha would have actually made the team had there been a trials, but given how well he ran on the circuit this year — and the fact that he was World Indoor champion in the 3,000 in March — it's likely that he would have been a medal contender in Rio (or maybe not since he was just 7th in the DL final). That win at World Indoors came against a quality field and Kejelcha also ran well on the Diamond League circuit, so he makes it into LRC's top five.
LRC 2016 World Indoors Men's 3000: Ethiopia's Yomif Kejelcha Wins and Arrives As Mo Farah's Potential #1 Rival, Ryan Hill Uses Perfect Tactics To Nab Silver
LRC Yomif Kejelcha archives
6. Mo Ahmed • Canada • 25 years old • 13:01.74 sb (#8) • 4th at Olympics • 9th at World Indoors (3k)
DL results: 3rd Pre Classic, 8th Zurich (DL final)
Like Chelimo, Ahmed was another man nobody expected to be in medal contention in Rio this summer. Though the Wisconsin grad is no stranger to international competition — he represented Canada at the 2012 Olympics and 2013 and 2015 Worlds — his best finish was ninth in the 10k in Moscow in 2013. But Ahmed, who trains under Jerry Schumacher in Portland, broke out with a massive 13:01.74 Canadian record at the Pre Classic (an 8+ second PR) to establish himself as a man to watch. However, after a disastrous 32nd-place finish in the 10,000 in Rio, it was hard to have much confidence in the 25-year-old.
Ahmed bounced back in inspiring fashion, though, and was fighting for a medal in the final 200 meters (his supporters may still feel his chanes took a blow thanks to some contact with Chelimo on the final turn). He wound up fifth man across the line and was promoted to fourth after Edris' DQ — the highest finish ever by a Canadian in any Olympic event longer than 800 meters since 1932.
7. Bernard Lagat • USA • 42 years old • 13:06.78 sb (#23) • 5th at Olympics • U.S. Olympic Trials champion • 4th at U.S. Indoors (3k)
DL results: DNF Pre Classic, 3rd London, 6th Zurich (DL final)
Lagat was just 10th at USAs last year in the 5,000, and considering he turned 41 last December, there were more than a few people counting him out in 2016. We weren't among them. Did we predict that he'd finish fifth in the Olympic Games? No. But if you were paying attention, there were signs that Lagat had something left in the tank. First, his times weren't all that slow last year. He wasn't close to his PR in the 5,000, but he still ran 7:37 indoors and broke 13:20 twice outdoors. More importantly, Lagat was not 100% at USAs in 2015: he got sick at Pre and his final month of training was hampered significantly as a result.
So Lagat returned in 2016 determined to make his fifth Olympic team. He began by quietly taking fourth in a stacked 3k at USA Indoors, and once he breezed to a 27:49 in his 10k debut at Payton Jordan, it looked like he'd be running in Rio, this time in a much longer event. The heat got to Lagat in the 10k at the Trials and he wound up a DNF, forcing him to go for broke in the 5k. But he returned three days later and breezed through the first round of the 5k, closing in 53.64 to win his heat. The final was vintage Lagat as he waited, waited, waited to use his speed until the final 100, seizing the lead with 75 to go and storming to one of the most memorable victories of his career.
For a moment, it looked as if Lagat had pulled out a medal in Rio, but once Chelimo and Ahmed were reinstated, he was bumped back down to fifth — still a ridiculous performance for a 41-year-old. After a career that included two Olympic medals, five outdoor World Championship medals (including two golds) and three indoor World Championships titles, Lagat will certainly be missed on the track next season, as he'll only race on the roads from here on out.
LRC Bernard Lagat Has Run His Final Track Race – What an Amazing Career it Was
LRC 41-Year-Old Bernard Lagat Wins Crazy Men's 5000 at 2016 US Olympic Trials
LRC Bernard Lagat archives
8. Dejen Gebremeskel • Ethiopia • 27 years old • 12:59.89 sb (#3) • 12th at Olympics
DL results: 6th Oslo
Gebremeskel is hard to place. He ran fast — the #3 and #8 5,000 times on the year, the #1 3,000 time of the year indoors (7:38.03), but he was only 12th at the Olympics and sixth in his lone Diamond League appearance. In Gebremeskel's defense, it doesn't do him any good to run tactical Diamond League events if he's not running fast as Ethiopia picks its Olympic team (foolishly) only time. Just as many American pros eschew Diamond League meets to prepare for the Olympic Trials, Gebremeskel skipped out on a couple Diamond League meets to chase fast times in Hengelo and Boston, which proved to be a wise decision as either of those times (13:00 in Hengelo, 12:59 in Boston) would have been good enough to get him to Rio.
In the Olympic final, Gebremeskel, the 2012 silver medallist, was only 12th, but he deserves credit for working with Hagos Gebrhiwet to force a fast pace to try to beat Mo Farah. Gebremeskel ultimately ran out of steam, but we can't fault him too much for picking the strategy he believed would give him the best chance for gold. Had he ran more conservatively, chances are good he'd have finished in the top 10 but his chances of winning/medalling would likely have been lower.
9. Andrew Butchart • Great Britain • 25 years old • 13:08.61 sb (#25) • 6th at Olympics
DL results: 2nd London
Butchart showed that there's more to British distance running than Mo Farah. The Scot's personal best was only 13:29 heading into the 2016, but he took that down to 13:18 at Payton Jordan and 13:13 in Hengelo before claiming his first British title. He then finished second behind Farah at the London Diamond League event before PR'ing one final time to take sixth in Rio. He now sits third on the all-time UK list, behind Farah and former world record holder David Moorcroft.
10. Ryan Hill • USA • 26 years old • 13:15.59 sb (#46) • World Indoor silver medallist (3k) • U.S. Indoor champion (3k) • 6th at U.S. Olympic Trials
DL results: 15th Pre Classic, 5th London, 4th Paris (3k), 9th Zurich (DL final)
Yes, we know Hill didn't make the U.S. Olympic squad, but his achievements at 3,000 meters were enough to get him on this list (remember this is a combined 3000/5000 ranking). He won a loaded race at USA Indoors, defeating Chelimo, Lagat and others in the process, and went on to take silver at World Indoors the following week. He also took fourth in a stacked 3,000 in Paris and had two of the fastest three times in the world indoors (running 7:38 at USAs and Millrose). That, plus decent Diamond League runs in London and Zurich and his U.S. road 5k title in September, was enough for us to put him ahead of U.S. Olympian Hassan Mead and several other international challengers, even though Hill was sixth (in a very tough field) at the Olympic Trials.
The 3,000 has always been Hill's best event, and he struggled a little in the longer 5,000 meters this year. In that event, his wicked final 200 is dulled by the extra 2,000 meters of running, and though he's had success in the 5,000 (he won USAs and finished seventh at Worlds last year), 2016 showed he needs to become stronger to unleash that kick at the end of races. If he can do that, he can kick with anyone (save Mo Farah) over the final 200 meters and will be a medal threat at Worlds next year.
LRC 2016 World Indoors Men's 3000: Ethiopia's Yomif Kejelcha Wins and Arrives As Mo Farah's Potential #1 Rival, Ryan Hill Uses Perfect Tactics To Nab Silver
LRC USA Indoors Men's 3000: Ryan Hill Stamps Himself as a Medal Contender & Paul Chelimo Kicks His Way On To Team USA in a Classic Race
LRC Ryan Hill archives
U.S. Rankings
How's this for a testament to the U.S.'s depth at 5,000 meters? In 2015, the U.S. went 5-6-7 at Worlds. One year later, three different Americans went 2-5-11 at the Olympics. That's right. Galen Rupp, Ben True and Ryan Hill, all of whom we ranked in the top 10 of the world last year, couldn't even make the U.S. Olympic team. Such is the depth in this event right now. Though Bernard Lagat was this year's U.S. champion, the new king is Paul Chelimo, the first U.S. Olympic medallist at 5,000 in 52 years. With Lagat and Rupp (who combined to make eight U.S. 5k teams from 2011 to 2016) gone from the event, Chelimo is the man to beat for the foreseeable future.
At the same time, Chelimo barely squeaked onto the U.S. team this summer. It would not be a massive shock if he was not in the top three at USAs in 2017. True, Eric Jenkins and Hill, the World Indoor silver medallist at 3,000 will all be eager to make amends for their Trials disappointments, and Olympic finalist Hassan Mead isn't going anywhere. We can't promise next year's U.S. final will be as memorable as the thrilling men's 5k at this year's Trials, but it will be a race that no fan of distance running will want to miss.
1. Paul Chelimo (see above)
2. Bernard Lagat (see above)
3. Ryan Hill (see above)
4. Hassan Mead • Nike Oregon Track Club • 27 years old • 13:04.17 sb (#2 in US) • 11th at Olympics • U.S. Olympic Trials runner-up • 6th at U.S. Indoors (3k)
DL results: 6th Pre Classic, DNF Zurich (DL final)
You could argue for Mead over Hill (Mead was 2-1 against Hill at 5,000 meters), but Hill's medal at World Indoors and domination of Mead at 3,000 (2-0 indoors) led us to give the nod to Hill. That's not intended as a slight at all to Mead, however, who, like Lagat, showed great resilience in bouncing back from an ugly 10,000 at the Trials to make the U.S. team at 5,000 meters. Mead has now made U.S. teams at both 10,000 and 5,000 meters, and it's hard to say which is his better event at this point. The next step for the lanky Minnesota grad is to follow the path of Paul Chelimo and move from one of the best in the U.S. to one of the best in the world.
5. Eric Jenkins • Nike Oregon Project • 25 years old • 13:24.33 sb (#12 in US) • 4th at U.S. Olympic Trials • 3rd at U.S. Indoors (3k)
DL results: 11th London
Jenkins came oh so close to making his first U.S. team this year, as he was the first man out at both U.S. Indoors and the Olympic Trials, both times to Paul Chelimo. The good news is that Jenkins made progress in his first full year under Alberto Salazar (remember, he beat former Oregon teammate Edward Cheserek at Millrose in addition to his strong runs at USAs) and his speed is even better than it was in his NCAA days, evidenced by his 3:49 mile victory over Olympic champ Matthew Centrowitz at the Fifth Avenue Mile. If Jenkins keeps improving, he should make a U.S. team in the near future, but given how competitive the 3,000/5,000 is domestically, no one is guaranteed a spot.
LRC Oxy Recap: Evan Jager (8:15), Eric Jenkins (13:24), Hassan Mead (3:37) & Kate Grace (4:05) Impress with Victories; Leo Manzano (3:43) Struggles
LRC Eric Jenkins archives
What do you think of these rankings? Talk about them in our world famous messageboard / fan forum. MB: What a year for Team USA! Three American men make our World Top 10 in our 3000/5000 rankings.
---
LRC 2015 men's 5,000 rankings * LRC All 2015 Year-End Rankings * LRC 2016 Olympic 5,000 Recap Men's 5000: Mo Farah Completes The "Double Double"; American Paul Chelimo Surprises With Silver After A Slew Of DQs And Reinstatements Temporarily Cause Silver And Bronze Medal Pandemonium