A New, More Relaxed Evan Jager Heads to His Second Olympic Final with a Medal on His Mind
By Jonathan Gault
August 15, 2016
RIO DE JANEIRO — One year ago, at the World Championships in Beijing, Evan Jager entered as one of the favorites for the first time in his career. Then 26, he was coming off his fourth straight U.S. title in the event and a stunning American record of 8:00.45 in Paris. Many track observers expected a medal, possibly gold, from the American. Jager did not respond well to the pressure. Though he was in the lead at the bell, he could not answer Ezekiel Kemboi's trademark surge on the backstretch and wound up fading to sixth place. The man who had dominated the steeple in the U.S. ever since adopting the event in 2012 was not even the first American across the line, as teammate Dan Huling ran him down in the home stretch.
One year later in Rio, the goal for Jager has not changed — it's podium or bust — but the way he's approached it has. He felt that in Beijing, he was "pressing" early in the race while he should have been steeling himself for the kick to come. This time around, he's trying to relax during races and only spend his energy — both physically and mentally — when it is absolutely necessary.
Article continues below player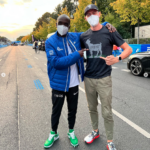 Kipchoge loves the 1:59:40 Shirt Get Yours Today
What a legend!
"My biggest growth has probably come in the last year, just mentally being ready, basically in all aspects, to be in this position," Jager said. "I think I had the closing speed [to medal in Beijing], I think I just used up all my mental and emotional energy during the first 2600 meters. I think that was the biggest thing for me last year. I was the fastest I ever was last year so speed was not the problem, it was just the mental game and being able to stay relaxed and not really press from the front."
For Jager to become the first American man to medal in the steeplechase at an Olympics or Worlds since Brian Diemer in 1984, he first had to advance through Monday morning's preliminary round. Jager did that with ease, running the shortest distance possible on the rail for most of the race before moving up to the lead late and cruising home to the heat win in 8:25.86. Afterward, Jager said that he's been working on relaxing more during practice, and the results were on full display today as he looked incredibly comfortable on the blue Olympic Stadium track.
"Something just clicked a month or so ago and I was just like, 'You don't need to press,'" Jager said. "I just try to go out there [in practice] and relax and pretend I was in the race just sitting on someone and not pressing and was able to run the same splits. I run workouts just as well but just kind of ease the mind a lot. I think I showed that today. That was my main focus today and it helped a lot, I think."
Jager said that while he did his best to soak up the Olympic experience four years ago, he hasn't done some of the non-track activities such as marching in the opening ceremonies this time around. He is laser-focused on a medal.
"This year, I am trying to treat it like another meet," Jager said. "I still represent my country as best as I can but just kind of focus on my race."
In Beijing last year, Jager was hoping for a faster race, but he said it doesn't matter to him whether Wednesday morning's final is fast or slow.
"I'm just going to try to stay focused on the first 2600 meters and just stay relaxed and I think, hopefully by doing that, I'll put myself in the best position to do well."