2016 Olympic Women's Marathon Preview: Americans Cragg, Linden & Flanagan Are In the Shape of Their Life – Can One of Them Medal? Jemima Sumgong & Helah Kiprop Go For Kenya's First-Ever Gold
August 12, 2016 to August 21, 2016
by LetsRun.com
August 13, 2016
(Talk about the race as it goes on live: MB: 2016 Rio Olympics:Official Day 3 Live Discussion Thread)
For about two years leading up to every Olympics, there's chatter at every major marathon about how the results will affect Olympic selection. The time for talk is now over. The teams are picked, and when the gun goes off for Sunday morning's women's Olympic marathon, the runners will have only one race on their mind: the one they're running. It promises to be a wide-open, entertaining affair. The greatest marathoner of her generation, Mary Keitany, won't be in Rio after the Kenyan selectors left her off the team, but the field still contains the reigning world champ (Mare Dibaba of Ethiopia), plus the current champions of the London (Jemima Sumgong), Tokyo (Helah Kiprop) and Dubai (Tirfi Tsegaye) marathons. Americans Amy Cragg, Desi Linden and Shalane Flanagan all enter in fine form as well, and will be looking to join Joan Benoit Samuelson (1984 gold) and Deena Kastor (2004 bronze) as medallists in this event. We preview the event below.
Race Time: Sunday, 8:30 a.m. ET
2016's Fastest performers (among women entered)
1. Tirfi Tsegaye, Ethiopia 2:19:41
2. Helah Kiprop, Kenya 2:21:27
3. Kayoko Fukushi, Japan 2:22:17
4. Jemima Sumgong, Kenya 2:22:58
5. Tigist Tufa, Ethiopia 2:23:03
Article continues below player
Course Map
We spoke to both Cragg and Linden after they visited the course, and both said that there isn't much to it. It's mostly flat and athletes will run three loops along Guanabara Bay before heading back into the city to finish in the Sambadrome, site of the famed Rio Carnival.
***
Because this is the Olympic marathon, the field is loaded at the top. That makes it very difficult to call any one woman the favorite. Instead, we're going to take a look at the five women with the best chance to win — all of whom happen to have won a World Marathon Major in the last two years.
The Gold-Medal Contenders
Jemima Sumgong — Kenya, 31 years old, 2:20:41 pb (2014 Boston), 66:58 half
Marathons since start of 2015: 6th 2015 London (2:24:24), 4th 2015 Worlds (2:27:42), 1st 2016 London (2:22:58)
Prep race: 1st at New York Mini 10k on June 11 in 31:26
Entering 2016, Sumgong had often contended in majors (five top-four finishes from 2012 to 2015) but victory had always eluded her. She's reached another level this year, and that makes her one of the favorites in Rio. Sumgong began by taking 1:34 off her half marathon pb at the RAK Half Marathon in February and followed it up two months later with the biggest win of her career, claiming the London Marathon title despite falling with five miles to go.
London is always the best field of the year, so winning that race is a clear sign that Sumgong can win in Rio too. Plus, she has experience in all sorts of race situations. She's run 13 career marathons, and has had success in rabbitted races (London), non-rabbitted races (two seconds in New York and a second in Boston) and hot global championships (she was fourth at Worlds last year, seven seconds off the win).
One knock on Sumgong is that she (and the other women who ran London) will have the least time to prepare for the Olympics. But 16 weeks is still enough time to recover and get in a marathon buildup, and Sumgong showed on June 11 at the NY Mini 10k that she was in fine shape, running 31:26 to win by 48 seconds. Sumgong is in the midst of a career year; there's not much to dislike. The main reason to bet against her is that the rest of this field is so strong. Remember, in 2012 Keitany dominated in London, running 2:18:37 to win by 1:13, but she didn't even medal when she returned to the British capital for that summer's Olympics.
Helah Kiprop — Kenya, 31 years old, 2:21:27 pb (2016 Tokyo), 67:39 half
Marathons since start of 2015: 2nd 2015 Tokyo (2:24:03), 2nd 2015 Worlds (2:27:36), 1st 2016 Tokyo (2:21:27)
Kiprop ran two marathons early in her career (1st 2006 Casablanca, 3rd 2007 Berlin) before taking an extended break from the distance. But since returning to the marathon in the fall of 2013, she's made steady progress and heads to Rio with all signs pointed toward Olympic success. Just look at her progression:
| | | | |
| --- | --- | --- | --- |
| Date | Race | Place | Time |
| 9/29/2013 | Berlin | 4th | 2:28:02 |
| 3/16/2014 | Seoul | 1st | 2:27:29 |
| 10/26/2014 | Frankfurt | 5th | 2:27:14 |
| 2/22/2015 | Tokyo | 2nd | 2:24:03 (PB) |
| 8/30/2015 | World Champs | 2nd | 2:27:36 |
| 2/28/2016 | Tokyo | 1st | 2:21:27 (PB/CR) |
Aside from a hiccup in Frankfurt, she's gotten better every time out. There aren't many better ways to enter the Olympic marathon than on the back of a two-and-a-half-minute personal best. "Tokyo champ" doesn't have the same ring to it as "Boston champ" or "London champ" but Kiprop beat many talented women in Beijing last year and was one second away from becoming world champion. Add in her CR in Tokyo (shaving almost a minute off the old record) and she's clearly among the very best in the world.
Plus, she's one of the few top contenders that has run a prep race. She ran (and won) a half marathon in the Neterlands on June 11 in 68:36.
Tirfi Tsegaye — Ethiopia, 31 years old, 2:19:41 pb (2016 Dubai), 67:42 half
Marathons since start of 2015: 3rd 2015 London (2:23:41), 8th 2015 Worlds (2:30:54), 1st 2016 Dubai (2:19:41), 2nd 2016 Boston (2:30:03)
Tsegaye was only second in Boston in April but her selection to the Olympic team is not controversial as her body of work over the past few years dwarfs that of Boston champ (and fellow Ethiopian) Atsede Baysa. Tsegaye was LetsRun's World #1 in 2014 (thanks to wins in Tokyo and Berlin) and since then she's added a third in London, a win in Dubai and a second in Boston. That certainly looks like an Olympic resume to us.
Tsegaye is the world leader for 2016 thanks to her 2:19:41 in Dubai and while that result indicates that Tsegaye was fit in January, it doesn't make us want to rush to a bookmaker and put money on her to win in Rio. Times in Dubai are usually fast given the flat course and the nature of the race — everyone tries to hang on to the rabbits, leading for fast times for the women who manage to survive. That's a very different race environment than the one Tsegaye will face in Rio. We're more bullish on her Boston result. Remember, Tsegaye was in position to win with just over two miles to go on a warm day. Though she was ultimately undone due to Baysa's excellent close, that result tells us more about Tsegaye's chances in a championship race than the time trial in Dubai.
The concern about Tsegaye is that the Olympics will be her third marathon in seven months. She's run three marathons in a year twice before — it worked out in 2014, but not in 2013:
2013
| | | | |
| --- | --- | --- | --- |
| Date | Race | Place | Time |
| 1/25/2013 | Dubai | 1st | 2:23:23 |
| 4/15/2013 | Boston | 5th | 2:28:09 |
| 10/27/2013 | Frankfurt | 7th | 2:26:57 |
2014
| | | | |
| --- | --- | --- | --- |
| Date | Race | Place | Time |
| 2/23/2014 | Tokyo | 1st | 2:22:23 |
| 4/6/2014 | Milan | 4th | 2:36:23 |
| 9/28/2014 | Berlin | 1st | 2:20:18 |
Tsegaye ran Worlds last year, and though it was objectively her worst marathon of the past two years, she was still eighth overall which isn't a horrible day, all things considered.
Mare Dibaba — Ethiopia, 26 years old, 2:19:52 pb (2012 Dubai/2015 Xiamen), 67:13 half
Marathons since the start of 2015: 1st 2015 Xiamen (2:19:52), 2nd 2015 Boston (2:24:59), 1st 2015 Worlds (2:27:35), 6th 2016 London (2:24:09)
Dibaba was only sixth in London in April, but she's been one of the world's best marathoners in recent years as she was #2 in our world rankings in 2014 and #1 last year. Dibaba was selected to the Olympics four years ago on the strength of her 2:19:52 in Dubai that year, but she struggled in London, finishing 22nd overall. Though Dibaba hasn't bettered her PR since then (she tied it in Xiamen last year), she's become a much better racer, collecting two wins in each of the past two years, none bigger than her world title in Beijing last year. Dibaba doesn't enter on the same high as the three women above her on this list — all of whom have won marathons this year — but she's got something none of them have: a gold medal. If she can bounce back from London, she's a serious threat to win.
Tigist Tufa — Ethiopia, 29 years old, 2:21:52 pb (2014 Shanghai), 70:03 half
Marathons since the start of 2015: 1st 2015 London (2:23:22), 6th 2015 Worlds (2:29:12), 3rd 2015 New York (2:25:50), 2nd 2016 London (2:23:03)
Tufa's PRs aren't amazing, but somehow she's won one London Marathon title — and come close to a second — without ever breaking 70 minutes for the half marathon. She's also run a more competitive slate of marathons than anyone over the past two years — London, Worlds, New York, London again — and recorded an average finish of third. That sort of consistency doesn't necessarily make her the favorite, but her podium odds are as good as anyone's. The only worry for Tufa is if the race goes fast — she's only broken 2:23 once in her career. That probably won't be a problem though, considering the Olympic record is 2:23:07.
***
There's one other former WMM champ in the field — 39-year-old Jelena Prokopcuka of Latvia, who won NYC in 2005 and 2006 and will be making her fourth Olympic appearance (her debut came in Atlanta 20 years ago). Prokopcuka is still running well — she was fourth in Boston in April — but her pb is only 2:22:56 (and that mark is 11 years old). Prokopcuka can't totally be discounted as a medal threat, as she has three top-four finishes in majors since 2013, but it would be a massive upset if she were to win on Sunday. Kenyan-born Eunice Kirwa of Bahrain has never won a major, but she did take bronze at Worlds last year and won her second straight Nagoya Marathon in March (2:22:40) so she has to be considered a contender.
Chances are though, that one of the former major winners is your champion. Sumgong, Kiprop, Tsegaye, Dibaba and Tufa have all proven themselves in big races and their A games are better than anything the rest of the field can produce. But this is the Olympic marathon, the most unpredictable distance in an event that comes around once every four years. There will be surprises.
How Will the Americans Do?
The U.S. women's marathon team is strong, and a medal in Rio is a realistic possibility. Shalane Flanagan was 9th four years ago and since then she's PR'd twice and finished 4th (2013 Boston) and 3rd (2014 Berlin) in majors (not to mention her 2nd in NYC in 2010). Desi Linden has rebuilt her career after the femoral stress fracture that caused her to DNF in the 2012 Olympics and has finished 5th (2014 New York) and 4th (2014 Boston) in her last two majors (not to mention her 2nd in Boston in 2011). Amy Cragg doesn't have the same track record of major success (her best result was 4th in Chicago in 2014) and her PB (2:27:03) is well behind those of Flanagan (2:21:14) and Linden (2:22:38). But in her first race since changing coaches to Jerry Schumacher, Cragg beat both of those women at the Trials in February.
Going solely off previous marathon accomplishments, we'd feel good about Team USA's chances but probably wouldn't predict a medal. Flanagan and Linden have each produced several strong runs in majors, but even their best performances have not been enough to earn victory: when Flanagan ran 2:22 to set the American course record in Boston in 2014, she was still only sixth overall. Of course, you only need to finish in the top three to medal, but even that is hard: Flanagan has done it twice in six majors (33%) and Linden has done it twice in nine majors (22%). Cragg has never finished top three in a major.
The good news is that the Olympics, unlike big city marathons, caps entries at three per country. So while it's as competitive at the top as any World Marathon Major, there aren't a bunch of overlooked 2:2x Africans ready to break out.
"With three Kenyans and three Ethiopians, it might even be a little softer than a World Marathon Major," Linden told LetsRun.com over the phone earlier this month. "It's the same thing. When you look at the field, there's gonna be a bunch of great times. And you have to kind of go through and say 'Okay, well three, mentally, aren't just going to show up on the day, four of these people are probably limping in here just hanging on.' And you don't know who they're going to be, but you just kind of whittle the field down and all of a sudden you're a contender just standing on the line being healthy."
It also helps that the Kenyan federation elected to take unheralded Paris Marathon champ Visiline Jepkesho — who was just 20th at Worlds last year — over two-time defending NYC champ Keitany and Chicago champ Florence Kiplagat.
"I think they put out the first roster and Mary was on it and it looked really good and I was like 'Wow, I think they nailed it. This is the right roster," Linden said. "And then a week or so later they changed it to who they have going now and I was like, 'Wow, they managed to goof that up.'
"I can't imagine picking that. There's so much depth, so it doesn't matter who's on that team because, you're like 'Wow, that's really good.' But when you see a Mary Keitany get left off, that's not a bad thing for me."
It's not a bad thing for Flanagan and Cragg either. Another good sign for the Bowerman Track Club duo: they've been crushing it ever since the Trials. On June 5, both set half marathon pbs at the (slightly downhill) Rock 'n' Roll San Diego Half, 67:41 for Flanagan, 69:50 for Cragg. Three weeks later in Boston, both PR'd again, Flanagan breaking her U.S. road 10k record by running 30:52, Cragg taking 45 seconds off her best by running 31:31. Those results showed that both Flanagan and Cragg were in great shape in June and assuming they've carried that fitness over to August, both will be medal contenders in Rio, though Flanagan's odds are MUCH better than Cragg's. While Flanagan has been crushing it, there's something to be said for Cragg running well in the heat of LA at the Trials while Flanagan broke down at the end of the race. But Flanagan has been a far better, more consistent marathoner than Cragg throughout her career and soundly beat her in both post-Trials races. There's no doubt Cragg has benefitted from training with Flanagan during her past two marathon buildups, but there's also no doubt that Flanagan remains the alpha dog. However, we're not convinced Flanagan does well at 26.2 in the heat and the weather forecast isn't good (70 at the start 75 at the finish).
Linden has raced twice since the Trials, and while her times (71:06 half for 2nd at the U.S. Champs in April; 33:17 for 6th at the NY Mini 10k on June 11) aren't remarkable, that's not necessarily a bad thing.
"For me, I know that I can't run PRs during marathon training segments," Linden said. "Based on our training, that's a bad sign if I'm going out and crushing a half. It just means I'm a little too sharp too soon or maybe not fatigued enough in the marathon segment because you're basically teaching yourself to how run tired in our system. If I ran a PR in my half, Kevin [Hanson, Linden's coach] would probably just up my mileage by about 20 miles."
Linden heads to Rio with a wealth of confidence. She said that she feels this is the fittest she's ever been and that she's been able to remain 100% healthy while logging 5-6 weeks at 125 miles per week (her most ever in a buildup) and pushing the pace on many of her runs. Linden was cautious in her Trials buildup, with the main goal simply to qualify. For the Trials, she's going all-in, and she's even cut back on one of her guilty pleasures, going beer-free in July. During previous buildups, Linden said her beer intake was "not big at all but we tapered it back. It could be brought back a little bit."
Linden's signature workout is 2 x 6 miles with 10 minutes' rest, and she described the one she ran at the end of July as her best ever. She covered the two six-mile segments in 31:54 and 32:00 (just under 2:20 marathon pace) and by the time the workout ended, the temperature was 81 degrees and humid. Oh yeah: it came at the end of a 128-mile week.
Even the best buildup can come undone on race day. The marathon's a one-shot deal, and sometimes those shots miss. But Linden has a rare gift for knowing exactly how much her body can handle during a race and doesn't have any blowups on her record. If she's fit and healthy, she's usually going to race well. And for Linden, a good race in Rio is landing on the podium — and perhaps more.
"If I'm in the hunt late and I got a shot to win, I'm not gonna shy away by any means," Linden said.
Is Linden more likely to medal than Flanagan? It's very close. Flanagan has always been the more heralded runner, and for a long time, Linden couldn't beat her (Flanagan won their first 11 matchups across all distances). But Linden beat Flanagan for the first time in Boston last year and made it two in a row at the Trials. Clearly, Flanagan is super fit right now, but so is Linden. It comes down to what you value: Flanagan may have the higher ceiling, but Linden is more consistent. It wouldn't be a surprise to see either woman on the podium in Rio.
(Talk about the race as it goes on live: MB: 2016 Rio Olympics:Official Day 3 Live Discussion Thread)
LRC Prediction: 1. Keitany – oh wait – the idiots in charge at Athletics Kenya didn't pick her 1. Kiprop 2. Sumgong 3. Dibaba
We're really tempted to pick an American medal as Linden says she's never been in shape, Flanagan has been setting American records in her buildup and Cragg won the Trials in the heat, but Kiprop, Sumgong and Dibaba all ran great at Worlds last year and both Kiprop and Sumgong have won majors already this year. We'll give Kiprop the edge in a bit of an upset as she gets better with every race and was only one second from the world title last year (plus with Tokyo coming two months before London, she's had more time to recover/prep). But picking any marathon, especially the Olympic marathon, is a crapshoot, and if Kiprop or Sumgong were to win, it would represent history as no Kenyan woman has ever won Olympic marathon gold. Recent results suggest, however, that it's only a matter of time. Kenyans went 2-4-5 at Worlds last year (2-3-4-5 if you count Kenyan-born Eunice Kirwa of Bahrain), 2-4 at the 2012 Olympics and 1-2-3 at Worlds in 2011. We think the gold drought ends in Rio.
Check out our poll and then the betting odds below that.
[gravityform action="

polls

" id="434″ mode="

poll

" cookie="1 month" show_results_link="false" display_results="true" percentages="true" counts="false" ajax="true"]
Beting Odds:
Here are the odds to win via oddschecker.com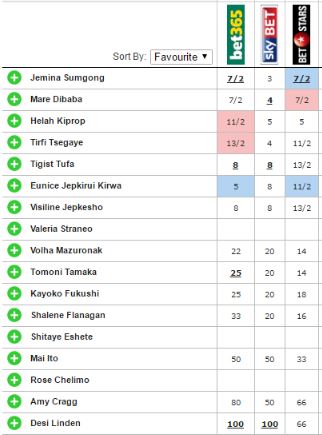 And to medal: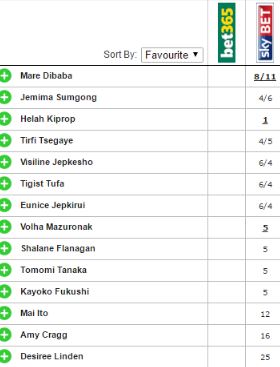 Based on that, we think the fun bet for an American would be Linden to medal at 25 to 1. Flanagan is in unreal shape but the temps make us a little nervous and no way are her odds 5 times better than Linden's.
(Talk about the race as it goes on live: MB: 2016 Rio Olympics:Official Day 3 Live Discussion Thread)