Ethiopia's Atsede Baysa Storms from Behind to Win Boston Marathon in 2:29:19 After Leaders Blow It With a 5:00 16th Mile
by LetsRun.com
April 18, 2016
BOSTON — Two-time Chicago Marathon winner Atsede Baysa of Ethiopia had an impressive come-from-behind performance to win the 2016 Boston Marathon in 2:29:19.
Baysa, the 2010 and 2012 Chicago champion, elected not to go with the lead pack of four when they ran a 5:00 downhill 16th mile in Newton Lower Falls. It was a decision that would prove prudent as Baysa stormed back the final 4.5 miles after Heartbreak Hill to get a dominant come-from-behind victory. At 35k, she was 37 seconds behind but at the finish she was 44 seconds ahead.
At a warm 69 degrees at the start, the race began very tactically. American Neely Spence Gracey had the lead at the 5-mile mark (29:17 – 2:33:33 pace). After a lead pack of 11 women hit halfway in 1:15:33-34, the real racing began just after the 1:30 mark as a four-woman lead pack of Valentine Kikpeter, Tirfi Tsegaye, Joyce Chepkirui and Flomena Daniel emerged as they upped the pace on the downhill in Newtown Lower Falls on mile 16 with a scorching 5:00.
At 35km, after the lead pack (which had dwindled to three at this point — Tirfi Tsegaye of Ethiopia, Joyce Chepkirui of Kenya and Valentine Kipketer of Kenya) crested Heartbreak Hill, Baysa was 37 seconds behind the leaders and an apparent afterthought.
Kipketer soon dropped back, and it was Tsegaye and Chekpkirui up front. Tsegaye appeared poised to get her first Boston victory as she looked composed running next to Chepkirui. But maybe Tsegaye knew the pace was slowing as she was looking at her watch and turning around to see if anyone was gaining on them. The uphill 20th and 21st miles were run in an understandably slow 5:49 and 6:03 for the leaders, but then the downhill 22nd and 23rd miles were not a whole lot faster (11:23 total so a 5:41.5 average).
At first, it didn't look like anyone was gaining, but then soon Baysa appeared and it was obvious she was going to catch the leaders. She caught them just after the 24-mile mark. Tsegaye responded and upped her pace, but in the end, she could only stay with Baysa for a minute. By the 2:19:15 mark, Baysa was in front and cruising on her way to victory.
Baysa got the win in 2:29:19, Tsegaye was second nearly a minute back in 2:30:03 and Chepkirui held on for third in 2:30:50. Jelena Prokopcuka passed a fading Kipketer for 4th. Kipketer was 5th, Daniel 6th, course record holder Deba 7th. American Neely Spence Gracey was 9th in her debut in 2:35:00.
More coverage coming from Boston but some quick thoughts below.
QT #1: This is What Makes Boston Special
Rarely does anyone come from behind to win another major marathon, but it happens in Boston because of the hills and the weather. The weather today was not the determining factor (it was warm for the runners with sun and the temperature in the upper 60s), but the Newton Hills were. Tsegaye and the lead pack crushed the downhill 16th mile in a reported 5:00. That is way too fast and it ultimately took its toll and the more prudent Tsegay got the win.
At the post-race press conference, Baysa revealed that she didn't go with the leaders as she starting at 12km she became a bit worried about a chronic left hamstring injury that has plagued her for years. She felt that the leaders were doing "fartlek" so she focused on keeping her own pace "the same." She said that even when she was winning Chicago she had the same problem and that normally when her body becomes "warm" her hamstring "becomes relaxed." She said she was confident throughout that she could catch the leaders.
Once Baysa went after the leaders, she definitely sped up as her 5km segments revealed a pretty consistent effort (except for a cautious first 5k) until she went for the win late: 18:22, 17:59, 17:38, 17:45, 17:33, 17:41, 18:08 (uphill), 16:43 (7:30 to finish).
QT #2: What Will the Ethiopian Selectors Do?
Even though Baysa won here, we wouldn't put her on the Ethiopian Olympic team over Tsegaye. Tsegaye's recent body of work is better. It may be hard for the selectors to overlook Baysa, but the winning time was not that fast so they may skip her.
Baysa admitted that what Tsegaye did in Dubai (a 2:19:41 win) in January was impressive. "What Tirfi [Tsegaye] did in Dubai was amazing," said Baysa, who thought that perhaps the fact that she had more time to recover from her last marathon (in November) than Tsegaye might have proved the difference today (Baysa's last marathon was a 2:25:44 win in Japan on November 15th).
Tsegaye wasn't sure what the Ethiopian selectors will do. She pointed out that four elite women are running on Sunday in London and if they run super fast there she thought they might select the team based on time.
QT #3: Neely Spence Gracey Top 10 in Debut
Neely Spence Gracey ran 2:35:00 for 9th and first American. She had talked about running 2:30 but the weather was warmer than ideal today. She split 1:17:01, 1:17:59.
Afterwards, an emotional Spence Gracey had tears in her eyes as she told NBCSN, "I can't believe I just ran 26.2 miles. I really wanted to say the crowds didn't disappoint today…. I really wanted to break 2:35:00. I knew it was going to be close the last mile."
At the post-race press conference, Spence said that Boston more than lived up to the hype as the crowd support was fantastic. Many people may not know that Spence and Sarah Crouch, who was the second American in 2:37:36 in 11th, both ran at the Division II level in college. When they were side-by-side in the lead at Boston, Spence said she made sure they both enjoyed the moment. She said they were used to running side-by-side (Spence went to Shippensburg, Crouch to Western Washington) but not in front of a major marathon.
Crouch agreed with Gracey that the crowds were unreal as after the race she told NBCSN, "The crowds were ridiculously energetic. You can not overrate Boston!" She also said she turned to Neely Spence Gracey early in on the race when they were leading and told her to soak it all in because they were leading the Boston Marathon.
After the race we spoke with coach Steve Magness, who batted a thousand today as coached both Neely Spence Gracey as well as Zach Hine to top American honors. Magness was quite pleased as really wanted Spence Gracey to have a positive first marathon and he thought she did that. Spence was full of sprint at the end and when we asked Magness if there was some sort of time bonus in her contract, he smiled and said, "Maybe."
Quick Thought #4: A Short But Painful Day for Defending Champ Caroline Rotich
Defending champ Caroline Rotich only made it 4.5 miles today before dropping out. We asked her coach Ryan Bolton what happened and he responded via text, "Caro had severe pain in her right foot. Getting a MRI on Wednesday. Until then, we're not sure what the deal is. She's hobbling around…having a tough time walking. Of course, she's very upset as she was ready to defend today."
Top Women's Results
Place
Bib
Name
Official Time
State
Country
Ctz
1
F6
Baysa, Atsede
2:29:19
ETH
2
F4
Tsegaye, Tirfi
2:30:03
ETH
3
F11
Chepkirui, Joyce
2:30:50
KEN
4
F9
Prokopcuka, Jelena
2:32:28
LAT
5
F10
Kipketer, Valentine
2:33:13
KEN
6
F7
Daniel, Flomena Cheyech
2:33:40
KEN
7
F3
Deba, Buzunesh
2:33:56
ETH
8
F15
Tola, Fate
2:34:38
ETH
9
F18
Spence Gracey, Neely
2:35:00
CO
USA
10
F5
Daska, Mamitu
2:37:31
ETH
11
F17
Crouch, Sarah
2:37:36
NC
USA
12
F20
Shimokado, Miharu
2:39:21
JPN
13
F14
Beriso, Amane
2:39:38
ETH
14
F2
Gelana, Tiki
2:42:38
ETH
15
F8
Bekele, Tadelech
2:44:20
ETH
Lead mile by mile splits.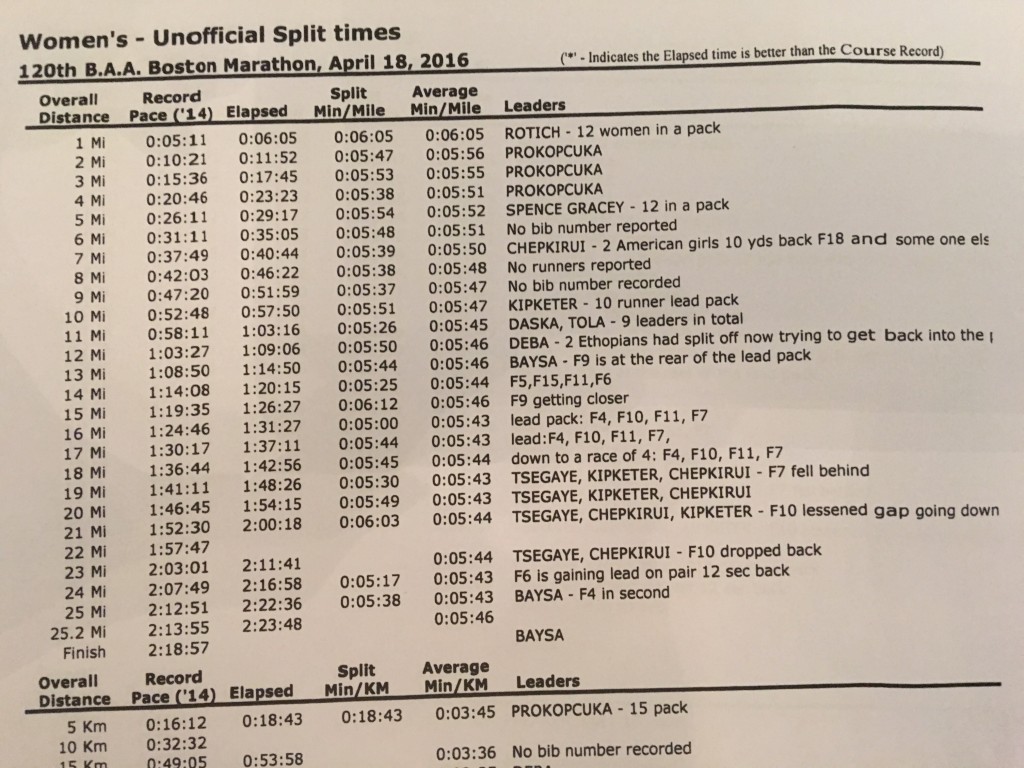 Your 2016 Champs