Pure Brilliance – Shalane Flanagan Runs 30:52 To Break American Record And Dominate B.A.A. 10K In Her Final Race Before Rio
By Jonathan Gault
June 26, 2016
BOSTON — Three weeks, two PRs, one American record. It's safe to say Shalane Flanagan's Olympic marathon preparation is going well. On a gorgeous Sunday morning in downtown Boston, the Massachusetts native Flanagan broke her own American road record for 10 kilometers, putting away two-time world marathon champion Edna Kiplagat over the final mile to win the B.A.A. 10k in 30:52 (Flanagan set the old mark of 31:03 in September 2015). The performance came on the heels of Flanagan's 67:51 half marathon PR (downhill course) in San Diego earlier this month, and taken together, the two results suggest that Flanagan should be taken seriously as a medal contender in Rio over 26.2 miles.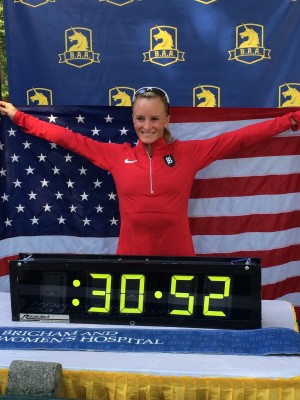 Flanagan's training partner at the Nike Bowerman Track Club, Amy Cragg, was third in 31:31, 25 seconds behind Kiplagat; like Flanagan, this was her second PR in three weeks as she ran 69:50 in San Diego before slicing 62 seconds off her road 10k best today. On the men's side, Kenya's Daniel Chebii marked his first race on American soil with a victory, dropping countryman Philip Langat late to win in 27:55 to Langat's 28:02. Dathan Ritzenhein was the top American, running 28:12 for fourth in his first race since dropping out of February's U.S. Olympic Marathon Trials.
Article continues below player
Race recaps, results and interviews below.
Women's race: Flanagan's hard work rewarded with American record
Flanagan wasted no time in this one, heading straight to the front after the horn blared starting the race on Charles Street on Boston Common. Though Kiplagat and World Half Marathon bronze medallist Mary Wacera of Kenya (also the defending champion here) both spent some time up front early on, they were merely renting the lead from Flanagan, who would quickly overhaul them with a surge. At two miles (9:50), the lead pack was down to five women with Flanagan, Kiplagat, Wacera and Cragg all still present (one man, sub-elite Dan Harper, was also among their group).
That would not last much longer, however, as Flanagan upped the intensity as she made a couple of turns onto Granby Street and them Commonwealth Avenue. As she ran away from the city, flanked by the Boston University campus on one side and Green Line train tracks on the other, Flanagan managed to drop everyone save Kiplagat, who worked hard to hang on to the pace and floated a few meters behind her rival. Despite Flanagan's decisive move, the third mile was in fact the slowest of the race (5:04) due to the climb on Comm Ave, but the 5k split (15:26, ahead of Flanagan's 31:03 AR pace) confirmed that they were moving quickly.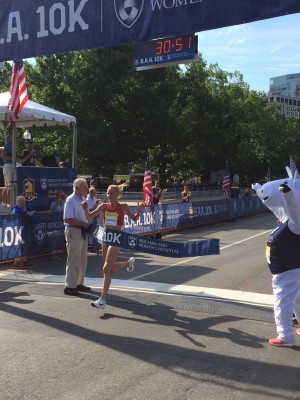 The next two miles were a test of wills, Flanagan continuing to push the pace while Kiplagat ran as her shadow, mirroring her every move a few meters behind in order to stay in the slipstream. Kiplagat's toughness was inspiring; every time Flanagan looked to have gained an extra step, the long-limbed Kenyan acted to close the gap back up. The pair ran together through Kenmore Square and under the Mass Ave underpass on the Boston Marathon course until Flanagan attacked again at five miles (24:52). For the first time, Kiplagat had no answer and by nine kilometers, Flanagan had an eight-second lead. All that remained to be seen was whether Flanagan could take down her American record, and with the masses of runners cheering her on throughout, the answer was a resounding yes as Flanagan powered down Charles Street to break the tape in 30:52. Kiplagat was second in 31:06 with Cragg a clear third in a big PR.
Top 10 results
1. Shalane Flanagan, USA 30:52 (event & American record)
2. Edna Kiplagat, Kenya 31:06
3. Amy Cragg, USA 31:31
4. Mary Wacera, Kenya 32:03
5. Nancy Nzisa, Kenya 32:12
6. Buze Diriba, Ethiopia 32:26
7. Aselefech Mergia, Ethiopia 32:33
8. Kim Smith, New Zealand 32:47
9. Lineth Chepkirui, Kenya 32:56
10. Azmera Gebru, Ethiopia 33:00
*Full results
Men's race: Chebii prevails in Kenyan duel; Ritz earns top American honors in return
Just like the women's race, the men's race came down to two athletes. By four miles (18:06) a lead pack of four (Chebii, Langat, Silas Kipruto and defending champ Daniel Salel) had separated with Ritzenhein struggling to hold on a few meters behind. That pack would dwindle to just two over the next mile, however, as Chebii and Langat blitzed a 4:24 to break the rest of the field. The two men ran together until the late stages of the race until Chebii began to surge with about 500 meters to go to pull away for the seven-second victory. Ritzenhein was able to reel in Kipruto and came up just short of Salel, settling for fourth.
Top 10 results
1. Daniel Chebii, Kenya 27:55
2. Philip Langa, Kenya 28:02
3. Daniel Salel, Kenya 28:08
4. Dathan Ritzenhein, USA 28:12
5. Silas Kipruto, Kenya 28:30
6. Kevin Kochei, Kenya 28:35
7. Debeli Gezmu, Ethiopia 28:36
8. Abdi Abdirahman, USA 28:39
9. Eliud Ngetich, Kenya 28:58
10. Gabriel Geay, Tanzania 29:22
*Full results
Quick Take #1: Flanagan and Cragg are ready to roll in Rio
Using half marathon and 10k times to predict results in a warm championship marathon is an inexact science, but it's never a bad sign when you're running PRs a month and a half before one of the biggest races of your lives. Flanagan, amazingly, is only getting stronger with age; she turns 35 in 12 days but has run PRs on the roads for 5k, 10k (twice) and the half marathon over the past nine months.
For comparison's sake, when Flanagan ran her marathon PR of 2:21:14 in Berlin in 2014, she ran 31:27 on the roads eight weeks before; the women's Olympic marathon is seven weeks from today.
"We know Rio conditions may not be conducive to PRs and running super fast but I think it just shows that we're fit and ready to run with anyone in the world on any given day," Flanagan said.
Flanagan said that she and Cragg have been logging some intense training recently, including a very tough workout last weekend, and that this week was the first in their Rio buildup where they had not broken 100 miles. They decided to keep the two days before today's race short and easy so that their legs were feeling fresh, but Flanagan noted that they did not back off at all for the half marathon earlier this month in San Diego.
Now it's back up to altitude for the final preparations for Rio. Flanagan and Cragg said they will not run the Olympic Track Trials 10,000m next week and this was their last race before the Olympic marathon. Cragg said that she feels she's at the same fitness level she was for February's Trials. Flanagan was similarly confident, saying that it's now about playing defense and making sure everything goes smoothly over the next seven weeks rather than trying to make big gains in fitness.
"We just have to not mess it up now," Flanagan said.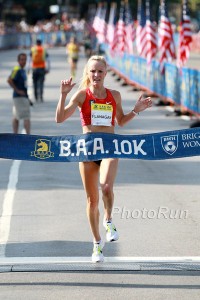 Quick Take #2: A special moment on home soil for Flanagan
Flanagan, a native of Marblehead, Mass., is very familiar with the streets of Boston, but this was her first non-marathon here since 2009. The crowd was certainly on her side, as a wave of "Go Shalane!" cheers made its way down Comm Ave as Flanagan ran alongside the masses heading in the opposite direction, and she said that she loved being able to inspire people through her running. With an American record and the win, in front of friends and family, it was the perfect day for Flanagan.
"I just felt like here I am at home, my dad's out here and I have family around," Flanagan said. "It just seemed like a really special way to do my last race right before Rio. So it kind of gives me chills even right now just thinking about it. From here, it's really beautiful."
Not everyone in Boston knows who Flanagan is, however. As I was riding the Green Line back to my apartment, I noticed a couple returning from the race. The woman was excited, pointing out that she had caught a glimpse of Flanagan during the race. The man's response: "Is she Irish?" The woman explained that, no, Flanagan was actually from Marblehead. The man's next question: "Is she good?" Yes, the woman explained, adding that she's running in the Olympics this summer.
Quick Take #3: A terrific run from 36-year-old Edna Kiplagat
Kiplagat, the 2011 and 2013 world champion in the marathon, is still going strong at age 36 as she ran a 12-second PR of 31:06 (she may want to send Flanagan a fruit basket as Flanagan acted as her de facto rabbit for the first five miles). That comes on the heels of solid clockings of 31:38 at the Healthy Kidney 10k in New York on May 14 and 31:25 at the Great Manchester 10k on May 22. Kiplagat was left off the Kenyan Olympic team — one of the hardest squads to make in any event — but with a fifth at Worlds last year, a second in Tokyo and her success over 10 kilometers this year, she still has plenty of tread on her tires and should be a factor in whatever major she enters this fall.
Quick Take #4: Back to the marathon for Ritz, who wants to land on the podium at a major U.S. marathon
Ritzenhein said it took a while to recover both physically and emotionally from the devastation of his DNF in Los Angeles in February. His initial plan was to come back and run the 10,000 at the Olympic Trials, but a few injuries caused him to miss some time and by the time he really got back to training, it was too late for him to get a qualifier. He admitted that "next week will suck" having to watch the Trials from home.
He was happy with his result today though, as he was only four seconds off his road PR even though he's only logged about four to five weeks of good training. Ritz said that he has no desire to return to the track and his focus now will be trying to finish on the podium at a major U.S. marathon (his best right now is a 5th in Chicago in 2013).
"I've ran 2:07 but I want to close that gap where I can finish strong," Ritzenhein said. "That's the biggest thing. My half marathons always go great, that's my bread and butter. I've ran really well in the marathon but I know that if I can close strong those last couple miles that I can be on the podium in one of these major marathons. So really, that's going to be the focus."
I also asked Ritz off-camera if he's planning on taking a run at a fourth Olympic team in 2020. He said that if I had asked him right after the Trials, he probably would have said no, but now that his competitive fire is back, he is planning on going through 2020 (when he will be 37).