Find Out What A Top Pro Track and Field Runner Makes: Boris Berian's New Balance Contract Offer Revealed
by LetsRun.com
June 4, 2016
Track and field fans, the wait is over. Unlike in other professional sports, very little is known about how much the top stars in our sport make.
The stars in track and field make the majority of their money through their shoe endorsement contracts and appearance fees, both of which are confidential.
Now thanks to the Nike filing suit against US 800m star Boris Berian to try to prevent him from running in New Balance gear, New Balance's contract offer to Berian has been filed as an exhibit with the District Court in Oregon.
Before we reveal the details below, we want you to pause and think for a second how much you think New Balance offered Berian to run for them.
Article continues below player.
Here are the facts: Berian came out of nowhere in 2015 to run 1:43.34 800m, which made him the fourth-fastest man in the world in 2015 and the fifth-fastest American ever. He was a new star in the US, but he did bomb out at USAs by not making the final.
New Balance offered Berian a base salary of $__________ for 2016, 2017, 2018. Plus there is a five-figure bonus each year and an increase in salary if Berian won an an Olympic or World Championship medal or had a top 5 world ranking or broke a world or American record. A five-figure bonus (but not increase in salary) was also possible for a PR  or Diamond League victory. Otherwise, he could get bonuses of a few thousand dollars for other things. Everything we can tell indicates this salary was guaranteed, but Nike contends it possibly could be reduced with poor performance.
So take a moment to guess what you think Berian's pay would be. We did this ourselves internally at LetsRun.com.
While you're thinking, never miss an article like this in the future. Like the LetsRun.com page on Facebook below and we'll start showing up in your feed.

You can also sign up for our newsletter.
Ok the wait will soon be over.
Let us add a few more lines, so you don't see the number by accident while you formulate an answer.
5…..
4…..
3…..
2…..
1…..
0….
And the correct answer is $125,000.
Below is the term sheet from New Balance to Berian.
It says Berian was to receive a salary of $125,000 each year in 2016, 2017, and 2018 with the potential to earn bonuses for doing well and even a bump in his base pay for doing really well (top 5 world ranking, making a World final).
We run through a few scenarios on what Berian could expect to make below and open this discussion up in our forums here.
Scenario #1- He keeps running great, PRs, and gets bronze at the Olympics – $227,500 earned in 2016 with bump in salary to $175,000 next two years
Berian is already off to a tremendously successful start to 2016. He won the NB Indoor Grand Prix ($3000 bonus), USA Indoors ($2000 bonus), World Indoors ($10,000 bonus), the Pre Classic (Diamond League $5000 bonus). So he would have already earned $20,000 in bonuses. If he goes on to win the Olympic Trials ($7,500 bonus), he'll be up to $27,500. If he PRs along the way ($15,000 bonus) that would almost assure him a US #1 ranking and an extra $10,000 so that would be $52,500 in bonuses. He would dwarf all of that with an extra $50,000 in bonuses with an Olympic bronze and an extra $50,000 in base pay the next two years.
Scenario #2- Does everything but medal at Olympics – Does all the above but finishes 4th at Olympics instead of 3rd and ends up world ranked #3 – $177,500 in 2016 with $135,000 next two years (3rd vs 4th would cost him $130,000)
Scenario #3- Successful but not the best -#2 in US indoors ($1000) and out ($5000), US ranked #2 ($5000) no PRs, but 3 ($1000 x 3) top-3s in Diamond League races, #8 world ranking (no bonus because US ranking $ is higher) – $139,000 in 2016 and $127,500 in base pay the next two years
Scenario #4- Good US runner who doesn't make Olympics – #4 at Trials ($0), 5th in 2 Diamond League meets ($0) ends up ranked #4 in USA $125,000 in 2016, same base in 2017 and 2018
Scenario $5 Gets hurt before Trials and is injured for most of 2017 and 2018 but pulls one out of nowhere to make Worlds in 2017 as US #3. He would still make $125,000 this year and in 2017 and 2018 if there are no reductions. He would get a $1000 bonus for finishing 3rd at USAs next year.
Reductions or as Outside Magazine wrote the  "dreaded 'reduction clause" are a key part of the Nike Berian lawsuit and we have an update on the lawsuit in a separate article: New Court Filings Reveal What the Nike vs. Boris Berian Lawsuit Is Really About  – The 'Dreaded' Reduction Clause.
Hopefully, Nike's proposed contract with reductions gets filed in the court case so we could see how much they propose docking Berian's pay if he does not perform to a certain standard.
In the meantime, all wee can see is how much it could get increased with positive performances. Here are the bonuses in one image: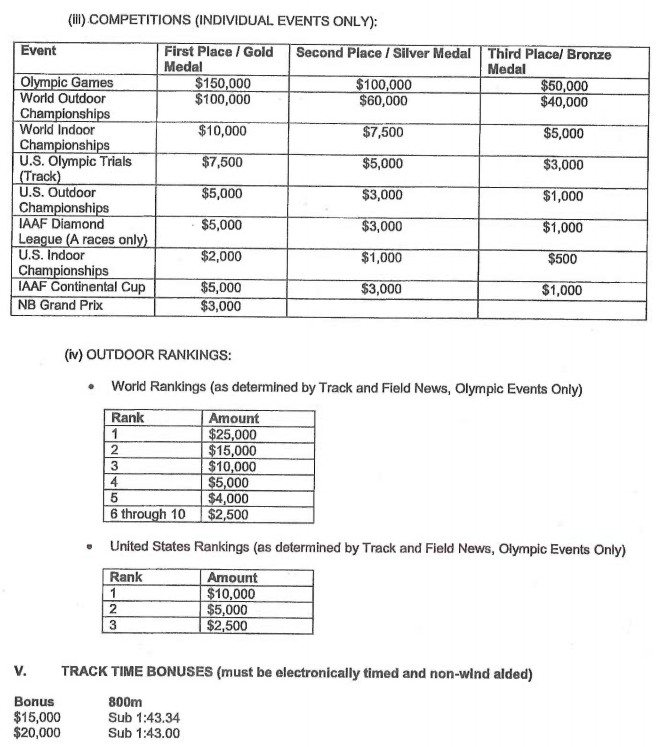 More: *Official Boris Berian Contract Discussion Thread
LRC Update on lawsuit: New Court Filings Reveal What the Nike vs. Boris Berian Lawsuit Is Really About  – The 'Dreaded' Reduction Clause.