Never Miss Out What Is Going on in the World of Running: Sign Up for the LetsRun.com Newsletter
by LetsRun.com
September 29, 2015
Don't come to LetsRun.com on a daily basis like you should? Thanks to popular demand LetsRun.com has a new snazzy newsletter.
The plan is to send the general newsletter out about once a week and when big news breaks.
Article continues below player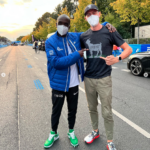 Kipchoge loves the 1:59:40 Shirt Get Yours Today
What a legend!
If you want more news from us we've got a few more options below that you can sign up for. We're open for ideas on our newsletters so email us at letsrun@letsrun.com.
If you already are getting our newsletters, you can manage your subscription by putting your email in the box below and hitting submit.
[raw]

[/raw]