2016 Boston Marathon Results, Tracking and Live Leaderboard
by LetsRun.com
April 18, 2016
The 2016 Boston Marathon is today. The best way to follow the race is to watch it live (either in person or on tv) while also talking about it and following the updates that we and the fans give on our world famous messageboard: MB: Official 2016 Boston Marathon Live Discussion Thread. 
To see a live leaderboard, go here. Tracking of individual runners is here. Top results will be posted below. Complete results will be here.
Article continues below player
Like our coverage from Albuquerque?
Men's Top 15 (Mile by Mile Splits below women's top 15)
| Place | Bib | Name | Official Time | State | Country | Ctz |
| --- | --- | --- | --- | --- | --- | --- |
| 1 | 5 | Hayle, Lemi Berhanu | 2:12:45 | | ETH | |
| 2 | 1 | Desisa, Lelisa | 2:13:32 | | ETH | |
| 3 | 6 | Tsegay, Yemane Adhane | 2:14:02 | | ETH | |
| 4 | 11 | Korir, Wesley | 2:14:05 | | KEN | |
| 5 | 14 | Lonyangata, Paul | 2:15:45 | | KEN | |
| 6 | 3 | Kitwara, Sammy | 2:16:43 | | KEN | |
| 7 | 9 | Chebogut, Stephen | 2:16:52 | | KEN | |
| 8 | 17 | Nageeye, Abdi | 2:18:05 | | NED | |
| 9 | 7 | Feleke, Getu | 2:18:46 | | ETH | |
| 10 | 43 | Hine, Zachary | 2:21:37 | TX | USA | |
| 11 | 16 | Nyasango, Cutbert | 2:22:02 | | ZIM | |
| 12 | 4 | Mekonnen, Tsegaye | 2:22:21 | | ETH | |
| 13 | 21 | Burrell, Ian | 2:22:22 | CO | USA | |
| 14 | 15 | Kiprop, Jackson | 2:24:44 | | UGA | |
| 15 | 27 | Okuti, Harbert | 2:24:46 | NY | USA | UGA |
Women's Top 15 (Mile by mile splits below)
| Place | Bib | Name | Official Time | State | Country | Ctz |
| --- | --- | --- | --- | --- | --- | --- |
| 1 | F6 | Baysa, Atsede | 2:29:19 | | ETH | |
| 2 | F4 | Tsegaye, Tirfi | 2:30:03 | | ETH | |
| 3 | F11 | Chepkirui, Joyce | 2:30:50 | | KEN | |
| 4 | F9 | Prokopcuka, Jelena | 2:32:28 | | LAT | |
| 5 | F10 | Kipketer, Valentine | 2:33:13 | | KEN | |
| 6 | F7 | Daniel, Flomena Cheyech | 2:33:40 | | KEN | |
| 7 | F3 | Deba, Buzunesh | 2:33:56 | | ETH | |
| 8 | F15 | Tola, Fate | 2:34:38 | | ETH | |
| 9 | F18 | Spence Gracey, Neely | 2:35:00 | CO | USA | |
| 10 | F5 | Daska, Mamitu | 2:37:31 | | ETH | |
| 11 | F17 | Crouch, Sarah | 2:37:36 | NC | USA | |
| 12 | F20 | Shimokado, Miharu | 2:39:21 | | JPN | |
| 13 | F14 | Beriso, Amane | 2:39:38 | | ETH | |
| 14 | F2 | Gelana, Tiki | 2:42:38 | | ETH | |
| 15 | F8 | Bekele, Tadelech | 2:44:20 | | ETH | |
Men's mile by mile splits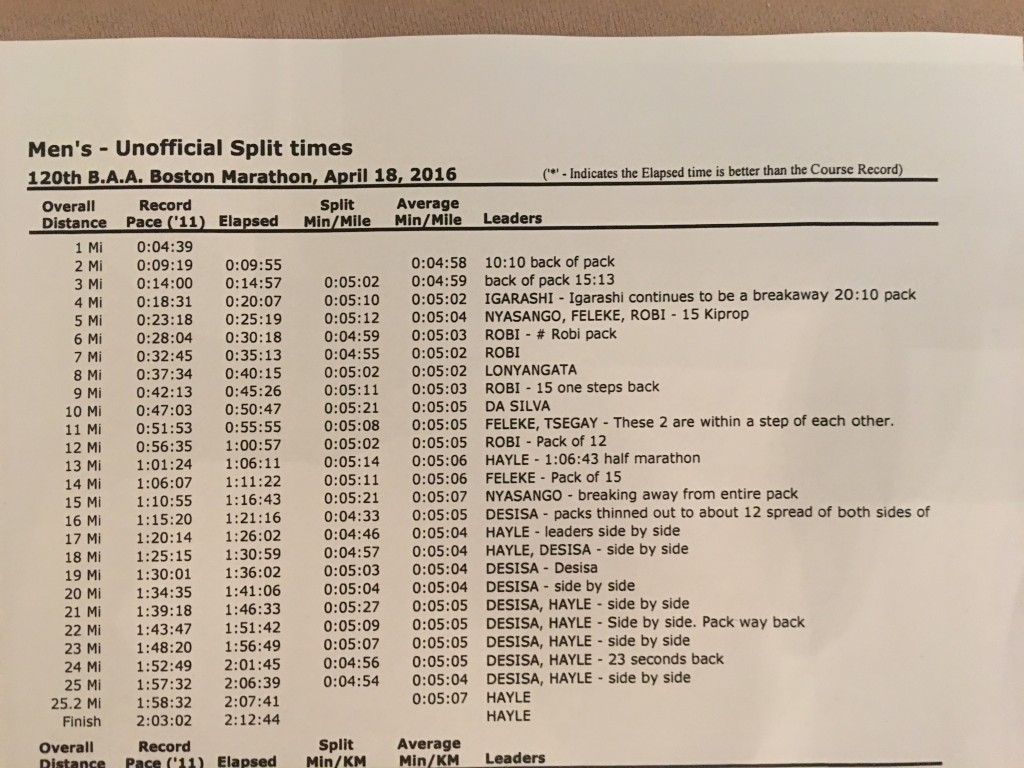 Women's Mile by mile splits