Chris O'Hare (4:10.2) and Brook Handler (4:49.6) Win 2016 B.A.A. Invitational Miles
By LetsRun.com
April 16, 2016
BOSTON — Chris O'Hare and Brook Handler earned titles at the 2016 B.A.A. Invitational Miles on Saturday morning. Crossing the same finish line the marathoners will on Monday, O'Hare and Handler both moved late to claim the $3,000 first place prizes.
O'Hare looked comfortable in claiming the win in 4:10.2, holding off Kemoy Campbell on the home stretch down Boylston Street, while Handler responded to Heather Kampf's late move on the final turn and launched one of her own, edging Kampf out for the win, 4:49.6 to 4:49.8. It marked the third consecutive runner-up finish for Kampf in this race.
Article continues below player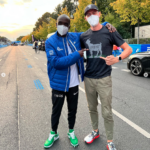 Kipchoge loves the 1:59:40 Shirt Get Yours Today
What a legend!
Both of the professional three-lap races, which were run in windy conditions, were tactical affairs with the entire fields together at the bell. O'Hare powered to victory by taking over from Frezer Legesse on the final lap and gradually ratcheting up the pace, while Handler used a tip from famed coach Ron Warhurst to move on the backstretch. In the end, her positioning was key as she beat Kampf to the punch and was able to run on the inside of the final turns, granting her the cushion she needed to claim the victory.
In the boys' high school mile, brothers Thomas and Matt D'Anieri of Wellesley High (coached by 2004 Olympian Tim Broe) crossed the line together for the win in 4:33.1 (officially, Thomas was first and Matt was second). Rebecca Grusby of Newton won the girls' HS mile in 5:29.1.
Resuts, interviews and analysis appear below.
Full results of middle school/HS/pro miles.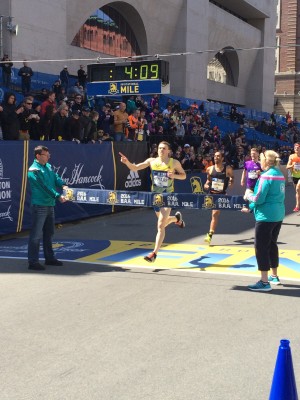 Men's pro results
| Place | Bib | Name | Country | Time |
| --- | --- | --- | --- | --- |
| 1 | 4 | Chris O'Hare | GBR | 4:10.2 |
| 2 | 8 | Kemoy Campbell | JAM | 4:10.6 |
| 3 | 7 | Trevor Dunbar | USA | 4:11.0 |
| 4 | 1 | Duncan Phillips | USA | 4:11.4 |
| 5 | 6 | Julian Matthews | AUS | 4:11.6 |
| 6 | 5 | Daniel Winn | USA | 4:12.1 |
| 7 | 3 | Frezer Legesse | USA | 4:16.1 |
| 8 | 2 | Matt Hillenbrand | USA | 4:17.0 |
Women's pro results
| Place | Bib | Name | Country | Time |
| --- | --- | --- | --- | --- |
| 1 | 5 | Brook Handler | USA | 4:49.6 |
| 2 | 3 | Heather Kampf | USA | 4:49.8 |
| 3 | 2 | Emily Lipari | USA | 4:50.8 |
| 4 | 6 | Christy Cazzola | USA | 4:50.9 |
| 5 | 1 | Becca Addison | USA | 4:52.6 |
Quick Take #1: Boston → Albuquerque → Germany for Chris O'Hare
O'Hare took a week off after World Indoors (where he finished 8th in the 1500) before getting back into things in his training base of Boston. Coach Terrence Mahon introduced a new lifting routine for O'Hare, which took him a little while to get used to, but he looked strong today in his first outdoor race of 2016. O'Hare is now heading to Albuquerque for some altitude training before jetting off to Europe for a few races in the late spring/early summer (he'll stay in Germany between races).
Quick Take #2: New Boston resident Kemoy Campbell was pleased with his run
Campbell was pleased with his second-place finish in the mile and was excited to race in his new hometown of Boston. Campbell has been training under New Balance's Mark Coogan but only moved to Boston three days ago. He's still looking for a place to live so if you've got an extra room, let him know.
Next up for him is Payton Jordan where he hopes to break 13:10 for the first time in his career. Given the fact that he ran his 13:20.39 at Stanford last year, which is under the Olympic standard, Campbell is assured of a spot for the 2016 Olympics for Jamaica barring injury.
Quick Take #3: Brook Handler used some advice from Ron Warhurst to spring the upset
Handler, a 2015 Michigan graduate who still trains in Ann Arbor under Mike McGuire, had a rough adjustment to the pro lifestyle and said her indoor season was "terrible" (she did not run USAs, her best mile was 4:36.87). But a trip to visit her father in Florida over spring break refreshed her and now that training partner Becca Addison is healthy again, Handler is running well.
Handler ran into Ron Warhurst, who coached Nick Willis to wins here in 2013 and 2014, at the track earlier this week and he advised her to move on the backstretch of the final lap. She did just that and the advice paid off with another win.
Quick Take #4: Road mile queen Heather Kampf can't quite conquer Boston
Kampf had the same gameplan as Handler — put in a move on the backstretch to gain inside position and hold the lead until the finish — but Handler got there first, forcing Kampf to go wide on the turns. Kampf was able to swing wide on the final turn onto Boylston Street and even had the lead for a few steps, but Handler responded and that was that.
Though the B.A.A. Mile is a loop course (as opposed to most road miles, which are normally straight shots), Kampf said that wasn't the only reason she has yet to win in Boston. Last year, Kampf simply underestimated Dawit Seyaum (who earned World Indoor silver last month in Portland), trusting that she would fall back (she didn't). This year, Kampf had the fitness and the tactics to win but didn't execute them properly.