WTW: Nationals Galore, D2 > D1?, NCAA > USATF?, Super-Fast Collegiate Sprinting And Super-High Women's Vaulting, And Meet The Unknown 58:44 Half Marathoner
The Week That Was In Running – March 7 – March 13, 2016
by LetsRun.com
March 15, 2016
What a week – both the U.S. and NCAA Indoors were taking place (as well as the New Balance HS nationals). If you missed our extensive on-site coverage of 2016 USAs and 2016 NCAAs, you can re-live it by clicking on those links. Many more thoughts about last week appear below.
Article continues below player
Past editions of The Week That Was can be found here. Questions or comments? Please email us or post them on our running message board.
****
We all know that Oregon hurdler Devon Allen is amazing, right? As a true frosh, he won USAs and NCAAs in 13.16. Well one of the more heart-warming stories of the 2016 NCAA DI championships was that Allen came back from the knee injury that kept him from competing in 2015 in fine form as he won the men's 60m hurdles in a new pb of 7.56 even though he hit every single hurdle in the race. That's very impressive considering his freshman year his indoor pb was just 7.83.
Guess what? Allen wouldn't have been the winner at the NCAA DII Indoor Champs as Minnesota State junior Myles Hunter won the race in 7.53.
The NCAA DII and DIII meets were also held last week and Hunter was far from the only DII or DIII athlete to win an NCAA title with a mark superior to the DI ranks. Here are the other ones:
NCAA DII Men's Long Jump. Lincoln sophomore Sedeekie Edie won the long jump in 26'1.75″ (7.97m) whereas the DI winner, senior Jarrion Lawson of Arkansas, jumped 26'1″ (7.95m).
NCAA DII Women's Weight Throw – Winona State sophomore Kaitlyn Long won with a massive heave of 74'5.75″ (22.70m) whereas the DI winner, senior Vesta Bell of UC Riverside, threw 73'06.75″ (22.42m),
NCAA DII Women's Mile – Hillsdale senior Emily Oren ran 4:35.48 for the win which is .14 faster than what Oklahoma State junior Kaela Edwards ran (Oren's run came after anchoring the DMR to victory the night before and before winning the 3k). 
NCAA DIII Pole Vault – North Central sophomore Luke Winder won the men's pole vault at 18'1.25″ (5.52m) which was better than the 18'00.50″ (5.48) that Washington senior Jax Thoirs vaulted to win the DI meet.
More from our world famous fan forum/messageboard: *MB: Don't call them the Baby Nationals. At least 5 marks from D2 and D3 meet would have won at the 2016 NCAA D1 Meet!!!
*MB: Oregon's Devon Allen knocks down every single hurdle to win NCAA 60mH
*MB: Devon Allen proves Phoenix AZ produces the most BEASTS 
*MB: The Infamous Baby Nationals Thread From 2008
At USAs, former DII 800 star Drew Windle made the final and talked a little about moving up to the pro ranks from DII.
##
In case you are wondering, here are the events where the winning mark at NCAAs was better than USAs.
Men's 60m: Ronnie Baker (TCU) 6.47 (Marvin Bracy (adidas) won USAs in 6.51)
Men's 800: Clayton Murphy (Akron) 1:46.68 (Boris Berian (Big Bear) won USAs in 1:47.19)
Men's Shot: Ryan Crouser (Texas) 69′ 9.75″ (21.28m) (Kurt Roberts (Nike) won USAs in 65′ 10.50″ (20.08m))
Women's 400: Courtney Okolo (Texas) 50.69 (Quanera Hayes (Nike) won USAs in 51.09)
Women's TJ: Keturah Orji (Georgia) won in 46'3″ (Christina Epps (adidas) won USAs at 46'01.25″)
****
The Men's 60m Was Great At NCAAs – There Is Plenty of Sprint Talent Left At The NCAA Level
The men's 60 at the 2016 NCAA champs was special. Houston junior Cameron Burrell, the son of former 100m world record holder Leroy Burrell (9.90 pb who also is Cameron's coach at Houston), set an NCAA meet record of 6.50 (old record was 6.51) in the prelims. In the final, Burrell ran even faster, 6.49, but he lost as TCU senior Ronnie Baker came from behind to nip him at the line in 6.47. 6.47 is quite fast. It's the world leader for 2016, it puts Baker into a tie at #10 all-time in U.S. history and is also the fastest time ever run by a collegian not at altitude.
In reality, Baker's mark should be considered to be the collegiate record. Three altitude performers have gone faster with the absolute fastest being BYU's Leonard Myles-Mills' 6.45 from 1999, but that was run in Colorado Springs, and if run this year, the NCAA altitude converter would convert it back to 6.49. Marcus Brunson of Arizona ran 6.46 in 1999 in Flagstaff, which converts back to 6.50 according to the NCAA.
The fast 60m runs were a clear indication that the NCAA men's 100m is still going to be a barn burner this year. Don't assume just because the reigning World Championship bronze medallists Trayvon Bromell and Andre De Grasse went pro that there is a dearth of talent in the marquee event in track and field. Last year, 11 collegians broke 10.00 outdoors in the 100m (counting wind-aided times) and only two of those guys were seniors. Baker, who didn't get to run the 100m at NCAAs last year as he false started at regionals, ran a 9.94 at USAs with a wind just barely over the legal limit (2.1 m/s). Burrell didn't sprint last year outdoors. He only did the long jump (6th at USAs) but he ran a windy 10.13 in HS in 2013. We interviewed both Burrell and Baker after their NCAA meet records. Baker revealed he loves helping out on the 4 x 400 outdoors, where he's split 44.5.
Cameron Burrell
Ronnie Baker – The World's Fastest Man In 2016 (So Far)
****
Someone Break Up The U.S. Pole Vaulters / Meet Arkansas' Latest Pole Vaulting Star
Last week, two of the bigger stories on the field side of things were the excellent vaulting by past and current Arkansas Razorbacks.
The pole vault at USAs was incredible. 2015 NCAA Indoor champ Sandi Morris, formerly of Arkansas, now of Nike, got the win over world record holder Jenn Suhr with a 4.95m clearance.
Last year at NCAAs, Morris vaulting for Arkansas won her one and only NCAA title with 15'1″ (4.60m). She'd go on and finish 4th at Worlds later in the year.
At USAs this past weekend, Morris's massive 16'2.75″ (4.95m) clearance was a huge pb of nearly four inches (previous best was 15'9″ or 4.80m). 16'2.75″ makes Morris the third-best vaulter in history as only indoor world record holder Jenn Suhr (5.03m) and outdoor record holder Yelena Isinbayeva (5.06m; Isinbayeva has also done 5.01m indoors) have vaulted higher. Suhr was second at USAs, clearing 16'00.75″ (4.90m) with 2015 NCAA outdoor champ Demi Payne third at 15'11" (4.85). One has to feel a little bit bad for Payne. 15'11" is a mark bettered by only six women in indoor history and yet Payne isn't going to Worlds as half of them (Suhr, Morris and Payne) were in the field at USAs.
The Top 6 Indoor Vaulters in History
        1      5.03       Jennifer Suhr                  USA     06.02.82    1      Brockport                30.01.2016


        2      5.01       Yelena Isinbayeva              RUS     03.06.82    1      Stockholm                23.02.2012


        3      4.95       Sandi Morris                   USA     08.07.92    1      Portland                 12.03.2016




        4      4.90       Ekateríni Stefanídi            GRE     04.02.90    1      New York City            20.02.2016
        5      4.90       Demi Payne                     USA     30.09.91    2      New York City            20.02.2016


        6      4.87      Holly Bradshaw                  GBR     02.11.91    1      Villeurbanne              20.01.2012

The Top 4 Outdoor Vaulters in History
1    5.06        Yelena Isinbayeva              RUS  3 Jun 82 174/65  1        WK           Zürich                   28 Aug 2009
2    4.92        Jenn Suhr                      USA  5 Feb 82 180/64  1        NC           Eugene OR                  6 Jul 2008
3    4.91        Yarisley Silva                 CUB  1 Jun 87 169/68  1                     Beckum                     2 Aug 2015
4    4.88        Svetlana Feofanova             RUS 16 Jul 80 163/50  1        Tsiklitiria  Iráklio                   4 Jul 2004
So the Arkansas Razorbacks graduated Morris, one of the best vaulters in world history, but one would hardly know it from looking at the results at NCAAs. Hell, Morris barely is clinging on to the Arkansas indoor school record. How so? Well freshman Lexi Weeks, who set the indoor HS record last year of 14'7.5″, is picking up right where Morris left off. Weeks already has as many NCAA titles as Morris as Weeks won NCAAs last week in a new meet-record height of 15'2.25″ (4.63m). Morris' school record is 15'3.5″.
Here is a picture of Lexi by Mike Scott after her big clearance.
Well at least we think it's Lexi based on the reaction but we don't see a hip or bib number and she is an identical twin. Her sister, Victoria, also a freshman at Arkansas, was sixth at 14'1.25″ (4.30m) at NCAAs.
Sandi Morris after joining the 16′ club
More: *LRC Sandi Morris Joins The 16-Foot Club
*2015 NYT: Twin Pole-Vaulters Reach the Height of Alikeness
###
Props also need to go out to Texas senior Courtney Okolo, who dipped under the 51-second barrier for the first time indoors in winning the NCAA crown in 50.69. Okolo is now the third-fastest indoor collegian in history.
Top 3 NCAA Women's Indoor 400 Times
1. 50.46*   Phyllis Francis (Oregon)   03/15/14
2. 50.54   Francena McCorory (Hampton)   03/13/10
3. 50.69   Courtney Okolo (Texas)   03/12/16
*Run at altitude, converts to 50.57.
****
Biggest Upset of the Week
Not everyone was excelling at NCAAs. There was one huge shocker (in a negative sense).
Ole Miss sophomore Raven Saunders won two NCAA shot put titles as a frosh for Southern Illinois last year. She followed her coaches Connie Price-Smith and John Smith to Ole Miss this year and was having a monster year up until NCAAs. Considering that Saunders had thrown more than two feet farther indoors this year than last, that her season best of 63'1.25″ (19.23m) was the farthest throw in NCAA history (indoors or out), and that she's #2 in the world for 2016, it's safe to say that she was a HUGE favorite to win NCAA title #3. The #2 mark in the NCAA on the year before NCAA was 17.93 – a mark that Saunders had surpassed 14 times this year.
At NCAAs, Saunders didn't even make the final as she only threw 54'05.25″ (16.59m) in round 1 and fouled her second and third throws. She finished 12th out of 16 in the competition won by Kansas State senior Dani Winters at 58'11.50″ (17.97m).
****
Stat of the Week I
Speaking of not excelling…
14th place (15 points) – finish of the #1-ranked Florida women's team at NCAAs. It's safe to say the Gators didn't have a good meet.
***
Quote of the Week (that wasn't quote of the day)
"I would describe it as a love and hate day – kind of. I would say I had a good day in some events, a disappointing day in other events but all together I felt like I lifted myself up and I really showed that I'm a true champion."
-Kansas State multi star Akela Jones, talking moments after dropping out of the 800 in the women's pentathlon at NCAAs.
We're not sure if we've have used the word "true champion" after dropping out of a competition but Jones certainly showed herself to be "an incredible athlete." In the first event of the multi, Jones fell on the last hurdle and only scored 540 points after running 10.98. Jones didn't wallow in self-pity however as in the very next event, she put up the highest high jump in NCAA history, 6'6" (1.98 m). Yes, the highest jump ever – not just the highest jump in pentathlon history. Then in the third event, she jumped 22'3.75" (6.80m) in the long jump to move herself into the top 10 all-time in NCAA indoor history.
Heading into the 800, the final event of the pentathlon, Jones was in contention to finish second as if she ran 2:21.1, a time that 10 of the 13 finishers broke, she'd have finished 2nd. 2:21.1 might have been a stretch as Jones' PR is 2:25, but even a 2:33.8 would have placed her 6th. So what did Jones run? She dropped out shortly after running the first lap in 31.58.
When we asked her why she dropped out she said,  "I just felt like I had had enough for the day kind of. I had to listen to my body. I just felt like it was time to close it down after falling, and after getting back up. It was just too much emotions and I had to listen to my body – it was a little tired."
We know the old-timers would assume that since Jones dropped out of the 800 without an injury she would be done for the rest of the meet. Far from it. She was given credit for finishing the heptathlon in 14th place and was allowed to compete in and win the high jump on Saturday with a 6'1.5″ clearance.
MB: Can someone tell us why Akela Jones was allowed to do HJ on day 2 after abandoning the pentathlon 800 on day 1?
Audio-Only Interview With Kansas State Star Akela Jones After She Dropped Out Of The 800
https://soundcloud.com/letsrun-com/akela-jones-talks-after-2016-ncaa-indoor-meet
****
There Was Some Hot Action On The Roads
There were two large cash prizes on the line in U.S. road races last week but we doubt you heard about them – at least on our site – as there wasn't much space on the homepage for it given the fact that both NCAAs and USAs were going on. You can see the results below via Race Results Weekly. If you want results like that emailed to you every Monday, subscribe now.
Gate River Run 15-K (39th)
(U.S. 15-K Championships for Men and Women)
Jacksonville, FL; Saturday, March 12
Distance: 15 km, certified (FL16004TY) standard course
Finishers: 6448 men + 7950 women = 14,398 total (down from 14,901 last year)
Prize Money: For U.S. athletes only in open individual competition; masters from any nation eligible for prize money (double-dipping permitted
Course Records: Men, 42:22, Todd Williams, 1995 (also North American record); Women, 47:00, Shalane Flanagan, 2014 (also North American record)
Weather: Warm, sunny and humid
Race History: http://www.arrs.net/HP_Jax15.htm
Race Director: Doug Alred
NOTE: The 6-minute headstart the women get here over the men and masses was big enough for Tara Welling to be the first athlete to cross the finish line, allowing her to pocket $5000 gender battle bonus by just three seconds –Ed.
MEN (gun times) –
1. Stanley Kebenei, 26, Tucson, AZ            44:37 PB $12,000
2. Shadrack Kipchirchir, 27, Beaverton, OR    44:40 PB   5,000
3. Christo Landry, 29, Charlotte, NO          44:42      3,000
4. Craig Lutz, 23, Flagstaff, AZ              44:49 PB   2,000
5. Abbabiya Simbassa, 22, Flagstaff, AZ       45:00 PB   1,000
6. Martin Hehir, 23, Syracuse, NY             45:01 PB     900
7. Alex Monroe, 22, Lyons, CO                 45:12 PB     800
8. Reed Connor, 25, High Bridge, NJ           45:14 PB     700
9. Tim Ritchie, 28, Brighton, MA              45:21        600
10. Eric Finan, 26, Eugene, OR                 46:07 PB     500
11. Matt Daniels, 27, Evergreen, CO            46:14
12. Cameron Marantz, 28, Philadelphia, PA      46:21
13. Andy Wacker, 27, Boulder, CO               46:25
14. Dan Lowry, 26, Boston, MA                  46:49
15. Louis Serafini, 24, Boston, MA             47:09
16. Cory Keehn, 23, Hays, KS                   47:15
17. Sam Jibril, 26, CAN                        47:20
ALL WOMEN' PROFESSIONAL RACE (gun times) –
1. Tara Welling, 26, Portland, OR             50:34 PB $12,000 + 5000g
2. Stephanie Bruce, 32, Flagstaff, AZ         51:13      5,000
3. Lindsey Scherf, 29, High Falls, NY         51:23      3,000
4. Katie Matthews, 25, Brighton, MA           51:34      2,000
5. Sarah Pagano, 24, Brighton, MA             52:04 PB   1,000
6. Alisha Williams, 34, Golden, CO            52:32        900
7. Maddie Van Beek, 24, Fargo, ND             53:00 PB     800
8. Katrina Spratford, 25, Woonsocket, RI      53:47 PB     700
9. Hillary Montgomery, 23, Spring, TX         54:44 PB     600
10. Mattie Suver, 28, Colorado Springs, CO     54:48        500
11. Hannah Davidson, 25, Saratoga Springs, NY  54:58
12. Zoila Gomez, 36, Alamosa, CO               55:28
13. Heather Cappello, 36, Somerville, MA       55:31
14. Samantha Malmfeldt, 25, Youngstown, OH     56:23
15. Jessie Rubin, 23, Portland, OR             56:37
g = Won gender battle bonus
OPEN WOMEN –
1. Sonia Samuels, 36, GBR                     52:17
With the Olympic Marathon Trials taking place a month ago and USAs being held on the same weekend, the fields weren't as strong as usual and that, combined with the warm, humid weather, meant slow times. No one had won the men's race with a slower time than Stanley Kebenei's 44:37 since 1980; Tara Welling's 50:34 was the slowest winning women's time since 1998.
For Kebenei, a steeple specialist, to take down a bunch of distance guys including 2015 World Championship 10,000 qualifier Shadrack Kipchirchir, is a great sign for his strength. He'll need to be in good form this year as the U.S. has never been deeper in the steeple. World Championship finalists Dan Huling, Evan Jager and Donn Cabral will all be back, Cory Leslie has been running great indoors and now Kebenei's showed he's in shape too. Plus Andy Bayer has been on the upswing over the last two years.
For Welling, now being coached by High Performance West's Jonathan Marcus, the 15K represented her first national title. She hasn't run a USA track championship since 2013, when she placed 3rd in the 10,000, and with Molly Huddle and Emily Infeld in the event, making the Olympic team will be a real challenge. But Welling's got a far better chance of doing that than she did a year ago, when she tore her hamstring and quit the sport for a couple of months.
Shamrockin' Run 8-K
New Orleans, LA, USA; Sunday, March 13
Distance: 8 km, certified (LA14003JF), flat, record-standard, 2.5-lap course with no elevation change and negligible start/finish separation (open runners use a different course with 70% start/finish separation)
Finishers: 1081 (down from 1496 last year)
Prize Money: See primary details below
MEN (gun times) –
1. Tolossa Gedefa, ETH         22:40 PB $5000
2. Eliud Ngetich, KEN          22:42 PB  3000
3. Julius Kogo, KEN            22:46   2000
4. Mourad Marofit, MAR         23:01   1000
5. Haile Mengesha Tegegn, ETH  23:10    750
6. Lawi Lalang, KEN            23:23    500
7. Kenneth Rotich, KEN         23:34    250
8. Haron Lagat, KEN            23:41
9. Benson Cheruiyot, KEN       24:05
10. Abdisa Sorri, ETH           24:17
11. Sammy Rotich, KEN           24:24
WOMEN (gun times) –
1. Buze Diriba, ETH            25:56  $5000
2. Etalemahu Habtewold, ETH    26:09   3000
3. Pauline Mutuwa, KEN         26:37   2000
4. Sarah Kiptoo, KEN           26:44   1000
5. Mary Wangui, KEN            26:59    750
6. Veronicah Maina, KEN        27:17    500
7. Susan Jerotich, KEN         28:20    250
8. Gladys Cheboi, KEN          28:36
****
Who the Heck Is Solomon Kirwa Yego?
The answer: the fourth-fastest half marathoner in history as Solomon Kirwa Yego (not to be confused with 2007 world 800 champ Alfred Kirwa Yego) ran a 58:44 half marathon at the 42nd Maratonina Roma-Ostia over the weekend. Technically the Rome-Ostia course on which Yego ran his 58:44 is not record-eligible, but 58:44 is flying.
Looking solely at times, Yego's progression is unbelievable. He's either 28 or 29 (we could not find his exact date of birth) but entering last year, he had never run faster than 61:34 for the half. And it's not like he wasn't racing a lot: he ran 24 half marathons from 2010-2014, including 11 in 2012 alone.
After switching coaches and managers in 2015, Yego has cut back on his racing the last two years (he ran three half marathons last year; Rome-Ostia was his first of 2016) but even with a more sensible racing schedule, his progression is crazy. He ran 60:47 in April 2015, 60:06 in September 2015 and now 58:44 in March 2016. So in less than a year, he's cut off 1:50 from his half marathon pb. 28-year-old 61:34 guys don't normally do that.
Drug-testing in Kenya has been extremely lax over the past few years, and Kenya was placed on probation by WADA last month for not doing enough to tackle its doping problem, so we don't blame you if you're a bit skeptical of Yego's performance (he was not tested by the IAAF in 2015). We just hope that now that he's a 58:44 guy he'll be tested a lot, which will give him a chance to show his improvement is due to hard work.
Or divine intervention. In reality, we think Yego ran so fast in Rome for the same reason that everyone ran so fast in Boston in 2011 – they were aided by a big tailwind. Yego was far from the only person to run fast in Italy. The top nine male finishers and eight of the top 10 women's finishers all ran PRs.
The course is point-to-point. It starts with a loop in the city but then is a straight shot down Via Cristoforo Colombo to the beach in Ostia.
Yes, it was windy on Sunday according to Renato Canova as well as WeatherUnderground which confirms there was a 11-16 mph wind out of the North-Northeast during the race, which started at 7 a.m.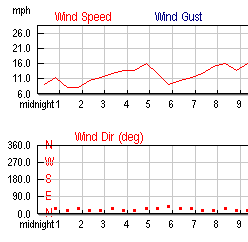 One other thing about the course. It also features an elevation drop of 20m, which is more than 65 feet (elevation here). Remember, LetsRun.com coaching / stat guru John Kellogg says that every 10 feet in elevation loss helps you by 1.8 seconds so 65 feet aids you by more than 11 seconds.
Though the splits in the IAAF recap seem hard to believe (14:45 for the first 5k, 13:20 for the second 5k), the wind could explain much of that as the opening loop takes close to 4k to complete. The 2nd 5k is a total straight shot.
Canova discusses Yego's progression and the status of testing in Kenya in this thread: MB: Kirwa Yego just ran 58:44. If you asked us, we say we doubt he ran much faster than 60:00 on a non-aided course and we feel sorry for the guys who debuted on the course as they may not ever break their debut time.
Results
MEN (gun times) –
1. Solomon Kirwa Yego, KEN          58:44 WL/PB/CR* PB by 1:20
2. Leonard Kipkoech Langat, KEN     59:18 PB – PB by 0:34
3. Remmy Limo Ndiwa, KEN          1:00:06 PB – debut by 2006 world junior champ at 1500 (3:32.83  1500 pb).
4. Peter Kwemoi Ndorobo, KEN      1:00:13 PB PR by 1:25
5. Tulu Wami Kebede, ETH          1:01:11 PB – debut by 20-year old.
6. Kennedy Kipyego, KEN           1:01:21 PB – debut
7. Roman Prodius, MDA             1:03:37 PB – PB by 0:47
8. Xavier Chevrier, ITA           1:03:43 PB – debut
9. Derek Hawkins, GBR             1:03:53 PB – PB by 0:14 (andh is previous pb came on a p2p course)
10. Simone Gariboldi, ITA          1:03:59
11. Jaouad Zain, MAR               1:04:44
12. Sergey Lebid, UKR              1:05:18
13. Francesco Bona, ITA            1:05:33
14. Oleksandr Sitkovskyy, UKR      1:05:35
15. Carmine Buccilli, ITA          1:06:05
*Course record; previous 59:15, Wilson Kiprop (KEN), 2013
WOMEN (gun times) –
1. Worknesh Degefa Debele, ETH    1:07:08 PB – PB by 0:06
2. Angela Jemesunde Tanui, KEN    1:07:16 PB – PB by 1:25
3. Magdalyne Yeko Masai, KEN      1:07:31 PB – debut
4. Marta Lema Megra, ETH          1:07:58 PB – PB by 9:00 (for 13.1 although she is a 2:24 marathoner)
5. Penninah Jerop Arusei, KEN     1:09:08
6. Emmaculete Jebet, KEN          1:10:39 PB – PB by 4:01
7. Martha Akeno, KEN              1:11:11
8. Federica Dal Ri, ITA           1:14:47 PB
9. Judith Varga, HUN              1:14:57 PB
10. Federica Proietti, ITA         1:15:16 PB
11. Anna Nosenko, UKR              1:17:21
12. Anna Alberti, ITA              1:17:44 PB
13. Manuela Manca, ITA             1:17:43 PB
14. Paola Salvatori, ITA           1:18:46 PB
15. Francesca Barneschi, ITA       1:23:32
****
Stat of the Week II
2:25:26 – fastest women's marathon time ever run on Spanish soil, now that Kenya's Valerie Aiyabei ran that last weekend to win the Zurich Marató de Barcelona. Aieyabei came into the race with a best of 2:30:19 but ran a big PR thanks to the help of a male pacer (previous all-comers record was Marisa Barros' 2:26:03 set back in 2009). 2012 Dubai runner-up (2:04:50 pb), Dino Sefir got the win in the men's race in 2:09:31.
More: AIYABEI SETS SPANISH ALL-COMERS' RECORD AT THE BARCELONA MARATHON
***
Sydney McLaughlin Amazes at New Balance Indoor Nationals
McLaughlin, a 16-year-old junior at Union Catholic (N.J.) has been drawing praise from LRC for years for her dominance in the 400 hurdles. On Sunday, she showed she's not too bad at the flat races either as she broke Francena McCorory's national high school record by running 51.84 at the Armory. It also surpassed Sanya Richards' all-time world youth best of 52.10. Unfortunately for McLaughlin, the world youth outdoor best in the flat 400 is basically untouchable. China's Li Jing owns the highly dubious record, running 50.01 in 1997. For perspective, only two women in the world broke 50 in all of 2014.
VIDEO: NJ's Sydney McLaughlin sets national high school indoor record in 400
In terms of distance action, the main story was the continued dominance of the NXN and Foot Locker champs Katie Rainsberger and Weini Kelati, who also continued to not clash with each other.
Kelati set a new meet record of 16:08.83 in the 5000m, breaking current Notre Dame freshman Anna Rohrer's meet record as the 5000 record was broken for the sixth year in a row. She then returned two days later and easily won the 2-mile in 10:02.71.
Rainsberger broke Alexa Efraimson's meet record in the girls mile, running 4:36.61 with junior Kate Murphy of Virginia second in 4:39.47. In the 800, which had a winner not named Kelati or Rainsberger, the winner was of course junior Samantha Watson of Henrietta, N.Y., in 2:05.11.
In case you forgot, Watson was second in the 400 at outdoor nationals as a freshman. Last year, as a sophomore, from a standing start, she ran 52.69 for 400 at the NY state meet, then won the outdoor nationals at 800 before running 2:03:54 to win the World Youth gold medal.
In boys distance action, the mid-d and distance winners were as follows:
800: Michael Slagowski         16 Boise, ID              1:50.29
1 Mile: Reed Brown                17 Southlake, TX          4:09.95
2 Mile: Garek Bielaczyc           16 Salt Lake City, UT     8:57.03
5K: Eric van der Els          16 Norwalk, CT           14:42.41
But the marquee name at the meet was of course sub-4 miler Drew Hunter, who ran the DMR with his teammates. Kudos to meet sponsor New Balance for playing up Hunter's appearance with an amazing billboard:
The Jungle TC! DMR Champs not only because of @drewhunter00 but because all 4 guys did work!! #TeamVa pic.twitter.com/Alm6gHIpXi

— MileStat.com (@milestatdotcom) March 12, 2016
And yes, Hunter's Loudoun Valley (VA) team won the DMR as Hunter hunted down River Dale's (NJ) Will Daly (Penn recruit) on the anchor leg. Daly started with a 7-second lead and split 4:12.86  4:11.90 but Hunter split 4:05.26 4:04.32 and got the win. Thomas Ratcliffe (Stanford recruit) ran the best split of the evening in 4:04.00 4:02.34 as his Concord-Carlise (MA) team took third.
And while we're talking New Balance Nationals, check out this photo from Heat 3 of the Emerging Elite Boys' 4x800m relay.
Cameron Riedy of Hickory (Va.) was spiked badly on the third leg. He still split a 2:04.41 for his team, which wound up 4th in its section in 8:07.81.
****
Recommended Reads
Previous Recommended Reads from other weeks can be found here.
****
Quotes Of The Day And Last Week's Home Pages
To see the actual quotes of the day from last week or last week's home page or any home page, go to our archive page.
Past editions of The Week That Was can be found here. Questions or comments? Please email us or post them in our running fan forum.