Hamza Driouch Retracts Claim That Coach Jama Aden (Whose Athletes Broke 3 World Records Yesterday) Doped Him
by LetsRun.com
February 18, 2016
It is hard to have a better day than coach Jama Aden did yesterday as three of his athletes broke world records/bests in Stockholm.
However, now that 24 hours have passed on the records, we need to note there have been serious drug allegations against Aden by one of his former athletes, who then recanted the claims two weeks later.
On January 30, French journalist Odile Baudrier of website SPE15.fr published the claim that Hamza Driouch, the 2012 World Junior 1500m champion who is currently serving a doping ban through the end of this year, said that Jama Aden doped him. We held off on publishing Driouch's comments hoping for a better translation of the article, but using Google Translate Driouch said, "The doping problem is not from me, it comes from the coach Jama Aden."
The article also contains the following Facebook message exchange between Driouch and SPE15:
Driouch: I do not feel safe with Jama Aden!
SPE15: Why? Because drugs?
Article continues below player.
Driouch: Exactly!
12:52 am 2/19 Update: Odile Baudrier has sent us an English translation of his original article which you can read here
Driouch also showed some naivete saying, "At that time I was too young, I did not understand what was happening! He (Aden) gave me vitamins, he said it is good for recovery." When Baudrier asked, "How many pills do you take per day? Or injections?" Driouch replied, "You can call Jama, he will tell you all the details."
Driouch was short in details in his allegations last month and now earlier this week has recanted them to Baudrier and SPE15.fr.
Driouch wrote in an email this week to SPE15.fr attempting to "clarify the facts" (again translated to English using Google Translate):
12:52 am 2/19 Update: Odile Baudrier has sent us the letter Driouch sent him which is in English. It is embedded below.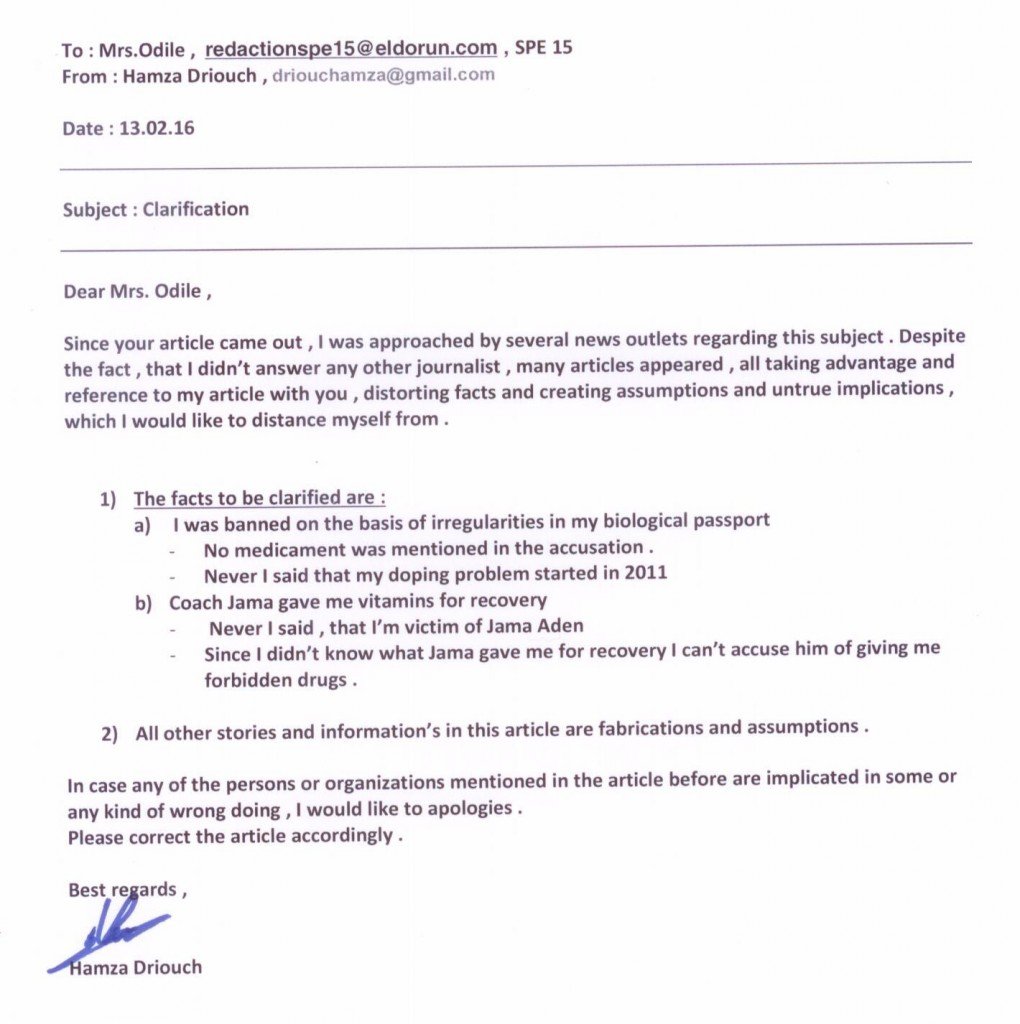 "I was banned on the basis of irregularities my biological passport"

"No drug has been mentioned in the charge"

"I never said that my doping problem dated back to 2011"

"Jama my coach gave me vitamins for recovery"

"I never said I was a victim of Jama Aden"

"Since I do not know what gave me Jama Aden to recover, I can not accuse him of giving me banned products"
Driouch's ban was announced in February 2015 and the ban runs from December 31, 2014, to December 31, 2016. Driouch's results were annulled from August 2, 2012, onward; Aden coached Driouch during the summer of 2012 (as these two articles show), during which time Driouch won World Junior gold and ran at the Olympics. Driouch was only 17 years old in August 2012.
Driouch left Aden after the Olympics and began to work with Moroccan coach Abdelkader Kada. Kada coached Driouch until September 2014, when he returned to Aden until February 2015. LetsRun spoke to Aden the following month at the Carlsbad 5000 and asked why Driouch was participating in a training camp in Ethiopia (supervised by Aden) while serving a drug suspension (suspended athletes are not allowed to participate in training camps).
"We didn't know anything about it," Aden said. "I found out after Stockholm (where Dibaba set the world indoor record on February 19, 2015) and someone told me he'd been banned."
We then asked Aden why Driouch was participating in a training camp if he was suspended.
"I don't think he knows about it," Aden said. Aden's explanation was that the Driouch did not know he was under suspension while he was training with him in January-February 2015.
If Aden was not supplying the 17-year-old with drugs then the big question is, who was? That is the question we wanted to know when Driouch's ban was announced early last year and it was the question Nick Willis wanted to know as well:
https://t.co/1KULvguZAd Hamza Driouch, who ran a 3.50 mile at 17yo in 2012, has just been banned for doping. Who supplied him?

— Nick Willis (@nickwillis) February 26, 2015
One would hope the IAAF is actively investigating who supplied Driouch with drugs, but with its anti-doping program in turmoil, there is no certainty of that. Driouch's doping ban was announced two years after he first had suspect biological passport values. According to French newspaper L'Equipe Aden also coached French athlete Laila Traby when EPO was found in her apartment in November 2014, three months after she earned a bronze medal in the 10,000 at the European Championships. The IAAF needs to do something to instill confidence that one of the top coaches in the world, Aden, is leading a clean program.
Some of Aden's athletes often train in Africa where out-of-competition testing has been shown to be lacking. There is no disputing his athletes are having tremendous success. Genzebe Dibaba has rewritten the middle distance record books the last two years, Taoufik Makhloufi came out of nowhere to win the 2012 Olympic 1500m gold, and there were the three indoor world records yesterday by Dibaba, Djibouti's Ayanleh Souleiman and Qatar's Abdalelah Haroun. Success is never proof of wrongdoing but track and field fans were raising their eyebrows before Driouch came out and then retracted his claims. It's time for someone associated with anti-doping to investigate who doped a 17-year-old in 2012.
Jama Aden himself is aware good performances in today's age lead to suspicion. Cathal Dennehy did a nice interview in  Athletics Weekly last month with Aden and asked him about Driouch's case and drugs in general. As for Driouch's case, Aden seemed to cast the blame on "the other coach" (presumably Kada). We've excerpted the exchange between Athletics Weekly (bold) and Aden (lighter text) on Driouch below. (Hard core track and field fans rejoice, you can now buy Athletics Weekly, the only weekly athletics magazine digitally).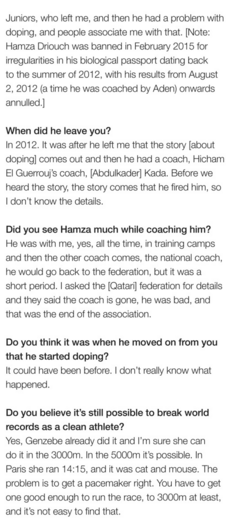 Aden even addressed the people who say Dibaba must be dirty because she is breaking the Chinese world records.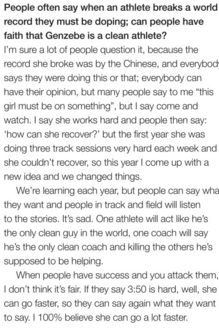 One thing is certain to us. Driouch was a kid when he tested positive. He should be welcomed back in the sport after serving his ban if he gives a thorough account of who gave him drugs.
*Original Article With Doping Claim by Hamza Driouch *Original article translated into English
*Article Recanting that Claim
*Buy 1/28/2016 edition of Athletics Weekly with Interview with Aden He details Dibaba runs up to 90 a week and does only 2 hard track workouts a week.