Why Was Drug Cheat Hamza Driouch Training (with Mo Farah) In Ethiopia? Who Supplied the 17 Year Old Doper?
by LetsRun.com
February 27, 2015
The British press has picked up on what some of you noticed earlier in the week in this thread on the message boards, world beater Mo Farah spent parts of January and February training in Ethiopia with former world junior 1500m champion and now drug cheat Hamza Driouch of Qatar.
Article continues below player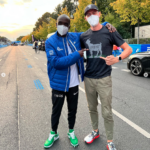 Kipchoge loves the 1:59:40 Shirt Get Yours Today
What a legend!
The British press is focused on, "What is Mo Farah doing training with a drug cheat in Ethiopia?" Our more immediate focus is, "What the hell is drug cheat Hamza Driouch doing training period?" Our bigger question is the one posed by Kiwi miler Nick Willis on twitter this week, "Hamza Driouch, who ran a 3.50 mile at 17yo in 2012, has just been banned for doping. Who supplied him?"
First a time line.
June 2012– Driouch runs a 3:50.90 mile at the Oslo Bislett Games as a 17 year old.
July 2012 – Driouch Wins the World Juniors at 1500m in Barcelona as a 17 year old.
August 2, 2012 – Date listed on a document released this week by the IAAF that presumably is the date of Driouch's first adverse analytical finding for his biological passport doping case. View this as the date they likely believe they have evidence to prove he was doping.
December 31, 2014– Date listed as the start of Driouch's doping ban. He will be banned for 2 years.
January 20, 21, 27, 29, February 3, 2015- Dates of Twitter and Facebook posts showing Farah and Driouch training together in Ethiopia. The Daily Mail has a photo we believe from Instagram Facebook of them having a meal together as well. Timeline of training photos at bottom of this article.
February 24, 2015 – Date the Associated Press reports the IAAF has banned Driouch for two years.
The British press is focused on Farah training with Driouch in Ethiopia over the last two months. An article by The Daily Telegraph highlights a photo of Mo Farah training in Ethiopia alongside Driouch. An article by The Daily Mail has photos of Farah and Driouch in social settings as well. Farah's agent, Ricky Simms, told the Daily Telegraph,  "Mo was in Ethiopia by himself. He hired some local athletes to pace for him during his workouts … It's not unusual for people to jump in."
Everything above is believable. With the timeline above it is conceivable Farah, like us at LRC, had no idea Driouch was a banned athlete.
However, Ben Bloom in the Daily Telegraph also writes, "Ricky Simms, Farah's agent, confirmed to The Daily Telegraph that Farah had no knowledge of Driouch's apparent presence in Ethiopia and he is not associated with any other athletes who may have been on the track at the same time as him," but does not provide a quote.
update: 11:45  am eastern 2/28. That part of the Daily Telegraph article is now gone and Ricky Simms wrote LetsRun.com this morning: 
 "I woke up to read the latest Mo story.
You are correct in your summary of the situation on
letsrun.com
– the journalist misattributed the statement and has now corrected it.
As I said I haven't spoken to Mo about it but I expect it would have been hard for him to know anything about the Qatari kid being banned as his ban was only announced a few days ago when Mo was already back in Portland."
If Simms really said that to Bloom, it is not believable.
The Daily Mail has a photo of Farah having a meal with Driouch (thumbnail of it on the left) and a photo of Farah posing for a photo with Driouch in a vehicle. From twitter and facebook,  we can see they also worked out together on at least two occasions in Ethiopia (possibly many more) and Driouch posted on his own twitter #mofarah, #niketeam and #justdoit trying to show an association with Farah. We can't believe that Farah "had no knowledge of Driouch's apparent presence in Ethiopia."
The Simms/Bloom, "Mo Farah didn't know Driouch was in Ethiopia bs" will sort itself out. Simms could have issued a statement without speaking to Farah, been misled by Farah, or misattributed by Bloom. We will find out shortly. 
(A point of order. Working out with a doped athlete, does not mean an athlete is doping themselves. Abdi Abdirahman of the USA was in photos with Farah in Ethiopia and Ryan Hall went for a training stint in Ethiopia this year. Many athletes could have crossed paths with Driouch.)
The bigger question for us is, "Why was Driouch working out in Ethiopia in the first place?" There are a few possibilities:
1) Driouch was violating his ban. As Bloom points out in his article, the IAAF's rules say that banned athletes are prohibited from "participating in any capacity … in a training camp, exhibition or practice".
2) Driouch didn't think he would actually get banned since two plus years had passed since the August 2, 2012 date listed on his doping document.
3) Driouch wasn't told of his ban until recently, and the ban was retroactively pushed back to December 31, 2014.
Earlier today, before Bloom's story was published, we wrote the IAAF asking for more details about the Driouch timeline, and what took him so long to get banned. We will let you know when we get a response.
The most important question to us is the one posed by Nick Willis on twitter: Who was supplying Hamza Driouch?
https://t.co/1KULvguZAd Hamza Driouch, who ran a 3.50 mile at 17yo in 2012, has just been banned for doping. Who supplied him?

— Nick Willis (@nickwillis) February 26, 2015
If we are to believe his official age, Driouch was 17 years old when the IAAF says he was doping in 2012. We don't believe 17 year olds dope themselves. What sort of investigation did the IAAF or WADA do to figure out who was doping the 17 year old Driouch?
There are lots of possibilities. His coach, his agent, a relative, someone with the Qatari Federation, etc. If we are serious about having a cleaner sport we need to find out.
Driouch has been with two prominent coaches in his career.
In 2012 in the run-up to the Olympics, he was under the tutelage of Jama Aden (coach of Genzebe Dibaba, Ayanleh Souleiman, former coach of Taoufik Makhloufi). (Interestingly, Aden is believed by many of you to be the coach timing Mo Farah (and Driouch), in the photo to the right, in Ethiopia.)
This message board post by "Issa Awaleh" claims that the Al-Watan Arabic Newspaper in Doha, Qatar, reported that by April 30, 2013 Driouch was coached by Abdelkader Kada, Hicham El Guerrouj's former coach.
Hamza Driouch is no longer a kid. It's time for him to tell the truth.
More photos of Farah and Driouch in Ethiopia are embedded below.
More: *MB: Mo Farah is a liar. He denied any knowledge of training with Driouch, yet he posted pics training with him in Ethiopia *MB: Hamza Driouch (Update: BANNED) *MB: Mo Farah training with coach jama aden *Farah's Facebook Account *Farah Twitterr *Driouch's Twitter *Driouch Instagram
On the track this morning….!! #onemomile pic.twitter.com/9zDdDpW7ro

— Sir Mo Farah (@Mo_Farah) January 20, 2015
Don't dream of winning train for it…..!! #onemomile #mofarah #moknows pic.twitter.com/j3QvYoB3Wa

— Sir Mo Farah (@Mo_Farah) January 27, 2015
OneMoMile….!! pic.twitter.com/5Gt2Crbxop

— Sir Mo Farah (@Mo_Farah) January 29, 2015
https://twitter.com/driouchhamza/status/562593229640843266