Translation of SP15 Article: DOPING: Hamza Driouch blames Jama Aden
by: Translation of article from  Odile Baudrier spe15.fr
February 18, 2016
Editor's note: The article below is an English translation of the original Jan 30 article in French from Odile Baudrier in spe15.fr where Hamza Driouch accused his coach Jama Aden of doping him. Driouch has since recanted the claims. More on that here.
Hamza Driouch has been suspended for 1 year following anomalies, in his Athlete Biological Passport, which date from 2012, when he was being trained by Jama Aden, Genzebe Dibaba's coach.  Formerly Moroccan, now Qatari, Driouch blames Jama Aden for this problem while the coach pleads total ignorance of the situation.
Article continues below player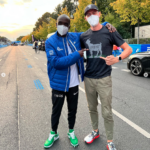 Kipchoge loves the 1:59:40 Shirt Get Yours Today
What a legend!
A private message arrived on the SPE15 Facebook page at the end of September from Saeed Drioush, an account with a profile picture of a little boy wearing a knitted winter hat with PALESTINE in big letters.  Stating in no uncertain terms  « Hamza driouch victims of coach jama aden », the message incites our curiosity…
The announcement of Hamza Driouch's suspension in Jan. 2015 was hardly  routine.  It was based on irregularities in August, 2012, in his Biological Athlete Passport.  Only 17 at the time,  Driouch made a name for himself not only with his Juniors world record, but also with his 3'33"69 run at the Doha Meeting under the scrutiny  of his new Qatari compatriots.  The young Moroccan had just decided to pursue his career with Qatar and a bright future seemed to await him when his path took a radical turn.  Eliminated in the semi-finals in the 2012 Olympics, stuck at 3'39" in 2013 and falling behind in 2014 to 3'44", his performance can be seen from a completely different angle considering that his suspension dates from August 2, 2012.
It takes me several months to be able to discover, after many unanswered messages and phone appointments, just who is this Saeed Drioush who claims Hamza Drouch is a victim of Jama Aden.  Finally a very weak voice answers my call and my very first question:  "Who are you? Hamza's brother? His cousin??"  And the reply is « I am Hamza.  I am the athlete.  I have a problem just now, I can't run. »
Hamza Driouch is finally speaking to me from Qatar, and he absolutely insists on the truth of his version of the doping :  " I started in track and field in September 2009, when I was only 14 years old. Then I left Morocco for Qatar.  I started with Jama Aden- the training was difficult.  My problem with doping began in 2011.  At that time I didn't know anything about medicine, vitamins.  Jama Aden- I gave him total confidence, I gave him everything.  Because he had had Olympic champions, world record makers.  He took advantage of my confidence.  I believed in my trainer and it got really bad for me.  This problem of doping is not from me, it comes from my coach."
Although it was a very explicit accusation, he refused to give more precise details, constantly contending that he didn't understand anything. He did manage to specify that in 2013 and 2014 he felt very tired. But they were, in fact, two years when Hamza Driouch was not training with Jama Aden, but with the Moroccan Abdelkader Kada,  Hicham El Guerrouj's ex-trainer, and the newly recruited Qatari coach.
Why did he change coach ?  There, again, the dialogue with Hamza Driouch, held this time via Facebook, insists in no uncertain terms :  "I didn't feel safe with Jama Aden!"   Why? Because of drugs?  « Exactly ! »  What did he give you ? For what reason ?  « I don't know exactly.  At that time I was too young, I didn't understand what was happening!  He gave me vitamins; he said they were good for recovery."  How many tablets did you take every day? Or was it injections?" You can call Jama, he will tell you all the details."
His answers are alarmingly naive.  Just a few days later, Jama Aden had a long interview with the magazine "Athletics Weekly" and spoke about his trainee Genzebe Dibaba, holder of an enormous  world record in 2015 (the 1500m in 3'50").  When asked about Hamza Driouch's doping charges, the coach holds his own:  "I have no idea what happened,"   and reiterates that his ex-trainee was charged after having left him, in 2012, to train under Kada.  Nevertheless, in 2012, at the World Junior Championships in Barcelona, as well as at the Olympic Games in London, Jama Aden appeared quite like the coach of the newly naturalized Qatari.
The dates clash.  Hamza Driouch gives his version. He was trained by the Somalian from September 2009 up until March 2013. Afterwards, he trained under  Abdelkader Kada until this one terminated the Moroccan coach's contract in September 2014. At that time, the Federation obliged Hamza Driouch to train under Jama Aden – up until February 2015, when his suspension was made public.
Hamza Driouch had just finished a long training camp with Jama Aden in Sululta, Ethiopia.  The photos of the training session, where he was seen training with Mo Farah, caused a huge outcry in England.  The British press blew their horns against the double Olympic champion, accusing him of training with a convicted doper.  But as Hamza Driouch points out, "It was in December 2014 and January 2015.  I didn't know at that time that I had been suspended!"   The Qatar Federation informed him then, just after the session-a full 2 and 1/2 years after the biological anomalies. For which kind of problems ? He answers  : "I don't know they told me biological passeport. But I ask Jama
He say for me because I have anemia ».
At the onset of 2016, Hamza Driouch is now trying to reconstruct his life.  After 3 months in Morocco, he has returned to Qatar where his brother Abderrahim, a businessman, can give him financial support.  He has told me he is determined to prepare for the 2020 Olympics, but this time alone, without a trainer.  He proclaims that he "won't have a coach.   I don't believe in anyone.  I will never believe in any coach.  I have no confidence in coaches, no confidence in man."
More: Hamza Driouch Retracts Claim That Coach Jama Aden (Whose Athletes Broke 3 World Records Yesterday) Doped Him