2015 Weltklasse Zurich Meet Preview: Evan Jager And Jairus Birech Look For Redemption, America's Best Women Battle At 3,000, Kiprop Vs. Kiplagat For $40,000 And More
By LetsRun.com
September 2, 2015
The first of two Diamond League finals takes place on Thursday with the Weltklasse meeting in Zurich. The 2015 Diamond League points total for 16 events will be decided and the winner of each event takes home $40,000 for the year-long series title (first place in an event in Zurich is $10,000). The point totals for the final meet of the year are doubled, meaning first is worth 8, second 4 and third 2. If there is a tie on points, the first tie-breaker is season wins, the second tie-breaker is finish in the DL final.
Below we go through the events so you can know what to expect, particularly in terms of the DL battle. It drove us nuts that it was really hard to figure out last year when we were watching it as the announcers often only casually mentioned the points races.
We start with the mid-d/distance events and then go to the rest of the meet.
2:13 p.m. ET: Men's Steeplechase: A chance for redemption for Evan Jager and Conseslus Kipruto
This race is interesting as it's basically a rematch of the Beijing final as the top 8 from Worlds are all competing. It's a chance of redemption for the fastest two men on the year in American Evan Jager and Kenya's Jairus Birech. Could Jager become first non-African-born athlete under 8:00 in the steeple?
Article continues below player.
Birech will clinch the $40,000 Diamond League jackpot if he's third or higher. Even if he's not top three, he'll still win the jackpot unless Conseslus Kipruto — the silver medallist in Beijing — is the winner.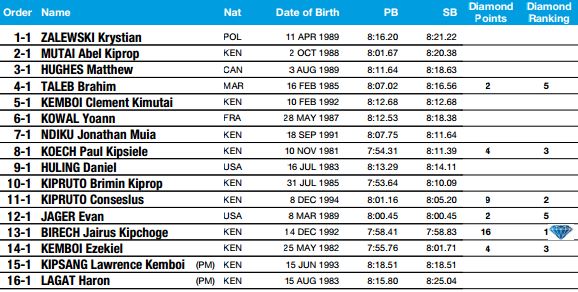 2:37 p.m. ET: Men's 800: David Rudisha vs. Mo Aman
2013 world champ Mo Aman never got a chance to properly defend his crown in Beijing as he was DQ'd in the semis of the 800. Would David Rudisha have won if Aman had been there? We'll never know but Aman can make his case that the results might have been different by beating Rudisha here in this non-DL event.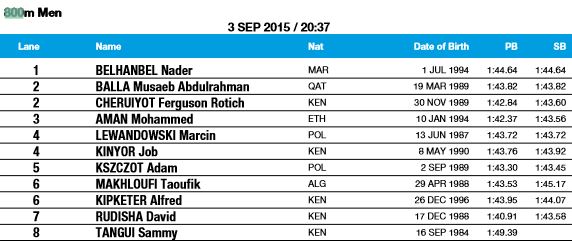 3:03 p.m. ET: Women's 800: Eunice Sum Picks up $40,000 and gets a rematch with Marina Arzamasova
Eunice Sum was dominant all year long on the Diamond League circuit so she picks up $40,000 just by racing here. The question is can she pick up $10,000 more with a victory? Sum only was third in Beijing as the surprise winner was Marina Arzamasova of Belarus. The race also is interesting as it features 1500 bronze medallist Sifan Hassan. How good can she be at 800 if she's fresh?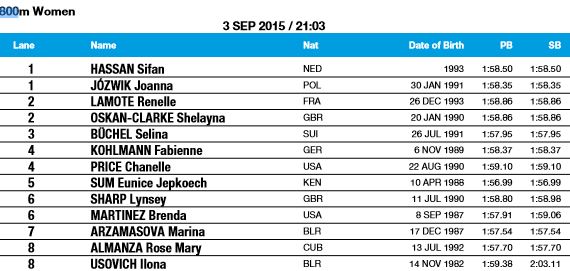 3:19 p.m. ET: Women's 3000: Genzebe Dibaba vs. Almaz Ayana + Infeld vs. Rowbury and Simpson
Genzebe Dibaba was the talk of women's distance running in Beijing until suddenly she wasn't after she was trounced by Almaz Ayana in the 5000. Here they meet at 3000.
One would think the 3000 distance would favor Dibaba but then again Ayana just closed her 3000 in 8:19.
Dibaba, who complained of a foot injury in the 5000 in Worlds, leads Ayana by 6 in the DL points race meaning she will clinch the $40,000 by finishing 3rd. Will she try to get revenge on Ayana or try to make sure she's just top 3 to get the money?
If the injury costs Dibaba a top-3 showing, Ayana will win the jackpot with a victory. Kenya's Mercy Cherono also theoretically could win the jackpot but it's not going to happen. Cherono only wins it if she wins the race and Dibaba isn't top 3.
Coming out of Worlds, the lone American mid-d or distance medallist was Emily Infeld. Former medallists Jenny Simpson and Shannon Rowbury will try to knock Infeld down to earth. If Simpson runs well here, might she shift back to the steeple for 2016?
Mary Slaney's 30-year-old American record of 8:25.83 could also be in jeopardy. Both Simpson and Rowbury were in great shape heading into Beijing, and if they're recovered from three rounds of the 1500 (it will have been nine days since the final), they could put a scare into the record. In the DL final in Brussels last year, they became just the second and third Americans ever to break 8:30 (8:29.58 for Simpson, 8:29.93 for Rowbury).
*Discuss: American Record in Zurich 3K?
[gravityform action="polls"
id="255″ mode="poll" cookie="1 month" show_results_link="false" display_results="true" percentages="true" counts="false" ajax="true"]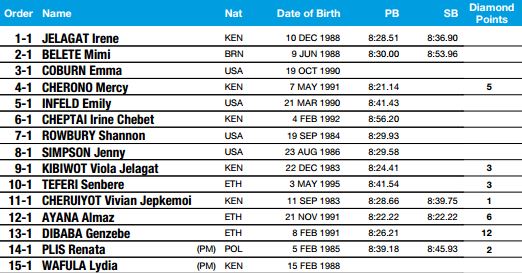 3:43 p.m. ET – Men's 1500: Asbel Kiprop vs. Silas Kiplagat for $40,000
A nice race that features the top four from Beijing.
Silas Kiplagat failed to medal in Beijing but if he beats Asbel Kiprop, he wins $40,000 in this one. Kiprop wins $40,000 by beating Kiplagat and finishing in the top three overall.
Will Robby Andrews finally beat his 3:34.78 pb, which has stood since 2012?
All of that and more in this one. Kenyan Robert Biwott, who was 4th at the Kenyan Trials but not selected for Worlds, is a guy to watch as well. We felt like his results indicated he should have been on Kenya's team.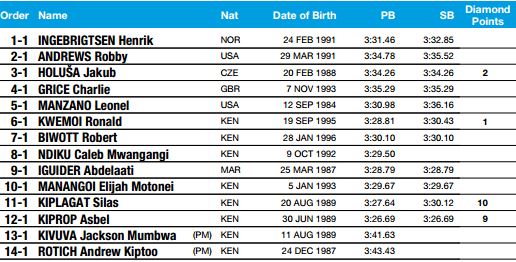 The rest of the meet
11:55 a.m. ET: Men's Discus: World champ Piotr Malachowski goes for $40,o00
Malachowski wins the $40,000 by finishing top 3. Only 2015 bronze medallist Robert Urbanek can pass him. Urbanek would have to win and have Malachowski not be in the top 3 to win the jackpot.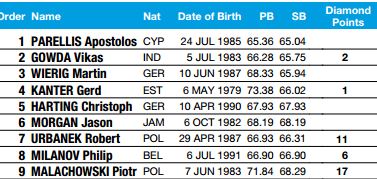 12:10 p.m. ET: Women's Shot: Schwanitz Picks Up $40,000
The $40,000 already belongs to Germany's Christina Schwanitz, who won Worlds, simply for showing up. A victory here nets her another $10,000.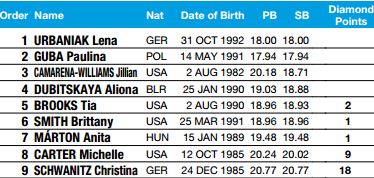 12:20 p.m. ET: Women's Long Jump: Bartoletta Picks up $40,000
World champ Tianna Bartoletta has already won the jackpot by showing up.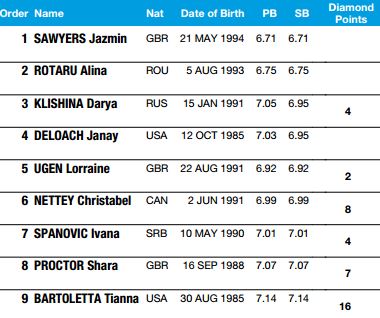 1:35 p.m. ET: Kiriakopoúlou Goes For $40,000 As All 3 Beijing Medallists Clash Again
Greece's Nikoléta Kiriakopoúlou, the bronze medallist in Beijing, will clinch the jackpot by finishing third or higher. Beijing silver medallist Fabiana Murer is the only woman that also could win it. She has to win the meet and hope Kiriakopoulou isn't top 2.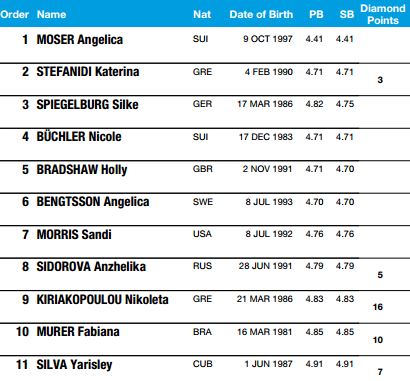 2:00 p.m. ET: Women's Javelin: 5 Women Have A Shot At $40,000
This competition features the top 4 from Beijing and a complicated DL race outcome.
The DL points leader is two-time Olympic champ Barbora Špotáková, who was only 9th in Beijing. She leads Beijing bronze medallist Sunette Viljoen by 4 and also has one victory on the year on the DL to Viljoen's zero. Viljoen can only win the jackpot by winning the competition.
Latvia's Madara Palameika(not in final in Beijing), Germany's Christina Obergfoll (4th in Beijing) and China's Huihui Lu (2nd in Beijing) all win the $40,000 by winning and having Špotáková not finish in the top 3.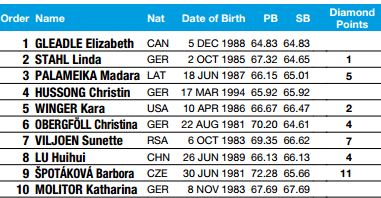 2:05 p.m. ET: Women's 400h: Hejnova vs. Spencer for $40,000
Jamaica's Kaliese Spencer went into Beijing not having lost on the year at 400h (but also not having raced the 400h since June). She left with an 8th-place finish. Her promising 2015 is about to get a little more depressing as two-time world champ Zuzana Hejnova will take home $40,000 unless Spencer beats her and Spencer is top 3.

2:10 pm ET: Men's HJ: Barshim Tries to Hold On To $40,000 as the Top 7 From Beijing Clash
Qatar's Mutaz Essa Barshim was 4th in Beijing but he'll pick up $40,000 unless China's Guowei Zhang, the Beijing silver medallist, wins. Even if Zhang wins, Barshim will still win the jackpot by finishing 2nd. Jacorian Duffield and Daniil Tsyplakov are also mathematically alive for the title but would need to win and hope Barshim finishes outside the top three.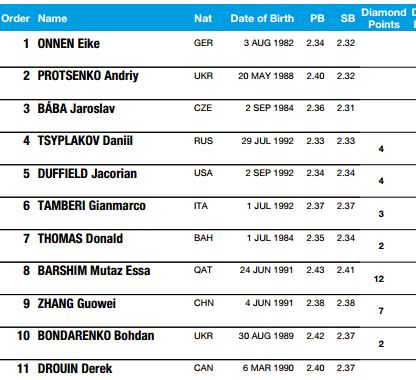 2:20 pm ET: Greg Rutherford Looks To Win $40,000 as Americans Hartfield and Dendy Look For Redemption
World champ Greg Rutherford has the lead and will clinch the title with a 2nd-place showing. American Michael Hartfield, who failed to put up a mark in the finals in Beijing, could win the $40,000 by winning and having Rutherford not finish 2nd. The only other potential winner is American Marquis Dendy, who failed to even make the final in Beijing. Dendy also would have to win to have a shot but Rutherford would block him by finishing third or higher.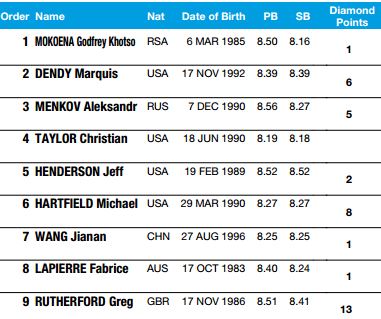 2:29 p.m. ET:  Women's 100: SAFP Looks For $40,000
World champ Shelly-Ann Fraser-Pryce locks up the $40,000 by finishing 2nd or higher. Beijing 8th placer Blessing Okagbare could win the $40,000 by winning and seeing SAFP finish third or lower. Beijing bronze medallist Tori Bowie wins the $40k by winning and seeing SAFP finish 4th or lower.

2:46 p.m. ET: Men's 400: The Beijing Medallists Battle It Out
The men's 400 final in Beijing was legendary. The medallists are back for this one. Gold medallist Wayde Van Niekirk is the man to beat here as he's undefeated on the year. If he wins the race, he also win the DL title. He also could win the title by finishing second or third, as long as he beats Kirani James (he and James both have two DL wins on the year).
Beijing bronze medallist James has the lead now and wins by finishing top 3 and beating Van Niekirk or by hoping that Van Niekerk isn't top 3 and that Steven Gardiner, David Verburg and LaShawn Merritt don't win.
Gardiner, Verburg and Merritt both need a ton of help. They have to win and hope that James isn't top 3 and Van Niekirk isn't top 2. Gardiner, who has one more point than Verburg and Merritt, can afford for Van Niekerk to finish second and/or James to finish third as long as he wins.

2:56 p.m. ET: Men's 200: A $40,000 Match Race Between Alonso Edward and Jobodwana
The two point leaders in this one are Alonso Edward and Anaso Jobodwana. At Worlds, they both ran 19.87 but the bronze went to Jobodwana. The winner of the matchup between those two this time will take home the $40,000 DL title assuming they are top 3.
3:13 p.m. ET: World Champ Sergey Shubenkov vs World's Fastest Man Orlando Ortega
The world's fastest hurdler in 2015, Orlando Ortega, didn't compete in Beijing as he has to sit out as he switches allegiances from Cuba to Spain. In his absence, Russia's Sergey Shubenkov got the win. The DL title will most likely come down to David Oliver and Ortega, both of whom have two DL wins this year. Whoever finishes first between them and is top three will most likely be your winner. Jason Richardson and Pascal Martinot-Lagarde could win the DL title by winning and having Oliver finish third or lower and Ortega second or lower.
3:36 p.m. ET: 400 H: A NON-DL Event