Sprint Action at World Relays with Video: Down Goes Jamaica and Bolt (For First Time Since 2008), Down Goes Felix and US, Tyson Gay Apologizes
by: LetsRun.com
May 2, 2015
While the Team USA distance runners started the US off perfectly with gold in the men's 4×800 and upped it with a world record in the women's distance medley relay, the highlight of the night for the casual track fan was always going to be the men's 4x100m final with the US and Justin Gatlin vs. Jamaica and Usain Bolt.
Article continues below player.
Well, we shouldn't say the highlight "was always going to be" because first on Saturday night there were prelims in the 4×100 and Jamaica and the US had to make the final before they could face each other. Both the US and Jamaica made the final with the US running .20 faster than Jamaica (although Usain Bolt let up on his leg).
That set up the final and while fans were never going to get the Bolt-Gatlin showdown because the US decided to put Gatlin on leg #2 and Ryan Bailey on leg #4, they were going to get the US- Jamaica showdown.
This one was no contest. The US dominated and Usain Bolt was too far down when he got the stick to do anything. A cheetah wasn't going to catch Ryan Bailey. It was the first time a full-strength Jamaica made it to the line behind another team since 2008. US visitors can watch it below:
Afterwards, Bolt was a gracious loser telling the media and LRC that the loss would make the World Championships more interesting and that he is not in peak shape yet. He said this does not represent a changing in the sprint guard as that is centered around individuals (and presumably he still thinks he's best in the world).
Bolt did put his arms on Ryan Bailey's shoulders and whisper something in his ear as he walked by, but Bailey said what Bolt said is between him and Bolt, as they have a nice little rivalry.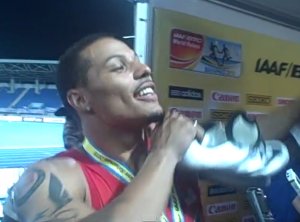 To increase the rivalry a little bit, Bailey turned Bolt's point at the sky "Bolt" gesture into a throat slash after the race. Not sure if Bolt saw it or not, but Bailey explains it here (image on right).
The US team was coached by convicted doper Dennis Mitchell and has three guys who have served drug bans, Tyson Gay, Justin Gatlin, and Mike Rodgers (Rodgers' was a less serious ban of nine months). LRC's Weldon Johnson asked Gay and Gatlin, "What do you have to say to some youngster in America that you can compete clean, because at some point you both decided you couldn't. So how do you assure people you are competing clean now?"
Tyson Gay addressed it head on: "For my situation I've never deceived any kid in the world or America that they can't do anything but with hard work. At the end of the day my situation is understood, three organizations ((inaudible) looked into this). I went down the wrong path believing some supplements were clean which they weren't. I would like to apologize to any kid who feels they were deceived… I would like to thank the Bahamas… for having me at their meet and understanding my situation. …I ask for forgiveness for a mistake, but right now I'm moving forward and I double check everything and we go from there." Justin tried to get the mic and speak at first from Tyson but then didn't answer. *Discuss this here
Video of question below set to start at the appropriate part:
Before the 4×100 final, the US had it's only setback on the day. The women's 4×200 dropped the baton as Jeneba Tarmoh and Allyson Felix collided on the final exchange. The possibility existed for the US to sweep all 10 relay gold medals.
Video for USA visitors: