Men's 5,000m The World And Galen Rupp Meet 17-Year-Old Yomif Kejelcha, And Former Sprinter Carlos Villareal Kicks Like Mad In HS Mile
by LetsRun.com
May 29, 2015
Eugene, Oregon –
(Editor's note: Our men's 10,000 recap is here:Mo Farah Still Owns the 10,000m as He Takes Down Geoffrey Kamworor and Paul Tanui at Pre. Below we recap the rest of the mid-d/distance action – the men's 5000, HS miles and women's 800).
Men's 5000: A 17-Year-Old Ethiopian Officially Arrives On The Scene
Distance fans, if you didn't stay up late on Friday night to watch Distance Night at the 2015 Prefontaine Classic, you may have missed the unveiling of the sport's next track distance star.
308 days after after he won the World Junior 5000 title here by tightening the screws and increasing the pace over the final 3.5 laps, Ethiopia's 17-year-old Yomif Kejelcha destroyed the field over the final 300 to win a tactical men's 5000 in a new personal best of 13:10.54. 2008 Olympic bronze medallist Edwin Soi of Kenya was second in 13:11.97 with American Galen Rupp third in 13:12.36 as 40-year-old American Bernard Lagat destroyed the 40+ world record of 13:43.15 (Lagat had run 13:40 on the road at Carlsbad) by running 13:14.97 for 4th.
The Race
At the pre-meet press conference, Prefontane Classic meet director Tom Jordan told LRC Galen Rupp was in great shape and wanted to run fast but no one went with the rabbits in this one as it ended up being a negative split race (6:36-7 at halfway).
The clock read 10:11.44 with three to go but the the real racing didn't start until the final two laps as with 800 to go the clock was at 11:16.70. With 700 to go, Rupp made a big move to the front and with 650 meters remaining, three guys, Rupp, Bahrain's Alberto Rop, and Kejelcha, were basically three-abreast, but heading into the turn Rop, who ran 12:51 in 2013 but was only 11th in the Diamond League opening 3000 in Doha, was able to maintain the inside and keep Rupp from the lead.
At the bell (12:15.02), Rupp's move the front had succeeded as he was in the lead as Kejelcha was on his shoulder with Soi in third and Rop in fourth.
Article continues below player.
With 300 to go, Kejelcha made his move for glory putting on a tremendous burst of speed and seizing a comfortable lead over Galen Rupp. A few weeks ago in the 3000 at Doha, Kejelcha went too hard too early in a race with Mo Farah and faded to 5th. Had Kejelcha gone too early once again? The others did gain a little on him over the final 100 but his lead was so huge (10+ meters) with 150 to go that he still won this one with some comfort.
Once past the line, the youngster gave himself a much deserved fist pump. Rupp had shown great speed in giving chase, but Edwin Soi passed him before the line for second, with Rupp third, and a big 2.6 gap to 40 year old Bernard Lagat in 4th.
Results and quick takes appear below.
Men's 5000 Results
5000 Metres - Men                                             

    1 Kejelcha , Yomif                 ETH   13:10.54                   
    2 Soi , Edwin Cheruiyot            KEN   13:11.97                   
    3 Rupp , Galen                     USA   13:12.36                   
    4 Lagat , Bernard                  USA   13:14.97                   
    5 Rop , Albert Kibichii            BRN   13:15.66                   
    6 Hill , Ryan                      USA   13:15.92                   
    7 Lalang , Lawi                    KEN   13:16.11                   
    8 Birmingham , Collis              AUS   13:17.49                   
    9 Nebebew , Birhan                 ETH   13:19.14                   
   10 Jeilan , Ibrahim                 ETH   13:20.21                   
   11 Ahmed , Mohammed                 CAN   13:20.67                   
   12 Barrios , Juan Luis              MEX   13:28.58                   
   13 McNeill , David                  AUS   13:40.93
      Fernandez , German               USA        DNF                   
      Gathimba , Gideon Mwangi         KEN        DNF
Quick Thought #1: Kejelcha is the real deal, but how will he hold up come August?
It's not that hard to spot the next global superstars. Take a look at the winners of world junior xc or world juniors on the track and see if they pass the eye test. This kid clearly does.
| | |
| --- | --- |
| Overall | |
| Comfort | |
| Cushioning | |
| Durability | |
| Appearance | |
| Value | |
He looks like a kid too.
The problem is the 5000 final at Worlds isn't for another 92 days (August 29). Will the 17-year-old still be on top of his game then? Who knows. He can't exactly afford to shut it down now as he will have to run faster as Ethiopia selects their team on time and he was only the third-fastest Ethiopian in the 3000 in Doha and that didn't even include Dejen Gebremeskel.
Quick Thought #2: Galen Rupp has nothing to be upset about in this one, nor does Bernard Lagat.
Rupp didn't win but he did finish third – his best showing in an international 5000 since he finished 2nd in Birmingham in 2011 (MB: Galen Rupp 2nd in Birmingham 5000m) and he got the IAAF qualifying time of 13:23 out of the way.
Plus he beat Bernard Lagat for only the 2nd time in his career, improving his record to 2-19 in races that they both finish.
Rupp afterwards was pleased with his opener. He did not know what race he would do next as his whole focus had been on racing at the Hoka One One Oxy Meet (rained out) and here at Pre:
As for Lagat, he may have lost to Rupp but did anyone really expect him to keep beating Rupp at age 40? And he showed he's still competitive and he crushed a 40+ world record in the process. Lagat however said he still is focused on doing well at Worlds in August, not at just beating master's world records. He noted his 5k debut last year was only 13:31 and he has changed a few things in his training this year. Lagat was totally destroyed by Rupp in the kick, but Lagat said he just needs a little more speed work to be a force in a tactical race like this. Lagat pointed out 13:14 is a time that can win Worlds some years.
Lagat also talked about his 10,000m debut on the roads and how he plans on doing more 10ks.
Quick Thought #3: Can the IAAF just get rid of qualifying times for certain countries?
2011 World 10,000 champ Ibrahim Jelian was in the mix until things heated up and then he was uncompetitive as he ended up 10th in 13:20.21. Not a great showing, but before you totally write him off, realize he only ran 13:16 at the adidas GP meet on May 25 in 2013 before getting silver at Worlds in the 10,000 (although the weather was worse there than here).
That being said, we realize that Jeilan doesn't even have the 10,000 standard and there are few chances to get it. Shouldn't the IAAF just let Ethiopia enter any three people they want for all events 1500 and up?
Discuss this race in our fan forum:
Results and some screenshots from the USATV.tv broadcast. Click for larger image.
Boys HS Mile: Talk About A Nasty Kick, Former Sprinter Wins HS Mile
Senior Carlos Villareal, who ran 4:03.92 for 1,600 at the Arizona state meet, was way back with 150 go but got the win with an unreal last 150.
The guy in 4th at this point in the race was your winner.
Afterwards, Carlos said until two years ago he was a 100-200-400 sprinter. Some success at 800 convinced him to move up in distance and two years later he is one of the best milers in the country. He'll be running the University of Arizona next year under coach James Li (Bernard Lagat's coach).
Carlos was friends with Marcus Wheeler, the Arizona XC champ who committed suicide earlier this month. Carlos wore a wrist band commemorating Wheeler's life and dedicated this victory to him.
Results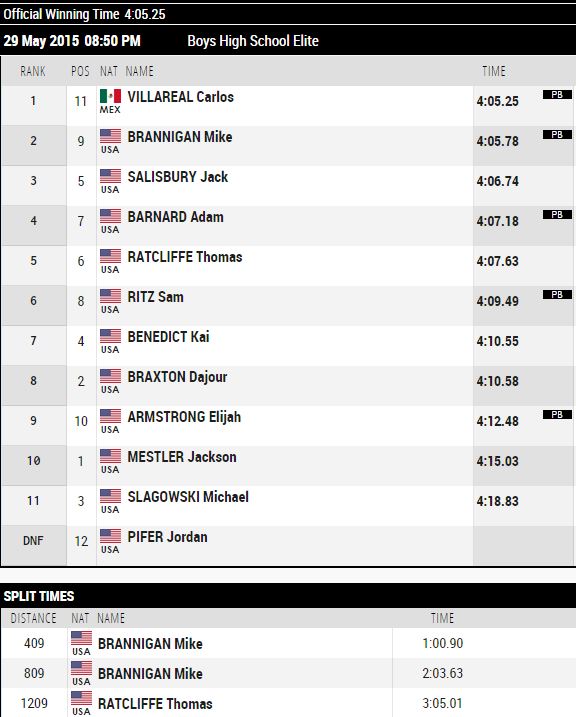 Girls HS Mile: Frazier Wins Tight Finish
NC State signee Ryen Frazier barely edged Danielle Jones as both broke 4:40 for the first time.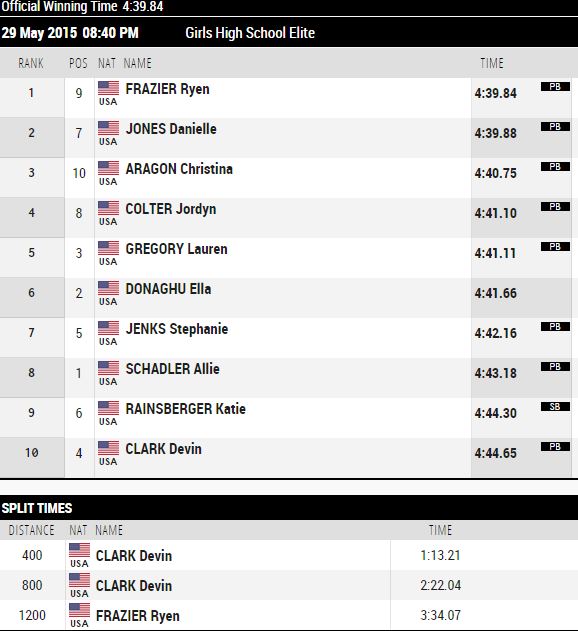 Women's 800: Maggie Vessey Rolls
Maggie Vessey was way better than everyone else but world junior champ Margaret Wambui of Kenya was way better than her time indicated as she wasted a lot of energy and ran a lot of extra ground.