1,500 And Men's Steeple Prelims – Favorites Cruise Through To Set Up Some Great Finals
by LetsRun.com
June 13, 2014
*MB: Official 2014 NCAA outdoor Day 2 discussion thread 
EUGENE, Ore. — The preliminary rounds of the men's and women's 1,500 and the men's steeplechase were held today at the 2014 NCAA Outdoor Track and Field Championships at Hayward Field. The big names all advanced to the finals. We recap the action for you below.
Article continues below player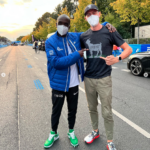 Kipchoge loves the 1:59:40 Shirt Get Yours Today
What a legend!
Men's 1,500
Heat 1
Boston University's Rich Peters took the lead and led La Salle's Alfredo Santana  and Columbia's Johnny Gregorek through the first 300 in 46.04 seconds with defending champ Mac Fleet of Oregon lingering toward the back. The pace began to dawdle, leader Peters covering 300 to 700 in a pedestrian 65.57 seconds.
As the runners hit two laps to go, the pack was three or four abreast, with Penn State's Brannon Kidder all the way out in lane three. Stanford's Michael Atchoo began to move to the front group on the penultimate lap and took the lead with 600 to go. Fleet, who had been last for much of the race, moved easily to the front group with 500 to go as the field geared up for a big last lap.
With 300 to go, it was Atchoo leading Peters, Fleet, Oregon freshman Sam Prakel and Kidder.
Entering the homestretch, it was a battle between Atchoo, Peters, Kidder, Fleet, Saarel, Prakel and a hard-charging Sam Penzenstadler of Loyola for the five auto spots. With 50 to go, Saarel began to tie up and it was a six-man battle. In the end, it was Penzenstadler who ran clear of Peters for the all-important fifth spot. With Lalang in the second heat, Peters had to know that was probably where the time qualifiers were coming from.
Fleet looked very confident and was moving well on the home stretch, eventually taking the win in 3:45.90 with a 54.00 last lap, fastest of anyone in the two heats. Prakel came up on the inside to take second, and Fleet pointed to his teammate with joy as the two crossed the finish line, realizing that he'd have some company for Saturday's final. Prakel has been huge for the Ducks over the last few weeks — he PR'd twice in the West prelims — and now he's in the final with a chance to snag some valuable team points.
Results and post-race interviews below.
Results – Place Name Affiliation Time *Lap by Lap Splits
1 Mac Fleet UO 3:45.90 Q
2 Sam Prakel UO 3:46.06 Q
3 Michael Atchoo STAN 3:46.23 Q
4 Brannon Kidder PSU 3:46.32 Q
5 Sam Penzenstadler LOYI 3:46.34 Q
6 Rich Peters BOSU 03:46.74
7 Ben Saarel COLO 03:47.19
8 Jeremy Greenwald GT 03:47.36
9 Adam Jones SAM 03:47.40
10 John Gregorek COLU 03:47.68
11 Alfredo Santana LAS 03:49.58
12 Nick Harris WASH 03:53.69
We caught up with a number of runners after the race.
In his post-race interview, Fleet was way more excited about his freshman teammate Prakel making it than he was about his own race. He said Prakel is extremely talented and he expected him to get close to his school record indoors, but that he didn't race as well indoors as they were expecting. Fleet says he's happy to be passing the torch on to Prakel which is different than when he was a freshman and tried to "take the torch."
Talking about his own running, Fleet was aware of how long it's been since someone has won back-to-back 1500 titles (not since 1997-98). He says he hopes the 5K guys make it a real race and thinks his chances of winning are "stronger than anybody else's'" with Lawi Lalang doubling back from a tough race. He says they've been preparing for the race to be "as fast as it could possibly go" so Lalang setting a quick pace isn't going to bother him.
Despite needing to PR twice at Regionals just to make it to NCAAs, Oregon freshman Sam Prakel did not seem particularly surprised or psyched to make the 1500 final today. He said that it's been their goal all along to make the 1500 final and his goal was just to score as many points as possible for Oregon.
Penzenstadler was obviously thrilled to be the last qualifier and said the goal for the final is top-8 which in addition to scoring points also garners first team All-American honors.
Saarel said this was his last race on the track in 2014. Even though he just turned 19 in March, he won't be doing World Juniors. As for today's race, Saarel said that he felt he let the others get too far ahead with 300 to go and he had to go way wide out into lane three on the final turn.
Atchoo talked about the difference between this meet and NCAA Indoors where he only ran the DMR and anchored Stanford to a national title. He said that the pressure was the same either way because even in an individual event his teammates were counting on him to represent Stanford well.
Columbia's Gregorek, a senior, may have not advanced to the final but this won't be his last time competing at Hayward Field. He'll be running indoors and out next year for Oregon as a grad student. This was all captured on an interview which seemingly is missing from our letsrundotcom youtube page. A similar interview from runnrespace can be found here.
Heat 2
Arizona's Lawi Lalang is known for running fast in the prelims, so it was no surprise when he immediately sprinted to the front of heat 2. Lalang hit 400 in 57.1 seconds, with Kentucky's Matt Hillenbrand, Villanova's Jordy Williamsz and Washington's Izaic Yorks in tow. New Mexico's Peter Callahan sat near the back.
The pace slowed a bit on the second 400 (60.75), but by the time the field hit 800 in 1:57.9, the runners were strung out single-file, an odd sight for a 1500 prelim.
At the bell, it was still Lalang in front with Hillenbrand, John Simons of Minnesota, Williamsz and Eastern Michigan's Grzegorz Kalinowski behind him in spots 2-5. Lalang, Simons and Williamsz would all hold on for auto spots. They were joined by Virginia Tech's Grant Pollock and Callahan, who closed well to take second and fourth, respectively.
Behind them, it was a battle royale for the two time qualifiers. Starting with Simons, four men crossed the line in the span of .04 seconds. Three would make it — Simons and Rorey Hunter of Indiana and Thomas Joyce of Cal, the latter two qualifying on time — while Hillenbrand would end up the hard-luck loser, just .02 seconds off the final spot.
Results and post-race interviews appear below.
Results – Place Name Affiliation Time *Lap by Lap Splits
Place Name Affiliation Time
1 Lawi Lalang ARIZ 3:41.03 Q
2 Grant Pollock VT 3:41.18 Q
3 Jordan Williamsz NOVA 3:41.23 Q
4 Peter Callahan UNM 3:41.52 Q
5 John Simons MINN 3:41.65 Q
6 Rorey Hunter IU 03:41.66
7 Thomas Joyce CAL 03:41.67
8 Matt Hillenbrand UKY 03:41.69
9 Grzegorz Kalinowski EMI 03:43.18
10 Jake Hurysz COLO 03:48.16
11 Izaic Yorks WASH 03:49.51
12 Joel Hubbard SYR 03:51.62
We had a lengthy conversation with Lawi Lalang after his heat 1 win.
Lalang said he's feeling very good and is ready for the tomorrow's 5,000 clash with Edward Cheserek. Lalang said he watched the 10,000 final yesterday. Having done the 10,000/5,000 double last year, he said he doesn't think it takes too much out of you.
Everyone expects Lawi to take tomorrow's 5,000 final out hard. We asked him whether he ever thinks about doing what Cheserek does and waiting for the final 300, given Lalang's 3:33 1500 speed. Lalang says he's tried that type of strategy in the past but it doesn't work for him.
Lalang also said beating Cheserek in the 1500 final at Pac-12s gave him confidence. As for his loss to Fleet in the 1500 earlier in the season, Lalang said he wasn't planning on running that race as he was just building back up after indoors but his coach told him he needed to do it.
Our dark horse pick for the 1500 win, Peter Callahan, is excited to be back and healthy after having such an injury-plagued career. He says this is the first time he's been able to break out of that injury cycle and actually stay healthy all through the outdoor season. He said he felt "really smooth" in the quick prelim and is "strongest I've ever felt." Looking ahead to the final, he said he was ready for the race to be fast or slow and thought he could compete either way.
Women's 1500
Heat 1
This one went out slowly, with Virginia Tech's Shannon Morton leading the field through 400 in 72.56 with Villanova's Angel Piccirillo, Arizona State's Shelby Houlihan and Kentucky's Allison Peare close behind in a tightly-bunched pack.
With two to go, Morton and Piccirillo still led and it was clear that this was going to be a kicker's race. On the back stretch of the penultimate lap, Carly Hamilton of Georgia took the lead and began to speed things up: 800 through 1200 was covered in 66.7 seconds. With 200 to go, it was Hamilton and Piccirillo leading Houlihan and New Mexico's Sammy Silva.
Indoor mile champ Emily Lipari of Villanova was boxed in for much of the final lap and basically had to move out sideways to find some space with 100 to go. But once she got the space, she showed the kick that she's become known for, pumping her arms rapidly to make up a lot of ground and win the heat in 4:21.14. Kentucky's Peare would also close well to join Lipari, Houlihan, Piccirillo and Wisconsin's Molly Hanson as the five auto qualifiers.
Results and post-race interviews below.
Results – Place Name Affiliation Time *Lap by Lap Splits
1 Emily Lipari NOVA 4:21.14 Q
2 Shelby Houlihan AZST 4:21.19 Q
3 Allison Peare UKY 4:21.21 Q
4 Molly Hanson WISC 4:21.28 Q
5 Angel Piccirillo NOVA 4:21.47 Q
6 Rebecca Mehra STAN 04:21.63
7 Carly Hamilton UGA 04:21.98
8 Sammy Silva UNM 04:22.95
9 Elizabeth Whelan UNC 04:23.31
10 Alli Cash UO 04:23.60
11 Shannon Morton VT 04:25.42
12 Raquel Lambdin UCD 04:30.55
Lipari had some interesting things to say in her interview. The noted kicker said she'd like to have a fast 1500 final as she's only run 4:14 this year and wants to show she's not just a kicker, she can also run fast.
When asked if it was different psychologically to enter NCAAs as the favorite, Lipari said she felt like a lot of people are doubting her and don't believe she can win the 1500 final on Saturday:
Oregon's Alli Cash, who PR'd twice at regionals simply to qualify, said the Oregon coaching staff told her to not just be happy to be here. Cash will now focus on getting ready for cross country.
Shelby Houlihan has been known for some impressive doubles (she did the mile/3K indoors and had a difficult 1500/5K double win at Pac-12 Champs), but has decided to just do the 1500 here. She was thinking about doing the 5K, but decided it was too close to the 1500 and it's really nice to just focus on one event. On the final, she said feels she has just as good a chance as anyone else to win on Saturday.
Heat 2
2012 NCAA champ Katie Flood of Washington went to the front and lead through 400 in 71.7. Behind her, Butler's Kirsty Legg, Arkansas' indoor mile runner-up Stephanie Brown and 2013 Team USA member Cory McGee all ran close together in spots 2 through 4.
After a second 400 of 69.3 (800 split: 2:21.0), it was Legg, Flood, McGee and Florida State's Linden Hall in the top group. McGee went to the front with 500 to go and began to push, with her teammate Agata Strausa and Brown joining the leaders.
800 through 1200 was covered in 67.8  and by the time the runners reached 200, it was Hall in the lead. That's when Brown took off, making a strong move that no one could match. Brown accelerated away from the field to take the win, running 4:16.10, the fastest time on the day (63.18 last lap). Both time qualifiers would come from this heat, and all seven women in contention off the final turn ended up making the final.
Results and then post-race interviews appear below.
Results – Place Name Affiliation Time *Lap by Lap Splits
1 Stephanie Brown ARK 4:16.10 Q
2 Cory McGee UFL 4:17.56 Q
3 Linden Hall FSU 4:17.58 Q
4 Brook Handler MICH 4:17.84 Q
5 Sarah Penney UO 4:18.10 Q
6 Agata Strausa UFL 04:18.14
7 Rachel Schneider GTWN 04:18.37
8 Katie Flood WASH 04:20.43
9 Mariah Kelly BAY 04:23.63
10 Charlotte Arter UNM 04:26.45
11 Kirsty Legg BUTL 04:31.21
12 Suzie Boast UNM 04:34.10
Brown said she felt very good today and is looking forward to the final as she really would love to be an individual NCAA champion in addition to the DMR title the Hogs won indoors. Brown, who was second indoors in the mile, said that indoors she felt as if Lipari "kind of shocked" her with her late kick but that she's ready for it outdoors.
She thinks the key for her is to go back to her roots when she was young and sort of just ignored it when it starts to hurt. As for her fitness, she is pleased with it. She felt like she was in great form indoors, sort of hit a lull early in outdoors but is back to firing on all cylinders:
Cat Fight In The 1500?
2013 runner-up and USA Worlds team member Cory McGee didn't look 100% comfortable at the end of her heat and with the way she was keeping her eye on the jumbotron one might have thought she was really worried about getting passed. However, she said that she felt great and was mostly watching where the field was at and trying to get away from the people who were "racing messy".
McGee talked extensively about the physical nature of the race and was extremely frustrated by it saying it made it hard for her to relax and stay focused. She said that she was fighting a girl off her during the first 400 and had to verbally tell her to back off. She even admitted that Stephanie Brown and her exchanged words during the race with Brown telling her to "Stop!" so that it was just a "scrappy" race all around. (She laughed that part off though and said she and Brown were friends.)
McGee is very confident in her racing ability saying that she's prepared for a fast or slow race as she has the best PR in the field (4:06), but also knows in a slow race she can close fast as she did when she ran her last lap in 59 to make the USA World team last year.
FSU's Linden Hall was happy with her prelim and said that she's always just missed All-American as she was 9th last year and missed by a couple places in XC so that's definitely her goal for Saturday.
Oregon's Sarah Penny had a pretty tough prelim as she was still visibly worn out in her post-race interview and talked about how physical and windy it was. She left her kick a lot later than she was supposed to, but was confident at the end as she works out with 800 stud Laura Roesler and knew if she can keep up with her in practice she could pass people here.
Wisconsin's Molly Hanson qualified for the final:
Men's 3,000 steeplechase
Heat 1
Virginia's Kyle King and Louisville's Edwin Kibichiy led the first half of this one, with defending champ Anthony Rotich of UTEP looking relaxed back in third. With three to go, Rotich took the lead and was quickly followed by Eastern Kentucky's two-time Danish champion Ole Hesselbjerg. Those two would separate from the main pack and when they hit the bell it was Rotich, Hesselbjerg and a big gap to the chasers Kibichiy, Brandon Doughty of Oklahoma and Alex Brill of Wisconsin.
Rotich pulled away easily for the win in 8:39.76 with a 64.97 last lap. Hesselbjerg was second and behind him there was an epic battle in the homestretch for the last three auto spots. Doughty hung on for third, while King, who had been dropped earlier in the lap, used a big last 200 to grab fourth. Brill just held off NAU's Caleb Hoover — who also moved up a lot over the final 200 — for fifth, but Hoover would end up making it on time anyway alongside seventh-placer Kibichiy.
Results and post-race interviews below.
Results – Place Name Affiliation Time (Lap by lap slits here)
1 Anthony Rotich UTEP 8:39.76 Q
2 Ole Hesselbjerg EKY 8:43.19 Q
3 Brandon Doughty OU 8:43.87 Q
4 Kyle King UVA 8:43.99 Q
5 Alex Brill WISC 8:44.01 Q
6 Caleb Hoover NAU 08:44.22
7 Edwin Kibichiy LOU 08:44.97
8 Danny Thater TULS 08:46.74
9 Jared Berman VT 08:53.72
10 Tripp Hurt FUR 08:57.27
11 Eddie Owens PRIN 09:05.28
DNF Emil Blomberg UTA –
The defending champ Anthony Rotich of UTEP said that he ran with the pack today through 2k because coach Paul Ereng wanted him to practice being around people as he's been running up front most of the season.
He said he wanted to test himself a little bit in the last 800 to get ready for the final. He said in the final, his focus is always to compete against himself and doing the best he can.
Men's Steeple:
Eastern Kentucky's Ole Hesselbjerg definitely lived up to our prediction for 3rd as he was the only one to follow Rotich when he broke away and looked comfortable finishing 2nd in the heat. When asked what his goal for the final was he said top 3, but isn't limiting himself to 3rd. He said he doesn't see a big difference between 4th or 5th and 12th so said he'll try to go with Rotich and Kebenei and see how long he can stick with them. He felt he played it too safe last year when he was 7th, just tucking in and waiting until the last lap and he doesn't want to do the same thing this year.
Hesselbjerg is a two time Danish national champion so we asked him what his plans were for the summer figuring he'd have the European Championships or something to focus on. However, he said unfortunately his federation has set the standard for Europeans at 8:30 (which is 7-seconds faster than the international standard) so he never really had his eye on that and NCAAs is his primary concern.
NAU's Caleb Hoover was happy to get into the final as he finished 6th in his heat, but was the first in on time. He's the only distance runner at NCAAs from NAU despite the fact that their XC team was second in the fall. He said that's definitely on his mind and he would really like to get All-American for his team and represent for NAU. Talking about why none of the other distance guys from NAU made it he just thinks they're a cross country oriented team and made a comparison to Oregon who kill it in track, but are definitely overall less impressive (Edward Cheserek's national title aside) in the fall.
Brill: Your "last race doesn't mean shit"
Wisconsin's Brill was happy to make his first NCAA final but said things won't be complete unless he finishes things off by scoring in the final and earning first-team All-American honors as that's something almost expected of Wisconsin Badgers given their storied history. He said he actually was in better shape last year but didn't perform well at NCAAs. This year, he was able to put his past races behind him and give it his best today.
Your "last race doesn't mean shit," said Brill.
Heat 2
Arkansas' Stanley Kebenei, who was third last year, led almost all of this one, with Michigan's Mason Ferlic sitting behind him in third. WIth four to go, it was those two ahead of Tanguy Pepiot of Oregon and John Prizzi of New Hampshire in third and fourth.
With two to go, the order was the same with the Georgetown duo of Max Darrah and Dylan Sorensen; by the bell, Oklahoma's Alex Deir had joined the main pack.
Deir moved up well over the final lap and when he and the rest of the leaders came off the final water jump, they had a gap on the Georgetown runners in sixth. Pepiot would continue to check his shoulder over the final 50 meters but Darrah couldn't get him. Pepiot flashed the Oregon "O" as he crossed the finish line to give make the Ducks yet another finalist on the men's side.
Results and post-race interviews below.
Results – Place Name Affiliation Time (Lap by lap slits here)
1 Stanley Kebenei ARK 8:48.83 Q
2 John Prizzi UNH 8:49.01 Q
3 Mason Ferlic MICH 8:49.20 Q
4 Alex Deir OU 8:49.29 Q
5 Tanguy Pepiot UO 8:50.03 Q
6 Max Darrah GTWN 08:50.68
7 Jacob Smith HIGH 08:53.42
8 Blake Theroux COLO 08:54.70
9 Dylan Sorensen GTWN 08:55.24
10 Jake Waterman PURD 08:57.13
11 Robert McCann DRAK 09:02.26
12 Andrew Gonzales WAST 09:05.24
Arkansas' Stanley Kebenei felt good about his prelim and isn't too concerned about his impending 5K/steeple double saying that he just prepares himself mentally and doesn't worry about it. Talking about the decision to throw the 5K in there despite his best shot at a title being in the steeple, he acknowledged it was for team points: "We came here as a team and that's why we're here."
New Hampshire's John Prizzi set a 5-second PR just to qualify for NCAAs with an 8:42, but definitely seems to have some more in the tank as he got second in this heat with 8:49, but said it felt very slow during the race and he kept clipping people's heels. He was super psyched just to make it to nationals, but says he has a different outlook now than even 2-weeks ago.
He said, "I think after seeing what I've been doing I just started having faith in my coach, my training and myself. And I gotta stop thinking that everyone here is superstars above me and that I'm not at the same level as them. It's time to show them what New Hampshire can do."
He's hoping for a tactical race in the final and plans on hanging in the chase pack (assuming Rotich and Kebenei go fast) and trying to get top 8.
Michigan's Ferlic, who missed the final by four-tenths of a second last year, said the key this year was just to be a "little bit smarter" and tactically sound in the prelims and to try to stay more relaxed. He's ready to go for it in the final and says his "fitness has been progressing" recently.
We did ask Ferlic about the rumor we've heard both in person from several people while here in Eugene and saw on the messageboard that Ferlic's coach Alex Gibby is out at Michigan. Ferlic said, "That's a rumor as far as I know and that's what he (Gibby) said [as well]." He said regardless, he's focused on the final and has complete faith in Gibby as a coach.
Oregon's Pepiot, who came to Oregon with a stellar 8:33 steeple pb, but has only managed 8:42 so far this year, was very upbeat after qualifying for the final. He said it took him a while to adjust to the training at Oregon which features a lot more volume than when he was doing speed-based training in France. He said a few changes have been made in his training and he's now feeling great and he thinks he's capable of a PB in the final.