USATF Does It Again: Dennis Mitchell, Convicted Doper, Your Head Sprint Coach For World Relays
by: Weldon Johnson, LetsRun.com
May 22, 2014
USATF has done it again.
Eight years ago, convicted doper and former international sprinter Dennis Mitchell, was announced as the US coach for the USA-Great Britain meet. A public outcry ensued. Then, in a bizarre demonstration of its own ineptitude or as part of a cover-up, USATF announced that it actually had meant to select a different Dennis Mitchell, the University of Akron coach by the same name, for the US-GBR team. The end result was Dennis Mitchell, the doper, was not the national team coach.
Eight years later, this Saturday and Sunday as the inaugural World Relays in the Bahamas, Dennis Mitchell, the ex-sprinter and convicted PED user, not the Akron coach, will be the head USATF men's sprint coach. This time Dennis will have the full blessing of the USATF national office. Also on the coaching staff will be Damu Cherry-Mitchell, Dennis' wife, who also is a convicted doper.
Numerous attempts to speak to Dennis, Damu, USATF Ceo Max Siegel, or anyone who would defend Dennis' selection as national team coach have been turned down by USATF. Eventually Jill Geer, who has one of the toughest jobs in the sport as USATF Chief Public Affairs Officer, said in an email explaining the selection, "both (Dennis and Damu) have been in good standing for a decade or more, with no doping or ethical issues and strong coaching records, since.  An individual who has paid their penalty, is in good standing and who has a subsequent body of good work is eligible for the privileges of the sport, including the Coaches Registry and eligibility to serve on team staffs. The coaching staff for the IAAF World Relays was put together as the group of the best eligible coaches available to coach for this event. As is the case with all staffs, the CEO (Max Siegel) approved their selection."
Article continues below player.
Being the US National team coach most definitely is a "privilege" and not a right.  USATF, however, does not understand this. Jill initially wrote that, "A person who is currently in good standing with USADA is eligible to fully participate in the sport of track & field." Participating in the sport of track and field and having the honor to coach a USA national team are two entirely different things.  
A convicted doper should never be a national team coach. I take that back. A convicted doper should never be a national team coach until they truthfully account publicly and before USADA everything about their own doping past, and show a commitment to clean sport.
Dennis Mitchell has not done that. When first busted for doping in 1998, Mitchell gave the famous "five bottles of beer and sex with his wife at least four times" excuse for having high testosterone, reportedly adding, "It was her birthday, the lady deserved a treat."  USATF accepted Dennis' explanation and cleared him to compete.
Fortunately, the IAAF didn't. Mitchell then had to testify at the Trevor Graham perjury trial in 2008 and was forced to admit that Graham injected him with HGH and advised him to take EPO, HGH, and steroids. The most I have seen Dennis speak publicly about this was admitting to Gatorzone.com in 2010 that he was "'peer-pressured' into 'making bad choices' while training under Trevor Graham for 90 days in North Carolina."
Do USATF Rules Mean Anything?
| | |
| --- | --- |
| Overall | |
| Comfort | |
| Cushioning | |
| Durability | |
| Appearance | |
| Value | |
Just as troubling as USATF CEO Max Siegel deciding it is a good idea for Dennis Mitchell to be a national team coach is how he came to be selected as coach.
USATF's procedures for selection of national team coaches say, "The Men's Track & Field Executive Committee and the Women's Track & Field Executive Committee will select the proposed list of coaches for the 2014 National Teams at the 2013 Annual Meeting for submission to the CEO for Background Screening and to the Board of Directors for approval."
I contacted a member of Men's Track & Field Executive Committee to discuss the rationale for Dennis being chosen as national team coach and to find out whether his doping past was discussed.  Surely, someone behind the decision to make Dennis the coach would be willing to publicly defend the decision.
This Executive Committee member who wishes to remain anonymous so he doesn't get "fried", said flat-out the Executive Committee did not select Dennis Mitchell.  "They (the head coaches) were hired by the national office," he said. He added, "we (the Executive Committee) were given the opportunity to select the assistant coaches."
I contacted another USATF executive committee member to confirm this version of events. He had no recollection of selecting Dennis as the head coach and spoke out against Dennis being the coach. Despite saying Dennis was a friend of his he said, "We (USATF) have enough problems. We're not stepping up to the plate. We have an image problem that runs deep. I don't think they should have selected Dennis as a coach."
This Executive Committee member said the selection of Dennis as coach is "not sending the right message to all the recreational runners and track fans in America." I agree.
Even sadder is that the paid staff at the USATF National office does not get this.
If Dennis Mitchell is best coach to represent the greatest country on the earth at the World Relays, then tell us why. Instead all we get from USATF is silence.
*************
Speaking of silence, USATF is used to it because the sport is so off the mainstream media radar. Any major sport would be ready to publicly discuss selecting a doper as a national team coach. Not USATF. They are used to no one noticing. At last year's USATF annual meeting, US 1500m runner Will Leer who is on the World Relays team, was trying to figure out how and why USATF's highest annual honor for an athlete, the Jesse Owens award, went to LaShawn Merritt, who like Dennis Mitchell has a doping conviction on his record. Leer said as a result he was "reprimanded" by USATF CEO Max Siegel.
"They don't like it when people ask questions, when people disrupt their status quo," said Leer recently about the episode on a House of Run podcast (discuss here),
*************
This Dennis Mitchell situation is another example of the "rules" USATF have being completely worthless. If the USATF rules ultimately end with the CEO being able to select whoever he wants as national team coach, then why pretend to have the pretext of Executive Committee input or the pretext of excluding coaches with doping convictions from the coaches' registry? If the Long Distance Committee recommendations for the host of the 2016 Olympic Marathon Trials can be summarily rejected, then why bother with the committee in the first place? If athletes can be disqualified and reinstated at nationals, for unknown reasons, then why have rules in the first place?
*************
Dennis Mitchell is now most known for being the coach of the current top 100m man in the world, fellow convicted doper Justin Gatlin. Gatlin ran 9.86 yesterday in China. Gatlin's comeback from a four-year doping suspension has been truly remarkable. The public reaction to Gatlin would be much more of amazement, if so many people weren't wondering if Gatling could actually be clean.  An interesting anecdote from the Trevor Graham trial was Mitchell testified that Trevor Graham told him, "If you want to run 9-8 (9.8 seconds), you need to do these things." Presumably Mitchell doesn't believe that anymore, but what are he and Gatlin doing to stand up for clean sport, to show that Gatlin is clean? Nothing except pass the drug tests given by USADA. Mitchell denied doping for years, just as Gatlin still sticks to masseuse sabotage story.
*************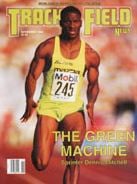 When Mark McGwire became hitting coach of the St. Louis Cardinals, he opened up much more about his doping past. It is time for Dennis Mitchell to do the same. Dennis was one of the guys who got caught. There likely are many more like him from his era in prominent roles in the sport who didn't get caught.
Dennis told Gatorzone.com, "I focus on trying to be the best dad that I can to my kids, a good friend and a leader to the athletes that I train. I'm a good person, and I have a good heart. I try to be a good role model to the people who will allow me to do so."
Dennis may be a great guy and a great father. I always liked him as an athlete. To be a true role model in the sport, it's time for him to talk openly about his past.  Until then, he can coach in the sport, but he definitely shouldn't be a national team coach. It's too bad USATF doesn't understand this.
*************