Drake Relays Show Me the Money: Brenda Martinez, Morgan Uceny, Shannon Rowbury, Treniere Moser Racing for $25,000, Merritt vs James vs Wariner at 400m
by: LetsRun.com
April 24, 2014
Move over Diamond League. The Drake Relays Presented by Hy-Vee are here and they've got six events with $50,000 in prize money each (men's 400m, men's 110m h, men's 400mh, women's 1500, women's 100m h, and women's 400m h) and four field events (men's and women's high jump and pole vault) with $25,000 each.
The highlight for LetsRun.com fans is the women's 1500 Meter Run Moscow Games Rematch and it will be the world's richest 1500m race in terms of prize money for the year. It features many of America's best including Brenda Martinez, Morgan Uceny, and Shannon Rowbury vs World bronze medallist Hellen Obiri of Kenya.
Article continues below player
$50,000 in prize money is on the line and it only goes to to the top three. The winner takes home $25,000, second place $15,000 and third place $10,000. Finish 4th? You get nothing.
$50,000 is a ton of prize money for a single event. For reference, Diamond League events have $30,000 in prize money with the winner only taking home $10,000.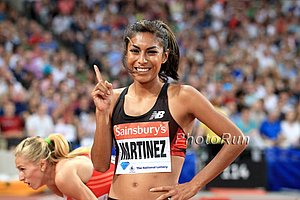 Supermarket chain Hy-Vee began sponsoring Drake last year and the huge prize money in select events is starting to get the sport's stars to change their schedules to make sure they are in Iowa in April.
Headlining the 1500m field is last year's 1500m bronze medallist Hellen Obiri of Kenya.
This is Obiri's outdoor opener, but she comes in fit as she won silver at World Indoors behind Gezebe Dibaba at 3000m.
Obiri will have her hands full versus nearly all of the top Americans (except for the two highest paid 1500m runners in the US Jenny Simpson and Mary Cain).
World 800m bronze medallist Brenda Martinez leads the US contingent at Drake. Brenda is most remembered for her 800m bronze last year, but she did run 4:00.94 last year for 3rd in Monaco, just .01 behind Obiri, and ended up the year ranked #2 by Track and Field News in the USA behind Simpson, but ahead of Mary Cain.
The big question mark for Martinez and a lot of these women is how race sharp are they for 1500m? This is Martinez first race under 5000 m on the track this year. She ran an impressive 15:24 on the roads at Carlsbad, but then struggled with a 15:41 on the track at Mt. Sac last week.
Treniere Moser and Heather Kampf had the most success indoors as both made the World Indoor 1500m final. Moser finished one spot out of the medals in 4th while Kampf was DQd in the final after falling. Moser has run faster than any of the other Americans this year having clocked 4:07 indoors.
Kamps if racing her third race in 7 days. Saturday she was second in the BAA Road Mile to Morgan Uceny. Tuesday she won the US Road Mile Championship which were also in Des Moines as part of the Grand Blue Mile which helped kick of the Drake Relays. She'll face her toughest task yet here.
Morgan Uceny was #1 in the world at 1500m in 2011. She fell at the Olympics in 2012 and had a disappointing 2013. Saturday she won the BAA Road Mile and her coach Terrence Mahon said, "It's 2011/2012 Morgan." A strong run at Drake would go a long way in showing Morgan is back as Morgan's indoor season was not that impressive.
Shannon Rowbury is a former world bronze medallist at 1500m. She did make the US team for Worlds at 3000m, but her indoor season was not great. Training under Alberto Salazar this is her first real test in 2014 under her new coach.
Gabriele Grunewald ran 4:01.48 last year so she can not be dismissed although she was only 12th at the USA Road Mile champs on Wednesday.
Katie Mackey ran 4:04.60 last year in her first 1500m of the year (and never ran faster) and was second at the US Road Mile on Tuesday so she is fit and good at running fast early in the season.
The full 1500m field is below. Below that we have all the other Pro events from Friday. Drake viewing schedule below for Friday. The women's 1500m is at 8:25 central/9:25 eastern. Saturday tv here.
Friday Viewing Info
7:40 pm eastern-until conclustion – USATF.tv (Internet)
9:30-11 p.m. EDT – Drake Relays – Universal Sports (TV) (Replay of what was on USATF.tv)
(All Times Central Below)
Women's 1500m:
8:25 Central/9:25 eastern
Section 1 of 1 Finals
1 72 Morgan Uceny adidas
2 77 Heather Wilson Unattached
3 58 Shannon Rowbury Nike
4 14 Molly Beckwith-Ludlow Saucony
5 46 Brenda Martinez New Balance
6 52 Helen Obiri Kenya
7 32 Gabriele Grunewald Team USA Minn
8 50 Treniere Moser Nike
9 43 Katie Mackey USA
10 75 Lea Wallace Unattached
11 39 Heather Kampf Asics
12 80 Amanda Winslow USADrake 1500m
Super Stacked Mens 400m: King James vs Merritt vs Santos
There are many other Moscow Rematch Races with $50,000 in prize money, but the highlight is the men's 400m. Olympic champ Kirani James vs World Champ LaShawn Merritt vs Luguelin Santos with Jeremy Wariner in there for old time sake and triple jumper Christian Taylor who is running the 400 this year.
Event 390 Men 400 Meter Dash Moscow Games Rematch
Friday 4/25/2014 – 8:00 PM (Central)
Lane Name Yr School Seed Time
Section 1 of 1 Finals
1 145 Jeremy Warner adidas
2 82 Yousef Al-Masrahi Saudi Arabia
3 120 Tony McQuay adidas
4 122 LaShawn Merritt Nike
5 110 Kirani James Nike
6 136 Luguelin Santos Puma
7 116 Josh Mance USA
8 140 Christian Taylor Li-Ning
Men's 110m Hudles: Oliver vs Wilson vs Indoor World Champ Osaghae
Event 400 Men 110 Meter Hurdles Moscow Games Rematch
Friday 4/25/2014 – 6:43 PM
Lane Name Yr School Seed Time
Section 1 of 1 Finals
1 Antwon Hicks USA RED
2 90 Ryan Brathwaite Barbados
3 129 Hansle Parchment Jamaica
4 127 David Oliver Nike
5 151 Ryan Wilson Mizuno
6 134 Andrew Riley Puma
7 131 Jeff Porter Nike
8 128 Omo Osaghae USA
Men's 400m Hurdles Loaded Field
Jehua Anderson set a world leader at Mt. Sac last week and is ready.
Event 405 Men 400 Meter Hurdles Moscow Games Rematch
Friday 4/25/2014 – 7:35 PM
Lane Name Yr School Seed Time
Section 1 of 1 Finals
1 87 LaRon Bennett USA
2 109 Bershawn Jackson Nike
3 135 Felix Sanchez Dominican Republ
4 142 Michael Tinsley Nike
5 99 Johnny Dutch USA
6 96 Javier Culson Puerto Rico
7 83 Jeshua Anderson Nike
8 153 Reggie Wyatt USA
Women's Pole Vault: Jenn Suhr vs Silva
Event 480 Women Pole Vault Moscow Games Rematch
Friday 4/25/2014 – 5:45 PM
Pos Name Yr School Seed Mark
Flight 1 of 1 Finals
1 53 Melinda Owens USA
2 54 Tori Pena Ireland
3 41 Marion Lotout France
4 40 Janice Keppler USA
5 67 April Steiner-Bennett Asics
6 29 Melissa Gergel USA
7 27 Marion Flack Unattached
8 66 Katerina Stefanidi Greece
9 36 Kylie Hutson Nike
10 35 Becky Holliday Asics
11 59 Mary Saxer Unattached
12 61 Yarisley Silva Cuba
13 69 Jenn Suhr adidas
Men's High Jump:
Event 415 Men High Jump Moscow Games Rematch
Friday 4/25/2014 – 6:00 PM
Pos Name Yr School Seed Mark
Flight 1 of 1 Finals
1 97 Geoff Davis USA
2 119 Mike Mason Canada
3 132 Darius Purcell USA
4 150 Jamaal Wilson Bahamas
5 125 Donte Nall Unattached
6 108 Garrett Huyler Zensah
7 147 Brendan Williams Dominican Republ
8 148 Jessie Williams Nike
9 105 Mickael Hanany Nike
10 111 Dusty Jonas USA
11 85 Trevor Barry Bahamas
12 141 Donald Thomas Bahamas
13 98 Derek Drouin Nike
14 113 Erik Kynard Nik
Friday: Winner Take All Shuttle Hurdle Relay for $25,000 with Lolo and Brianna vs Dawn Harper, Kellie Wells
There is no love lost between Lolo Jones and some of her fellow 100m hurdle competitors. They'll compete on Friday night in the shuttle hurdle relay in a $25,000 winner take all race.
Lolo is on a team with World Champ Brianna Rollins, Queen Harrison and Vashti Thomas. They'll take on Nia Ali, Kristi Castlin, Dawn Harper-Nelson and Kellie Wells.
Saturday:
Saturday has 4 pro events. Men's High Jump, Men's Pole Vault, Women's 400m hurdles, women's 100m hurdles