Week that Was: Dennis Kimetto, Rita Jeptoo and All Things Chicago Marathon, Kim Smith, Stephen Sambu Pick Up $100k, Haile Gebrselassie Still Has It
by LetsRun.com
October 16, 2013
If you missed last week's weekly recap it can be found here: LRC WTW: Zola Budd, Running Models, Veronica Campbell-Brown, Twin Cities Past And Present, Guelph, And Bad College Sports Publicity.
*****
Stat Of The Week I
Below you will see the personal bests of 2013 Tokyo and 2013 Chicago Marathon winner Dennis Kimetto in the key formative years of age 18-26 before he started racing the 10,000 (28:30 at altitude) and half-marathon (61:30 at altitude) in 2011 at age 27 in anticipation of his 2012 marathon debut at age 28.
Don't see anything?
Article continues below player.
Maybe you need to upgrade to Windows 8.1 which comes out this week, otherwise we've been hearing that a lot of our content isn't showing up properly on people's browsers.
Just kidding.
Don't worry, there is nothing wrong with your computer screen.
We were trying to make a point. As Kimetto says, he wasn't a runner until age 26. Prior to that, he was busy farming as he told RunBlogRun, "Before 2010 I was concentrating on farming and had never run before."
Now he's a runner and a very good one, maybe the best marathoner in the world. He's run three marathons in the last 12 + months. A 2:04:16 runner-up showing in Berlin last fall where many people think he lost to his training mate Geoffrey Mutai on purpose or at least out of respect as Mutai had helped Kimetto get into the sport, a 2:06:50 win in Tokyo, and a course record 2:03:45 in Chicago. 
We've got more Chicago analysis below, but if you missed our coverage on Sunday that is the place to start:
More: LRC Dennis Kimetto Wins, Shatters Course Record With 2:03:45 Clocking
Analysis: Eight Quick Takes On The Men's Race: Kimetto Is A Stud, Mutai Is Mr. Silver, Teg & Ritz Struggle Final 10k, Abhsero Goes For It
*2013 Chicago Marathon Results
Pre-Race: Kimetto thinks he would be Geoffrey Mutai if they raced right
now
*****
Stat of the Week II
– 5:09.5 mile pace.
Pace that Rita Jeptoo averaged from 30k to the finish to win the 2013 Bank of America Chicago Marathon in 2:19:57 as it took her just 39:05 to run the final 12.194988 kms. That's very fast.
Let's try to put that in perspective for you. That's 2:15:13 marathon pace. It's also faster than what four of the men in the top 10 of the men's standings ran for their final 12.19 km as the obscenely fast fast early pace in the men's race destroyed most of the competitors.
Final 12.19 km – Rita Jeptoo 39:05 (5:09.5 pace)
5. Dathan Ritzenhein 39:49 (5:15 pace)
6. Ayale Abshero 42:05 (5:33 pace)
8. Moses Mosop 43:13 (5:42 pace)
10. Matt Tegenkamp 40:01 (5:16.9 pace)
Memo to all marathon competitors, it's way better to negative split it than to get out over your head. As good as Jeptoo's 39:05 final 12.19km was remember that is 2:15:13 pace. Paula Radcliffe's world record? 2:15:25.
More: LRC Rita Jeptoo Wins, Sets World-Leading 2:19:57 Time By Running A Big Negative Split  *2013 Chicago Marathon Results
****
The Chicago Course Record Has Come Down Nearly 2 Minutes in 2 Years, Surely the Sub 2:00:00 is Near?
Hat tip to LRC visitor/frequent contributor David Graham for sending us the following on the course record at Chicago.
"Course Record – It is impressive to see how quickly the course record has come down.  Only a year and a week ago, the CR was Moses Mosop's 2:05:37.  Now the CR is almost two minutes faster than that!!
Chicago Course Records:
1977 Dan Cloeter 2:17:52
1980 Frank Richardson 2:14:04
1982 Greg Meyer 2:10:59
1983 Joseph Nzau 2:09:44
1984 Steve Jones 2:08:05
1985 Steve Jones 2:07:13
1997 Khalid Khannouchi 2:07:10
1998 Ondoro Osoro 2:06:54
1999 Khalid Khannouchi 2:05:42
2009 Sammy Wanjiru 2:05:41*
2011 Moses Mosop 2:05:37
2012 Tsegaye Kebede 2:04:38
2013 Dennis Kimetto 2:03:45
LRC Comments: The Chicago Marathon course record has come down nearly two minutes in two years. The guy who broke the course record wasn't even running four years ago. We see how the layman thinks we're close to a two hour marathon. Yet, we at LRC believe we're a long, long way away from sub 2:00:00. The founders of LRC just turned forty. They hope to be alive when sub 2:00:00 is broken.
No one has come close to running sub 1:00:00 for half a marathon in the a full marathon. Once someone does that, then let's start talking about it being done in the next 10 or 15 years. We need a radical change in training for sub 2:00:00 to be on the horizon.
*Dennis Kimetto didn't become a "runner" in his own words until 2010. More on that here.
****
Kim Smith and Stephen Sambu Win $100,000 Each
Chicago rightfully dominated the news this past week. Meanwhile in Boston, Kim Smith and Stephen Sambu both ran the BAA Half Marathon and picked up $100,000 each by winning the BAA Distance Medley Crown (they had the fastest cumulative time in the BAA 5k, BAA 10k, and BAA Half-Marathon). Kim Smith won the BAA half marathon and the overall crown for the second year. $200,000 in two years is pretty good for Smith.
Sambu, an NCAA star at Arizona,  entered the race with a 32 second lead on Daniel Salel. At the half-marathon, Salel and Sambu finished with the same time 1:00:41 as Salel edged Sambu for second.
Salel picked up $4000 for finishing second, meanwhile Sambu picked up $102,500 in third ($2,500 for 3rd plus $100,000 bonus). Overall for the three race series, Salel won $6000 ($4000 here, $1500 for 3rd at the 10k, $500 for 7th in the 5k), meanwhile Sambu won $108,250 ($2500 here, $5000 for 10k, $750 for 5k).
It's not hard to see why the $100,000 gimmicky bonus hasn't attracted more quality runners or more attention. It is a gimmick and if you don't win the $100,000 bonus, you might not win very much at all.
The overall three race series this year had less than $100,000 in total prize money ($92,700 total -$24,900 5k, $29,400 10k, $38,400 half-marathon) for both men and women combined including wheelchairs. Yet there was $200,000 in bonuses for the overall series. Not a very good allocation of resources.
The BAA recently announced it hired successful coach Terrence Mahon to coach a high performance group for the club. We're not positive the BAA distance medley bonus isn't coming back next year (we heard from a prety good source it's not coming back but haven't confirmed that), but if it's not and the $200,000 is instead spent on Mahon and the pro  Club, that is money well spent. One of the few times you'll see us at LRC supporting prize money gimmicks being taken out of the sport.
PS – Race directors, if you ever want consulting work on your pro fields, email us.
* Kim Smith Wins $100,000 In Style, Wins 2013 BAA Half Marathon With 69:14 Course Record
*Lelisa Desisa Sets 60:34 Course Record At 2013 BAA Half Marathon But Stephen Sambu Is Big Winner On Day With $100,000 Payday
*LRC BAA Half Marathon Photo Gallery
****
Haile  G Still Has It
Last month Haile Gebrselassie was hanging tough with Mo Farah and Kenenisa Bekele in one of the greatest half-marathon match-ups ever.
This week he was hanging with 5,000m stud Yenew Alamirew in a 4 miler in the Netherlands. Gebrselassie didn't win either race, but he showed he is still really, really good at age 40 (if anything Geb is older than his official age) across a range of distances.
More: Groninge Netherlands: Viola Kibiwot Sets Worlds Best For 4 Miles As Haile Gebrselassie Nearly Beats Yenew Alamirew
On The Boards: Meanwhile, Gebrselassie clocks 17:31 for 4 miles in race vs Alamirew
****
Quotes of the Week (that weren't quote of the day)
I
"I like being under the radar. I don't envy the scrutiny that some of these guys (like Ritz and Teg) go through on a race-to-race basis. If they have an off day, all of a sudden, the hounds attack."
– Team Eugene Runner and 2:13 marathoner Craig Leon talking to Track Town USA's Curtis Anderson prior to the Chicago Marathon. Leon, who was 10th at Boston in the spring, lowered his pb from 2:14:38 to 2:13:52 to place 14th in Chicago.
More: Under the radar: Eugene marathoner Craig Leon hopes to raise his game with a PR performance at Sunday's Chicago Marathon
*****
II
"Everybody I know is just struggling to get a job, much less train for a marathon."
– Tyson Hartnett, a 27-year-old entrepreneur, writer and sales professional, explaining to the Wall Street Journal's Kevin Helliker why the 20 somethings nowadays are so slow in races.
We disagree with Hartnett's assessment. It seems like people without jobs would have more time to train for a marathon than someone with a 40 hour+ work week. Wasn't one of the reasons American marathoners were great in the 70s because the economy was floundering?
More: Kevin Helliker writes follow-up column in WSJ after receiving backlash from the "Slowest Generation" 
*MB Discsussion: Obama/economy to blame for slowing of running times across country?
*****
III
"'Why should I run the whole course? I can walk and still get a medal.'"
– Alleged statement from a high school runner who walked part of a recent race according to Brad Mason, track coach at Beloit Junior-Senior High School in Beloit, Kan. The quote comes from the same WSJ article by Helliker above.
*****
IV
"I can only really speak of the US market but I really think alcohol needs to be sold at meets, and also there needs to be gambling. …. I'm not saying people need to be shotgunning beers, but to have a beer is a right that people have."
– Nick Symmonds talking to Spikes magazine about how to make track more popular.
Track meets need to be entertaining. Most of them are presented very blandly. Beer and gambling can help make them more entertaining, but good luck getting the gambling laws changed. And besides if there is gambling on running, then it would be allowed on tennis, basketball, football, etc. Track and field still would need to find a way to compete with those sports. Horse racing has a virtual monopoly on sports gambling in the US and look how popular it is. Gambling is a gimmick. Entertaining meets are not.
MB: Nick Symmonds is right – let's drink and gamble at track meets
*****
V
"In the 29 years between Salazar's 2:08:13 and 2010 (the year before Mutai ran 2:05:06), the record over the five-borough course had only come down by 30 seconds. This leads me to believe that Mutai's 2011 performance in NYC, like his 2:03:02 in Boston that spring, is a one-off type performance that may last longer than any previous New York City Marathon record."
– Toni Reavis explaining in a post on the NYRR website why he thinks the ING New York City Marathon course record will last a long time.
More: Toni Reavis and Sam Grotewald debate whether Geoffrey Mutai can break NYC Marathon course record in 3 weeks
*****
VI
"I remember the Mzungu (white man/Seppelt) from Germany came here to my home when I had just woken up, I don't know who showed him my home and how they got here.
"He was in the company of three others and I tried to avoid him and speak with the three locals with him. What we were speaking about was the same thing we are talking about now,"
– Banned Kenyan Matthew Kisorio denying to CaptialFM that there is widespread doping in Kenya and explaining how the German reporter Hajo Seppelt misunderstood what he told him.
It's worth noting if you read Seppelt's interview about Kisorio where he says Seppelt says Kisorio told him doping was 'widespread', he never quotes Kisorio directly. Having interviewed a lot of Kenyans at various events over the years who supposedly speak good Enlgish, we can easily see how someone speaking different native languages could misunderstand someone. That being said, Kisorio did say directly, "I wasn't the only one – and none of the others got caught for doping."
Kisorio says after the doping he was dropped by his agent and coach. Does that mean doping isn't widespread? No.
We do know one thing. One thing we've learned from talking to our friend David Epstein, author of Sports Gene, over the years is that only foolish drug cheats get busted for steroids like the one Kisorio tested positive for. The smart drug cheats, like Lance Armstrong, don't test positive.
More: My Doping Hell: Very Long Feature On Comeback Of 58:46 Man Matthew Kisorio, Who Is On Comeback Trail From Doping Ban
*****
Photos of the Week:
Last week, we shared with you a photo of some US women garnering publicity by walking the runway for Oiselle. This week another prominent runner is getting publicity for provocatively dressing.
This week Burundi Olympian and 1500, 5000, 10,000, half-marathon and marathon national record holder Diane Nukuri Johnson, who is running New York in a few weeks, gets 8 pages of publicity in the magazine: "The African Perspective."  You can see her feature on pages 94-102 here (click on the magazine cover to see inside the magazine).
In looking at the piece, we were struck by how similar a women's bikini looks to a woman's racing outfit.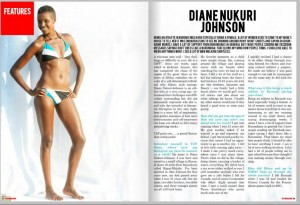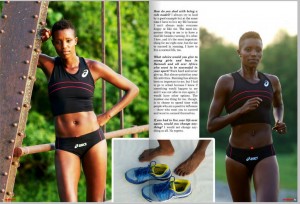 We're surprised someone hasn't started a race where people race in actual bikinis.
 *****
What About The Sport?
We are always looking for new ways to attract new fans to the sport or at a minimum raise appreciation for the amazing accomplishments of the sport's elite. The following does both:
*****
Recommended Reads
One Of The Good Guys In The Sport Team Eugene's Craig Leon Hoping For 2:11-12 in Chicago 
My Doping Hell: Very Long Feature On Comeback Of 58:46 Man Matthew Kisorio, Who Is On Comeback Trail From Doping Ban
Phil Coppess Remembers That Magical Day 28 Years Ago When He Ran The Still-Standing 2:10:05 Course Record At Twin Cities
****
Quotes Of The Day & Last Week's Homepages:
Note: To see a particular day's homepage, click on the hyperlink of the date. The hyperlink below the date on the quotes will take you to that particular article – not that day's homepage.
---
"Before 2010 I was concentrating on farming and had never run before."
– Dennis Kimetto after running a sensational 2:03:45 in Chicago to beat Emmanuel Mutai, who also broke 2:04:00. Is Kimetto, who didn't even start to run until three years ago at age 26, now the #1 marathoner in the world? (Reminder: Kimetto's win is an endorsement to purchase the book of our good friend David Epstein's book, Sports Gene)
---
"I'm ready for 61:45, but the problem is Berlin is completely flat and Chicago has a lot of corners and some little hills," – Moses Mosop talking about Sunday's race which will supposedly go out between 62:00 and 62:10.
---
"The World record in Berlin, I think, has set the atmosphere for Sunday. I think the culture is that we're going to go fast … I think the course record is going to go."
– BOA Chicago Marathon head honcho Carey Pinkwoski talking about Sunday's much-anticipated men's race.
---
"The 2013 Chicago Marathon field is LOADED with talent as race director Carey Pinkowski has done a stellar job yet again. How loaded? Well, let's try to put this in perspective for US fans. The field is so loaded that we only rank America's #1 hope – 12:56 5,000, 60:00 half marathon and 2:07:47 marathon man Dathan Ritzenhein – as the 10th most likely man to win the race on paper. That's crazy, as Ritz has been enjoying a strong 2013 campaign during which he's run the second fastest 5,000 of his career (13:09)."
– Excerpt from our 2013 Chicago Marathon men's preview.
---
"Unlike many other meets, Paul Short only takes into account a team's top five finishers in tabulating final scores."
– Excerpt from a Yale University men's cross-country press release from last weekend explaining (incorrectly) how the scoring of the college cross-country normally works. If college SID departments can't even treat our beloved sport as a real sport, then good luck getting any fans to pay attention.
---
"The first evening after I moved in (to a house in Kenya), I was getting ready to go to the cinema with some mates. I went downstairs to see if any of the Kenyans wanted to come. They were getting ready to go to bed. I looked at my watch. It was half past eight. I was woken up at 6am the next day by the sound of church music.
The Kenyans would go out for their first run of the day no later than 7am. I remember shaking my groggy head clear and staggering out of bed to join them. By the end of the session I was knackered. …
After food, they'd sleep. In the afternoon, they trained again. In the evenings they ate, rested and went to bed early. They did this every day. It was an almost monk-like existence. …
It was like a switch had been turned on inside my head. Like that, I knew what I had to do to win."
– Excerpt from Mo Farah's autobiography where he reveals moving to Kenya to train with the Kenyans in 2005 was life changing. Farah's autobiography "My Twin" comes out on Thursday. Pre-order here in the US (digital) or here in the UK.
---
"When thinking about this season, the first thing that comes to mind is extreme disappointment. … It was the first time in my career where workouts were going well, and feeling strong but it wasn't translating."
– Dan Huling giving his assessment of his 2013 season, which started off with a promising 13:18 5,000 PR in April but was most remembered for an 8:37 bomb at Worlds.