LRCers in the Real World #1: Rojo Calls into Sports Radio, Host Says "on a stupid scale of 1 to a 100 that's at least a 99." Was Rojo Right?
0.75x 1x 1.25x 1.5x 2x 0:00… LRCers in the Real World #1: Rojo Calls into Sports Radio, Host Says "on a stupid scale of 1 to a 100 that's at least a 99." Was Rojo Right? Apple PodcastsGoogle PodcastsPlayer EmbedShare Leave a ReviewListen in a New WindowDownloadSoundCloudStitcherSubscribe on AndroidSubscribe via RSSSpotify by: LetsRun.com September 20, […]
Join Our Supporters Club To Keep Reading
Sign up today to get 25% off and a free t-shirt.
by: LetsRun.com
September 20, 2013
LetsRun.com is first and foremost a community of runners. One of the greatest thing about LRC is the interesting people who visit the site and how passionate they are about running. With over a million unique visitors a month, "little" LRC has some really cool and influential runners coming to the site.
There is bigger badder world out there, the non-running world. The intersection of the running world and non-running world always interests us. With that intersection in mind, we are going to unveil two new series on LRC:
Article continues below player
1) LRCers in the Real World
2) Running's Portrayal in the Real World
We want these pieces to entertain.
"Robert on a stupid scale of 1 to a 100 that's at least a 99."
We'll start with LRCers in the Real World, and with LetsRun.com founder Robert Johnson, calling into the greatest sports radio station of all time, Sports Radio 1310 The Ticket (which just yesterday won the Marconi award for best Sports Radio station in America) for the post-game Dallas Cowboys show after the Cowboys beat the NY Giants 36-31 in week 1.
Let us lay the ground work for the call. Late in the 4th quarter with 2:49 left the Cowboys were leading 30 to 24. They had the ball on their own 36 yard line. It was 4th and 2.
After the game, Rojo called in to say the Cowboys instead of punting, should have GONE for it. If the Cowboys get the first down, for all intents and purposes the game is over. If not, the Giants and Eli Manning are only 36 yards away from a game winning touchdown.
Was this another drunken conspiracy theory by Rojo?
The hosts sure seemed to think so and it is classic sports radio. We won't spoil the audio too much because we want you to take 4 minutes and listen to it. Legendary DFW broadcaster Norm Hitzges says to Rojo, "Robert on a stupid scale of 1 to a 100 that's at least a 99."
Rojo was surprised by the vehement criticism and confesses, "I've been drinking (after the Sunday night game)."
Co-host Donovan Lewis tells Rojo, "Stop drinking, you have to go to work tomorrow."
Full audio below. 4 minutes:

(note, if the play button is not displaying, just click to the left of 0:00 and the audio will start playing).
Was Rojo Impaired Or Was He Right?
Now, many of you may want to stop with Rojo admitting to having thrown back a few beers and Norm calling Rojo extremely stupid, 99 out of 100.
Some of you already suspected that, even though we constantly try and tell you how smart we are when it comes to people running in circles or a straight line for 26.2 miles.
It would be too easy to just call Robert stupid.
We went to AdvancedNFLstats.com to break down the scenario. AdvancedNFLstats.com has a fourth down calculator that breaks down various scenarios based on league averages, the time left in the game, and tells you whether a team should go for it, punt, or kick a fill goal.
Here is the situation for Rojo's call.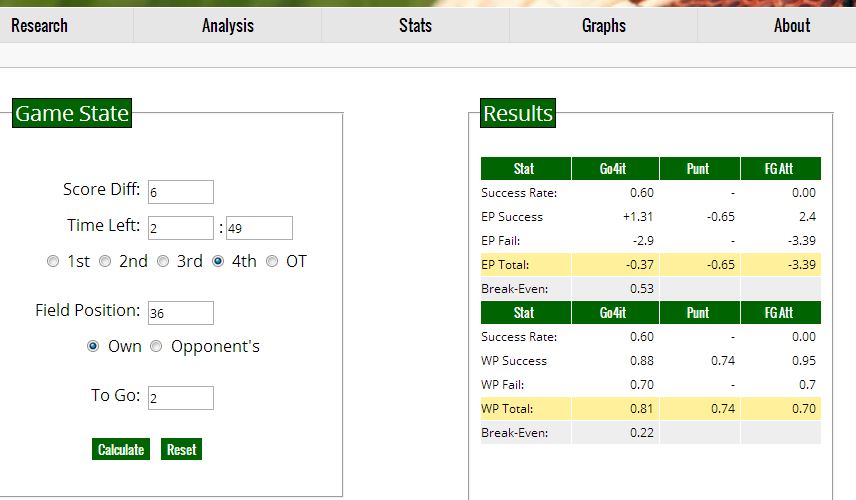 What you need to look at is the results on the right in the bottom of the box. The key metric is WP (Winning Percentage) and it shows how often the team wins under various scenarios.
On the 4th and 2, if the Cowboys go for it and get the first down they win 88% of the time. If they go for it and fail they still win 70% of the time as the Giants still need to go 36 yards and get a touchdown. 60% of the time the Cowboys pick up the 2 yards for the first down (Success rate), so the overall expected winning percentage of going for it is 81%. (.6*.88 + .4*.70 = .81)
If the Cowboys punt, their expected winning percentage is 74%. (Note: Punting and giving the ball to the Giants roughly 40 yards down field with 2:49 left results in a win 74% of the time, which is not much better than the 70% if they just turn over the ball on the 36. How can that be? Well the Giants have plenty of time left, know they need a touchdown, and will go for it on 4th down so an extra 40 yards does not make that much a difference in terms of winning percentage historically, as the Cowboys will be also playing back initially to make sure they don't get beat deep early on. Also note: A field goal isn't really an option here but is on the chart and is the same as going for it and failing.)
The two numbers to look at are WP Total for going for it and WP Total for punting.
81% of the time, the Cowboys win if they go for it. 74% of the time, they win if they punt. The math says the Cowboys should have gone for it and it would have increased their odds of winning roughly 10%. Rojo was correct.
Problem is coaches are risk averse and popular opinion says definitely to punt there. If Jason Garrett goes for it there and fails everyone in Dallas would be saying he should be fired. As is he didn't go for it and only half of Dallas thinks he should be fired.
You may want to adjust the percentages above away from the league averages to account for the specific situations of the Cowboys and Giants, but the end result won't change the numbers too much.
Sorry LRC Nation, Rojo is definitely not an idiot, and a strong argument can be made for going for it.
Cowboy fans looking to criticize Jason Garrett's game management also can look to week 2's game versus the Chiefs. Down four, with a 4th and 10 on the Chiefs 35. Garrett attempted a 52 yard field goal. Historical data says he should have punted or gone for it, definitely not kicked the field goal. Nice article write up with good discussion on AdvancedNFLStats.com.
*Discuss this article here in our forums.
Do you have a story from the LRCers in the Real World that you want to share with us? Email us.
Do you have a story of running being portrayed in the Real World? Email us. Free LRC tshirt if we use your story.
More: HT to Theunticket.com for the audio
*http://www.advancednflstats.com/
*Sportradio1310 The Ticket (download their new app which is great).

*Discuss this article here in our forums.
Editor's Note: Robert Johnson, a.k.a. "Rojo", is a co-founder of LetsRun.com. When not calling into sports radio, Robert lives in Baltimore, where he works on LetsRun.com and saves his opinions for the running world. (He's quoted in today's Wall Street Journal). Until last year, Robert was the men's distance coach at Cornell University. As a runner, Robert progressed quickly and just missed out on qualifying for the 2000 US Men's Olympic Marathon Trials by running a 2:23:11 marathon at the 2000 Las Vegas Marathon. In 2001, he helped pace Catherine Ndereba to her 2:18:47 world record in the 2001 Chicago Marathon. (Ndereba held the record only until the next year when Paula Radcliffe ran her 2:17:18, also in Chicago, to smash the world record. Paula was paced by Rojo's twin brother, the other LRC co-founder, Weldon Johnson.) Now, Rojo swears he ran a 5k this summer and didn't break 30 minutes despite trying.