My small part of history
by Robert Johnson
(Editor's note: LetsRun.com co-founder, Robert Johnson, restarted his running career after a 7 year injury induced hiatus on September of 1997 and has gone from a 16:42 5k runner to a 2:23 marathoner in that time frame. He is now preparing for the 2001 Marine Corps Marathon.)
Last weekend I went to the LaSalle Bank Chicago Marathon to serve as a rabbit/guard for the top women in their world record attempt.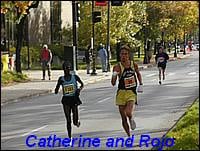 It all started when I contacted race director Carey Pinkowski a few weeks before the race about my brother, Weldon being a rabbit for the 2:10 group. In my email, I mentioned that I also needed a number for the race because I was planning on running 16-18 miles between 5:12 and 5:15 pace hopefully as my last final long, hard effort before the 2001 Marine Corps Marathon. The key ingredient of my marathon training is always a set of long, sustained efforts (before I ran Las Vegas I did one of 12, 15 and 18 miles) at race pace or faster with the last one being 18 miles three weeks before my race. Chicago was 3 weeks before Marine Corps and thus fit in perfectly.

Also I'd always wanted to run Chicago as Weldon had said great things about the race. I had even debated running it this year but got a late start on training due to injuries and what not and thus chose a later marathon.
To my surprise, Carey wrote back and said he had jobs for both of us. He wanted me to run between 13 and 20 miles with the lead women at 5:20 pace (2:19:55) which at the time of our conversation would be a world-record. While 20 miles was a little farther than my I originally wanted to go, I agreed to do it as I figured it would be a lot of fun. Moreover since the pace would be slower than on what I had planned on running, I figured that perhaps I'd feel good and try to finish the race with a sub 2:20 clocking which would be tough to achieve at Marine Corps race given the lack of a large number of people to run with.
Carey told me he'd never had anyone before employed to run with the women and each time he talked to me he seemed a little hesitant about the whole thing as he didn't want any women's record to be "tainted." Over the last few years, there's been a lot of controversy in the sport about what the true women's world best is in the marathon and whether efforts aided by men should count.
It all seemed like a bunch of hogwash to me because the men's record attempts always employ rabbits for large portions of the race so why did it matter if women had rabbits for large portions of the race as well? What does the genitalia of the rabbit had to do with anything.
Anyway, I always thought the whole controversy was mainly being created by the London Marathon as a marketing ploy. In London, the elite women run separately from the men (which you may be surprised is the way I think is the way it should be done as the elite women often don't get the television exposure they deserve) and thus it's easy to see why they argued women's only efforts should only be employed for record purposes.
However, to me a world record is running is about one thing and one thing only - covering a specific distance on a legitimate (not downhill or downwind) course in the fastest time. I could care less about whether rabbits were employed or not and would even be for allowing rabbits to start mid-race in record attempts.

(That being said, I don't like how every race nowadays tends to employ rabbits. I think the obsession over records is horrible for the sport. I'd rather see no rabbits and just real competition instead of reading about how "Runner X won the _______ Marathon but missed the world record by _______. That being said, my feelings weren't strong enough to keep me from agreeing to help the ladies out in Chicago.)
So as I was saying, Carey told me that I would be more of a guard than a rabbit - most likely running either ahead of them as something to focus on or to the side of them to keep publicity hungry people (whether it was male runners, crazed fans, people with a political messages, terrorists, etc) away from them and the TV trucks. I also was supposed to try to do my best to stay on the opposite side of the TV trucks so I wouldn't a) mess up the coverage or b) look like a publicity starved male myself.
I thought this sounded pretty cool and kept imagining myself cold-cocking some fan running out of the stands and ending up on SportsCenter. I mean every skinny male runner to some degree must subconsciously be a little jealous of his lack of a "masculine" build.
Anyway, I was a bit nervous as my role wasn't totally defined and my biggest concern was what was I supposed to do if the women didn't run 5:20 pace with me. I'd run with the Catherine Ndereba (defending Chicago champion and one of the two people expected to challenge for the record) two weeks prior at the Philadelphia Half-Marathon and beaten her by 1:16 (67:10 to 68:26), and I figured on a great day I was maybe in 2:19 shape and thus didn't really think she'd be up to the task. On no conversion chart is a 68:26 equal to a sub-2:20 marathon.
I asked the race organizers this question and they seemed to be caught off guard by it - like they hadn't imagined the women might not go for the record. "Uh.. If that happens, it's up to you. Do whatever you want," was the reply I got from the either Carey or Glen Lattimer - the person in charge of the rabbits.
The day before the race I met Catherine Ndereba's agent, Lisa Buster. She didn't seem all that pleased I was there and not all that welcoming. "I don't know why you're here. We didn't ask for a rabbit." Her comments didn't offend me at all. I figured she was just doing her job and protecting her athlete and thought that a more tactical race would best suit Ndereba. However, her less than warm welcome was in stark contrast to the warm reception I received from the other expected contestant in the record battle, Lornah Kiplagat.

Lornah was extremely friendly when she met me and seemed glad that I was there. I told her I was a little nervous as it wasn't clear what my role was after having talked to Lisa and asked her if she wanted me just to strictly be a guard or to also to try to run as a guard at 5:20 pace. She replied something to the effect of ,"Do what rabbits normally do. You know just run ahead a little ahead of us."

These two conversations left me with the feeling that Lornah, who had pushed the pace for most of the race in 2000, only to be beaten by Catherine in the latter stages of the race, was glad that I was there as I could be used as an aid to help her push a blistering pace. She didn't want the 2001 race to be a repeat of 2000 where she did most of the work only to see the victory taken by Ndereba. I figured if anyone of them was to go for the record it would be Lornah Kiplagat as I didn't really think Ndereba was in shape to go for it based on her half-marathon in Philadelphia.

Boy was I wrong.
Once the race started, I immediately tried to find the lead women and settle into what I thought was 5:20ish pace. The first mile is the hardest to judge in the marathon so I tried to judge my pace based on how far I was back of Weldon - who I knew was aiming for 5:00 for the first mile. After about 800 meters, I was starting to settle into my pace, but I hadn't found the lead women. They were nowhere to be seen. My first instinct was that they'd gone out really fast and were ahead of me as Ndereba had run the first two miles in Philadelphia at a blistering sub 5 minute pace and had been ahead of me there.
I looked back again and finally saw Kiplagat way behind me - at least 50 meters. Still no sign of Ndereba. About 2/3rd of a mile into the race, I saw my friends Scott Anderson and Victoria Lynch cheering on the side of the road. I frantically asked them, "Is the lead woman way in front?" Scott replied, "No, way behind."

My nerves were calmed by this response and I decided to keep running my pace and reassess things at the mile mark (I thought that maybe all of the men rabbits including myself were going out really fast but it sure didn't seem like it). I got to the mile in 5:20ish and the lead women's pack was nowhere close to me.
I then stopped, turned around and waited for at least 20 seconds. They hit the mile in about 5:45. I then ran the 2nd mile in 5:20ish and yet again the women were nowhere to be seen. I waited another 20 seconds - another 5:45. My biggest concern from the day before of, "What if they don't run 5:20 pace," had come true. I then decided that I'd just slow up and run with the ladies at whatever pace they wanted to run and strictly be a guard. I decided this for two reasons: 1) It was my job (even though they'd given me a free pass to continue on, I felt like they'd want me to run with the ladies) and 2) I didn't feel like having to force myself to run 5:20 pace for 20 miles by myself in no-man's land.
Prior to my arrival in Chicago, I'd heard rumours that both Kiplagat and Ndereba were going to refuse to lead the race and would run as slow as possible to make the other lead and figured that's now what was unfolding. We ran the 3rd mile in 5:40ish - for a 3 mile split of 17:11 - more than 1:11 behind record pace. The pace then quickened. Mile 4 was run in 5:15 and all of the miles from 4-10 were run between 5:15 and 5:22.
I was feeling great and having a pretty good time acting as a guard. The crowds were great. Everyone seemed psyched to see the lead ladies. Tons of "Come on ladies," "Let's go ladies," and even quite a few educated fans yelling for Catherine and Lornah by name. Given our slow start, we started passing a lot of men during this time. Running about 15 meters ahead, I spent my time telling guys to stay to the left or right and watch out for the lead ladies/television trucks (one large press truck with both still and TV cameras and one four wheeler with just a TV camera). I also served as a sort of traffic cop - running far enough off to one side to figure out which way were going to turn next and then signaling this to the women. There were a ton of turns early in the course and the press trucks were making it hard run the tangents (which can add up on a marathon) so I figured I'd try to help out as I know I hate running extra distance when I'm racing.
I also helped give the television commentator a few splits as it was hard for him to see the mile marks with his back turned. The press in turn would direct me to move to one side of the road to get out of the way of their picture taking. Initially, I was full of energy and didn't mind running the extra distance but remember thinking after a while, "We've been going at sub-record pace (5:20) for a while now. That's pretty fast and that can't be too easy for them no matter how slow they went out. What's going on? Are they going to slow down?"
Right after passing the 10th mile marker, I suddenly saw a shadow come up on me from behind. I glanced over my shoulder and realized it was Ndereba. I pumped my arms a little harder and picked up the pace. Shortly there after, the shadow came up on me and once again I had to run a little harder to stay in front After a few minutes of this I remember thinking, "Damn, this mile had better be a lot faster than the previous ones as I'm working really hard. I shouldn't be this tired at mile 10 if I'm going to make it to 20."
5:07.98.
Somewhat relieved to at least realize that I indeed was going much faster, I no longer felt even vaguely comfortable. 5:15-5:20 wasn't too bad but the sub 5:10 was tough (not just for me, evidently, as the other women were all immediately dropped by Ndereba's surge).
I remember thinking, "I sure hope this is just a surge to get the lead and she slows back down to 5:17 pace as I can handle that, but it's going to be tough to keep this up until 20." After a few more 5:10 miles (unfortunately my watch battery died shortly after the race and I don't have them any more), I remember coming up on the half-way mark and seeing it still say 69 minutes and 40 something seconds. I didn't look at my watch at the exact half-way mark but figured at the time we were right at around 70:05 (when in actuality we didn't get there until 70:15) and remember thinking, "My God, We've made up all that time we gave away the first 3 miles. What is going on here? She's either going to smash the record or just blow up."
As the sub- 5:10 miles continued, I remember still being perplexed. She was going so much faster than record pace I was a bit dumbfounded. Being such an experienced and accomplished marathon runner, I couldn't imagine that she was make the novice mistake of going at a pace way faster than she could handle especially since she was in the lead. Yet at the same time, I couldn't believe she was going as fast as she was.

Something wasn't right.
What wasn't right were the limits that I and others had put into our head as to what was physically possible for a woman to run in the marathon. Catherine Ndereba was en route to totally destroying the women's world record - a week old record of 2:19:46 that in and of itself had marked the destruction of a supposed magical barrier in women's running, the sub 2:20 marathon.
What was happening was completely and utterly amazing - arguably the greatest accomplishment in women's running history. A world record that had come down just 26 seconds in the previous 16 years (from Ingrid Kristiansen's 2:21:06 in 1985 to Tegla Loroupe's 2:20:43) was being taken down 1:56 in the span of 8 days as Ndereba would cross the line in 2:18:47.
Perhaps, I shouldn't have been surprised. History was repeating itself.
57 years ago the destruction of the supposedly unbeatable 4 minute mile barrier by Roger Bannister had opened up the floodgates to previously unimaginable accomplishments in the men's mile and now Takahashi's sub 2:20 clocking (2:19:46) apparently was doing the same in the women's marathon.

At the time, my thoughts weren't so clear. I just was running scared, trying to stay in front. No longer did I have the energy to move from side to side to stay off of television. Around mile 15, I was running close to the t.v. truck and heard the announcer come back from commercial and say, "She's really dropped the hammer and Robert Johnson is struggling to keep up."
I smiled when I heard this for it most certainly was true. I wasn't going to make it to the finish and wasn't going to make it to 20 miles. I was being dropped by a woman.
Now anyone who has ever run a road-race knows that there are a ton of men who just can't stand to be beaten by a woman. I'm certainly not one of them. I wasn't ashamed at all. Why would I be? She was accomplishing something truly amazing, raising the limits on what was thought to be humanly possible for female accomplishment, and I was helping her the best I could.
I accompanied her to the 17 mile mark and then she was on her way, hesitating only with a brief glance to her side to see if I was still there. She didn't fade after I left. Thus one should assume that almost undoubtedly she would have gotten the record without my help. I didn't pace her or break the wind (unlike Takahashi in her attempt), I was there more for her protection. Nonetheless, I felt proud of having a small role in helping create history. Even if I didn't help create history, at least I was along for much of the ride.
Congratulations, Catherine!!!!!
(PS. Catherine was full of kind words after the race. "Thanks for your help, Robert," she said before posing for a picture and asking what became of me. "What happened to you? I looked around but you weren't there.")
Click here to read Weldon Johnson's account of the Chicago Marathon
Click Here to see photos from the marathon
Click here to email Robert