2014 Berlin Marathon - BMW Berlin Marathon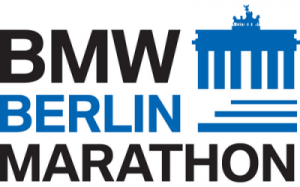 Berlin, Germany
September 28, 2014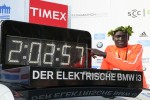 Dennis Kimetto and Emmanuel Mutai put on a marathoning exhibition on the streets of Berlin and both broke the previous world record in the marathon and Kimetto was rewarded with a 2:02:57, the first sub 2:03:00 ever. *Video Highlights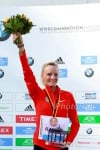 Shalane Flanagan went for the AR in Berlin, but paid the price the second half. She was rewarded with a PB and the #2 time every by an American and a third place finish as Tirfi Tsegaye and Feyse Tadese went 1-2 with PBs in front of Flanagan. *Video Highlights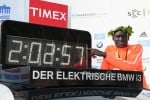 Last week was a momentous week with Dennis Kimetto breaking the 2:03:00 marathon barrier. We take another look at that, compare Tsegaye Kebede to all American marathoners ever,  praise Shalane Flanagan, like Galen Rupp's medal chances, and tell you why runners are officially crazy.
Kimetto talked about his father's reaction when he went from farming to running: "My father said, train as well as you can and go for it, you can change your life."
Dennis Kimetto: "I know I am ready. My preparation has been good and I'm confident for Sunday. If the conditions are good, yes, we could break the world record."
2:21 Ethiopian training partners Tirfi Tsegaye and Feyse Tadese along with Shalane Flanagan are all shooting for sub-2:20.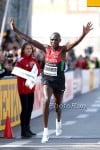 The men's race in Berlin has produced a world record four times in the last seven years. With Dennis Kimetto (2:03:45 PB, #3 all-time), Emmanuel Mutai (2:03:52 PB, #4 all-time), Tsegaye Kebede (2x London champ, 2:04:38 PB) and world half marathon champ Geoffrey Kamworor all vying for the win, Wilson Kipsang's 2:03:23 WR from Berlin last year in in serious jeopardy.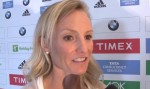 Shalane Flanagan has said that her only goal is to break Kastor's record on Sunday and that everything else -- including winning the race -- is secondary to that. She has a good shot at her first major victory but will have company in the form of 2:21 women Feyse Tadese (Paris CR holder) and Tirfi Tsegaye (Tokyo CR holder, won Dubai in 2013).
Outside Letsrun