The Week That Was In Running: July 16-22, 2012
By LetsRun.com
July 24, 2012
Our famed "Week That Was" weekly recap has been on vacation for about two months now as we've been putting our analysis in our Olympic Trials and Diamond League previews and recaps. But we bring it back this week just so we remember how to do it and because there is a brief lull this week before the Olympics swamp us with work next week.
This week we talk about another third-place tie, how an Olympic champ thinks computers are evil, the declining fortunes of Meb Keflezighi and Deisree Davila, and the rising fortunes of Duane Solomon.
And in case you missed, there is a whole lot more analysis and what not in our Monaco DL recaps at the following links:
LRC Evan Jager Breaks The American Steeplechase Record
LRC Asbel Kiprop Reasserts Himself As The Olympic Favorite By Running A Sensational 3:28.88
LRC Duane Solomon Is Now The 5th-Fastest American Ever At 1:43.44
LRC The Rest Of The Meet: Alysia Montano, Jenny Simpson And Caster Semenya Disappoint
****
Think The Tarmoh-Felix Tie Was Unprecedented? Think Again!
One of the big stories at the 2012 US Olympic Track & Field Trials was the fact that Jenebah Tarmoh and Allyson Felix tied for third place in the women's 100.
What was lost in the story is that ties in track and field aren't all that uncommon - it's just rare that you normally need to break a tie.
Don't believe us?
Well, at the recently concluded World Junior Championships, there was a tie for third between the US's Aldrich Bailey and Australia's Steven Solomon at 45.52.
The outcome? A run-off? A coin-toss? Nope.
Just two bronze medals were awarded.
The two can have a run-off next year at NCAAs, as Bailey will be a freshman at Texas A&M and Solomon a freshman at Stanford.
****
Did You Know (I)?
Did you know that 2008 US Olympic Trials third placer Duane Solomon is ranked the highest of all US mid-d or distance Olympians in terms of his or her rank on the list of fastest performers in their Olympic event so far in 2012?
Heading into the Olympics, Solomon is the third fastest guy that is competing in the Olympic 800.
The 5 Fastest 800 Olympians in 2012
1 1:41.54 David Rudisha KEN
2 1:43.11 Nijel Amos BOT
3 1:43.44 Duane Solomon USA
4 1:43.51 Mohamed Aman ETH
5. 1:43.69 Abubaker Kaki SUD
No one in the world - even Solomon himself - could have predicted that at the beginning of the year.
Now, Solomon's rank is helped because the two Kenyan teenagers who have run faster than he has this year and who beat him in Monaco (Abraham Rotich - (1:43.13 SB/PR) and Leonard Kosencha (1:43.40 SB/PR)) aren't going to the Olympics.
****
Did You Know (II)?
That two-time Olympic champ Sebastian Coe closed his 3:38.40 1980 Olympic gold with a 52.2 final lap and 12.1 final 100? That's pretty darn impressive.
More: Two-Time Olympic Champ Seb Coe Talks About The Perfect Performance
****
US Marathoners Medal Chances Take A Hit
In terms of actual results last week, last week was a story of optimism for fans hoping for US mid-d or distance medals on the track in London, as Duane Solomon, Nick Symmonds and Evan Jager ran well in Monaco and the women's top 1,500 runner Alaoui Selsouli went down in a doping positve.
But for those that didn't run, it wasn't so good, particularly for those hoping for medal on the road in the marathon.
We hate to see it but we are officially declaring the medal hopes for Meb and Desiree to be over. And please don't complain that we are being overly negative, we are just taking what their coaches say at face value.
If Meb doesn't PR (2:09:08), there is zero chance he'll medal. If Desi can barely start, the same is true for her.
But the news wasn't all bad on the marathoning front. The other two US women seem to be doing well and Ryan Hall seems to be doing better as well.
At Least Kara Goucher And Shalane Flanagan Are Doing Well: Good Interview With Kara Goucher "I feel very good at where I'm at. I know that I'm ready to PR, and I feel excited about it."
****
4 Quotes Of The Week (That Weren't Quote Of The Day)
****
#1: 800 World Record Holder David Rudisha On The Possibility Of Setting The WR In London
"Maybe this Olympics will be the first, where somebody will break 800m world record without pacemakers."
- Rudisha talking to Kenya's the Star. If Rudisha wins by a mile and gets the WR, he could become a bona fide star - not just a track and field star.
****
#2: 2004 80 Olympic Champ Yuriy Borzakovskiy Decrying The Rise Of Computers
"I agree one hundred percent that sport is losing its appeal. When I was young, we had a completely different life-style, we were much more active, now all people think of is computers."
Borzakovskiy's quote came from an article on european-athletics.org.
Did you know that Borkazoviskey has had the same coach for 15 years and this coach is 82-year-old Yaroslav Makarovich Evstratova?
****
#3: Olympic Sponsorship Has Gone Too Far Says The Man Who Transformed The Olympic Movement Into A Sponsorship Juggernaut
"I have said to Locog and to the IOC, 'I think you're scoring an own goal here.' If I were a sponsor I would be saying to the IOC after the closing ceremony: 'Were the rules allowed to be applied so strictly that is has come back to bite us?' There is no question in my view that the controls and protections have gone too far when it is starting to suffocate local street traders and I don't think that is necessarily what the Olympic sponsors are looking for."
"The public do get it. They do understand that Coca-Cola has paid, Pepsi hasn't, so Coca-Cola should be entitled to provide the soft drinks, but what's that got to do with a flaming torch baguette in a café?"
- Michael Payne, a former marketing director at the International Olympic Committee in the 1980s, talking to The Independent about the heavily-enforced IOC blackout rule, which is utterly ridiculous.
Local business owners in London aren't getting in the Olympic spirit and won't have anything with an Olympics-related theme in their windows as they are fearful of getting sued. Meanwhile, competitors aren't even allowed to tweet the name of their sponsor and Subway can't run Michael Phelps ads for a month.
It even hurts LetsRun.com, as companies are afraid to offer prizes for our London prediction contest.
To understand what is and isn't allowed, you truly need a law degree and even then that may not be enough, as the courts have never actually decided a case on the matter.
If you want more info on it all, the law firm Finnegan, Henderson, Farabow, Garrett & Dunner LLP has come up with the "dos and don'ts in connection with the upcoming London Olympic Games.
If you don't have time to read that whole thing, let us at least give you one key paragraph from it.
Under Rule 40 of the Olympic Charter, no competitor, coach, trainer, or official participating in the Olympic Games may allow his person, name, picture, or sports performances to be used for advertising purposes during the Olympic Games unless a waiver is granted.The Blackout Period for the London Olympics runs from July 18th - August 15th.
More: *The "dos" and "don'ts" in connection with the upcoming London Olympic Games *Man Who Transformed Olympics Into Multibillion Enterprise Says Enforcement Of Olympic Sponsorship Agreements Has Gone Too Far *Brands BraceFor LOCOG Advertising "Blackout" *Some Athletes Chafe Under USOC Guidelines *IOC Social Media/Blogging Guide For Athletes
****
#4 Yobes Ondieki, The First Sub-27 10,000 Man In History, On The Rise Of Women In Ahtletic Stature In Kenya
"We are giving women a chance and women are proving themselves. You can say it's like an Arab Spring for women."
- Ondieki's quote comes from a Reuters article.
****
Lots Of Doping News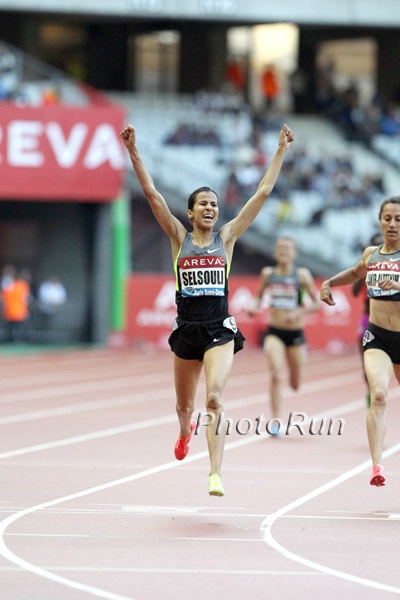 LRC
1,500 World Leader Mariem Alaoui Selsouli Of Morocco Tests Positive
The former EPO cheat has tested positive a second time. Let's just say people who follow the sport day in and day out are not surprised. Perhaps the bigger question is why would an
AAM member represent her
and
Nike sponsor her
? Kudos for drug authorities for targeting her for testing.
LRC Guess Who Was In Monaco On Friday? Banned Agent Mark Block The banned agent Mark Block, who just happened to be hanging out at the Nike hospitality suite for the Olympic Trials, just happened today to be in Monaco, site of the Diamond League meet. Evidence also points to him also being at the Penn Relays, Mt. SAC and the Jamaican Invite. Plus he was in Daegu last year. And a trusted source says Block drank a celebratory beer in "Cap's Corner" at the Trials, where he also watched the women's 100 from the Nike box and not just the 200. Hey, Nike - It's pretty easy; why don't you ask John Capriotti, your Global Director of Athletics, if he knew Block was in the VIP area. If so, fine or suspend him for poor judgement. At a minimum, tell him, "Block's presence is unacceptable." And tell your star athletes Jason Richardson and Carmelita Jeter the same thing.
LRC 8:16 Spanish Steeplechaser Dropped From 2012 Olympic Team Amid EPO/HGH Doping Probe A local Spanish paper has released a reported email exchange between 8:16 steepler Angel Mullera and a doctor from last year's World Champs where the two discuss his required doping for the 2012 season. The Spanish federation was aware of the doping exchange months ago but hadn't acted on it until it was leaked to the press.
*MB: Spanish steeplechaser's leaked EPO discussion / doping plan for 2012
Hungarian Discus Thrower Robert Fazekas Out Of Games After Tests Positive For Steroids He was stripped of the gold medal in Athens 2004 for doping. He's also "coached" by someone who was stripped of a gold medal. How are these people allowed to stay in the sport?
French Olympic Steeplechaser Nour-Eddine Gezzar Tests Positive For EPO He also served a 2-year ban back in 2006.

Recommended Read From Cycling: Running Needs A Fan To Do This: Fan Writes "An Open Letter To The Peloton" About Importance Of Anti-Doping Whoever writes it, please CC John Capriotti at Nike and the folks at USATF.
****
Recommended Reads
Emil Zatopek Wasn't Just One Of The Greatest Olympic Distance Champions - He Also Was A Great Man Of Principle Who Stood Up To The Soviets As a result, the 4-time gold medallist was forced to work as a laborer.
"Uneasy Tension" For U.S. Women's Hurdles Squad There seems to be some resentment by Dawn Harper that despite being the Olympic champ, she's always overshadowed in the media by Lolo Jones.
A Few Years Ago, Ryan Bailey Was Living Out Of A Car With His Mom, Hanging Out With Gang Members, And Failing School ... Now He's An Olympian "I sit back and think, 'Wow, I could be like a couple of my friends - in jail or dead. I could be right there with them. But I'm not.'"
Once A Slave, Guor Marial, the 2005 HS Indoor Champ and Former Iowa State Star, Hoping To Run in Olympics For Newly Formed South Sudan The IOC says he can't run for them as they don't have an Olympic delegation and asked him to run for Sudan, a country which killed off most of his family and put him into slavery. The article doesn't call him a former slave, but isn't that what being forced to work for a year with no pay is? He also is in the process of becoming a US citizen.

The 4th Placer From 1976 Olympic Marathon, Don Kardong, Writes A Letter Full of Advice To The 6 US Olympic Marathoners For 2012 "Don't let anyone or anything discourage you from pursuing delusions of grandeur," said Kardong, who said in 1976 that only two people believed he could medal - himself and his mom. Had it not been for a drug cheat, he'd have a bronze.

A Very Tough Olympic Trials: Lea Wallace's Father Passed Away Somewhat Unexpectedly The Night Before Her Race, But She Decided To Run As He Was Her #1 Fan Oh yeah, and a week before the Trials she lost one vision in an eye while doing pushups, passed out and had a seizure.

Science Of Sport's Ross Tucker: Based On Power Outputs - Leading Riders At Tour de France Could Be Clean "So that's what we're all getting at when we say the Tour is getting slower. It is, and it's a good sign, because it brings everything back into the realm of expected physiology."
****
Other News Of Note From The Last Week
Wow!!! 17-Year-Old Frenchman Wilhem Belocian Runs Incredible 13.12 In Hurdles His previous PR was 13.44. Even crazier, he didn't even win World Juniors or run as fast on their shorter hurdles, as he ran 13.29 for 3rd. Correction: We got an email correcting us on this. Wilhem did set a PR which was a Youth World Record, but it was over 91.4cm hurdles which are shorter than the senior and Wolrd Junior height.
Guor Marial Will Be Allowed To Compete In Olympics
Lignano: MB: Gabrielle Anderson Gets The "A" Her 4:04.84 came a little later than she would have liked, but she now has it for next year. Emily Infeld & Sheila Reid miss at 4:07. Maggie Vessey (2:00.59), Anna Pierce (2:00.66).
*MB: Don Cabral runs 3:40 for 1500 Olympic tune up David Torrence & Will Leer ran 3:37 in the same race. Tyler Mulder 1:44.75, Michael Rutt 1:45.35, Elijah Greer 1:45.47. More: MB: Lignano 1500 and 800
Ireland: Ryan Gregson (3:57.98) 1st, Ciarán Ó Lionáird (3:58.84) 5th In Mile, US 5k Olympian Kim Conley Wins 3,000 In 9:01.74 Liam Boylan-Pett (3:58.38) was 2nd and Elliott Heath third (3:58.48), while Ó Lionáird was overtaken by Ireland's newest sub-four man, St. Coca's Paul Robinson (3:58.70), before finishing fifth in 3:58.84.
*Ciarán Ó Lionáird Happy Afterwards
****
Quotes Of The Day From The Week & Last Week's Homepages:
Note: To see a particular day's homepage, click on the hyperlink of the date on the left. The quote's hyperlink will take you to that particular article - not that day's homepage.
Monday 7/23: "The traffic was horrific, so I saw a couple of police officers and thought, I'll see if I can drop the prince's name and get a ride. They radioed ahead and next thing, my wife Sierra was sitting on my lap in the back of a police car on our way to the palace."
- Nick Willis talking about how after running 3:30.35 for 1,500 on Friday evening, he got to have dinner with Prince Albert of Monaco - himself a former 1,500 runner.
---
Sunday 7/22: "I remember coming off the final bend and thinking, 'Where's Seb?' Not for the first time, I was probably paying too much attention to one man who wasn't even in the picture instead of focusing on the race itself ... And when I crossed the line, it was almost a case of 'what's the big deal?' This was supposed to be the race of the century, one of the great Olympic duels, two rivals going hammer and tongs down the straight. But it was almost like being in a dream. I thought, 'You're Olympic champion, what was all the fuss about?' It was unreal."
- Steve Ovett talking about what it was like to beat world record holder Seb Coe to win gold in the 800 at the 1980 Olympics. Six days later, Coe returned the favor and snapped Ovett's three-year unbeaten streak in the 1,500. Altogether, the two rivals only raced each other six times.
---
Saturday 7/21: "I have all the above. Excitement, apprehension, anxiousness. But I most of all can't wait to finally get a chance to capitalize on such a great block of training. All of the hard work is done and now it's time to hopefully reap some of the benefits. I'm looking forward to as my training backs off to feel the life regained in my legs and feel a bit more springy than the deadness that you feel when you're grinding and grinding away."
"... It just feels like it's the moment for something special to happen. Whether that means me getting on top of that podium and getting to hear 'God Defend New Zealand,' gosh wouldn't that be awesome. I'm just excited whatever happens. But I'm going to give it absolutely everything."
- Nick Willis, talking in a mid-week interview before yesterday's 1,500 in Monaco. Clearly he was right, as he finished 3rd with a new NZ national record of 3:30.35 (his previous PR was 3:31.79).
---
Friday 7/20: "You hit the wall in the marathon and you can suffer through the last 10k. You hit the wall in the ultra, you might have 10 or 20 miles to go and you're just hanging out there ... you can really mess yourself up."
- US Mountain Running Champion, Sage Canaday, talking in an LRC interview about the difference between racing the marathon compared to an ultra. Sage talks to us about his move from Hanson-Brooks marathoner and the roads of Michigan to unsponsored and self-coached mountain champ, training in the high altitude of Boulder, Colorado.
---
Thursday 7/19: "In marathon there is no such thing as sacrifice. The strongest runner in the race will always win. This is not track where tactics play a bigger role. We run for Kenya but we also run for our family. Knowing the economics of running, sacrificing yourself isn't a very wise thing to do."
- Kenyan Olympic marathoner, Emmanuel Mutai, in an interview talking about whether or not the Kenyans would try and use team tactics in London. We guess that's a no.
---
Wednesday 7/18: "I still feel like a student of the sport especially going out on my own and doing a little bit of faith-based coaching. I learn so much each time out. I learn not just about training - but about me - what I need (as a person) and what my body needs. Every single marathon, I've learned so much. I feel like I'm still in a learning stage and nowhere near capping out my potential. I still believe my best marathons are in front (of me)."
- Ryan Hall, the fastest marathoner in American history, talking in an exclusive interview with LetsRun.com about his Olympic aspirations.
---
Tuesday 7/17: "Certainly the Olympics is about going for those top three spots. Time is secondary - that won't be an emphasis. But for me the big goal is to really just hit a big day like I did in Boston. Just to know that on the biggest day of my career at the biggest venue of the sport, I had my best stuff ever. ... That's kind of the thing that haunts me about Beijing - my preparation didn't go nearly as well as my other marathons. I did the very best I could do out there (on that day), but it wasn't my best stuff. I think your dream as a little kid is to show up at the Olympic Games and be on fire."
- Ryan Hall, the fastest marathoner in American history, talking in an exclusive interview with LetsRun.com about his Olympic aspirations.