1,500 World Leader Mariem Alaoui Selsouli Of Morocco Tests Positive
The Nike-Sponsored Athlete Faces A Possible Lifetime Ban According To The French Daily L'Équipe
By LetsRun.com
July 23, 2012
According to the French Daily L'Equipe, the 2012 world leader in the women's 1,500 Mariem Alaoui Selsouli of Morocco has tested positive for the diuretic furosemide. Selsouli, who was the 1,500 favorite for the Olympics and apparently was also going to run the 5,000, will now not compete in London and faces a possible lifetime ban from the sport, having just last year returned from a two-year doping ban for an EPO positive. The Nike-sponsored Selsouli was the world leader in both the 3,000 (8:34.47 at Pre) and 1,500 (3:56.15 at Paris). Her positive test came from a July 6th test in Paris.
Quick Take (QT) #1: LetsRun.com has always argued that finding drug cheats isn't as hard one might think. Certain people's performances just defy any and all logic and the anti-doping authorities should target certain individuals for increased testing. That appears that might have been what happened here as the translation of the L'Equipe article seemingly says that Selsouli was subjected to three tests on July 6th.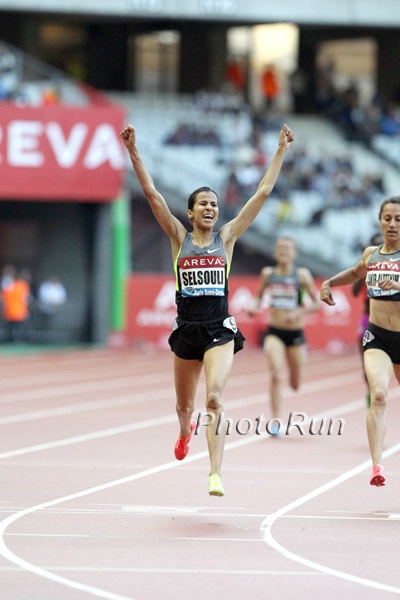 Mariem Alaoui Selsouli Was Happy In Paris
But It Looks Like Paris May Have Ended Her Career
Selsouli's performances this year certainly defied logic in our minds. We even titled our recap of her stunning 3:56.15 1,500 win in Paris as: "A Troubling Women's 1,500." We weren't the only one suspicious, as within minutes of the end of the end of the Paris race, the LetsRun.com messageboard was full out outrage over Selsouli's big win:
W1500m A JOKE: 1 and 2 served doping bans
QT #2: With Selsouli out, the new world leader is now Asli Çakir of Turkey, who herself was given a 2-year ban for doping back in 2004 for a positive test as the World Juniors. Çakir ran an almost unbelievable 5.52-second PR in Paris herself (3:56.12) . We hope she's receiving increased scrutiny from the drug testers as well.
QT #3: Selsouli's positive is certainly a boost for fans of the US 1,500 runners. Coming into the year, US fans were likely thinking Jenny Simpson or Morgan Uceny might have a good shot at a gold medal, but recent developments made any medal seem like a real long shot. Even with Selsouli being out, it won't be easy for the US women. No US woman has run faster than 4:01.59 this year and it looks like there will be eight women in London with seasonal bests under 4:00, including three under 3:58.

QT #4: Shoe companies need to think about who they sponsor. Selsouli turned heads by winning the 3,000m at the Pre Classic this year. Our thought at the time is "Why the hell would Nike want to sponsor her considering her past?"

QT #4: The Association of Athletics Managers made a big deal 5 years ago when it said its members would not represent someone with a 2-year drug ban. Yet Selsouli was represented by Gianni Demadonna, an AAM member. AAM members have also been spotted hanging out with Mark Block. The agents need to decide if they want a cleaner sport.
More: MB: Mariem Alaoui Selsouli - Tests Positive - OUT of Olympics
---
Comments, questions, suggestions, story you'd like to submit? Email us.