Two-Time Olympic Trials Qualifier Sage Canaday Wins The US Mountain Running Championships On His First Time Out
LetsRun.com Catches Up With The Former Hanson-Brooks Marathoner Who Is Living And Training At High Altitude In Boulder, Colorado
By Steve Soprano, Employee 1.1
LetsRun.com
July 19, 2012
More: *MB: Sage Canaday Wins Mt. Washington! *Sports Illustrated Article On Canaday's Mt. Washington Victory
Sage Canaday is very much like your typical post-collegiate runner who is trying to make it on the professional running stage.
Yes the Cam Levins and Donn Cabrals of the world do exist - people who are winning NCAA titles, making the Olympics as collegians and getting shoe contracts from Nike as soon as they graduate - but those are few and far between. More typical are guys like Sage, who are clearly good runners and have the ability to continue on, but aren't going to have anything handed to them based on what they did in college. These runners continue to toil away after college, putting off starting a career, family or "real" life to pursue their goals. And they do this with no promise of riches, fame or glory in return.
Living below the poverty line, running 20 miles a day, and eating a vegetarian diet? Sage calls it "living the dream". That's certainly not the "American Dream", but for many like Sage it's the American runner's dream.
What they get in reality is priceless - they get to avoid having the horrible "What if?" thoughts nagging them for the rest of their lives if they hadn't gone for it.
Sage had a very successful college career. While running under LetsRun.com co-founder Robert Johnson at Cornell, Sage qualified for NCAAs in Cross Country, was an Ivy League champion in the 10,000, and was the youngest participant at the 2008 Olympic Marathon Trials as he ran a 2:21:42 marathon while still in college.
LRC Interview With Sage Canaday
After college, Canaday immediately hit the roads, focusing on the half-marathon to full marathon distances. He joined the Hansons-Brooks Distance Project where he spent two and a half years and ran PR's of 1:04:32 and 2:16:52 and qualified for and competed in the 2012 Olympic Marathon Trials (finishing 43rd).
At age 26, Sage is still relatively young by long distance running standards as runners often can continue to hit marathon PR's well into their 30's. So when word got out that he had left Hansons-Brooks Project and his name stopped appearing in marathon results and started appearing in ultra races, some eyebrows were raised and questions asked.
When I saw that Sage won the US Mountain Running Championships and had qualified for the World Mountain Running Championships in Italy, I decided to catch up with him at his new training base in Boulder, Colorado and find out exactly what he is up to.
Trails, Mountains and Ultras: Leaving The Roads Behind For The Ones Less Taken
The race Sage won was the US Mountain Running Championships at the Mt. Washington Road Race which is a 7.6 mile race that goes straight up a mountain. He had never run any kind of mountain race before, so just seeing his name in results was surprising; forget about seeing him actually winning the US Championship and prestigious Mt. Washington Race all in one swoop. Wasn't this the guy who was just running in the Marathon Trials and making all those videos for Hanson-Brooks? So naturally my first question to Sage was, "Why the switch?"
"Quarter life crisis is what I'd say … I had a mental breakdown after the [marathon] trials and went on an all beer diet for a couple of weeks. I was kind of fasting and I saw clarity that way. You really see clarity when you don't eat food for a couple of weeks. And I was like, 'You know what, I should try natural running on natural surfaces over hills and just put the fun back in running."
At least that was Sage's first (mostly kidding) response. Later in the interview he got more a little more serious and disclosed his move to the trail scene wasn't completely on a whim. He revealed that part of his inspiration was following in the footsteps of his "mentor and idol", 2011 World Mountain Running champion and fellow Cornell alum Max King. Max is a big name on the trail and mountain running scene, but also has had a ton of success on the road and track as he finished 19th in the marathon trials (2:14:36) and 6th in the US Trials steeplechase (8:30.54) a couple of weeks ago in Eugene.
Of Max, Sage said, "If I could be three quarters ... no two thirds the runner that Max King is, I would die a happy runner. … He's always an inspiration. You're talking about a guy who is totally insane. (Once in college), he pinned a race bib to his bare chest; the pins went through his skin. You're dealing with that kind of mentality. Knowing how tough he was, I've kind of followed him into the trail scene. …He's a good example of someone who could compete well in the shorter faster races and on the road and these longer events."
It definitely isn't the traditional way to improve on your marathon, but why couldn't it work? It obviously has for King who's continued to set PR's at distances from the marathon down to the steeplechase even after he moved to the trail and mountain scene. LetsRun.com has noted in the past how many elites have improved their 10k PRs after doing marathon training. Maybe the same over-distance concept could work with improving your marathon after training for ultras. That's Sage's hope anyway, as he says he plans on being back for the 2016 Olympic Marathon Trials and would like to break 2:15.
"I want to return to the marathon on the roads. I'm not done racing there. People think you're sacrificing all your speed for these longer ultra events, but I think you're just building strength. And really, at least in my experience, I need more strength to hold on because when you hit the wall it gets tough."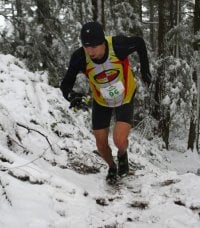 A US Championship And His First National Team
Ok, so Sage made the move to the trail scene to try something different and eventually improve his road marathon. Ultras, mountain, and trail races are really three separate categories, but usually get bunched together since elements of each are often combined. To clarify for those who don't know, ultra marathons are any race over the traditional 26.2 mile marathon distance and are often run on a combination or roads and trails. For mountain races, there are two sub-categories. There are races like Mt. Washington that are just one straight uphill climb. Then there are others which have rolling hills up and down and not much net elevation change. The US and World Mountain Running Championships actually alternate every other year; last year was rolling hills and this year a straight-up climb.
Sage's first foray off the roads and onto the trails was the Chuckanut 50k race in Bellingham, WA and it was a promising start. Even though he got lost on the course and busted his knee open falling on a rock, (needing 5 stiches) Sage still finished 2nd overall. Not bad for his first ultra.
After Chuckanut, his next big one was Mt. Washington where the goal was to get top 6 and make the US team that would compete at Worlds in Italy this September. Canaday thought he had a shot to make the team, but even he had no idea how good he would be.
"It was a pleasant surprise. I think I got lucky with my biomechanics," said Sage. Mt. Washington has a very steep 12% grade which suited him even though he had no practice racing that type of course. He won by almost two minutes and ran the third fastest time ever.
But Sage doesn't pretend that mountain running has the same level of competition as road marathons and he knows there are people who would criticize what he's doing or accuse him of "ducking the competition" on the roads. His response?
"Go out and try it, that's the first thing I'd say. It is a totally different type of running really, so for some people it takes a totally different skill set. But the same fundamental principles of running through pain and being aerobically fit come into play."
And as already stated, Sage isn't retreating into the trails. He feels doing this will eventually help him run a faster marathon and come back even stronger for the 2016 Trials.
Training and Racing: It's Literally An Uphill Battle
So what's it like to run a race that is entirely uphill? Sage was able to sum it up with a few words: "It's painful. That's my main answer."
He explained that his training for mountain and ultra races is a bit different than what he did for his marathons. "You focus more on putting time on your feet, less on intensity," Sage said. While at Hansons his long run topped out at 20 miles, now he is doing up to a 28 mile long run and 31 miles in races. Also, while many marathoners do flat training runs, when Sage is trying to get ready for a mountain race he makes sure he does runs with a lot of elevation change and that takes extra planning. Many runners take for granted how easy it is to step out the door and do a run right from the house or to drive up the road for a track workout. Sage (who never touches the track now) will sometimes drive 2 hours in search of mountain runs that feature over 14,000ft in overall elevation change (up and down).
Training for ultras and mountain races takes a lot more planning in general. For instance, fueling is a major concern. While fueling and hydrating in a marathon can be beneficial, it is absolutely essential in an ultra.
"You hit the wall in the marathon and you can suffer through the last 10k. You hit the wall in the ultra, you might have 10 or 20 miles to go and you're just hanging out there…you can really mess yourself up. It comes down to 'how much you can eat without throwing up.' Because you're running hard, but you have to take in these calories," said Canaday who also joked that needs to do some research to find out what pizza place will offer road side delivery during an ultra training run or race.
Fueling while doing an ultra training run alone isn't easy as unfortunately there aren't aid stations set up naturally in the wild. As a result on say a 28 mile training run, Canaday either has to lay out his water bottles ahead of time, plan a run that loops back by his car mid-run or run with a water bottle.
Running For Leaving The Hansons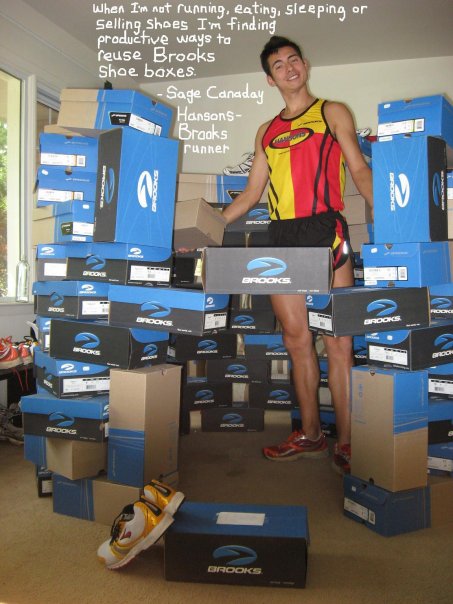 As mentioned above, Sage has spent the last two and a half years running for Hansons-Brooks, but along with the decision to pursue different types of races, came the decision to leave the Michigan-based group. He said running with the Hansons was a great experience and "one of his dreams since high school". He felt privileged to have the opportunity to live and train with great runners, such as 2008 Olympian Brian Sell and 2012 Olympian Desiree Davila, and being part of the group provided him with a lot of support.
However, now that he is on his own, he has many more freedoms when it comes to setting up his training and racing schedule. Part of being in a group means you train and race exactly how the group does. Since leaving, Sage has been self-coached and has experimented with different types of training while racing more frequently, which he enjoys. It also has allowed him to move to Boulder, Colorado where he can do high altitude training; something he's always wanted to try.
And too, his daily schedule is more flexible as well. Some may not know this, but while Hansons-Brooks runners are considered professionals, they have jobs as well. Most team members work a decent number of hours in the Hanson Running Shops around Detroit (usually 20-30 a week). While at first that might not seem like a very demanding job, you have to think of it in terms of a marathoner who is running anywhere from 100-150 miles a week while spending a 5 or 8 hour shift standing on their feet. Often, an afternoon shift would mean getting in two runs before even going to work, one at 7 a.m. and one in the early afternoon.
Freed from the constraints of an hourly job with set hours, Sage, who hasn't been working a traditional job the last few months, has more flexibility to schedule his runs which is big for ultra/trail running as sometimes he has to drive an hour or two to do a run that will take 3 hours.
That flexibility comes at a cost however, because now he is on his own and without a shoe sponsor or full-time job. How does he pay rent or buy food? How does he live?
Sage answers, "The frugal, simple lifestyle. I sleep on a cot; I don't even have a mattress ...I'm living the dream though, it's important to be happy."
Sage, who gets some free product support from Smith Optics and Drymax socks, has been making money by selling the book he wrote about being on the Hansons-Brooks team, Running For The Hansons, and from his video production website, Vo2maxProductions.com. His YouTube channel is extremely popular, with running videos and shoe reviews that generate thousands of views (This is great practice for him as he would like to pursue a career in sports marketing one day). All that helps, but isn't close to enough to live on. As a result, he's got to produce in the races.
"Every time I toe the starting line now I do think about prize money. They say you shouldn't be motivated by that, but it's a huge motivator. There is some pressure there. It's like 'How am I going to pay rent this month? Well, I gotta win this race."
Luckily though, completing on the trail/mountain running scene is actually more profitable for Sage than running traditional road races. "It pays out better actually. When I ran my PR 2:16:52 on the roads, I got zero dollars and that was a tough race for me." In comparison he won $1,000 when he won Mt. Washington.
"Hopefully I can continue doing both to make ends meet and keep plugging away. You do it more for self-satisfaction... You have to enjoy the process too. It's just part of living a healthy and happy lifestyle," said Sage who added that he just started training to be a customer service rep for OtterBox.
Looking ahead, Canaday has no concrete plans as for when he'll make a return to a road marathon or what races lie ahead. He has a 50 mile race coming up next month and the World Mountain Running Championships are in September, but beyond that he's just taking it as it goes.
Sage says while he still has big goals on the roads, he actually enjoys the trail running scene more . Having grown up in the backwoods of Oregon, it's where he "feels more at home"; it's where he's living the dream.